Chantal Joffe,Self Portrait with Vita and Esme on the Swings, 2015, ⓒ Chantal Joffe, Courtesy theartist and Victoria Miro, LondonVenice
Chantal Joffe Uses Painting To Chart the Maternal Bond
Joffe is modernizing the long-standing tradition of female artists painting their children.
Chantal Joffe,Self Portrait with Vita and Esme on the Swings, 2015, ⓒ Chantal Joffe, Courtesy theartist and Victoria Miro, LondonVenice
Chantal Joffe has painted the writer and Crudo author Olivia Laing (who documented the experience for The Guardian in 2018), as well as the residents of Whitechapel for the Crossrail Art Foundation – an offshoot of the latter currently peers out from a Selfridges' window on London's most famous shopping street. She has depicted the image of model Kristen McMenamy as McMenamy's husband, the photographer Miles Aldridge, recorded the session on camera; and her portraits of Stella McCartney's children have previously hung in the designer's former Bruton Street store ("…those pieces are exquisite," McCartney declared in 2009 during a conversation with Interview).
Figuring throughout Joffe's practice since her birth in 2004, though, is Chantal's daughter Esme: she first painted her a month after giving birth, from a photo taken on the day. Now, an exhibition exploring modern childhood highlights the relationship, a product of Joffe's deep routed interest in the intimate: other sitters are personal friends while her self-portraits are prolific. Childhood Now at Warwickshire's Compton Verney , hosted in tandem with Painting Childhood: Capturing the Fleeting Moments, focuses for the first time solely on those paintings of Esme.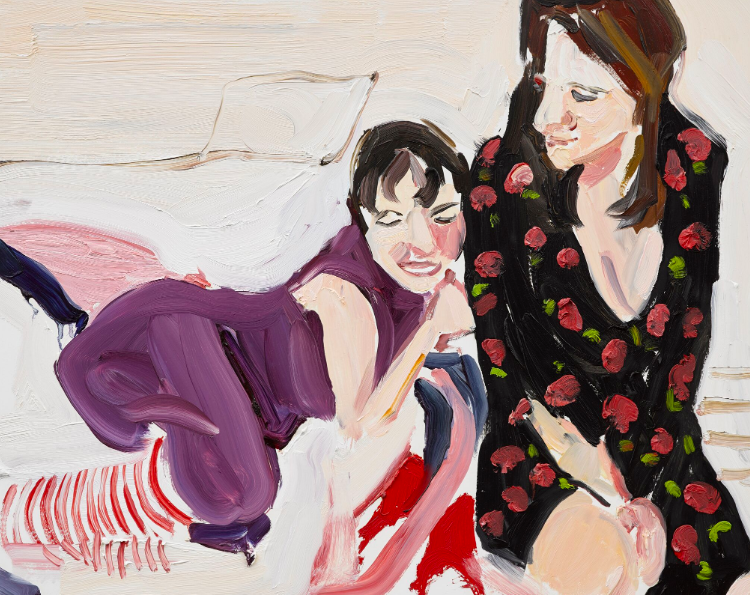 "As a painter she's very engaged in the history of art, so she provided a logical link to the historic show," explains exhibition curator Amy Orrock, perched on a small leather ottoman surrounded by the gallery's permanent collection, of her initial attachment. "I think she's a fascinating artist because there's always a sense of herself as a parent as well as Esme as a child. As a woman I was interested in that, you know how being a mother changes you. We see her charting her own body changing as her daughter ages and grows."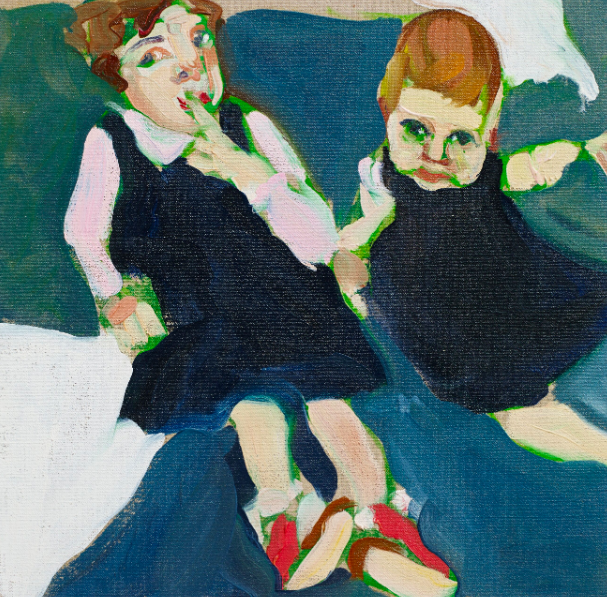 Presented in one of three rooms – another belongs to Mark Fairnington and a third to Matthew Krishanu – Esme's multiple portraits are each simultaneously a mirror to and a distinction from its neighbour. On the right she's pictured as a new born, on a canvas with dimensions to match, besides and towering above this, a nude double portrait of Chantal and Esme stands at 10ft tall. Nearby, smaller observations of tender moments that might, by someone else in some other moment become an Instagram story existing for a meagre 24 hours, perhaps shared amongst family via a Whatsapp group with a funny name on a paltry sized screen, are available to view as fully formed works: the artist combing Esme's hair, Esme and her friends showing off their freshly pierced ears, Esme in a green T-shirt.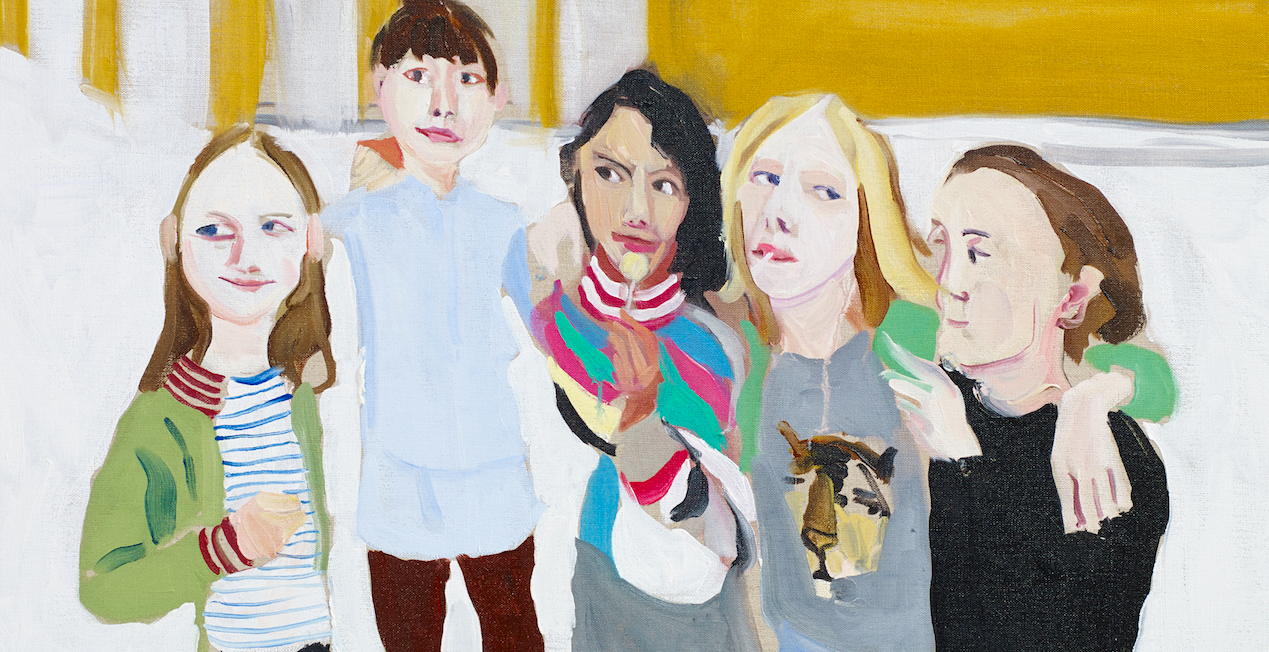 "Joffe paints lots of wonderful intimate moments, that as parents we experience, but are rarely recorded in paint," comments Orrock. "Combing Esme's hair I'm thinking of, or snuggling up on the sofa with her, or her favourite outfit. There's a real, obvious affection in her paintings of Esme; you can read that motherly bond." Acknowledging the connection previously, Joffe notes "I'm almost weeping when I'm painting my daughter," elsewhere referencing the influence of photographer Harry Callahan in her pursuit to make "a great painting that is also of the most intimate thing".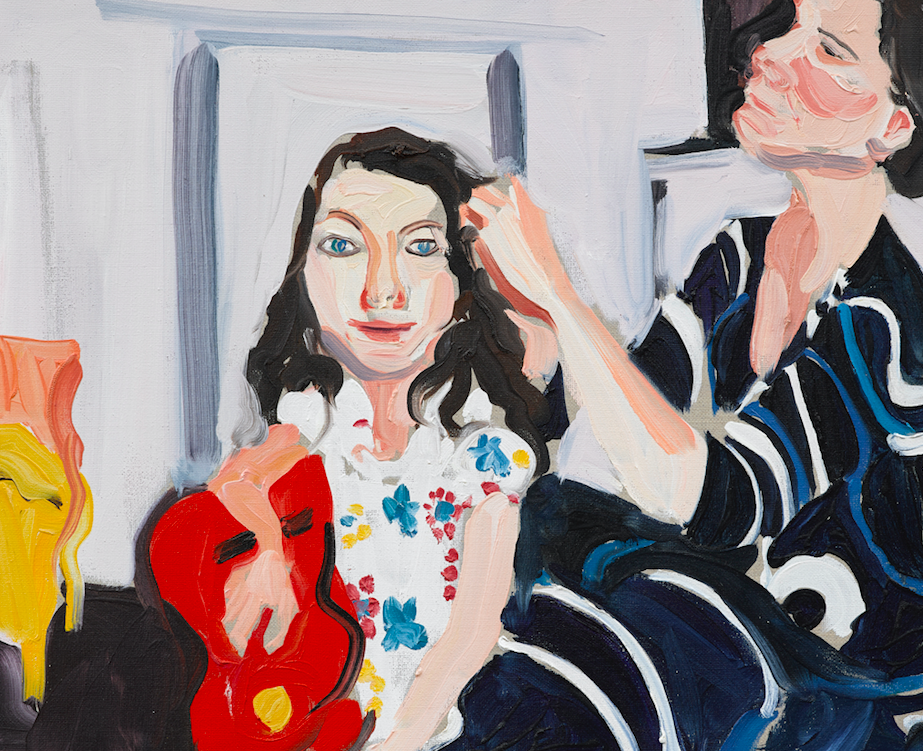 Like Louise Bourgeois, whose experiences of motherhood served as inspiration for her own art, acknowledged in relation to and within the work, and whose pieces Birth and Children in Tub conclude the gallery's sister show, accompanied by this pertinent quote from 1995 – "I only learned tenderness with the arrival of my own children" – Joffe's artistic commitment to this specific devotion is hardly a modern trend ( Painting Childhood, indeed, dips into the 17th, 18th and 19th centuries, while Orrock considers the reasons past artists have used their own children as models, mainly practical) but it shares a language recognisable today, identifying with wider culture's current exploring of similar territory.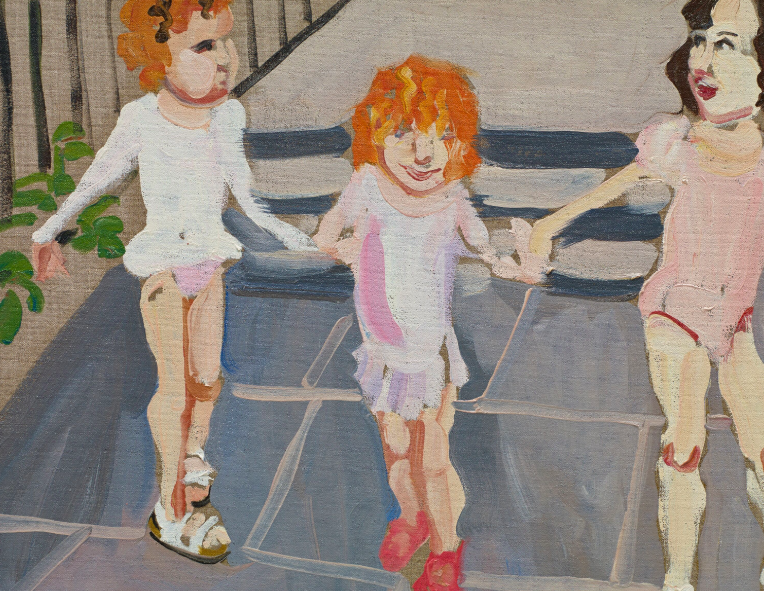 I'm thinking most specifically of cinema, of Greta Gerwig's Lady Bird, much lauded for its portrayal of Lady Bird and Marion's relationship, and Josephine Decker's exquisite Madeline's Madeline. Within the art world, despite Joffe's hard brush strokes and aside of her colour palette favouring bold shades, there is a sense of kinship with Carrie Mae Weems's seminal The Kitchen Table Series. Most prominently this can be felt in Untitled (mother and daughter with makeup), but more generally it can be observed in how the two artists elevate relatively casual but ultimately compassionate moments and underscore private experiences, such as the child copying Weems doing her makeup.
"There's a fundamental desire I think, on the part of parents to capture their children as they grow and change," reckons Orrock. "Joffe has said about Esme that she can only paint her as she is, at each moment in time, then looking back through the paintings as we would a family photo album." The standout in the gallery's grouping then, is the previously unseen Esme on the Sofa, painted by Joffe last year for Compton Verney's show.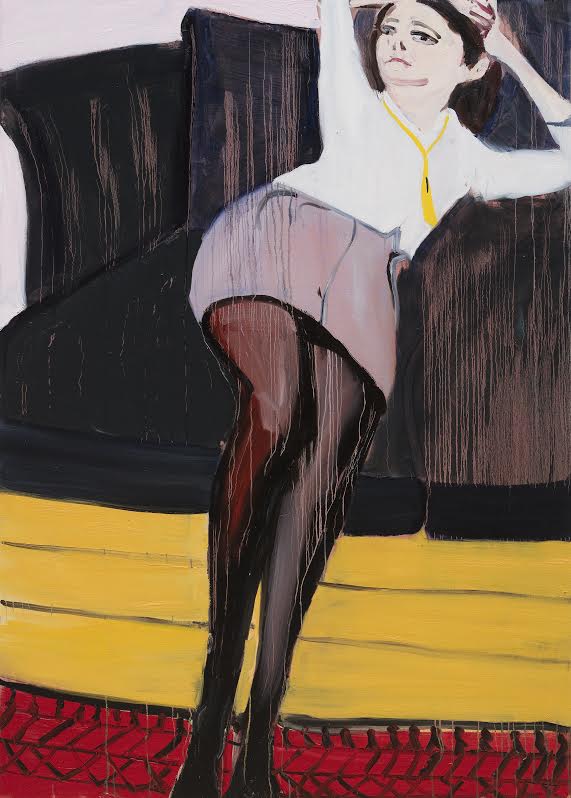 XL-sized, a teenage Esme is pictured in a white shirt and pink skirt, her arms resting above her as if just returned from a busy day at the office (school, presumably). Positioned opposite her baby portrait, the two works act as neat bookends to a temporary moment, commencing with infancy and concluding with adolescence; Esme almost as an extension of Joffe's self-portraits, versus her imminent autonomy.