View of "Lubaina Himid: Invisible Strategies," Modern Art Oxford, 2016. © Modern Art Oxford. Photo: Ben Westoby
Here's How One Artist Took on the Colorblind British Art World
Lubaina Himid rose to prominence with the Black Art movement in mid-1980s Britain, but was pushed aside in favor of simpler themes and sleeker aesthetics. Now three major shows and a place on the Turner Prize shortlist are heralding a belated rethink.
View of "Lubaina Himid: Invisible Strategies," Modern Art Oxford, 2016. © Modern Art Oxford. Photo: Ben Westoby
In late 1987, a six-part TV series called The State of the Art was broadcast on Britain's Channel 4. Presented by Sandy Nairne, who would go on to become director of the National Portrait Gallery, the series and accompanying book were an ambitious attempt at an authoritative overview of the art of the '80s, and featured such heavy-hitters as Jean-Michel Basquiat, Cindy Sherman, Anselm Kiefer, and Barbara Kruger. The final episode focused on work referencing identity politics, and included a look at a movement known in the British art world of the time as, simply, Black Art. Nairne interviewed four artists associated with the tendency. Lubaina Himid was one of them.
The placement of Black Art and Himid in the context of Basquiat and Sherman is testament to their rapid emergence in a rather staid scene. Large-scale group exhibitions of Black Art were staged at venues including the Whitechapel Gallery ("From Two Worlds," 1986) and the Chisenhale Gallery ("The Essential Black Art," 1988). Himid herself curated "The Thin Black Line" at the ICA in 1985, an exhibition that focused on gender as well as race.
The artists with whom Himid was associated had started making issue-oriented work at the beginning of the decade, responding to such events as the riots that erupted in the South London borough of Brixton and the Birmingham neighborhood of Handsworth in 1981—disturbances sparked by perceived police injustice toward young black men. They also made work addressing the marginalization of artists of color by the mainstream British art world, and confronted the histories of slavery and empire that lay beneath postwar immigration. Himid produced bold figurative works with black female subjects as their central focus, giving these individuals a subjectivity and agency that was reinforced by her use of wood cut-outs, a direct way to afford them physical presence.
Freedom and Change (1984), one of Himid's best known works from the period, re-imagines Picasso's Two Women Running on the Beach (The Race), with black protagonists taking the place of the original's white pair. Along with prioritizing the black subject, Freedom and Change points to the largely unacknowledged debt owed by modernist artists to the African art that cropped up in Parisian flea markets at the beginning of the twentieth century, a result of the trade opened up by France's colonial activities in that continent. In "The Thin Black Line," Himid exhibited another key work, The Carrot Piece (1985), which depicts a white man on a unicycle taunting a black woman with a carrot dangling from a stick.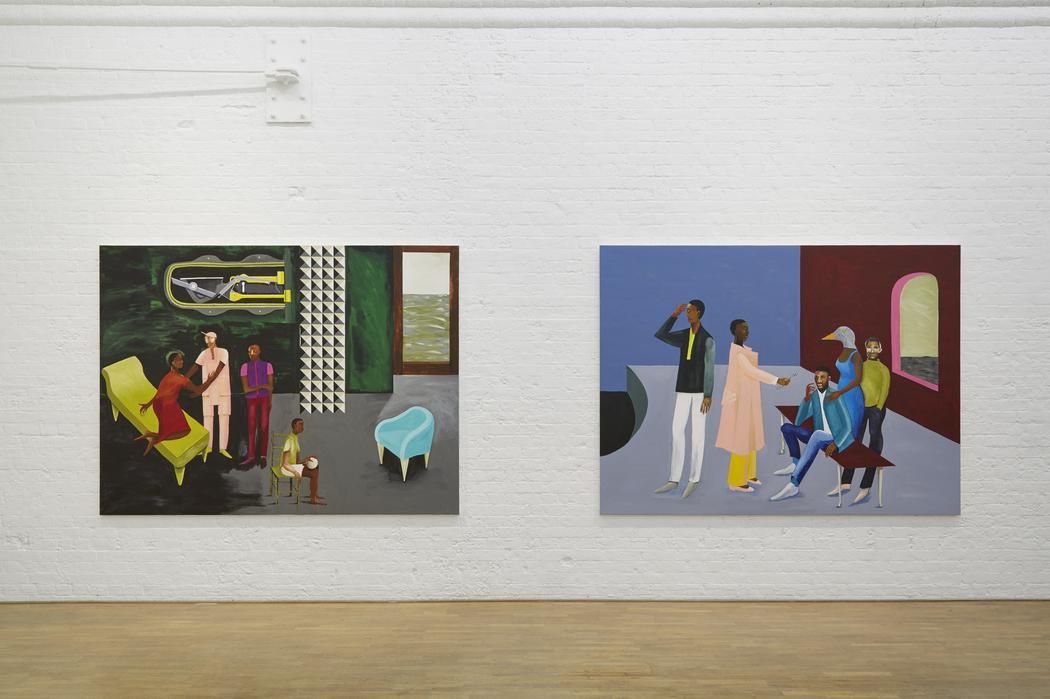 With their bold imagery and politicized messaging, these were images that chimed loudly at a moment when British society was polarized by the policies of Margaret Thatcher. This was a Prime Minister who, shortly before her election, had declared the British citizenry to be people to be "really rather afraid that this country might be swamped by people with a different culture." Thatcher supported the South African Apartheid regime for a number of years, and denounced Nelson Mandela as a terrorist. The works of Himid and her peers formed a powerful counterblast to the conservative rhetoric of both the political and artistic establishments.
By the middle of the 1990s however, Black Art in Britain had all but disappeared from view. Artists such as Himid, Keith Piper, and Eddie Chambers weren't picked up by commercial galleries, which would have been the obvious next step after their inclusion in institutional shows. "The Other Story," a large-scale exhibition at the Hayward Gallery in London in 1989, attempted to link 1980s Black Art with a longer history of the nation's artists of color, but there was precious little curatorial follow-up. With solo exhibitions hard to come by, Himid was soon almost forgotten. Many of her generation would turn to teaching, showing their own work ever more infrequently; Himid herself ended up teaching at the University of Central Lancashire in Preston.
In 2012, Chambers published a book, Things Done Change, which examines this change in fortunes. He argues that the strident, politicized practice that characterized Black Art had fallen out of fashion: "By the late 1980s and early 1990s, a great many Black Artists—primarily as a consequence of what were perceived by the art world to be overly assertive or accusatory racial or social narratives within their practice—found themselves being curatorially cold-shouldered." Chambers also notes the emergence of a new generation of black British artists including Chris Ofili and Yinka Shonibare, who treat issues around race and ethnicity more playfully than their immediate forebears, arguing that their rise marked a moment when audiences had lost interest in an overtly serious approach to identity politics.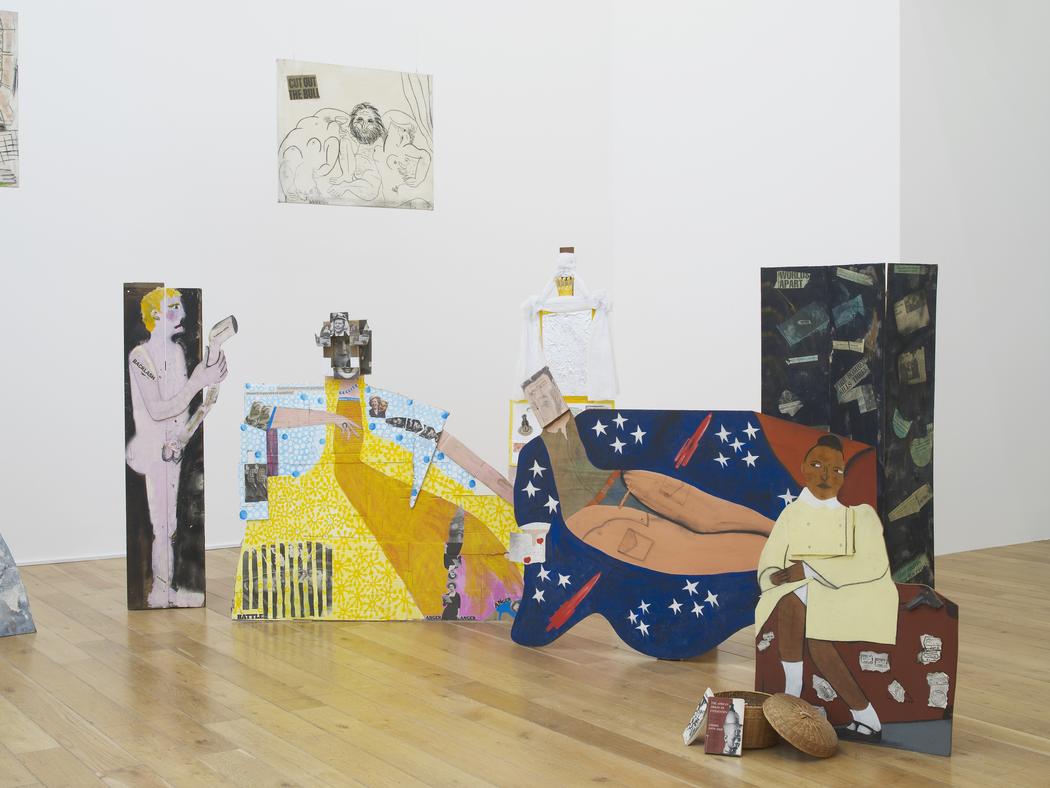 By this time Chambers references, the international political landscape had altered too, the fall of the Berlin Wall marking a shift toward rapid globalization. In Britain, New Labour defeated a long-unstable Tory government in 1997 and, in its first four years at least (until 9/11), embraced multiculturalism to an unprecedented extent. The style associated with Black Art began to seem angry and sloganeering in a way that just didn't fit with a world that appeared to be becoming more tolerant, diverse, and open.
Chambers's book, which borrows its title from Notorious B.I.G.'s track "Things Done Changed," thus traces a significant shift that had, seemingly, left Himid's generation behind. Five years on however, this assumption has been proven premature. Strange to relate, the fortunes of artists such as Himid and—less rosily—the wider political climate in which they operate have both reversed direction. In 2013, the small but respected East London gallery Hollybush Gardens gave Himid a solo show, then took her work to the Frieze Art Fair in 2014. After years of obscurity, she began to receive curatorial and commercial attention again.
The Outset/Frieze Art Fair Fund, which acquires works from Frieze to donate to the Tate Collection, announced that one of their purchases that year was The Carrot Piece, from Hollybush Gardens's booth. Almost thirty years after the work was shown at the ICA, it had finally found a home in a major museum collection. This year, Himid has made further institutional appearances at Modern Art Oxford and Spike Island in Bristol, and featured prominently in "The Place is Here," a retrospective survey of the Black Art movement at Nottingham Contemporary that toured to the South London Gallery. It was clear from these shows that Himid's way of working had remained consistent since her initial emergence; the Oxford exhibition was filled with paintings, cut-outs, and sculptures immediately recognizable as developments of themes with which the artist was working back in the mid-1980s. Naming the Money (2004), which was shown in full at Spike Island, features a hundred life-size painted plywood figures, returns to the legacy of slavery and the agency of the black subject. Himid's work thus continues to link the contemporary world to a dark history rooted in the repressive strategies and outcomes of European economic self-interest.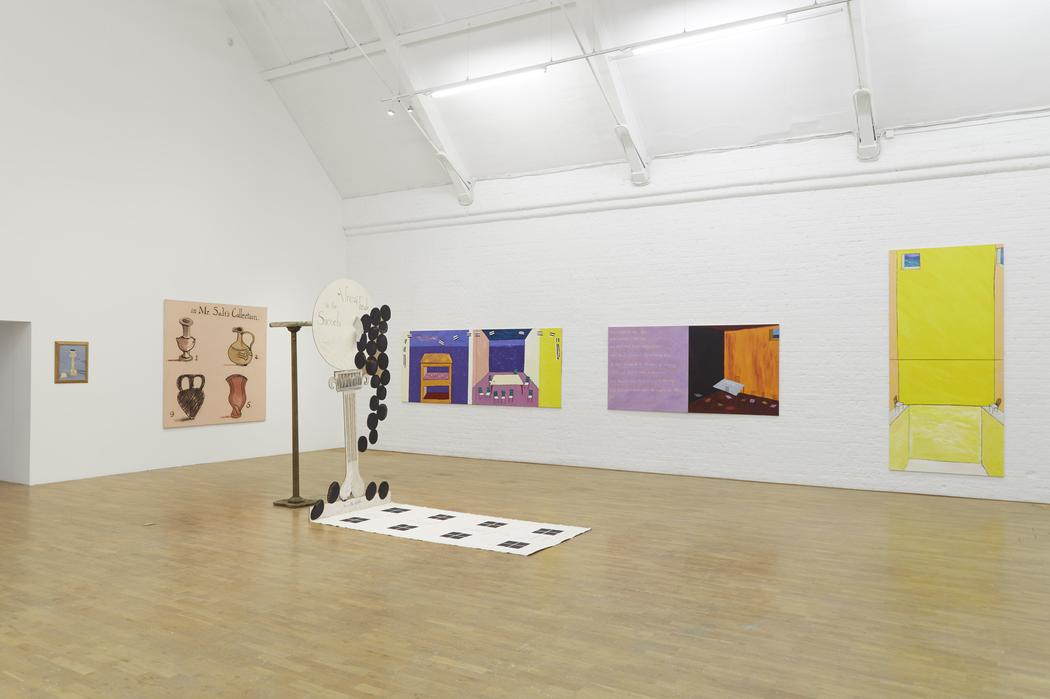 The shows Oxford, Bristol and Nottingham shows were all well received, and now Himid has been nominated for this year's Turner Prize. At the age of 62, she's benefited from the recent lifting of the award's age restriction, and at time of writing is the favorite to win. It's a remarkable turnaround for the artist and her agenda that underscores a recent and ongoing transformation: the open, cosmopolitan world that progressives assumed would be the natural corollary of globalization has been stopped in its tracks by such lamentable phenomena as Trump and Brexit. Nationalism, trade protectionism, and even white supremacy are back in the headlines. One might argue that the return of an artist like Himid has parallels with the unanticipated rise of a politician like Jeremy Corbyn, who until quite recently was dismissed as a relic of a strident leftism surplus to the requirements of a dominant neoliberal consensus. Himid's continued insistence that nativism, racism and exploitation wouldn't go away as easily as most hoped looks now to have been correct, and as a result, her critical vision is more relevant as ever.
Niru Ratnam is a London-based writer and co-founder of the gallery STORE, which operated between 2003 and 2009.
The Turner Prize 2017 exhibition runs from September 26, 2017, to January 7, 2018, at Ferens Art Gallery, Hull, United Kingdom.