View of Pedro Reyes: Glyptotek, Lisson Gallery, London, 2018. © Pedro Reyes. Courtesy of Lisson Gallery. Photo: Jack Hems
This Artist Wanted to Make Sculpture, So He Made a Mini Sculpture Museum
Pedro Reyes's new show is an encyclopedic tour of the genre—augmented by a dash of local politics.
View of Pedro Reyes: Glyptotek, Lisson Gallery, London, 2018. © Pedro Reyes. Courtesy of Lisson Gallery. Photo: Jack Hems
Pedro Reyes is best known for his anti-gun works Palas por Pistolas (2008) and Disarm (2013), for which he transformed the metal used to make the weapons into functional shovels and musical instruments. The Mexican artist's oeuvre also includes participatory and performance projects, film, puppetry, and architecture. And while his 2016 exhibition Doomocracy at the Brooklyn Army Terminal captured the embattled feeling of the pre-election moment, Reyes is as concerned with the formal qualities of art as the ideological. The artist's current show, Glyptotek (Greek for "museum of sculpture"), at Lisson Gallery in London, takes on the modest task of exploring sculpture through the millennia.
GARAGE caught up with Reyes in London before the opening.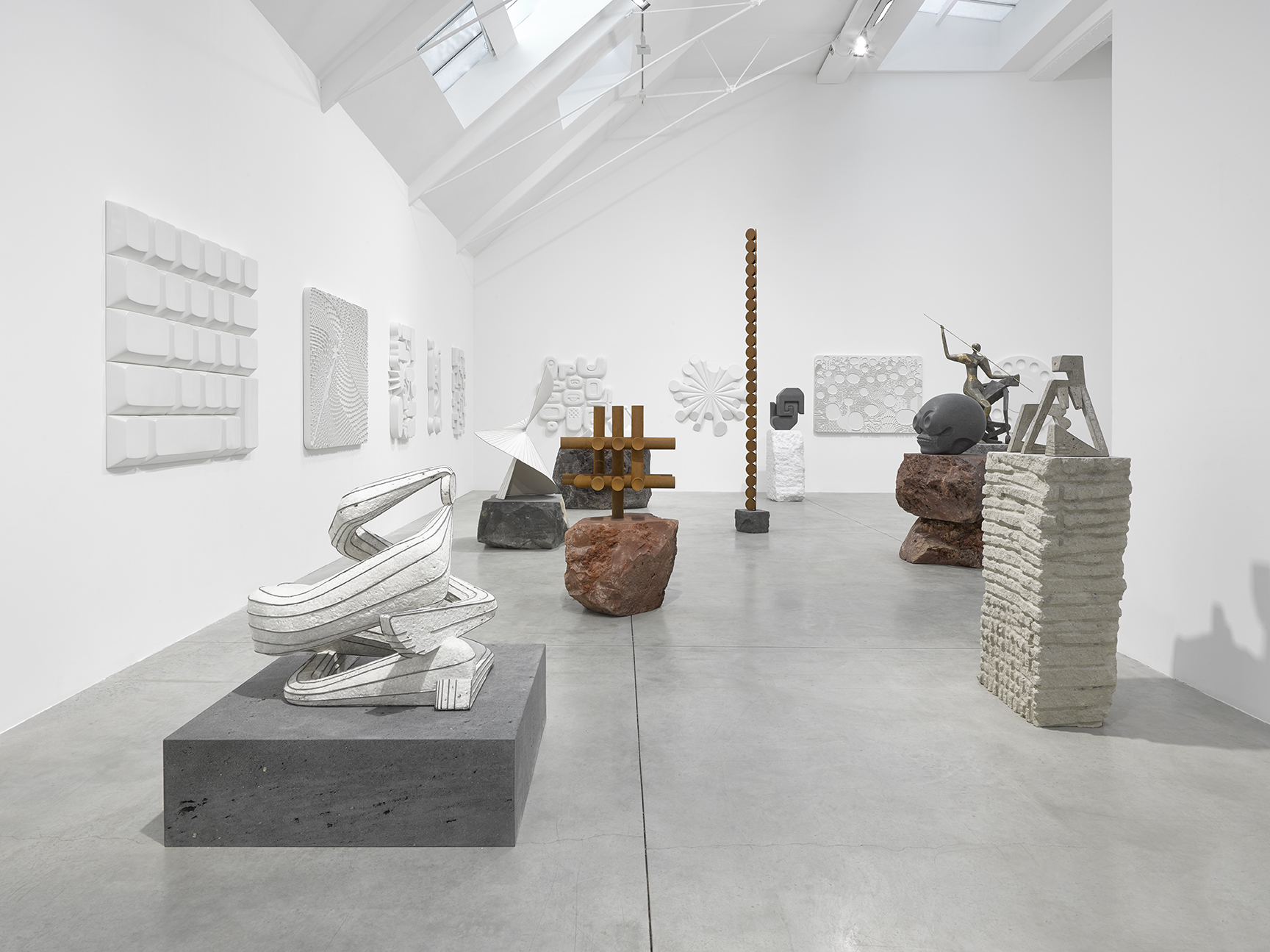 GARAGE: Why did you name this show Glyptotek?
Pedro Reyes: It's a term used—though not very commonly—to refer to a gallery of rocks or sculptures. Then you have a pinatotek, which is a museum devoted to painting. Because the show has only sculpture, and is somewhat connected to the history of sculpture, it was a perfect name!
You work with many different media, each of which carries a layer of meaning. What are you aiming to convey here?
In sculpture, form is meaning. That's a liberating thing. It's not that sculpture is the illustration of an idea, but rather that the formal aspects of a work make up the experience of it and the meaning within it. Seer (2018), for example, uses the motif of the jaguar lips from the Olmec civilization, the oldest in the American continent. That motif is five thousand years old, and here it's meant to represent synesthesia. So for me, this two-part sculptures represent opposites. An eye coming out of a mouth and a tongue coming out of an eye—it's a trippy work and references a mixture of mythologies. These works are also my comment on the need for a change in policy to hasten the end of the failed war on drugs in Mexico. At the moment, for every life saved by the war on drugs, twelve people die.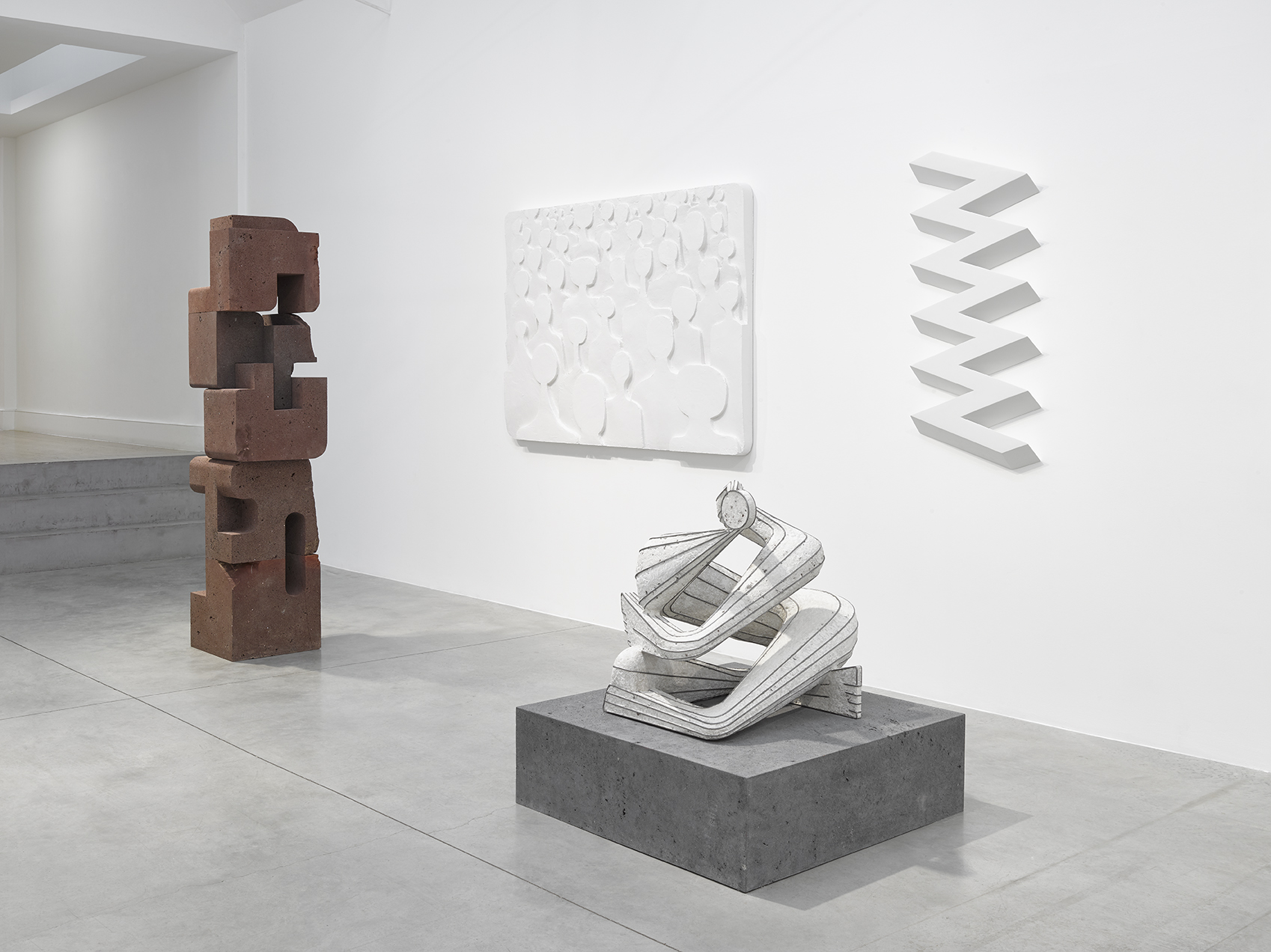 What about some of the other works in the show, such as Versus Machina (2017–18) and The Protestors (2016)?
Versus Machina is my fantasy of humanity triumphing over technology. And I made The Protestors just before the US general election. Trump hadn't won yet but there was already a tension in the air, a buildup, and this was my premonition of the Women's March. Both works were in my exhibition Doomocracy, and link that show to this one. This is the first time that The Protestors has been shown in the UK.

Statues tend to depict individual male heroes, but I like the idea of the anonymous protestor as a heroic figure—someone who decides to put off their plans and stand in the street with a placard or a megaphone.
Aside from politics, what else inspires you?
El quinto sol (2017) was inspired by the Lebanese artist Saloua Raouda Choucair, who was making work in the 1950s. I saw her work at Tate Modern—she was totally unknown until that show. She makes sculptural poems, with five sculptural or typographical elements going to make a work. I wanted to make a sculpture out of an abstract language. Another abstract work is Anatomy of a Die (2018), in which I made the interior of a die, across which the dots on each side are joined to reveal a network.

A lot of my work explores the markers of civilization—a keyboard, speech bubbles, a circular dial on an old-fashioned telephone.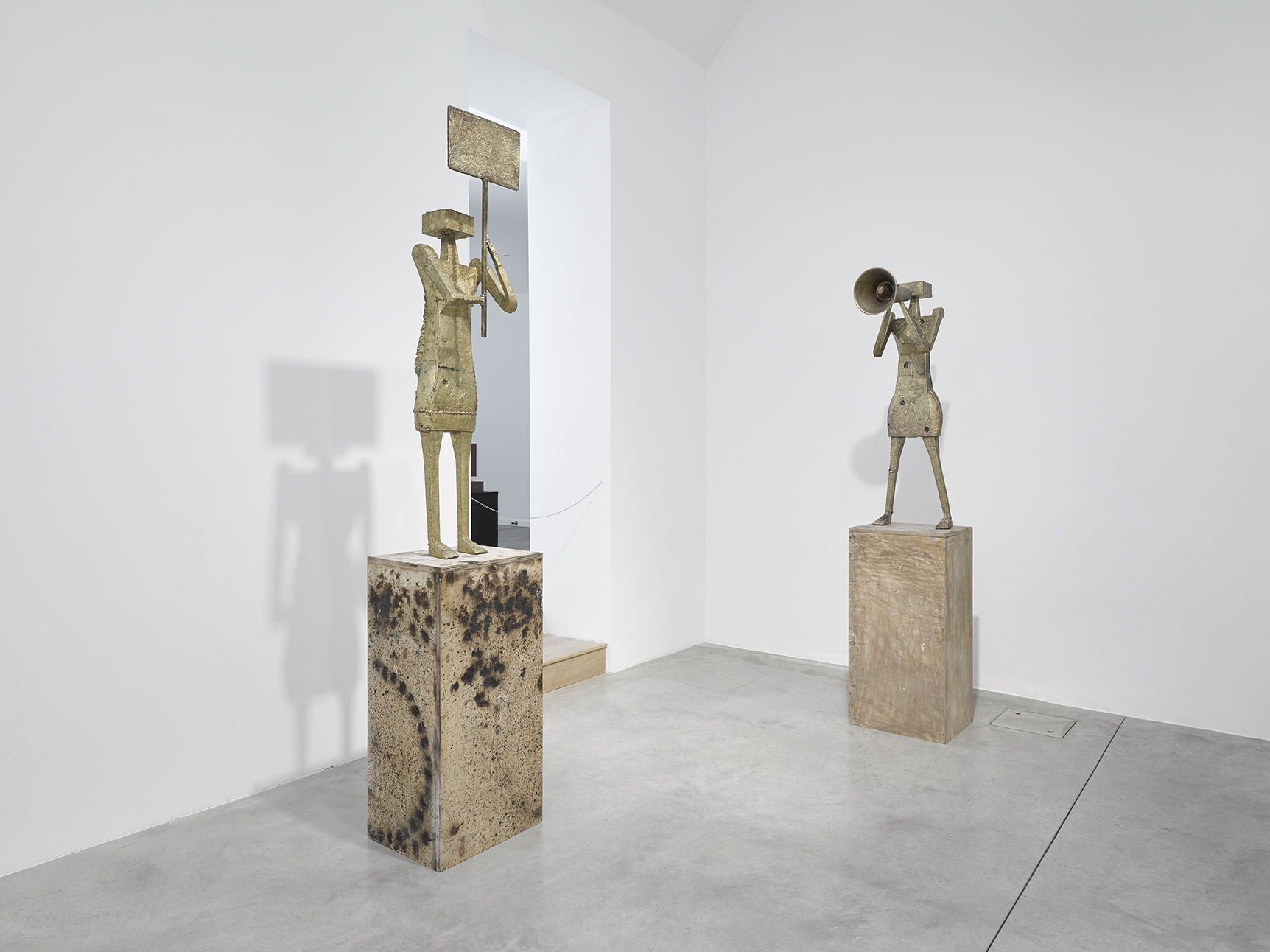 We're living in an age of protest. As someone who has always been politically active, has witnessing an increase in activism and protest affected your work?
I've been involved with certain specific causes, like gun control. I've made works by recycling guns, working with the idea of sculpture as physical transformation to change something that was designed to kill into a musical instrument. This changes the polarity of a material with the hope that a radical transformation will also happen on a psychological or sociological level. I've been doing this since 2008, but it's wonderful that it's teenagers who are now leading social transformation.
But not all my work is political; it's just as important to have room for subjectivity, a lyrical spirit, for poetry, and for the experience of art.
You've talked before about there being two strands to your work, the participatory, performative projects, and the formal images and objects. Does this exhibition represent the latter?
In reality, I have eight or ten strands to my work, from puppetry to architecture to film. Sculpture has a broad reach; the specific thing about this show is connecting with a tradition of sculpture. Lisson is turning fifty and I'm working on understanding sculpture up to the formation of the gallery.
I've been looking at the aesthetic of the postwar, Henry Moore generation, which Herbert Read dubbed "the geometry of fear." As a group, these artists looked at Columbian art. The reclining figure motif, which was popular in Mexico, was a particular inspiration to Moore. And he in turn influenced modern sculpture in Mexico.
Some might question that kind of appropriation.
For every work that is in the show I've appropriated elements from twenty different cultures in twenty different centuries. That's what it means for an idea to be universal. If ideas don't circulate they are of no use. Ideas are only useful if people copy them, and I copy everyone all the time! But I end up mixing so many things together that the idea becomes mine.
Pedro Reyes: Glyptotek is on view through April 21 at Lisson Gallery, London.