We Decoded the Drug References at the Raf Simons Show
The designer's fall 2018 collection paid homage to the German cult biopic "Christiane F." and Glenn O'Brien and Cookie Mueller's lost theatrical work "Drugs."
Raf Simons laid out his Fall 2018 menswear collection as a banquet, on a runway piled with wine, blood-red links of salami, bunches of grapes, and flowers; like a Dutch vanitas, it evoked both the bloom of youth and the ghastly dread of its decline. It was an exciting collection—armless knit sweaters swinging from necks; sloping, broad-shouldered jackets with stout lapels; gloves braceleted with bulky wrist cases. You may have missed two arcane cultural references: shirts sporting stills from Uli Edel's 1981 film Christine F., and a recurring motif inspired by the cover of Glenn O'Brien and Cookie Mueller's lost tragicomic play Drugs.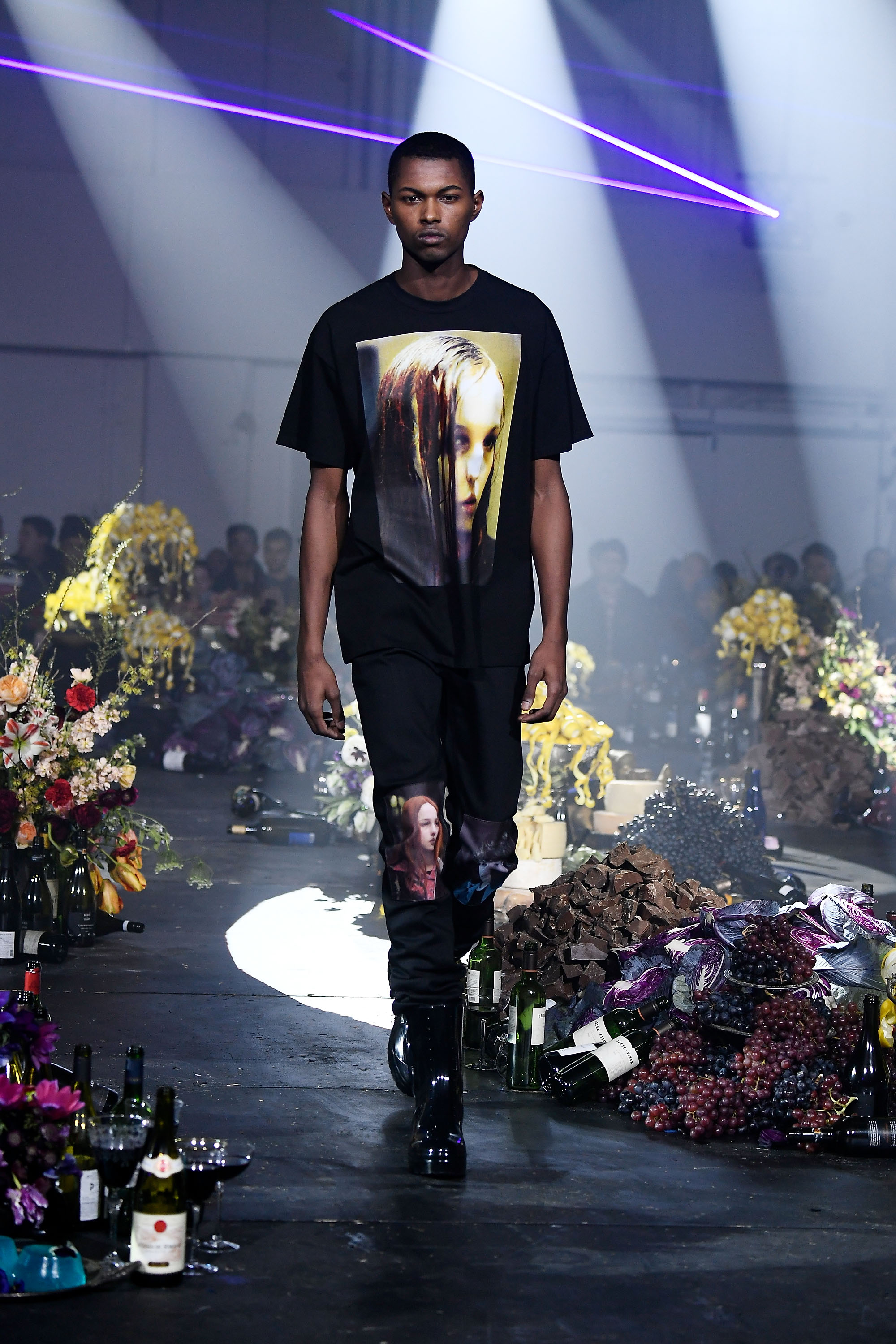 Raf Simons was in high school when he first encountered the nonfiction book Christiane F. – We Children from the Bahnhof Zoo by Christiane Felscherinow, Kai Hermann and Horst Rieck and the eponymous film by Edel, intended to scare the youth straight, and it made a lasting impression. The gritty biopic tells the story of Berlin's youth drug scene through a teenage protagonist named Christine F. She loves David Bowie, sneaks into a disco, gets hooked on heroin, turns to sex work: think of a 1980s Berlin precursor to Kids. (In a 2013 interview, the real Christiane Felscherinow told VICE she regretted the book and film: "To the public I was the famous drug addict, like an exhibit.")
The drugs theme continues with Drugs, a 1983 play by celebrated writer, editor and "successful maniac" Glenn O'Brien and writer-slash-John-Waters-muse Cookie Mueller, who passed away of AIDS-related causes in 1989. The work had never been published or performed before it was printed by the Kingsboro Press and For the Common Good in 2016. The book came in two colors: bad cut yellow and prescriptive orange.
Like the vanitas, the goofiness of Drugs and the bleakness of Christiane F. are two sides of the same coin; the point here isn't to demonize or glorify, but to consider the ways in which drugs are a part of life. Appropriately, a portion of the proceeds from the collection's sale will go to organizations that support those recovering from addiction.