Model Sihana Shalaj courtesy of Venera Mustafa. Photographed by Majlinda Hoxha
Venera Mustafa: Interpreting Kosovo's Social Turbulence Through Fashion
The former war refugee preserving and challenging the tradition of her native Kosovo with androgynous streetwear.
Model Sihana Shalaj courtesy of Venera Mustafa. Photographed by Majlinda Hoxha
In 1998, 18-year-old Venera Mustafa was sitting in school in Tirana, Albania, where her family was living after being forced to leave their native Kosovo by the Serbian paramilitary. A teacher came into the classroom and asked that she report to the headmaster's office. "What have I done now?" Mustafa remembers thinking. The man who wanted to see her was from the Miss Albania beauty pageant, looking for tall Kosovar girls. Mustafa fit the bill. She auditioned in the same clothes she'd been wearing when her family was ousted from their home: baggy cargo pants and Adidas trainers with elastic bands stitched lovingly by her mother in place of laces.
Venera was uncomfortable next to girls in lavish dresses and decided not to come back. But, the next day, the representatives implored her to take part. She agreed, becoming the first-ever contestant from Kosovo—officially part of Serbia and the Yugoslav republic at the time—to enter the competition. She won.
Two decades later, Mustafa is often reminded of the story. "I still have people today who say, 'We were in Struga, Macedonia, in a refugee camp when you were crowned,'" she says. "'Everybody cried!'" Show business wasn't for her (she ultimately passed her Miss Albania duties to the runner-up), but the political significance of Albanian-Kosovar culture became crucial to her career as a fashion designer. Her fall 2017 collection incorporated impressions of the brez, a belt native to the Albanian region of Has. Other collections have taken inspiration from the Albanian trouser known as tirqe and even the Albanian letter ë.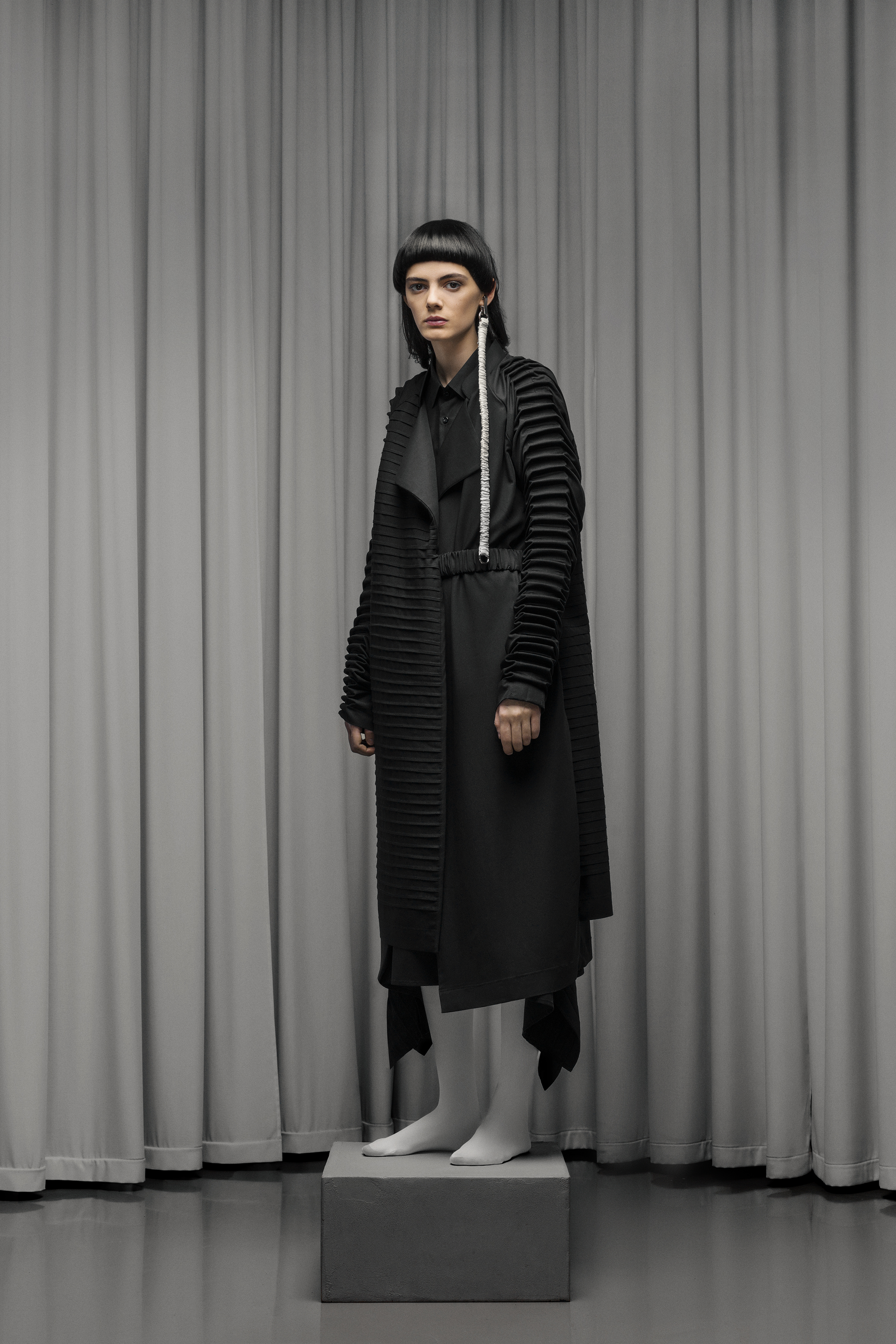 Mustafa says her spins on Albanian tradition are not nationalism but inspiration taken from her environment. The brutalist architecture of Kosovo's capital city, Pristina, built before the breakup of Yugoslavia, is another influence. Her spring 2018 collection lookbook was shot at Pristina's National Library, a building commonly considered hideous. The line was typified by a coldness indebted to Japanese minimalists of the '80s, such as Issey Miyake and Yohji Yamamoto, featuring statement sleeves that subtly echoed the Library's 99 domes. She has also shot collections in disused carparks and abandoned garages.
Pristina's limitations make Mustafa's pragmatic approach imperative. She has just one shop, where she and three employees stitch products themselves. At first, generating income was tough. In an industry dominated by the wedding market, Mustafa says most designers in Kosovo are more like seamstresses. Unlike others, though, she refused the many requests from people asking for eveningwear and wedding dresses, determined to succeed from working to her own designs. "People said I was arrogant because I didn't want to make these dresses," she says.
Though her income is still far from stable, Mustafa thinks attitudes are changing. These days, she rarely leaves the house without seeing someone in her clothes. "It's the nicest thing, it really is," she smiles, before hastily adding, "but we are a small city—you can cross Pristina in 15 minutes!"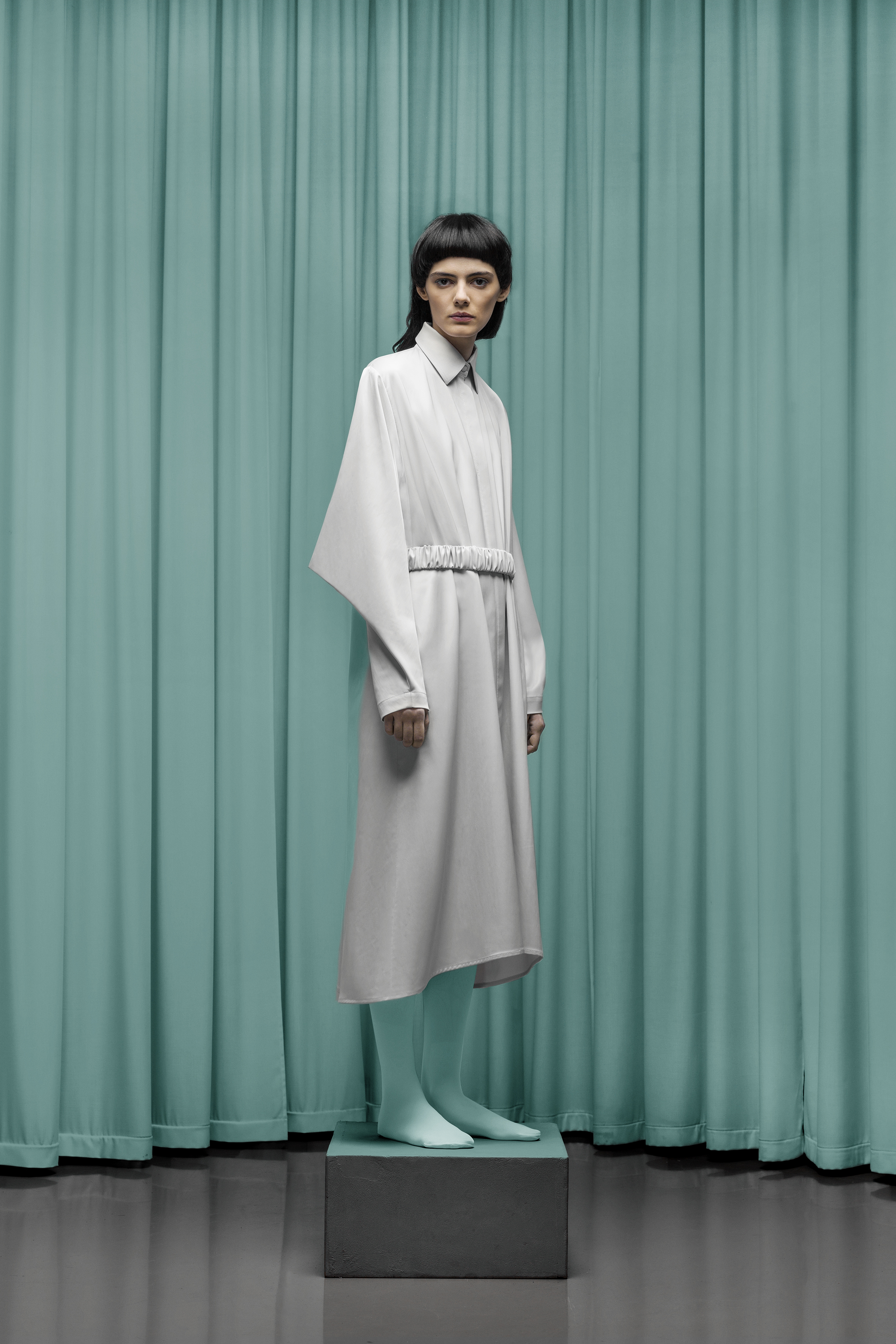 In a city with no modeling agencies or influencer economy, Mustafa has found girls to wear her clothing by scouting in coffee bars and clubs. Among them was Sihana Shalaj, who began working with Mustafa at 16. Now 21, Shalaj's distinctive, androgynous beauty has become the face of Mustafa's brand, most strikingly in her most recent collection for fall 2018. "I had never heard this word until recently," says Mustafa. "Then it was everywhere: androgynous. I never thought of it that way. I just like that silhouette—it's more of an elegant approach to me, of wearing it down rather than just pointing out everything."
By not "pointing out" hips or breasts, Mustafa's style stands out. She explains that conventional Kosovar fashion often crosses the thin line between sexy and vulgar. "There are people who wouldn't like my things because they're too closed, too dressed down, or not tight," she says. "But I have nothing super tight. It's just not my style."
Mustafa's childhood memories are blurry at best—and deeply traumatic at worst. At school in Kosovo, she made a game out of running away from tear gas released by Serbian police. She encouraged herself to maintain a positive spirit even after thousands of Albanian-Kosovar schoolchildren were poisoned.
And she learned to find creativity in the turmoil. "You become more intrigued, more inspired in what you could make with what you had," she reflects. Such an attitude is essential in Kosovo, which remains isolated even after celebrating 10 years of independence this year. Mustafa is a sign that its fashion scene, though still a niche, could have a brighter future.