Accidental Style Icon: Parker Posey
Is she the dark-haired, turban-clad Veronica to Chloë Sevigny's Betty?
A great Wikipedia page is the one for "Blonde versus brunette rivalry," which lists some obvious examples alongside many more utterly insane ones. I did not know that in Russia, there are blonde and brunette chess teams for teen girls, and I did not know that the first women to play baseball professionally in the U.S.A., in 1875, were sorted into teams the same way. Although Betty and Veronica from Archie are described as representing the "most enduring blonde vs. brunette rivalry in American culture," I am infinitely more interested in the rivalry in Total Recall, where the blonde is Sharon Stone; and the idea of a reality show called Les Gladiatrice, in which blondes and brunettes wrestle in bikinis (screened in France, naturellement) intrigues as much as it repels.
Any beginner's guide to Parker Posey, the wide-mouthed and tony-looking brunette actress whose offbeat delivery and manic dress-sense have led to her being crowned the unofficial Queen of Indie, could do worse than situating her in contrast to her blonder, six-years-younger counterpart, Chloë Sevigny. Both are beloved by alterna-kids throughout the nineties and the aughts and now; both were born outside of New York (Posey is from Monroe in Louisiana; Sevigny from Springfield, Massachusetts), but somehow inextricably of it; and both are best known for an admixture of iconic roles in art films and small roles in large films. Sevigny and Posey have to some degree lived parallel lives. At one time, the two were also neighbors. "Imagine the backyard barbecues at the East Village town house co-op where the actress Chloë Sevigny just bought the garden apartment for almost $1.2 million," the New York Times reported breathlessly in 2005. "On the top floor is Parker Posey, another actress known for her independent film credentials." Nixing the need for much imagination on the reader's part, a New York Magazine profile of Posey from 2006 documents a casual meeting in which Sevigny—described as "husky-voiced"—returns a bag of Posey's misdirected mail, resulting in a brief exchange that ends in a last line so Chloë you can hear the smoker's rasp: "I'm trying to figure out how to get into Depeche Mode tonight."
Maybe the biggest difference between the two actresses: Posey reacts to Sevigny the same way a civilian fan might, unhiply and enthusiastically. "'She's the coolest, isn't she?' Posey gushes," the reporter notes, "as Sevigny disappears into her downstairs garden apartment." It is difficult to picture Sevigny enthusing, gushing, or emoting wildly about anything, all three verbs connoting the opposite of chill. (A Google search for "Sevigny gushes" yields one—one!—hit, a clear exception to the rule as she is gushing over the equally louche, equally un-Hollywood cool girl Kristen Stewart.)
Posey, who is not only an actress but a genius at improv, and who has appeared in five of Christopher Guest's largely-improvised films, is the type to meet most situations with the requisite: "yes, and!" "What looks like wackiness to the untrained eye," the New York Magazine piece adds, "is actually… the mark of the perfect supporting player, who knows when to yield a scene to other actors and who can just as easily elicit laughs without saying anything at all." She is such a strong supporting player that for most of the mid-noughties, media-savvy New Yorkers could not get enough of casting her as one in their own lives—a regular in Gawker's "Gawker Stalker" column, readers emailed in reports of her "wearing a lot of makeup but look[ing] great, with a black and white checkered overcoat on," wearing "what looked like nicotine patches" at ABC Home & Carpet, "dressed in a sort of 'Jenny from the Block' get-up" at the East 9th and 2nd Ave Starbucks, being "small," "drunk" and "dishevelled," walking her famously evil dog in God knows how many locations, waiting for the A train with a "terrible" hairstyle, and "wearing a granny dress, weird elfin shoes and her hair in a [sic] BANANA clip," looking "pissed off." (Sevigny sightings, staying true to the Sevigny versus Posey binary, seemed invariably more cool and put-together, if not also altogether more like hipster MadLibs: Chloë in an oversized crumpled white t-shirt with the armholes cut out and what appeared to be no pants, snarling at someone on a cell-phone; Chloë at Max Fish wearing jean shorts; Chloë wearing overalls stuffed into calf-high Timberland boots, slouching.)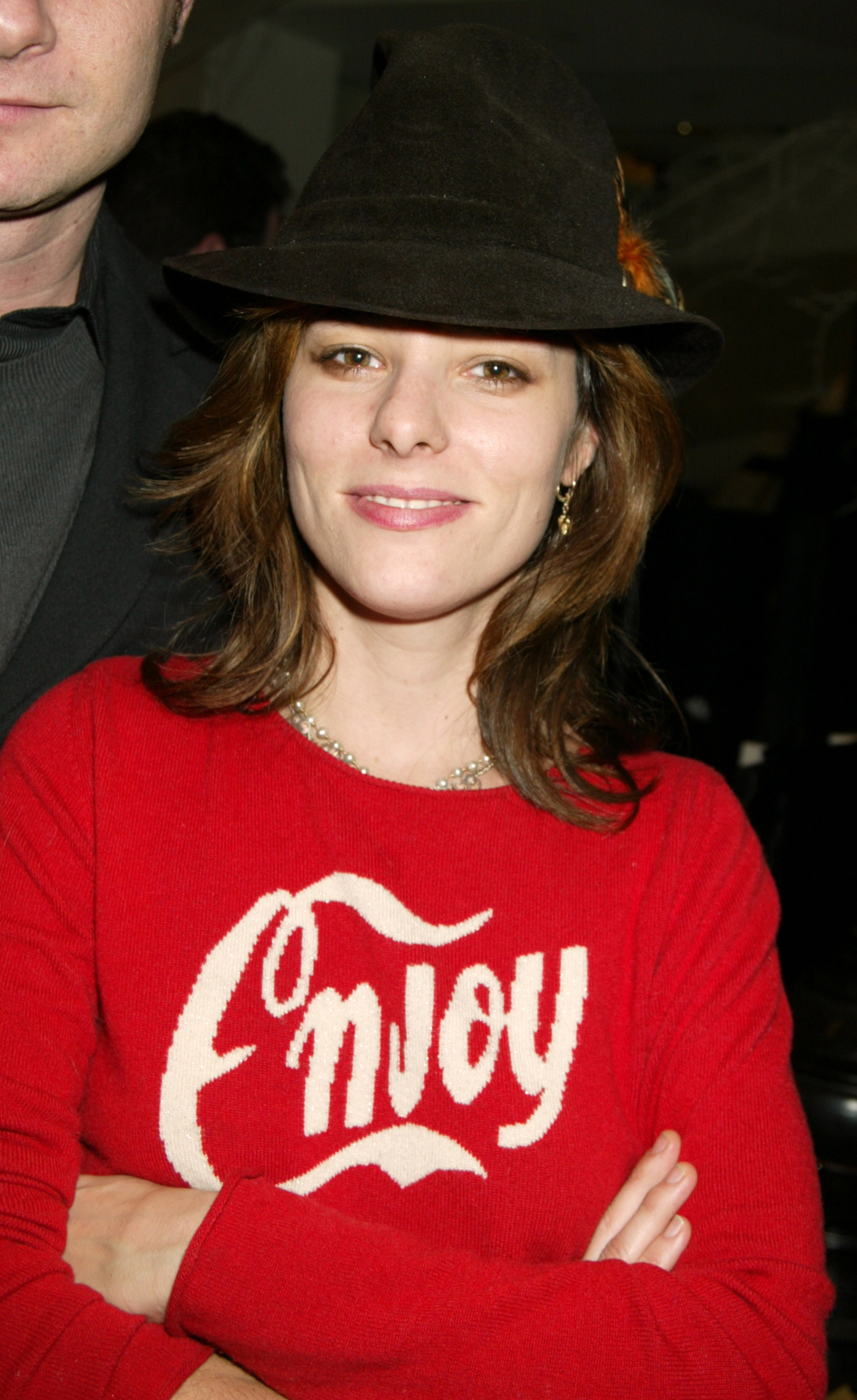 The picture that emerges is of someone who is slightly too much and a skosh too messy, and entirely content on both counts. Three of Parker Posey's roles especially stick with me, as personal favourites and as emblematic of her general vibe: Mary, the bratty, stylish clubber-turned-librarian in Party Girl; the brother-fucking Jackie O obsessive in The House of Yes; and Meg, the yuppie who believes "we are so lucky to have been raised amongst catalogs" in Best in Show. All three are privileged fruitcakes, batty in the way that only very beautiful white women are permitted to be batty, and extremely hazy on the finer details of adult behaviour. As a performer, Posey's greatest asset is her jawline—sharp, patrician, and more often than not set into a smile so wide it skews demented. "Parker Posey," the lede in a recent Washington Post interview reveals, "is deep into turban territory. Turbanettes, really. Headscarves. She'll say they're for being witchy, but they also keep her head from exploding, or from floating away like a Thai lantern. Sometimes she feels as if that's going to happen. It's a side effect of swinging between exhilaration and despair."
Intimacy in a public figure can be as desirable as exclusivity, making Posey's turban-wearing, oddball brand of full disclosure as ideal a fit for modern media as hipsterish aloofness. In 2015, Chloë Sevigny released a picture-book that allowed fans—the kind of fans obsessed enough to have loved Gawker Stalker, but perhaps not lame enough to cop to having loved it—access to a carefully-curated version of her life. There may be no more quintessentially Sevigny move than to release a memoir as a photo-book. Posey, being both the brunette to Sevigny's blonde and the high-voltage maniac to her dead calm, over-It Girl, released her own memoir last year, structuring it like an erratic conversation with a seatmate on a long-haul flight. You're On A Plane: A Self-Mythologising Memoir "is a celebration of peculiarity," per Vogue. "It's also a lament: The price of being a weirdo in Hollywood—particularly a female weirdo, particularly an aging female weirdo—is considerable." It toes, in other words, a line between exhilaration and despair.
It's worth noting that Sevigny's photobook was created as a corrective to a Japanese fan publication whose use of casual paparazzi shots the actress found "unflattering," and that Posey's memoir practically leads with a wry anecdote about the time her pants fell down as she was walking down 5 th Avenue. "I'm an actor," she explains, "because funny things happen to me, and shame flirts with me… When I'm asked, 'What's it like being an actress"' I always say, "It's like walking around with your pants down and around your ankles.'" Had I read about her doing just that in a very special edition of Gawker Stalker, I would not have been especially surprised.