Tali Hinkis (for LoVid), Bandanas, 2017. Photo of Talia Newton by Clara Sullivan
How to Wear a Video
Art-tech duo LoVid's new wearables transform the fluidity of distorted video into luxurious silk scarves.
Tali Hinkis (for LoVid), Bandanas, 2017. Photo of Talia Newton by Clara Sullivan
Nothing says winter comfort like a good scarf. We wear them to holiday parties. We stick them in stockings. We can even use them as stockings. Everyone loves a scarf. But what of the art scarf? A little harder to find, but in the world of holiday gear, it's the most prized of all. A conceptual scarf is more than just seasonal wear—it's a conversation piece.
Enter Tali Hinkis and Kyle Lapidus, who collaborate as the art-and-technology duo LoVid. The pair just announced that their new scarves will be available through LMAK Book + Design from today. (The sale will be followed by a LoVid performance at LMAKgallery on December 15.) LoVid explores technology through performances, participatory public art, "handmade technologies," textiles, prints, apps, experimental videos, and immersive installations. Typically, this means blending seeming opposites—the handmade with the mechanical, the abstract with the logical, and the ephemeral with the permanent. And they've been integrating textiles into their work since 2003.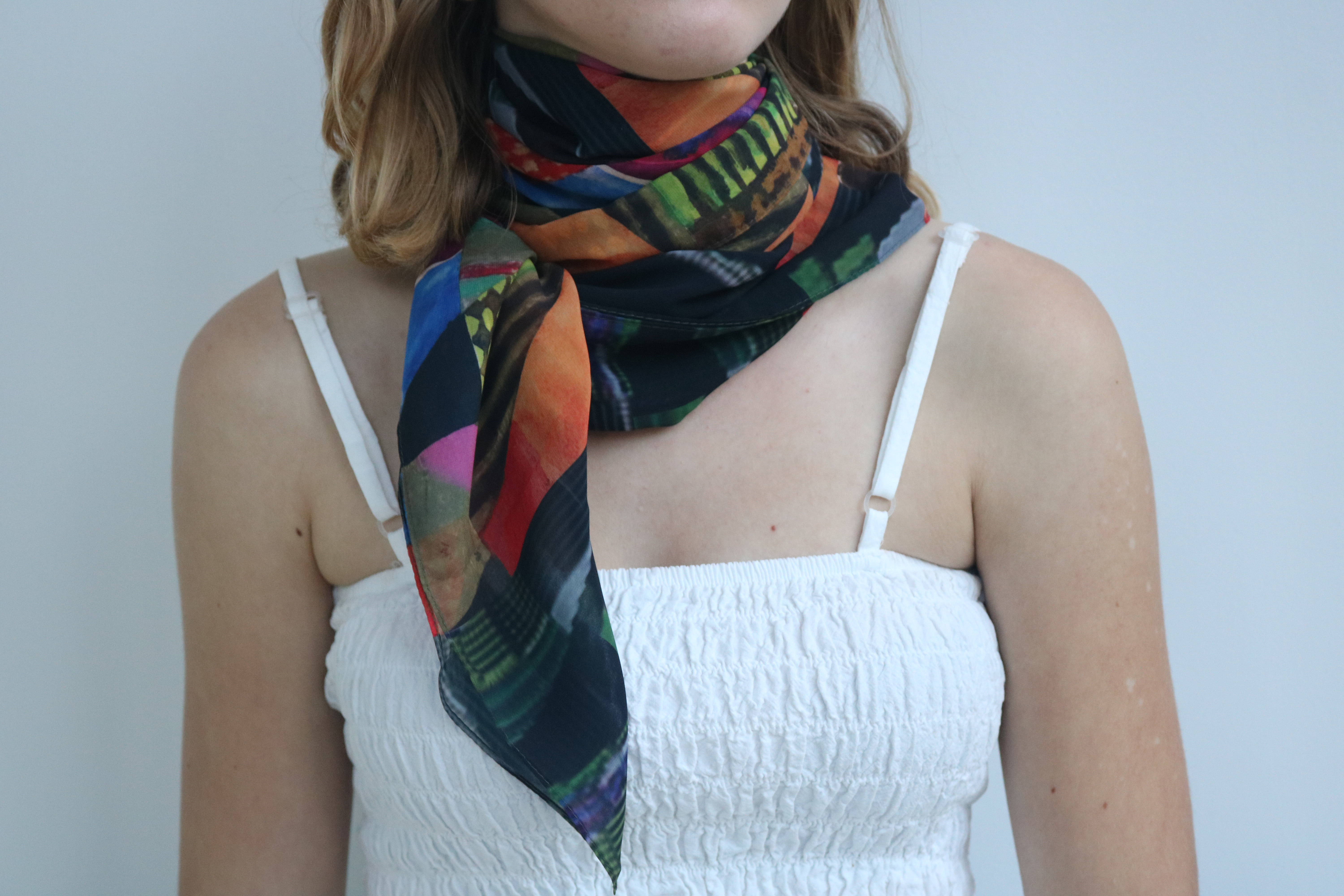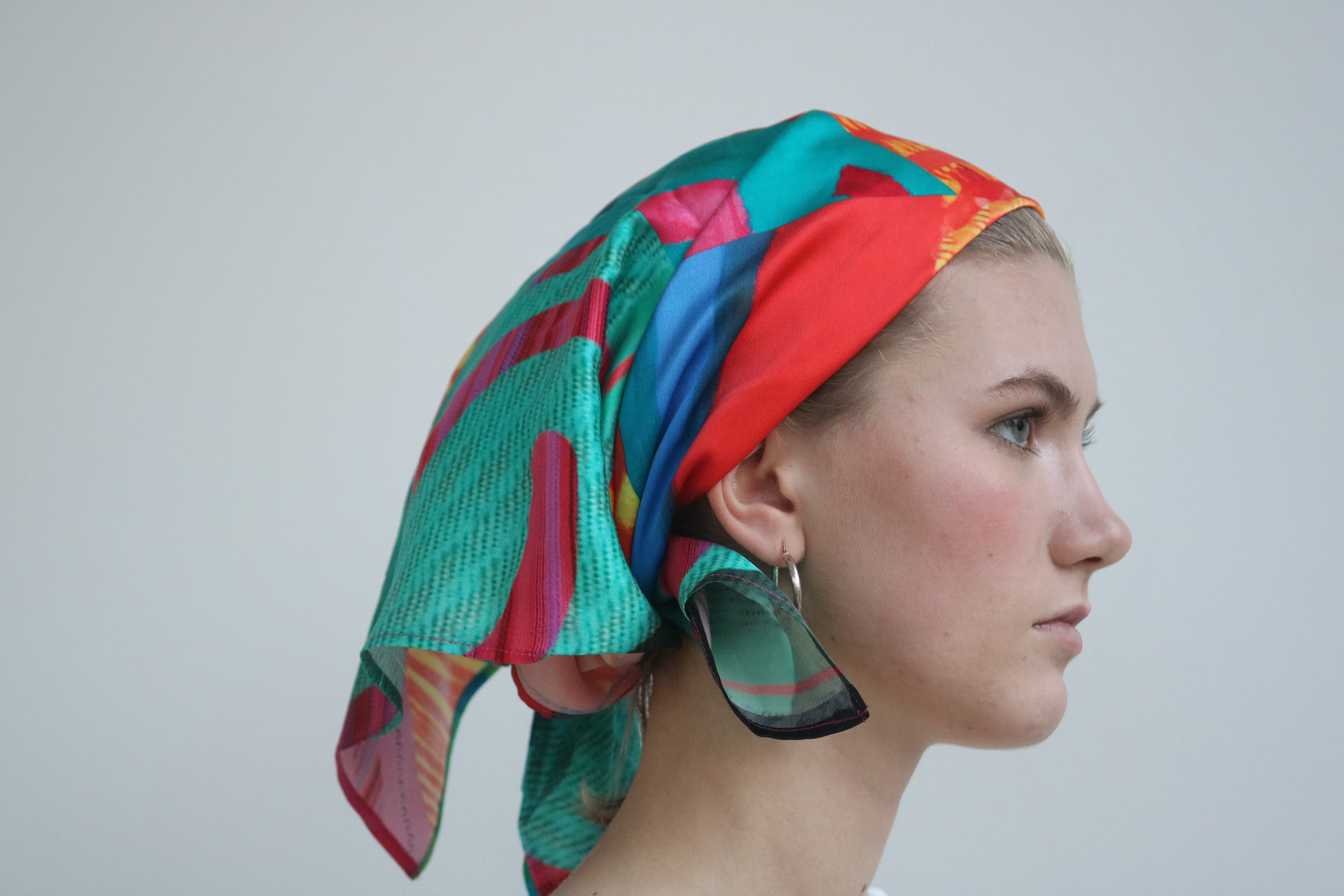 The patterns on LoVid's scarves resemble abstract art displayed on video screens, but rather than using icons such as ascii or test patterns to reference technology, they allow the medium itself to do the work. The coloration of the silk fabric they use resembles the luminescence of a backlit surface—the designs are defined by bold color and forms so fluid they appear to move.
When I spoke to Hinkis recently, she told me her design process with the new scarves differed from her approach to LoVid's previous textile work, which is based on video stills. "I was using the video material as a palette or image bank and constructing it once it was printed," she explained. "Now I'm more carefully designing the images before printing. It's a more controlled process, with less improvisation."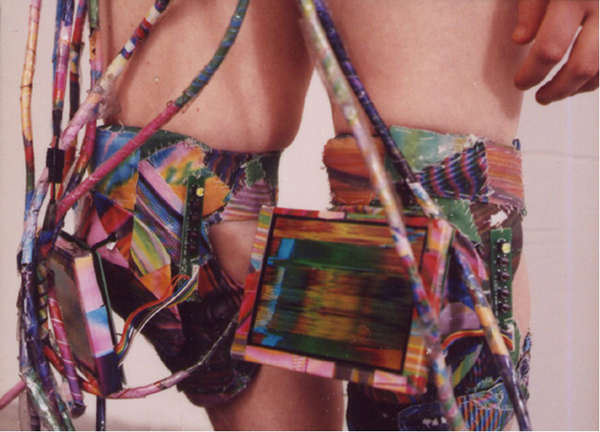 The ideas behind the work, however, are consistent with the duo's interest in oppositions. "The fabric was a great way to make something that was ephemeral (video), physical and tactile." Hinkis told me, "Ephemeral media is important, and I was thinking of technology as ephemeral because it can become obsolete. The permanence of these materials stands in stark contrast to technology. Art lasts thousands of years."
But while potentially enduring, this work isn't prohibitively expensive, running from $200 to $300 depending on the silk blend. When I asked Hinkis about her interest in producing art rooted in fashion, she cited the context's greater flexibility. "I don't know if it's confidence or if the world has changed," she wondered, "but through the years, as I was working with the fabric-related pieces, I've heard people say 'I'd love this in a dress or a shirt.' And at first I was offended. Like, fuck you, that's fashion! Even the idea of digitally printed images wasn't considered fine art. So I felt like I had to make a decision that I was going in one direction."
But now she says that need is a thing of the past, citing LoVid's summer show Contact Longing at New York's Klaus von Nichtssagend Gallery as a watershed moment. "I started making sculptures for a series called Video Taxidermy. They were heavily just fabric." By this she means amorphous fabric mobiles, hanging wall pieces, and strange purse-like objects. "The boundaries now are so much more fluid I feel like we can do it all."


LoVid's scarves are for sale from LMAK Book + Design from November 29, in the gallery and online. LoVid will perform at the gallery at 7 pm on December 15.