Photograph by Lily Gavin.
Julian Schnabel on How His van Gogh Biopic Is the 'Mean Streets' of Art Movies
Willem Dafoe won best actor at the Venice Film Festival for his bravura impression of the lauded painter in Julian Schnabel's latest film.
Photograph by Lily Gavin.
That Vincent van Gogh's untimely death in 1890, age 37, was a murder rather than suicide is just one of many revisions of the artist's myth proffered by Julian Schnabel in his compelling new film, At Eternity's Gate. Though one might be tempted to call it a biopic, the director has noted in a press statement: "This is not a forensic biography about the painter…It is about what it is to be an artist." Based on van Gogh's letters and generally accepted historical accounts of some of the tragic and violent events of the artist's later years, Schnabel's treatment of such material is much starker than the melodramatic and idealized view of the painter's life popularized by films such as Vincente Minnelli's 1956 Lust for Life, in which Kirk Douglas played van Gogh, and Anthony Quinn—who won the 1957 Academy Award for supporting actor—was Paul Gauguin.

Starring Willem Dafoe in a role that earned him the Volpi Cup for best actor at the Venice Film Festival in September, At Eternity's Gate also features Rupert Friend as Vincent's brother, Theo. Additionally, compared with Quinn's scenery-chewing caricature, Oscar Isaac brings to the table a more nuanced (and credible) portrayal of Gauguin, van Gogh's friend and confidant. Complex and enigmatic, Dafoe's van Gogh projects a palpable sense of angst as an artist who was woefully misunderstood in his lifetime, but whose work attracted a vast and devoted posthumous following that has never abated.

In a recent telephone interview with the director, I asked if the sense of gritty realism in the film was intended as a corrective to past Hollywood portrayals of the painter. "When you mention 'gritty realism,'" Schnabel remarked, "I was thinking of how the interaction of Willem Dafoe and Oscar Isaac in certain scenes is something like Harvey Keitel and Robert De Niro talking in Mean Streets. It's the kind of relationship between friends that happens eternally. I loved Lust for Life when I was a child, but it's got every cliché. It's kind of the opposite of the film we made. I hope it opens up a different way to think about art."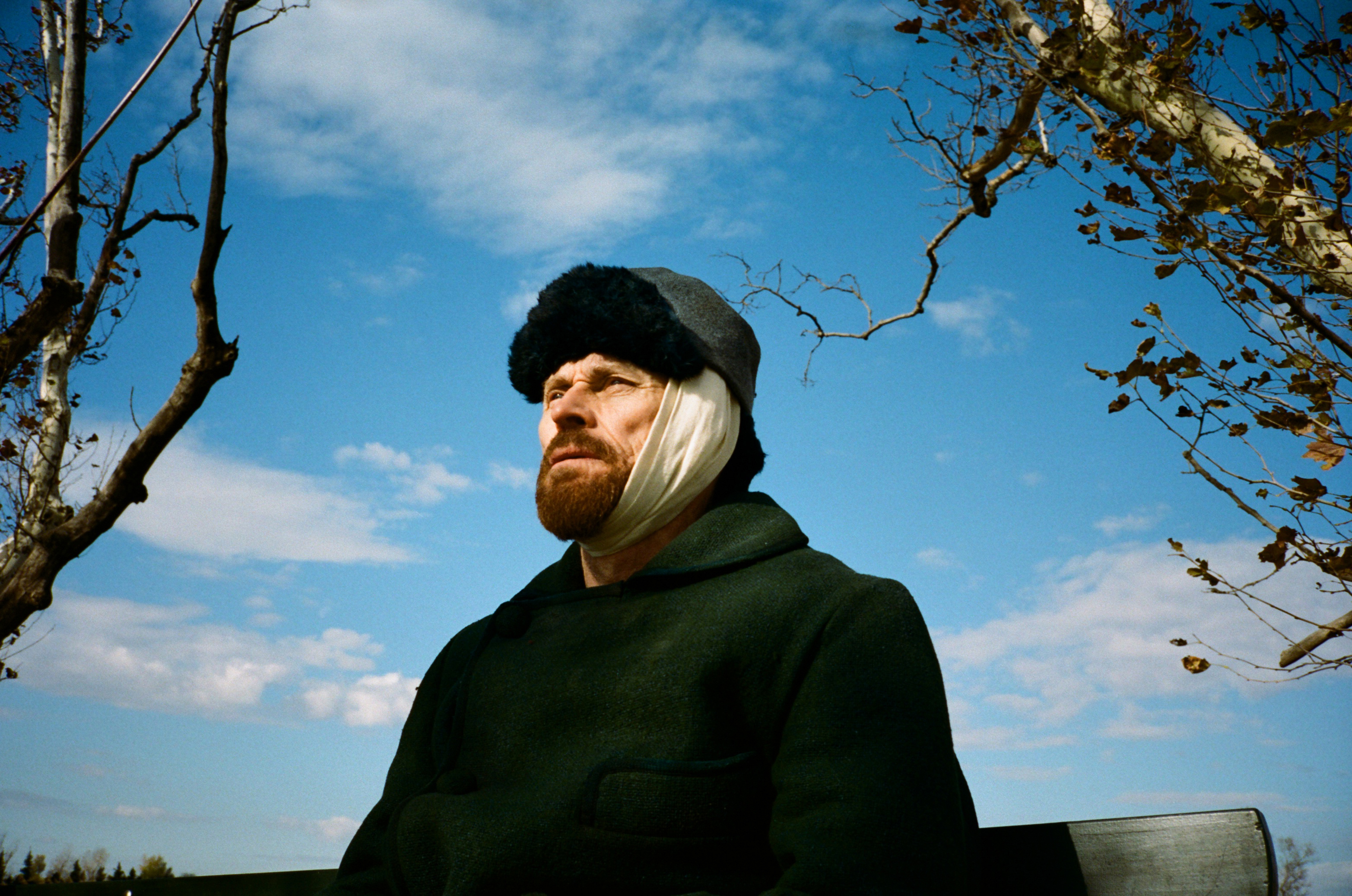 One of the more extraordinary aspects of At Eternity's Gate is that Schnabel, along with Dafoe and several other artists, created some 130 paintings for the film based on van Gogh's work. "I wanted them to be real paintings, and not reproductions," Schnabel told me. There are a number of other areas of artistic verisimilitude in the movie. Schnabel, who first became known as a painter in the late 1970s, taught Dafoe, a longtime friend, to paint; and unlike in most films about the lives of artists, for all of the scenes in the film showing van Gogh at work, the actor is actually painting. The Dutch artist has been an influence on Schnabel in other ways as well—the director's most recent exhibition of paintings at Pace Gallery in New York last year was inspired by a rose garden near van Gogh's grave at Auvers-sur-Oise, which is located in the vicinity of where several outdoor scenes in the film were shot.

In one of the movie's most riveting sequences, Dafoe is seen at his easel, painting in an elevated wooded area as a group of school children parade through a clearing below. Spotting the disheveled artist, they clamber up the hill to taunt him and ridicule his brilliantly colored canvas of gnarled tree roots. It is a poignant—and moving—display of the rejection that van Gogh experienced throughout his life, while also serving as a metaphor for the travails of any artist who aims to impart to the world a new idea or vision. How much of van Gogh's plight does Schnabel identify with in his own creative pursuits? "I think that [his] struggle speaks to everyone, to anybody who ever tried to make anything, including me," he mused. "There's often a huge chasm between an artist and society. Loneliness and isolation occurs. In van Gogh's case, his struggle for love and acceptance was thwarted; there's a line in the movie, where he says he doesn't care about that anymore. 'I just think about my relationship with eternity.'"