One man's nonsense: William Kentridge's Ursonate at Harlem Parish for Performa 17. Photo: Paula Court
William Kentridge's Multimedia Performance Turns Nonsense into Politics
South African artist William Kentridge, famous for his lyrical hand-drawn animations and complex reinterpretations of modernist drama, takes the stage at Performa with a new take on Kurt Schwitters's abstract classic.
One man's nonsense: William Kentridge's Ursonate at Harlem Parish for Performa 17. Photo: Paula Court
Before noise music, there was the Ursonate. Kurt Schwitters's legendary sound work consists of music without instruments and poetry without meaning. It's an extended sonata of nonsense words and guttural sounds that, the artist instructed, were to be pronounced using the linguistic rules of his native German. The Ursonate is at once mesmerizing and exasperating. The arrangements of staccato sounds are highly structured, with repetitions that make the listener strain for understanding before being lulled into the sheer absurdity of it all.

One can listen to Schwitters himself performing an excerpt of on Ursonate on YouTube where the singsong notes and rapid explosions of syllables make one think simultaneously of bird calls, machine gun fire, and a jackhammer. Schwitters first presented the work in February 1925, continuing to perform and refine it for years afterward, and it remains one of the quintessential works of the dada period (although Schwitters himself resisted any official affiliation with the group). So it's not surprising that South African artist William Kentridge would find his way there.

Kentridge first came to international attention with a series of remarkable animations that offered oblique narratives of racial oppression, thwarted desire and personal loss. He created these by filming and painstakingly assembling, frame by frame, a record of the erasures and additions he applied to a set of charcoal drawings. More recently, Kentridge seems to be singlehandedly reinventing the genres of opera, theater, and performance. Since 2010 he has directed major productions of Dmitri Shostakovich's 1928 opera The Nose, Alban Berg's 1935 opera Lulu, and Anton Berg's 1925 opera Wozzeck.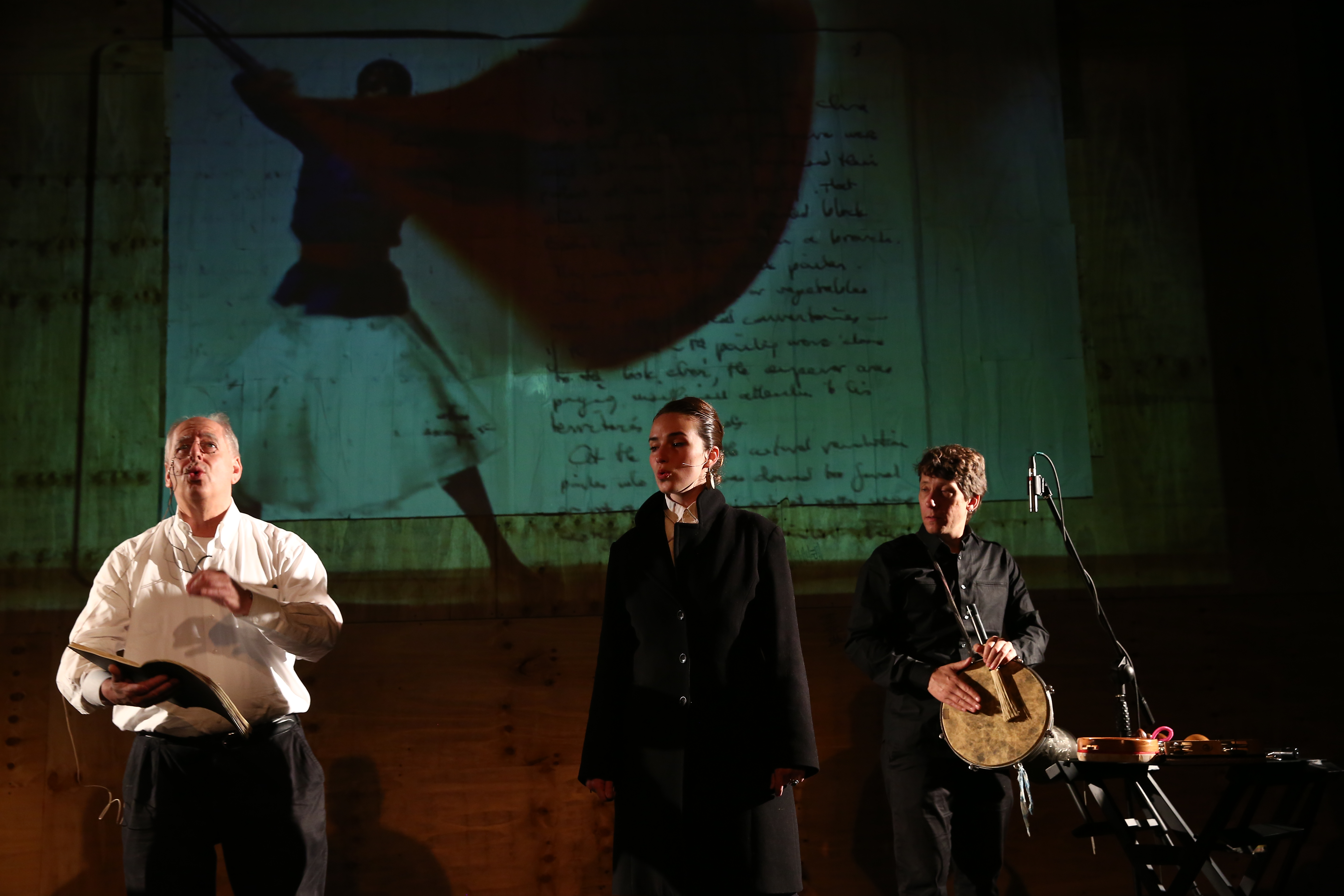 In each case he completely transforms these relatively obscure modernist works using projected drawings and photographs, exaggerated and expressionist sets, puppets, and other moving parts that become as important as the human protagonists on stage. The connective thread is his preoccupation with societies on edge, haunted by war and destruction and besieged by unraveling social systems.
This production of the Ursonate was commissioned by Performa 17 as a centerpiece of its new season. Once again, Kentridge pursues his focus on the political costs of modernity and the darker strains of modernism. For the bulk of the performance, he stands to one side of the stage, reciting the nonsense libretto of the Ursonate. The rest of the stage is taken up with a rough white wall. A projection turns this wall into a giant book whose pages form the backdrop for an inventory of the motifs and characters that have haunted the artist's works since those early animations. These images slip on and off the screen, appearing, disappearing, and reappearing very quickly, often in sync with the rhythm of the reading.
Kentridge's delivery of the poem is less sing-song than Schwitters's, though our attention is in any case riveted by the onscreen images. The assumption is that these are meant to create a visual counterpart to the spoken sounds. But in fact their legibility downplays the abstraction of the original work. Even when the juxtapositions of recognizable images are clearly arbitrary, the mind strains for narrative. As a result, the playfulness of Schwitters's nonsense work is eventually overtaken by a more overtly political agenda.
Early on, single objects flash by, interrupted by looped snippets of film comically depicting the artist himself pacing abstractedly in his studio or repeatedly climbing over a chair. But before long more unsettling images come into play. Many of these will be familiar to aficionados of Kentridge's work. They include characters like a goose-stepping general, a falling soldier, and a portly personification of the earth, various martial parades, processions of oppressed victims or victorious flag wavers, animated coffee pots, walking megaphones, and horses trotting on tripod feet. Fragments of text come and go, some almost making sense. Occasionally there are dancing sequences of colorful geometric forms. These may reference the revolutionary art of Russian constructivism which Kentridge used in the production of The Nose, but they also provide a bit of relief, returning the Ursonate to the abstraction of its original presentation.

Towards the middle of the work there are increasing images of explosions and mushroom clouds. One of the few unambiguously hopeful images is that of a bird flying in place over the book pages. But even this, at one point, morphs into a flock of World War I biplane bombers.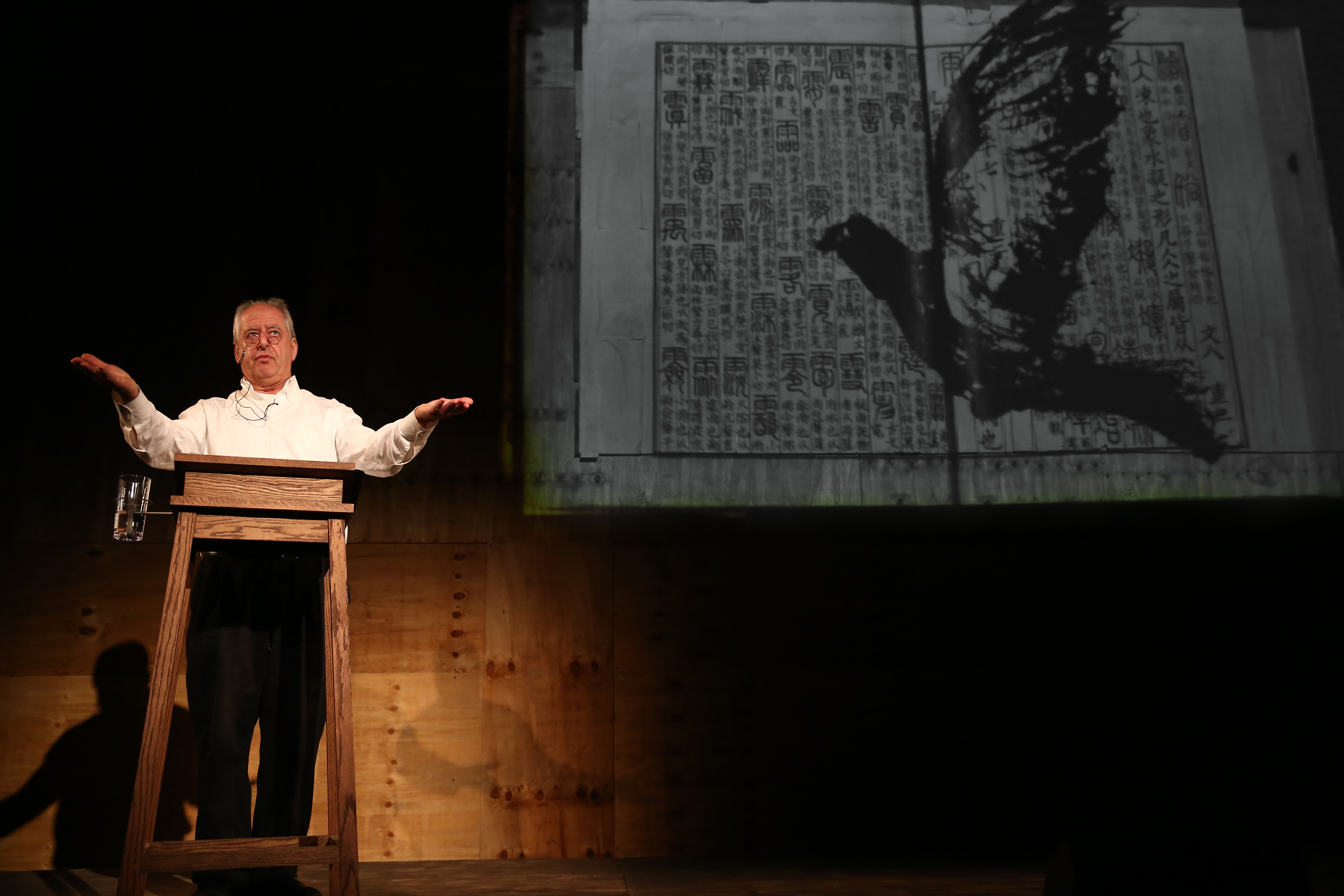 Finally, about fifty minutes into the hourlong production, a second performer enters the stage. Soprano Ariadne Greif begins to spar with Kentridge, her sung nonsense words playing off his until they reach a crescendo that feels like a battle of wills. Meanwhile, a percussionist and French horn player also appear, creating a counterpoint of martial music. This electrifying intervention transforms the energy on stage and redeems a format that had begun to feel a bit too much like an illustrated slide lecture. It suggests how Kentridge might push his reinterpretation of the Ursonate into new multimedia territory.
Schwitters created the Ursonate in a world that was struggling to recreate itself after the Great War even as it careened toward what would be a yet more destructive cataclysm. Nonsense seemed then a bulwark against the false certainty of a disappearing order. We inhabit in a similar state of insecurity today. Here, as in his other performance-based works, Kentridge searches for a language to express the sheer overwhelmingness of our current reality. He uses images, references, and source materials that are deliberately outmoded and even obsolete, but he brings them together in ways that approximate the oversaturated consciousness of the digital era. By bringing our anxieties to the fore, he, like Schwitters, celebrates the irrational, suggesting that it may be both a symptom of our troubled times and an instrument of our salvation.

William Kentridge, Ursonate is a Performa 17 commission.