Why Fashion Nova Men's Is a Total Letdown
The Fashion Nova woman is a snack, but the Fashion Nova man is just a plate.
On the track "She Bad," off her debut album Invasion of Privacy, Cardi B raps about some of her favorite upmarket brands: she wears Off-White in church, she's a "Balenciaga mama," she loves getting spoiled with Prada. But at the end of the day she still dips downmarket for Fashion Nova, where most items are the cost of a luxury shopping trip's tax bill: "I could buy designer but this Fashion Nova fit all"—the rapper YG jumps in—"dat ass, dat ass, dat ass, dat ass, dat ass, dat ass, dat ass, dat ass." Fashion Nova, The Cut wrote last year, "sells fast fashion at its fastest…and specializes in styles that would make your mother ask you if you're 'sure' you'd want to go out in them." Cardi stays with Fashion Nova because, endorsement deal aside, it gives her options to look good and desirable. It makes her look like a snack.
After clamoring from…someone, Fashion Nova has decided to grace men with some fast fashions of their own. True to its genre, there are rip-offs aplenty. Off-White's stripes and industrial belts make appearances, as do Fear of God's slim-cut, overlong drawstring'd sweatpants and Gucci's comic fauna. There are also plenty of basics, all cheaply priced and easy to incorporate into one's wardrobe.
But there's little of the zest Fashion Nova is known for. It's a safe debut—your boring friends aren't going to flame you for wearing most of it. Should you believe the Twitter-reaction pieces (and ignore the section's numerous "sold out" icons), "safe" is not what the people wanted. Last week, Bossip instructed the fellas to "get in thotmation" as hype built after the line's announcement. There had been visions of Marqus Houston's clear suit from the 2004 MTV Movie Awards or Anthony Anderson's booty window pants from the 2016 BET Awards. And though Bossip declared that the collection was "pushing Twitter into the man yammy abyss," its arch-rivals at The Root declared that Fashion Nova had delivered a Fashion No-No.
In its feminine presentation, the snack is a woman who's not going to be around long, but whose brief presence (and your interactions with her, should you be so lucky), carries a charge that's indulgent if not carnal. Fashion Nova's clothes do everything they can to help women bring that energy. Fabric clings. Necklines plunge. Slits expose. Fashion Nova founder and CEO Richard Saghian told Cosmopolitan that "the line's vibe reflects our brand's ethos–confident, edgy, and a bit risk-taking." But that's not what showed up on the website. One tweet highlighted by the Root, from @schLEEpington, shared a screenshot of a pineapple-themed his-and-hers post on the Fashion Nova Men's Instagram account and grousing that "we wanted the men's version of what she has on. Big bold pattern. Showing skin. 2 piece matching set. Is that silk? Meanwhile, homeboy is rocking a t-shirt with a pineapple on it."
The disappointment in the rollout stems from that discrepancy. The Fashion Nova woman is a snack. The Fashion Nova man, so far, is a plate: he's sturdy and largely decorative and consigned to, at best, a supporting role wherever he appears. Imagine that the natural habitat of a piece of Fashion Nova clothing is an Instagram video, in California, maybe at a pool party, definitely in golden-hour light. You have a man and a woman. The woman walks across the frame and makes sultry eye contact with the camera. A snack in a "Wrap You Up Tie Dye Dress." The man shows up behind her, drooling, and makes a crude joke in her direction, scored to the instrumental from a Hot 100 rap single. A plate in a "Meme Lord Short Sleeve Tee."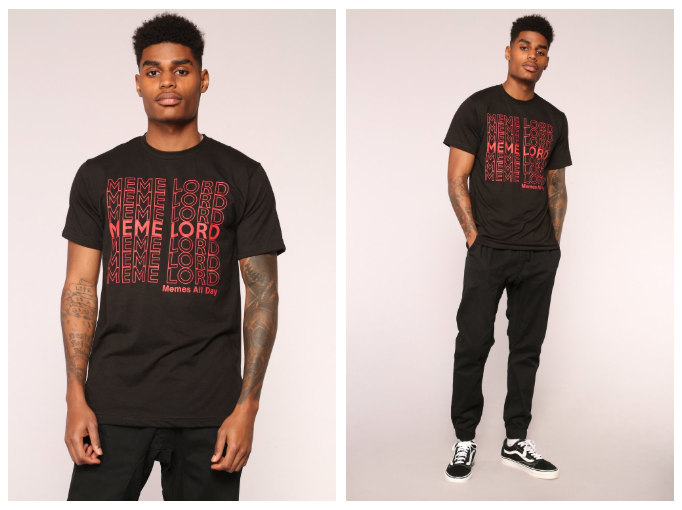 It's not like fast fashion is a stranger to adventurous clothes for men. Zara has drop-crotch sweat-shorts. Forever 21 has mesh hoodies. ASOS has pussy bow blouses. Maybe there just isn't room for everyone on the vanguard. The 1960s brought a peacock revolution to London's Carnaby Street and beyond, where men started wearing more colorful and varied fabrics. Mammoth lapels! Frills! Velvet! But as late as 1969, GQ was noting that the biggest mainstream American menswear innovation was...the rise of colored dress shirts. Sometimes masculine norms take a while to plod through before we can get to the good stuff.
All is not lost. Fast fashion means that correctively extra items will probably hit Fashion Nova's site in no time. Saghian told Vice last year that the company engages with every Instagram photo that it's tagged in. They've probably seen the jokes. They probably know they have to adjust their menswear approach. In the interim, there's a hint of what could be. The sexiest men's items dropped Tuesday are probably the "Olympic Track Short Sleeve Woven Top" and the "Paradise Bowling Short Sleeve Woven Top." Though both are made of 100% polyester, the shirts offer the suggestion of silk, of a surface worth approaching, worth the anticipation of touch. They're shirts that might catch the camera's eye in golden-hour light. They're garments fit for a snack.