Photograph by Mickalene Thomas, Fashion by Shiona Turini, Hair by Nikki Nelms, Make Up by Billie Gene, Racquel Chevremont wears dress by Gucci, socks and shoes by Fendi, and earrings by Jennifer Fisher.
A First Look at Mickalene Thomas' Newest Fashion Photographs
The Brooklyn-based artist sat down with GARAGE to discuss Shayne Oliver, James Baldwin, and her newest series of photographs, which feature Junya Watanabe, Proenza Schouler, and Fendi.
Photograph by Mickalene Thomas, Fashion by Shiona Turini, Hair by Nikki Nelms, Make Up by Billie Gene, Racquel Chevremont wears dress by Gucci, socks and shoes by Fendi, and earrings by Jennifer Fisher.
The monumental mixed media works of Mickalene Thomas suggest a long-standing relationship between the artist and the world of fashion—and as a person, Thomas herself is dripping with style. In her latest series of photographs, presented exclusively with GARAGE, Thomas takes things a step further. Featuring Thomas' partner and muse Racquel Chevremont and artist and model Zachary Richardson, the pictures, which she says may serve as studies for future paintings, work within Thomas' tradition of exploring the essence of identity and representation in popular media by way of classical composition and techniques. They suggest a new reckoning with fashion as a means of self-presentation and an affirmation of femme identity.
Ahead of Thomas' major retrospective at the Wexner Center for the Arts this September, the largest institutional survey of her work to-date, GARAGE visited the artist's Brooklyn studio to talk fashion, process, and the sheer power of the black women she calls muses.
I know we're supposed to be talking about the images we are debuting alongside this interview but, standing in your studio, I have to say it is amazing to be surrounded by some of your large-scale mixed media works. They're so imposing in their size, they kind of throw you off balance.
For me the scale is very, a very strategic decision in my creative process. I used to make my paintings only about 4'x5', and that was mainly the largest at one point in my career. But the figures themselves felt like they were expanding the walls. The women that I was photographing in these tableaux were really pushing beyond those boundaries to be seen—to be monumentally seen—to be contended with, to be forces of nature. I felt like I was containing them in this box, and I wanted the viewer when they're standing in front of these figures to feel her presence— to feel the power. I was commissioned by the Brooklyn Museum, and I made my first 9'x12' painting. It felt so empowering to see this reclining black woman, just…BOOM. Just huge, just here, just present. That was so invigorating. It was so personally refreshing and joyful. Words couldn't describe the spirit and feelings at that moment. Physically, emotionally, spiritually, I knew that was how these women need to be presented, that I was unjustly boxing myself and them into these smaller dimensions.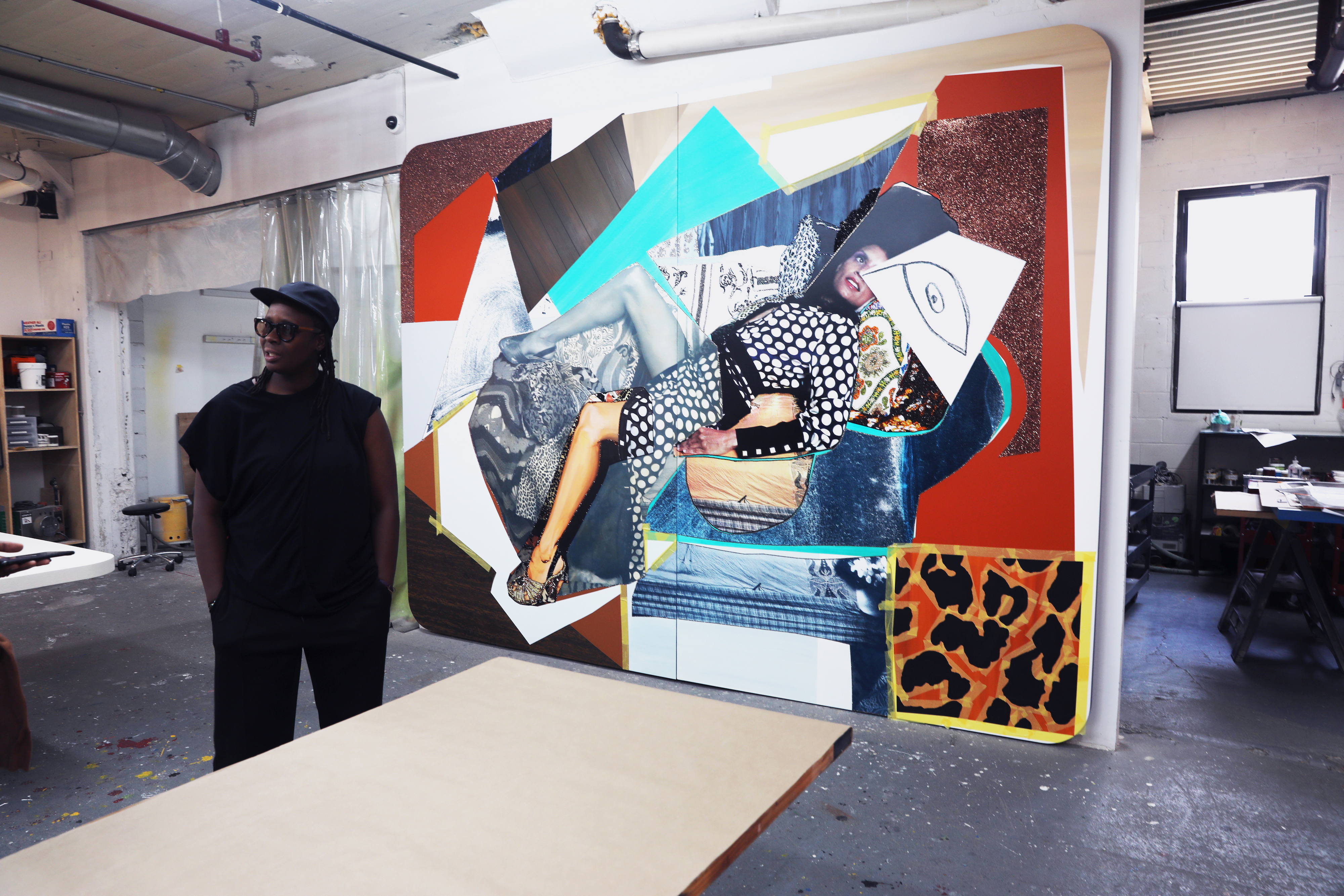 "BOOM" is the perfect vocalization of the feeling of standing in front of your works.
[Standing in front of a portrait of her partner Racquel [Fig.1]] I want for that particular one of Racquel, I want the viewer when you're standing in front of them to feel her leg, to feel her recline, to get a sense that she's in the space.
How does that translate to your video work?
It's the same concept. For me, it's all about, "Okay, what's the physical presence the viewer's getting from this? How am I igniting that in the work?" That's always conceptually the thread. That's the goal, and sometimes I achieve it. We always think about physicality and physical presence when it comes to sculpture but for me, and especially with installation, I'm like, "How can you get that with two dimensional works? How can you get that with a painting? How can you get that with video to really hit the person here in the core?" I want that "BOOM."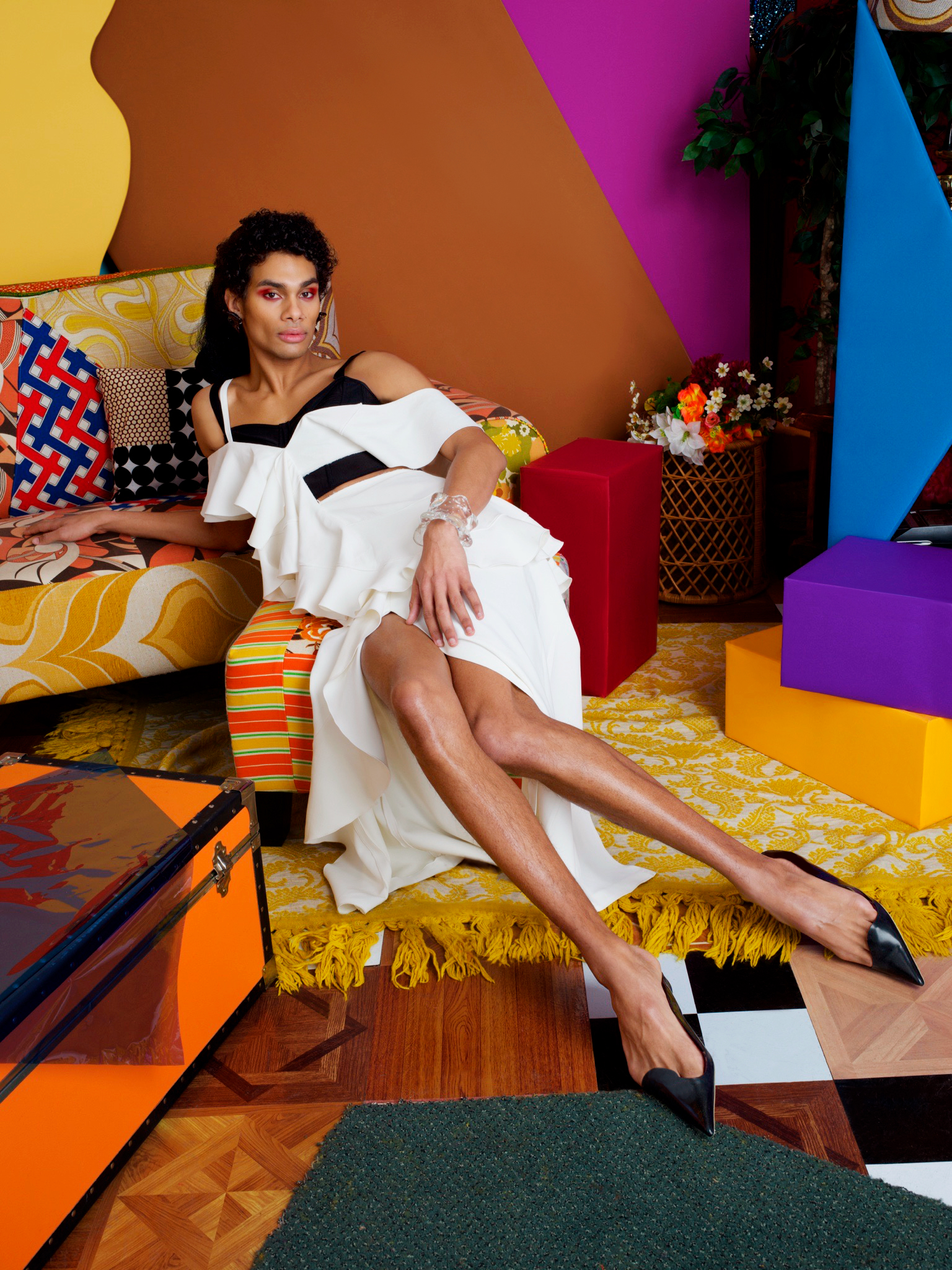 As a viewer, I can say that although I understand your work to be two dimensional, I want to get beyond or behind the layers of it. It really does feel like you've been hit with something flat, but then as soon as you take a minute to study where you are, it becomes an environment.
Yeah, exactly. The feeling comes from all of those visceral moments when the viewer starts to identify with different components in the work. They'll say, "Okay, I see this book on Toni Morrison..." and start to respond. For me, now the viewer is a participant. The viewer is now the activity, and the space, because they're now bringing their own life experiences and understanding into it.
That really applies to the series we are presenting here because I wonder if, in that way, fashion actives that kind of experience as well.
Yeah, fashion's the same way for me. Initially when I started photography and photographing the models in these spaces, I think even though there was a nostalgia to the work and particular spaces that I pull from, like the late '60s and '70s, it was never about the "fashion" of the time, it was about the style. It was about the empowering of the styles that were signifiers and cultural identifiers of black beauty, black women, black people, black experience. Remember the bell-bottoms, the platforms, and the texture? Those were all cultural signifiers that we adapted to and put onto ourselves. They were perceptions of beauty.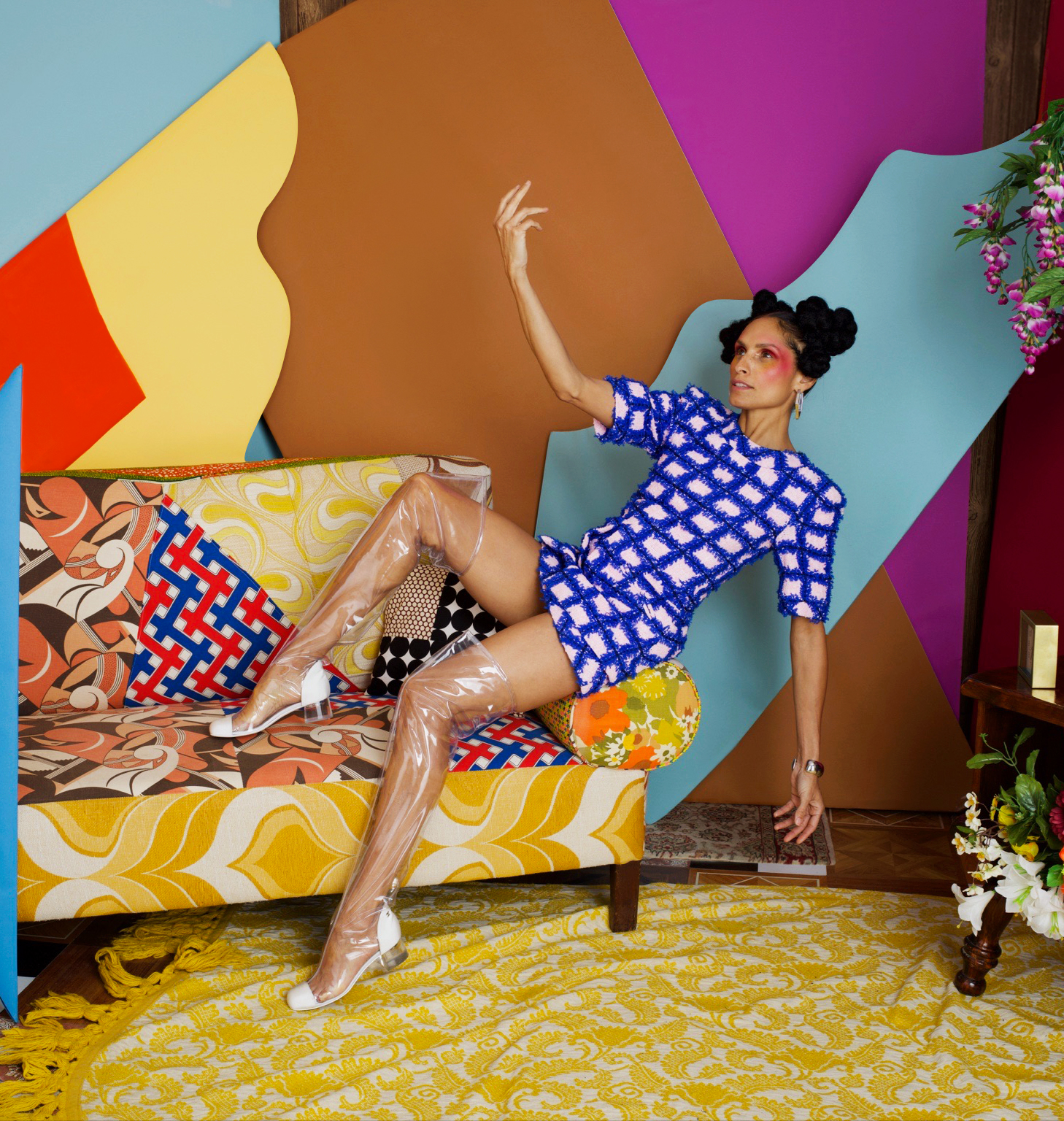 So it's about using fashion as a conceptual reference rather than a concrete medium?
Yeah, it's a reference. I feel like I've always used signifiers and references in my work, and as I grow as a person, and as an artist, the hope is that my work will also become more expansive and that other ideas will start to play a part. Fashion is huge for all of us right now and with people like Shayne Oliver entering and shifting the conversation, I've started to think about how the underground has utilized fashion and subverted culture in very real ways. When you think of that, when you think of how mainstream fashion is flipped on its head, it becomes an interesting source.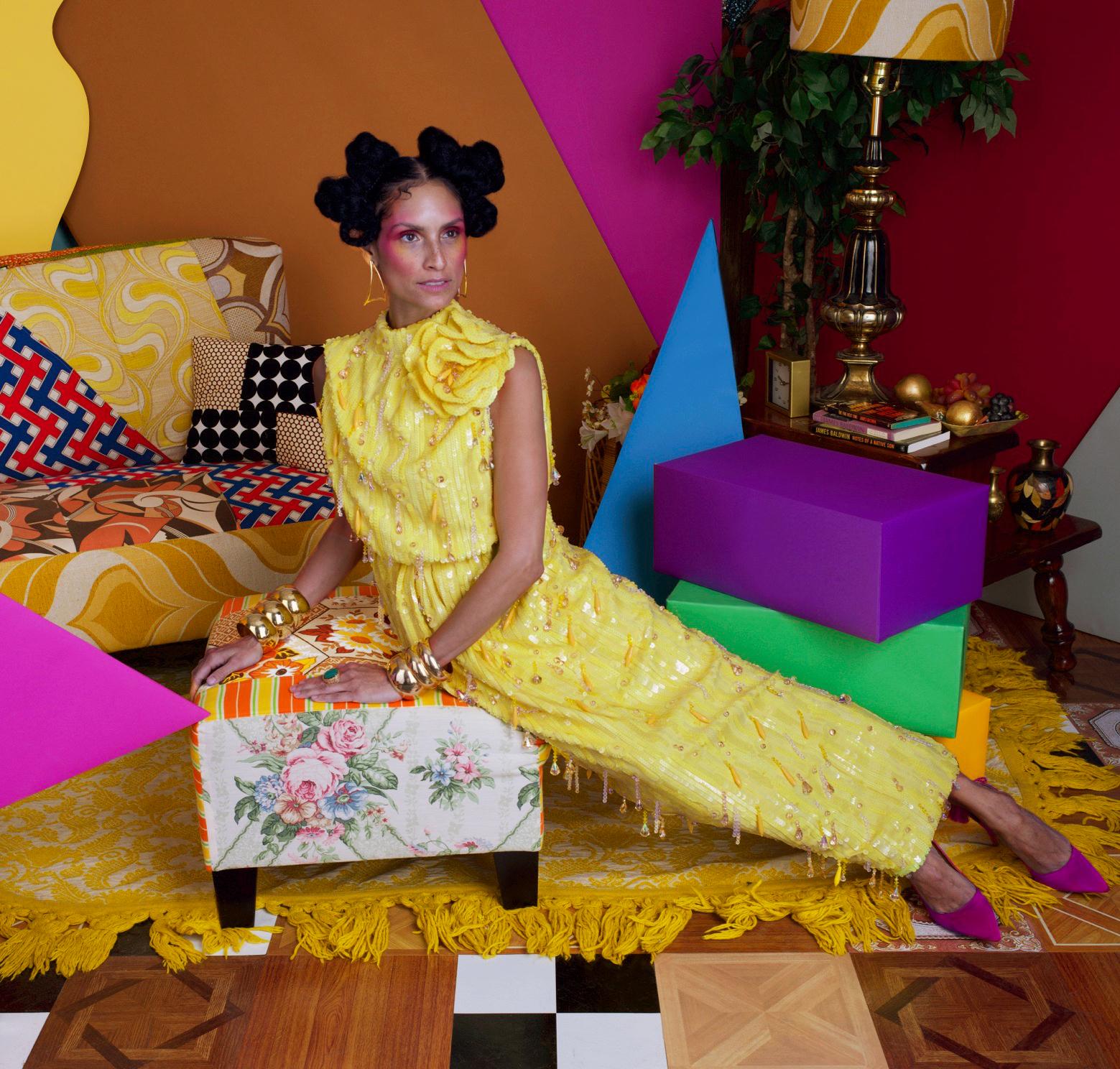 The sets in these image are also an access point as you say. I noticed all of the stacked James Baldwin books in the image of Racquel reclined in a yellow gown—one you've let us run here—Is there any particular reason why those were included?
It was just organic. I think it was in response to and also in celebration of the film, I Am Not Your Negro. I'm really interested in him as someone who had great insight and left a lot for us to think about. I oftentimes think, in very sort of crazy, complex social-political times, what would James Baldwin be saying to us. Even with his blackness and his queerness, he was able to get people to hear him. People from any level or from any ethnicity, they would listen to him. He had such a forceful but very direct way, very clear way of painting a vision that people could actually respond positive.
And it's every element that works to elicit those reactions in your environments, not just the items we can name or place.
Yeah, for me the set is very detailed, because it's important that when the sitter, the subject, the muse, goes into the space that they connect with it. For me, there's a lot of play with artifice and faux big plants and this and that, and wood paneling that I really want to resonate with the viewer or sitter. I want them to think, "Oh, I remember this when I grew up." And, so, initially when I was photographing myself, or my mother, or a partner at the time, I would take fabric and cover the couch with it. It would add a layer of color or dimension. Then, over time I realized I was doing it in different sections, because I didn't have enough fabric for this side. It reminded me that my grandmother would upholster and patch up her furniture.
So in terms of the composition of these photos, did you start with the space?
In this particular photo shoot I was really experimenting with a lot of different ideas of around bringing painting elements into photography. In the past I was thinking about my work in the studio and asking, "How do I bring photography into painting a piece?" Now that I'm doing the reverse within my photographic works, I'm experimenting with material. In this series I was experimenting with the transparency of color. I used these flat planes of color that are juxtaposed with the pattern to kind of give image this space, this room to breath and move around. That's where you see this transparent color film come in. I really had a lot of fun with experimenting with these flat planes of color that I built up in the studio.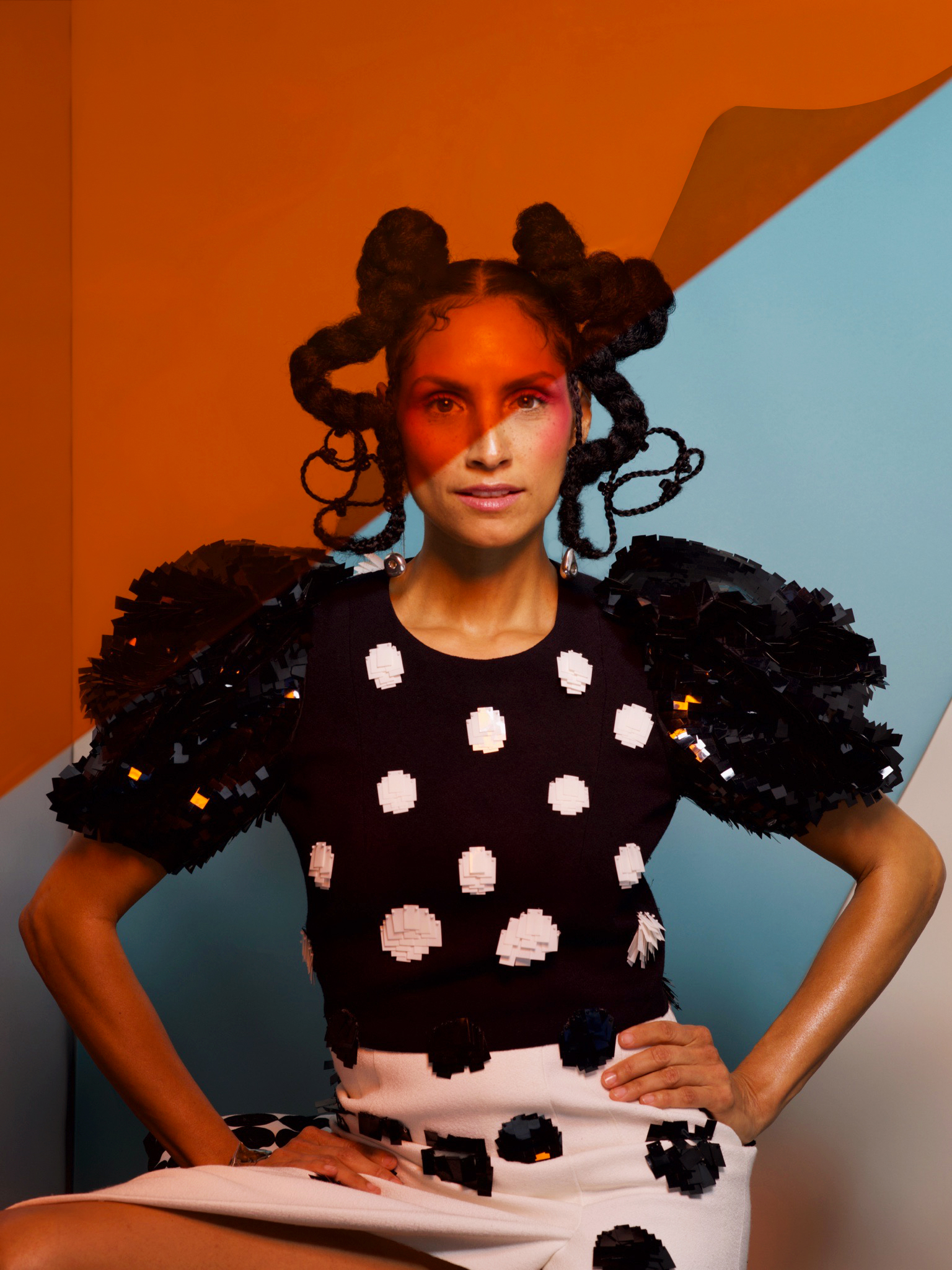 How is your process of taking a pictures like this different than that of your standard practice which is less of a collaborative experience?
I think when you have people who have a common understanding of what it is that's trying to be achieved, then it's so easy, because they want to be there. They want to be a part of it. The ego is like, "Let's make it happen," instead of, "It's about me." For example, there's, Racquel a model, but she is also my partner, my muse, my lover, my business associate. When we work within the photographic process there's a different relationship. She's completely in control and on. It becomes about her understanding what's in the work and having fun with it. And then you have Nikki Nelms, the hairstylist, I can pick up the phone and say, "Hey, I have this photo shoot." If she's here, she's there. And Shiona Turini, the stylist, is on point. It's that type of collaborative effort that makes my work successful. Everyone that is involved believes in it and wants to be a part of it.
What was your driving force in creating this series was it to get a particular type of image? What was your thought process?
I researched and we searched through different resources and put up mood boards of all of the concepts that I'm relating to and looking at and really created a vision. Then we started playing with different forms and structures within the space. For me, the goal is never, "Let's get a great photograph." I'm already thinking about my painting in this process. I'm thinking about, "How can I get some really amazing resources for my painting?" And not everything that's been photographed works as a painting. It's a very organic process, and it's in my head. I have to feel it. It's hard to articulate because it's intangible. It's more of a feeling. And sometimes it's also the expression of the subjects, the gaze.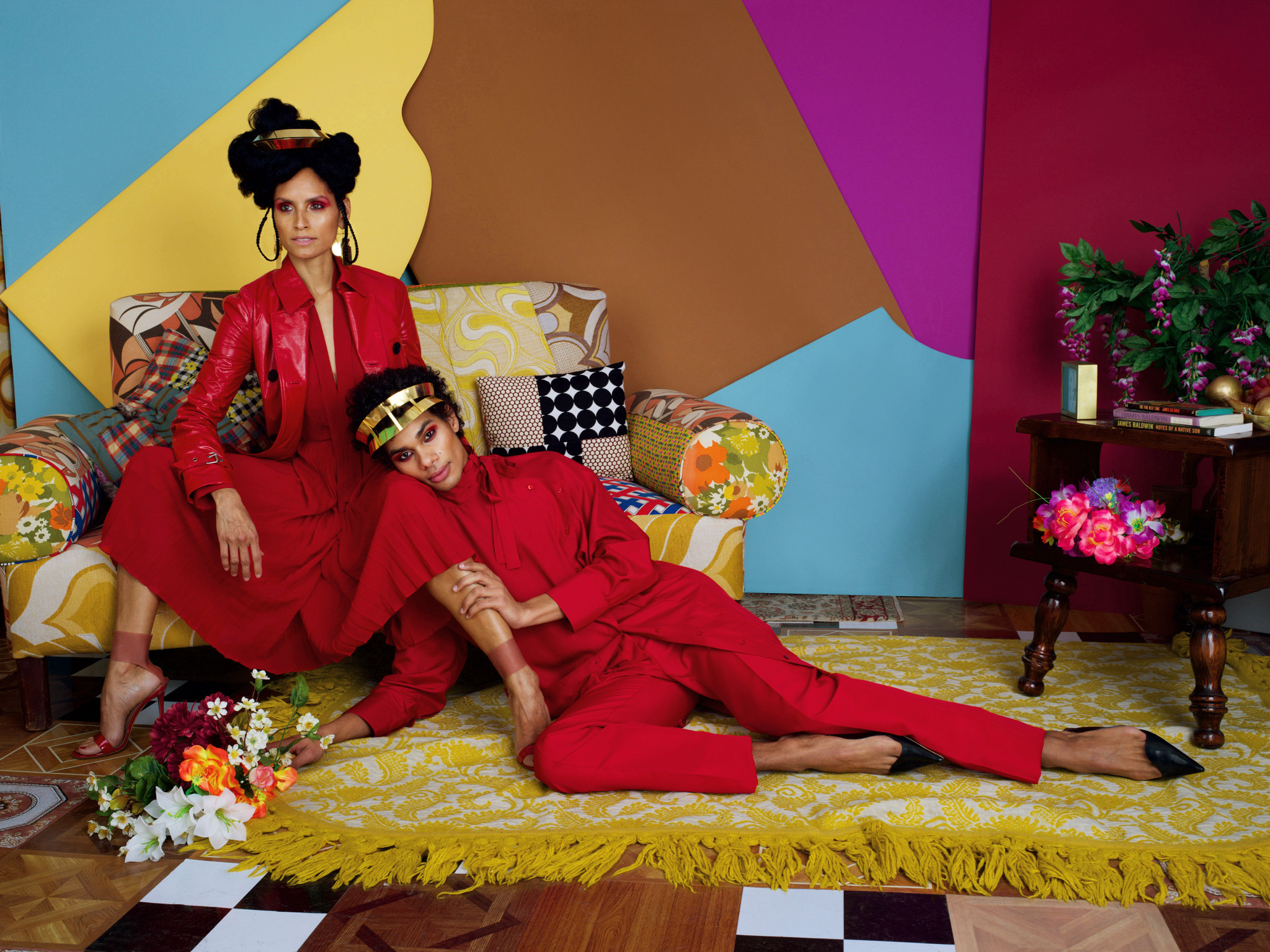 For a painting especially, that's got to be a particular gaze.
Very particular. For me, this picture of Racquel and our model would be a fantastic painting. It's like everything about the grace, the softness, the integration of these two coming together, the length of his legs, the reds. It's like a new version of a Madonna and child. For me, it's already screaming, "I need to be a painting."
They work together so perfectly. Sometimes it's hard to make that chemistry work with two subjects.
For me it's mostly about having the models feel like they can work with what they're given, because they're collaborating and they need to be very much about the process as well. They need to feel like, "Okay, I can work with this," and excited about it. If they're not, then it's not successful. If they're thinking, "Oh, you're making me wear this?" it doesn't work. That's when you're doing editorial, and we're not doing editorial. That's when the model's having to perform in a different way, because they're feeling restricted, or maybe because they can't breath, or they're uncomfortable standing there. That's not the type of shooting that I'm doing or about.
What's so interesting about this image too is that their physicality almost presents statically, but at the same time it feels alive. I feel like I understand what they were doing just before and just after that lens shuttered.
Zachary is a performance artist and a dancer. We met him at an opening where he was performing a time-based dance piece in this open cube. The duration of the show was an hour. He was so incredibly breathtaking, like a physical sculpture in this space. Right away I said, "I want to work with him." He always stayed in the back of my mind. When the opportunity came to do a photo shoot we made it happen. I knew that the two of them would work well together, because there was something about him, maybe his movement, that I saw a little of her in him.
In this story: Fashion editor: Shiona Turini; Hair: Nikki Nelms; Makeup: Billie Gene.