Photograph by Bertrand Guay for Getty Images.
Why Virgil Abloh Referenced "The Wizard of Oz" at His Louis Vuitton Debut
Abloh showed all white, tactical luxury, and the American fairytale.
Photograph by Bertrand Guay for Getty Images.
At his debut show as the menswear designer of Louis Vuitton, Virgil Abloh showed a handful of garments printed with imagery from The Wizard of Oz—the ultimate American fairytale about a ragtag group of misfits, each of whom are longing for one specific thing that seems impossible to get, and their unorthodox journey to get it.

Sound familiar? It reminded me of Thom Browne's use of The Little Mermaid's "Part of Your World" at his own Paris debut last October—we live in a global world, sure, but the reality is that if you're a designer, showing in Paris is an achievement of the kind few industries still have. It really is a dream come true.
Of course, Abloh's fairytale carries much more weight. He is the first black designer at Louis Vuitton, and one of the few, aside from Olivier Rousteing at Balmain, to lead a French heritage house (Ozwald Boateng also designed Givenchy menswear in the mid-naughties). And Abloh got there not by navigating the complex (and some might say antiquated) system of the fashion industry, which often requires a person to labor intensely and anonymously under a marquee designer for years, but by more modern (and some might say contentious) means, leveraging his clout and natural and almost otherworldly feel for hype, both in design and his enviable inner circle. Listen: whether you're a fashion designer or the president, you can't be a public figure in this age without a luxe inner circle. (Abloh's big, teary hug with West at the end of the show showed as much.)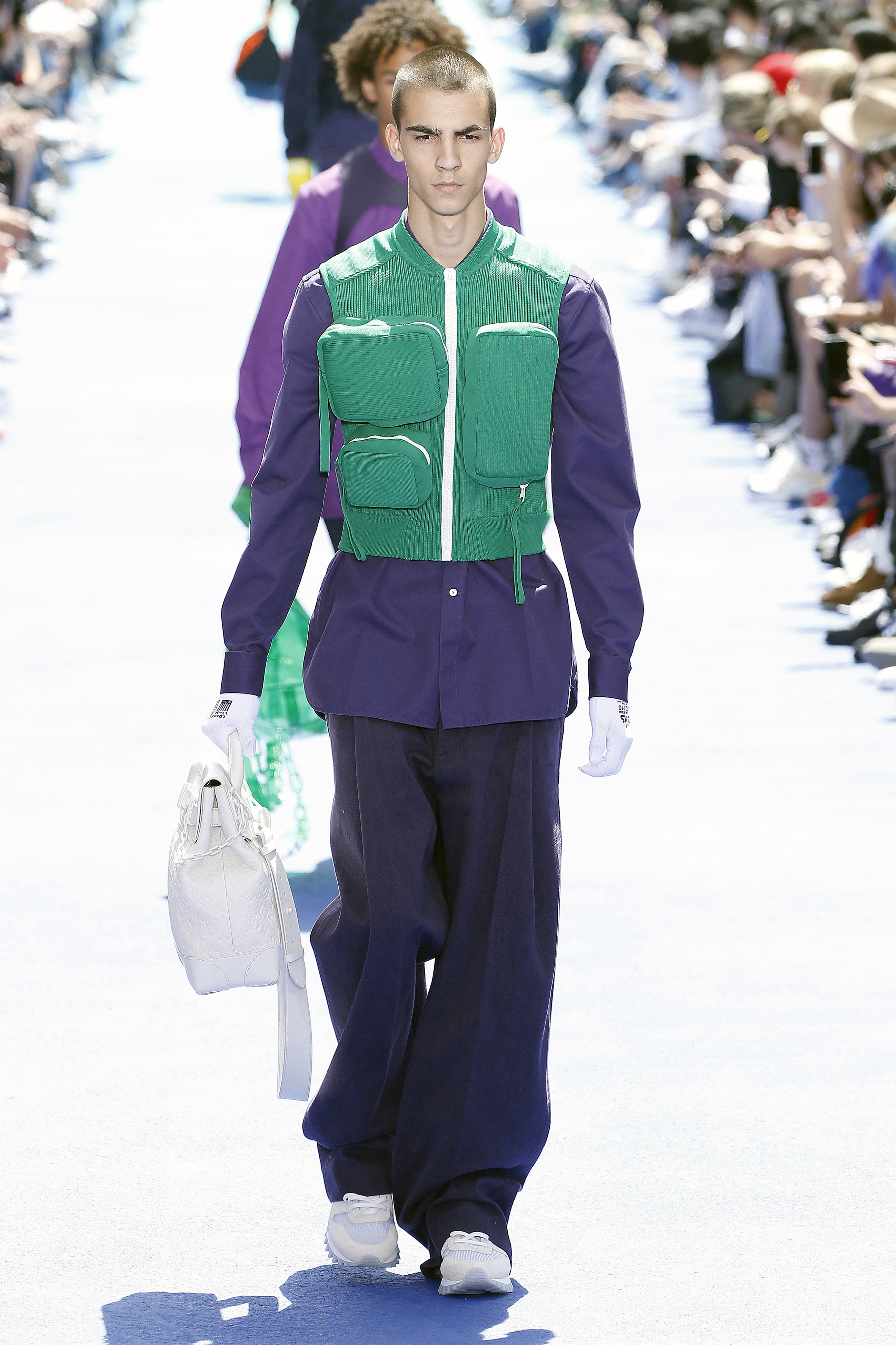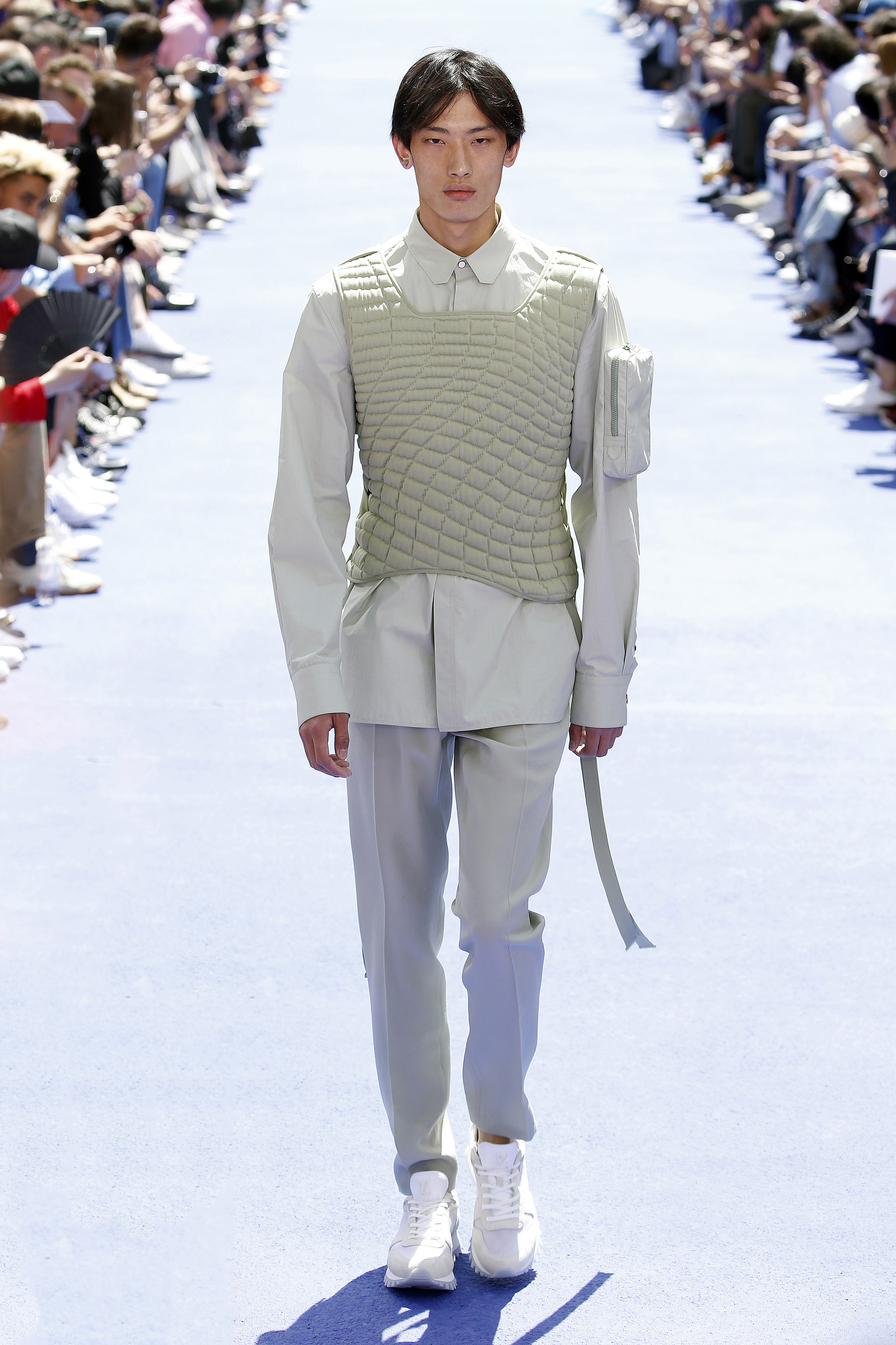 Abloh's Vuitton show will do what a lot of hypebeast dudes wanted it to do, which is to say: shut down the haters. Abloh's work at Off-White is sometimes boring or uninteresting simply because it's not really that pretty, but the first several looks here were undeniably beautiful—old guard luxury, actually, whereas many people (#haters!) feared the "injection" of streetwear into the realm of French high fashion. Simple, streamlined, the kind of fabrics you want to reach out and touch, and big, beautiful handbags, like a leather file box, and a crayon-yellow canister, and even a little clutch (It-bags for our It-boys!). Plus, all white outfits are the most luxurious thing in the world—if you can wear all white, you are literally and figuratively untouchable. There were diaphanous trousers and "tactical luxury" vests (to borrow GQ editor Noah Johnson's perfect phrase)—two things guys are loving right now—done in a new enough way. (These are all ricochets of Phoebe Philo's Céline, and Nicholas Ghesquiére's Vuitton womenswear, and even Matthew Williams's Alyx, which was the first brand to do those tactical vests—and all of which are designers Abloh holds tightly in his orbit.)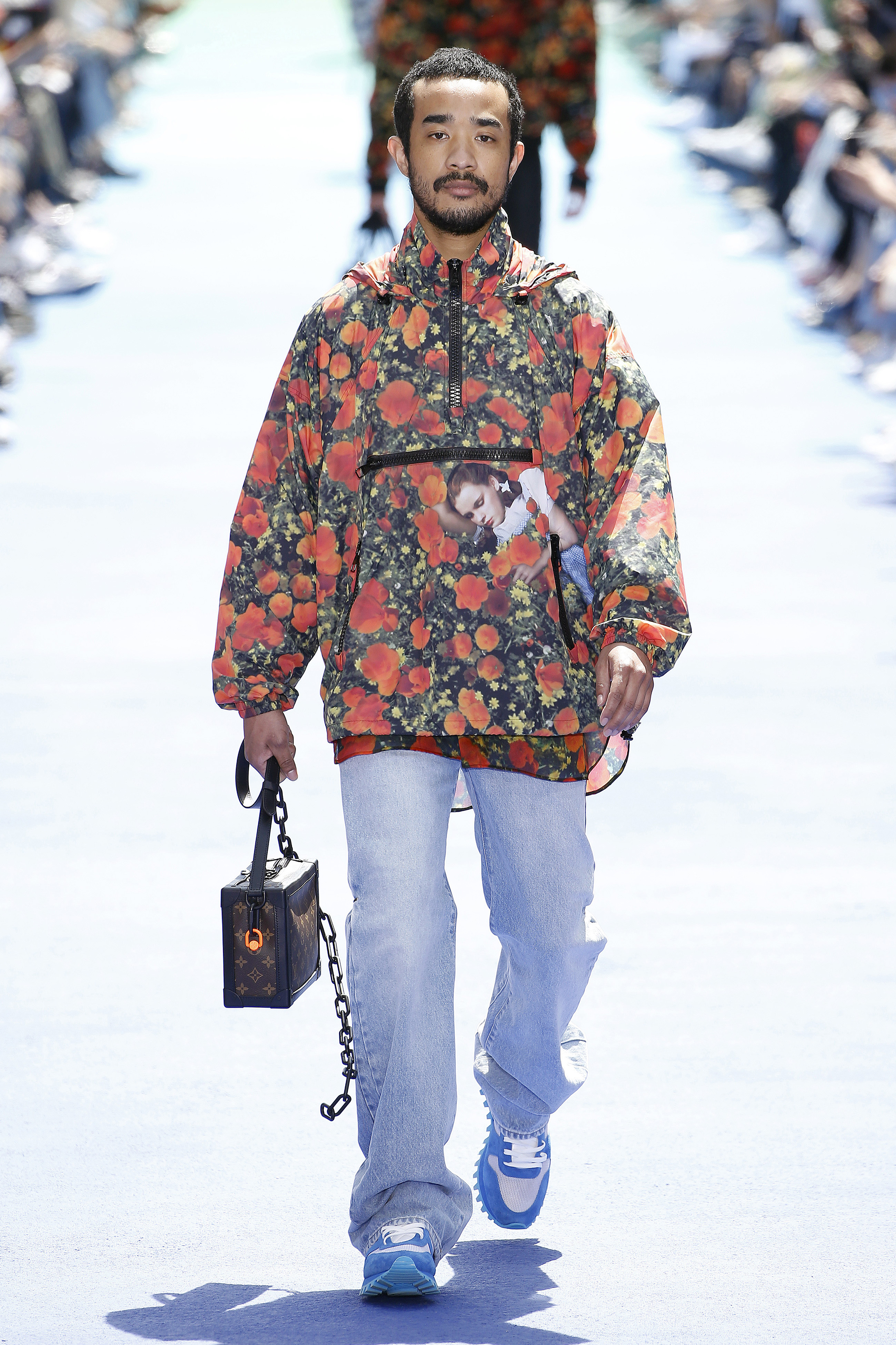 But perhaps the most intellectually rich section were those Wizard of Oz-themed pieces: anoraks and sweatshirts and jackets printed with the field of poppies in which Dorothy, the Scarecrow, the Tin Man, and the Lion fell asleep, including one anorak with Dorothy (Judy Garland) in deep, opium-induced REM; and a yellow brick road motif, with brick-print trousers in black and white paired with a black-and-white poppy blazer, and a sweater with the infamous foursome skipping down the yellow brick road in full Technicholor.
One of the frustrating things about Abloh's obsession with references is that they sometimes seem to mean nothing. Whereas a designer like Raf Simons uses a constellation of references to images, movies, music, and pop culture to build a complex argument, what was Abloh telling us about Princess Diana, for example? But here, Abloh underscored the gravity of what he has achieved, down to his rainbow-print runway. "Over the Rainbow" is the ultimate song of longing for a world that seems both impossible and inevitable, and Abloh's role at Vuitton means the small world of luxury fashion is finally speaking the same language as the best parts of our culture.