Photograph courtesy of Miron Crosby.
These Cowboy Boots Are Worthy of Her Highness Fran Lebowitz
Miron Crosby is making exquisitely crafted, witty cowboy boots.
Photograph courtesy of Miron Crosby.
Fran Lebowitz loves to talk, but she has one secret: she will not tell anyone where she gets her cowboy boots. She will tell you Anderson & Sheppard makes her suit jackets and her tuxedo, and Manolo Blahnik makes the only heels she'll wear, and Levi's jeans are the best, and her glasses are Calvin Klein and a million years old. But other than a vague admission that she gets them custom-made in Texas, Lebowitz guards the provenance of her cowboy boots like a state secret.

This is infuriating, because Lebowitz's cowboy boots make the look. Her glasses and tailored clothing make her look like a well-groomed genius, but the boots give her swagger. They make it look like she is not to be messed with, like her wit is the fastest draw in the land. Fashion designers often take vernacular clothing and give it a high fashion twist—both Margiela and Calvin Klein are selling beautiful boots with long, square toes and Cuban heels right now—but Lebowitz's cowboy boots, which are perfectly polished and rugged and look like they could face nuclear war with the casual gusto of a cockroach, are powerful because they are the real deal.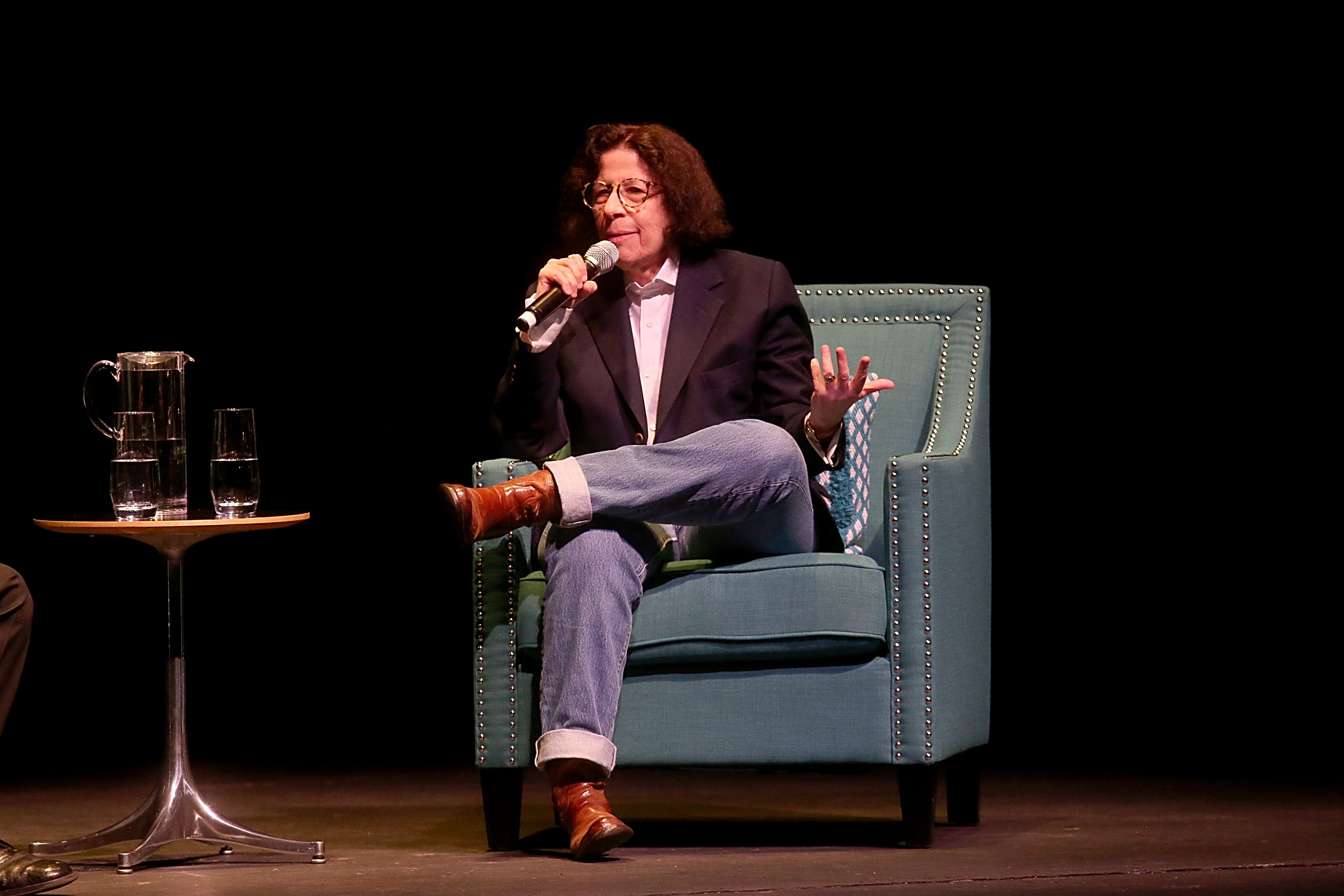 As fashion has becomes increasingly obsessed with authenticity, people are looking less for a fashion version of something and more for the source material. This is especially difficult with cowboy boots, which are notable for their quality craftsmanship but can easily veer into costume. How do we find real cowboy boots that don't make us look like poseurs? How do we find boots worthy of Fran freaking Lebowitz?!
Miron Crosby has the answer. The brand, which makes men's, women's, and children's boots, was founded in Texas only last year, by sisters Lizzie Means Duplantis and Sarah Means, but its boots are handcrafted by a 160-year-old manufacturer called Rios of Mercedes, which is owned by the sisters' cousin. "We definitely want to see something that people wear, that isn't a costume," Duplantis explains. "Cowboy boots are totally underestimated in the fashion market."
Their boots are artisanal masterpieces that combine great design wit with exquisite production. Paty is a sienna brown boot with a chalky green shaft embroidered with cacti. Janet has a metallic gold shaft embroidered with chili peppers, finished with a subtle rattlesnake skin collar. Others are just beautiful: Sally is a suede mid-calf boot in a dense red I've only ever seen when I hiked the Tent Rocks in New Mexico at sunrise, and Little B has a giant tassel, like the thinking girl's answer to a spur. Wedding Boot is powder blue, with doves, and a place for the initials of you and yours (aww!). A number of the boots are appliquéd with stars that echo Matisse's Icarus.
"All the stars are hand-cut and then hand-sewn" onto the boots, Means notes. Jeri is appliquéd with avocados, limes, peppers, and a salt shaker, and their Uncle John's margarita recipe is sewn in the liner (I know!!!), but "we're using really traditional, old school methods," Means says. (Hence the price: the boots range from $895 to $3,890, for a crocodile-skin boot.) "I think one thing about our boots that makes them special is how we really have pushed the artisans at the factory," Duplantis adds: Miron Crosby's fanciful designs have unlocked new levels of their technical prowess.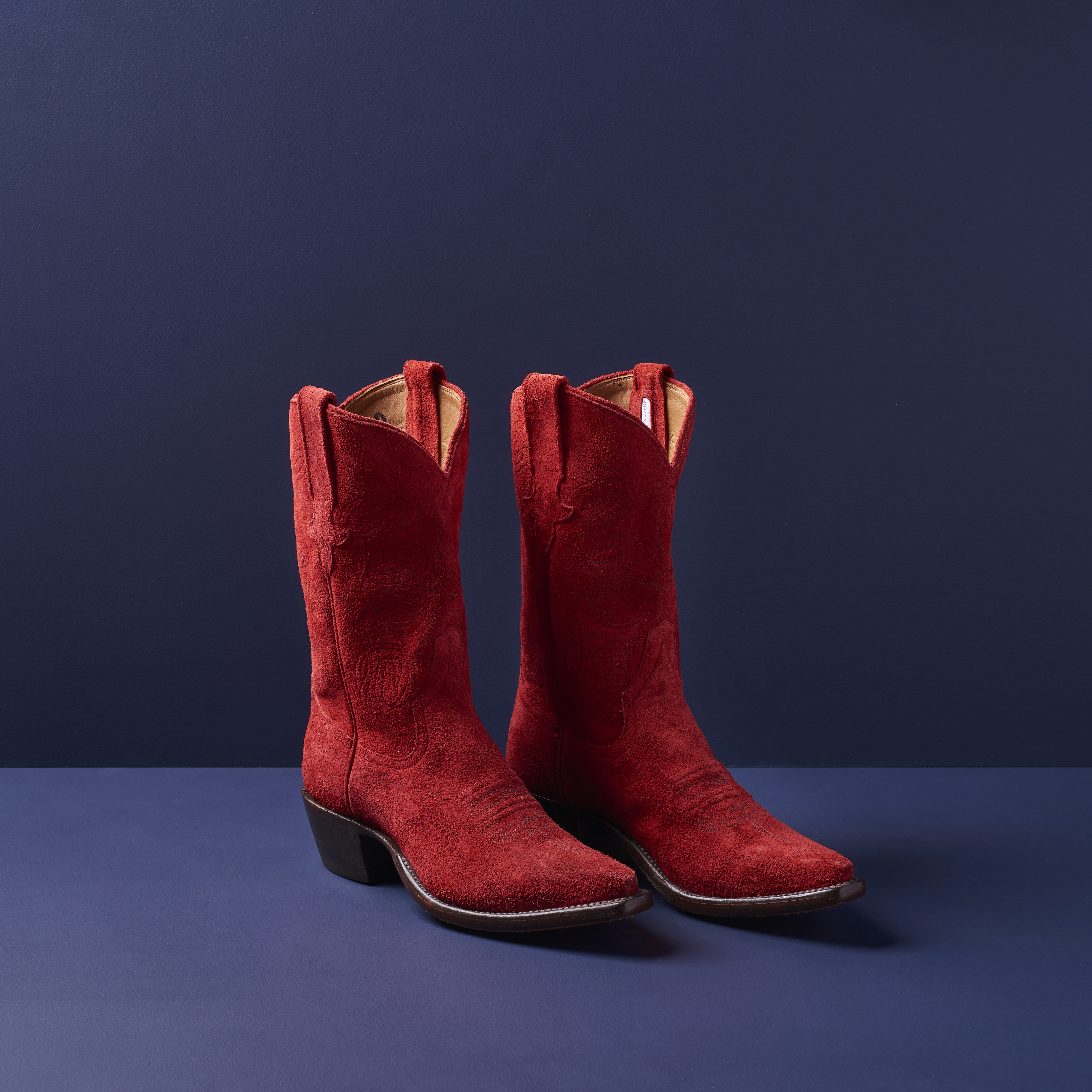 Cowboy boots may suggest a certain kind of American bravado that many might be wary of, but western style, the women point out, is moving increasingly into the larger sphere of style in an elevated way. Both Swae Lee and Quavo have worn clothing more typical of a Grand Ole Opry star or a Flying Burrito Brother than an unstoppable rapper. Duplantis recalled that she always saw her father wearing cowboy boots with his tuxedo, and it's true that a really great pair of cowboy boots have the ease and elevation of a pair of sneakers. They would look great with a pair of boyfriend jeans and a Dries jacket, or one of those crafty Loewe dresses, or even a Gucci tracksuit (or—omg!—a Batsheva Dress!).
"The cowboy boot will never be a sneaker, but they're getting more mainstream," Duplantis says. The Miron Crosby customer, she says, likes the whimsy, but also appreciates the design element. In our streetwear-saturated world, it's a refreshingly traditional notion of luxury.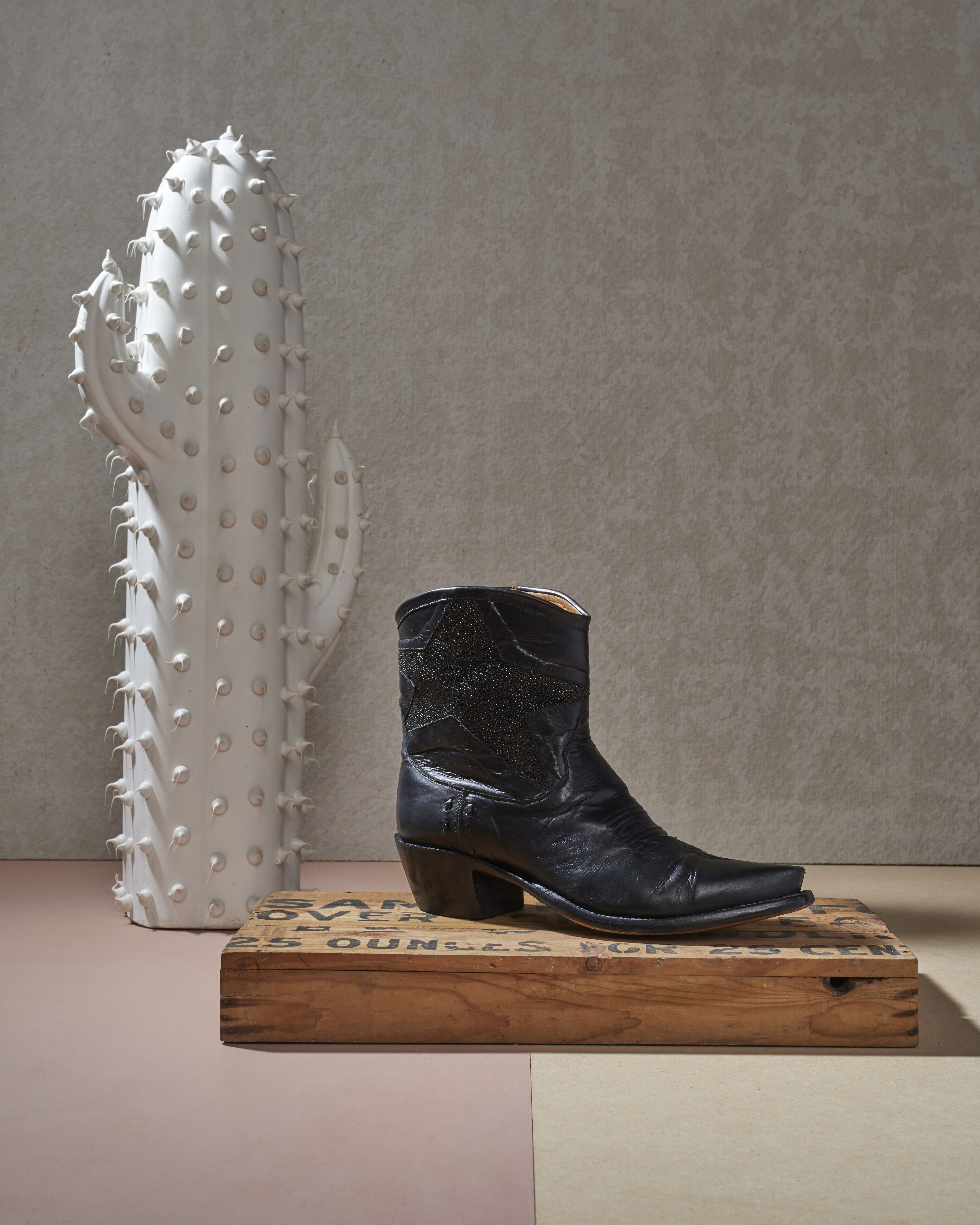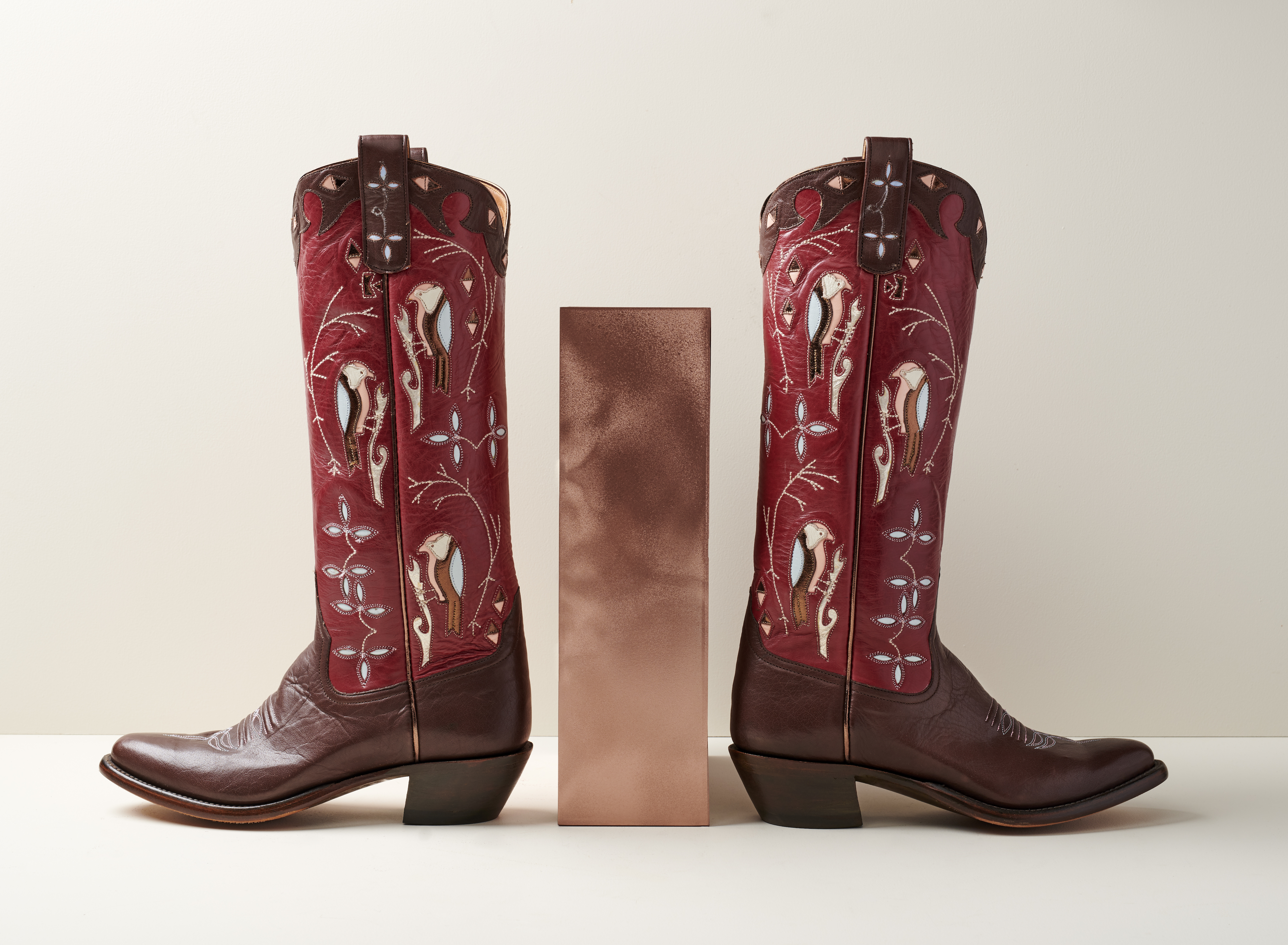 The boots are available online and in their Dallas boutique, where they sell a selection of other products, like beaded scarves by Mignonne Gavigan and handmade leather belts by Chacón. One of the ways to sniff out a great new brand is to see who it's friends with (it's like dating!). Miron Crosby also sell vintage Navajo American jewelry from Shiprock, the Santa Fe, New Mexico store founded by Jed Foutz, who was raised on the Navajo Nation; and which is a destination for fashion insiders and design fanatics. It isn't hard to imagine John Mayer wearing, say, the David, a military green and saddle tan boot with pull holes and a wheat steam pattern, with an Online Ceramics tee and an amazing pair of visvim pants (visvim is a friend-of-Shiprock, too: the store carries several of the brand's pieces).
If it's precisely the Fran Lebowitz look you want, it's all about the Samantha, a buffalo leather boot with ombré pink stitching. Or if you're pairing it with your Anderson and Sheppard tux, perhaps the Sally, which has a stingray skin vamp that looks like caviar. Everyone is going to ask you where you got those boots—maybe you'll even bend Lebowitz's rules and tell them.