Photograph by Timothy A. Clary for Getty.
Remember When This $80 Million Hockney Painting Was Parodied on "BoJack Horseman"?
The painting was knocked off, horse-style, on season one of "BoJack Horseman."
Photograph by Timothy A. Clary for Getty.
English pop-art grandzaddy David Hockney is poised to break auction house records when his 1972 Portrait of an Artist (Pool with Two Figures) goes up for sale at Christie's in November, when it is estimated to sell for around $80 million. If it does, Hockney will become the highest-selling living artist in the world.
Hockney's whimsical prints and gloriously lonely California swimming-pool series have provided a background for myriad disaffected Angelenos' Instagram photos in galleries like LACMA as well as L.A.'s Hollywood Roosevelt hotel, where Hockney famously designed the pool's signature squiggly blue floor. But just what is it that makes Hockney's 1972 pool painting so different, so appealing (to paraphrase fellow English pop artist Richard Hamilton)?
The painting in question depicts American artist and model Peter Schlesinger, a favorite subject and onetime lover of Hockney's, watching an underwear-clad figure struggle underwater without much interest. Hockney documentarian Jack Hazan described the nature of their relationship in a 2009 interview with Vice, saying, "He only wanted to paint him because he wanted to be near him." (Relatable.)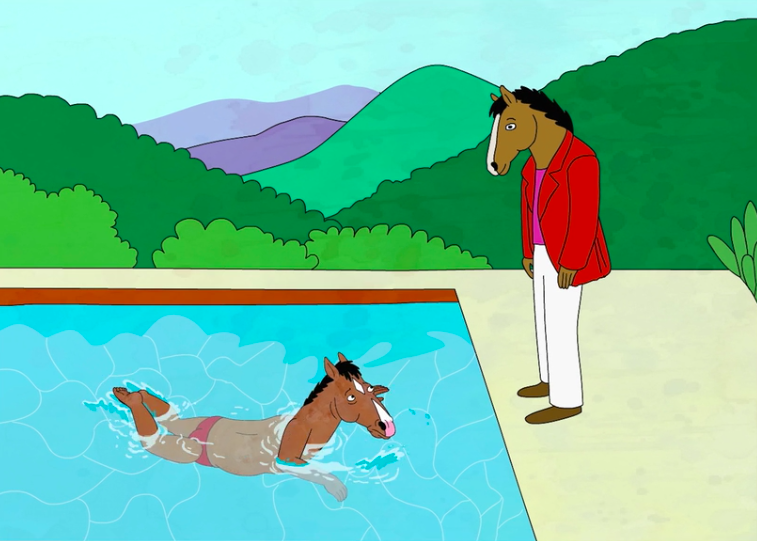 It makes a depressing kind of sense, then, that Portrait of an Artist (Pool with Two Figures) was memorably reproduced on season one of BoJack Horseman, a show that devotes itself wholly to the precise kind of decadent alienation and Southern Californian inertia that characterizes Hockney's work.
The Hockney-inspired painting is seen hanging behind bummer protagonist BoJack's desk throughout the season, but it takes on new life in the season's penultimate episode, when BoJack does far too many drugs and suddenly envisions himself as the struggling, spluttering figure being coolly observed by a detached Schlesinger figure. BoJack's unhappiness has remained fairly static over the past three seasons, no matter what professional and financial successes come his way. (But who knows? Maybe the upcoming fifth season's the charm for the perennially drowning horse. (Probably not, though.)
If Portrait of an Artist (Pool with Two Figures)—the human version, not the horse version—fetches the estimated $80 million in November, Hockney will dethrone the current highest seller, Jeff Koons, whose Balloon Dog sculpture sold for a cool $58.4 million at Christie's in 2013, ArtNews reports.
But can a ludicrously high price tag really cure the kind of disaffection pictured in Portrait of an Artist (Pool with Two Figures) and in BoJack Horseman? In the Hockney painting, as in the Lisa Hanawalt-illustrated show, things don't really change, no matter how much money changes hands.