Photograph by Victor Virgile via Getty Images.
At Comme des Garçons, Rei Kawakubo Showed Us Her Most Personal Pain
A highly personal show from Rei Kawakubo.
Photograph by Victor Virgile via Getty Images.
Sometimes, at a runway show, I sit frozen in paranoia: AM I GETTING IT?! What if I miss the crucial reference to a band or a political movement or something in the designer's biography, and what I write makes me look like an idiot? Am I familiar enough with the "codes" of a given house's namesake designer that this new designer is now interpreting? Am I familiar enough with the music of the Spanish metal band Strikeback, which Junya Watanabe referenced in his Saturday show, or with the Proenza Schouler muse, the artist Isa Genzkin, to write something revelatory about those shows?

These layers of meaning are part of the platform on which fashion's entrenched paradigm of exclusivity is built. You understand that DHL is the shipping company that every fashion outlet and brand uses to move its products around the world, so you get the joke of the Vetements shirt. You understand that Rick Owens swoons to the melodrama of avant-garde goth, so you know why a bunch of people are wearing giant bulges of putty gray as dresses. Or you don't, sucker, and the joke's on you!
Comme des Garçons is a notoriously difficult show to understand, and Kawakubo is a designer who is almost above interpretation. Sure, you can say, "Maybe she was trying to say X," or "Maybe she was trying to say Y," but that's probably a waste of your time. Still, her recent collections suggested something that invited elucidation of a universal message: made up of sculptural anti-fashion, the garments have mostly been giant layercakes and piles of clothing. Clearly she has been frustrated with the limitations that the human form forces designers to work with. People are not hangers, and we have butts and boobs and often bulges of flesh that do not sit neatly under an Alaïa skater dress or a finely cut Altuzarra skirt.
Kawakubo's Saturday evening show was two intimate presentations staged in a box made from what seemed to be a whisper thicker than cardboard. It was setup in the beautiful main hall of the École des Beaux-Arts, and it obscured any view of the building's magnificence. The focus was not that fashion is a beautiful thing that belongs in a beautiful place, but the pain that comes in bridging those two worlds.
"There is no pleasure in the work," Kawakubo told the Guardian earlier this month, through Comme president Adrian Joffe. (He interprets for Kawakubo during interviews; she may or may not speak English.) "She says people who say they enjoy the work, she thinks they don't take it seriously. The only way to hope to make something new is not to be satisfied."
Nearly every model in Saturday's show had a padded belly, or some kind of large appendage of padding that referenced bodily distortions real or imagined. In several of the looks, the mid-section of the garments gaped open, exposing pregnant bellies; one had an almost cartoonish zigzag like a monster's mouth. Never before had the sight of fabric moving caused me to wince. Several of the looks, like one with gorgeous duchesse silk braided down the back, exposed and grotesque giant pads of fabric on the butt or at the torso as the models turned. It's like no clothing will ever be enough—"the only way to hope to make something new is not to be satisfied."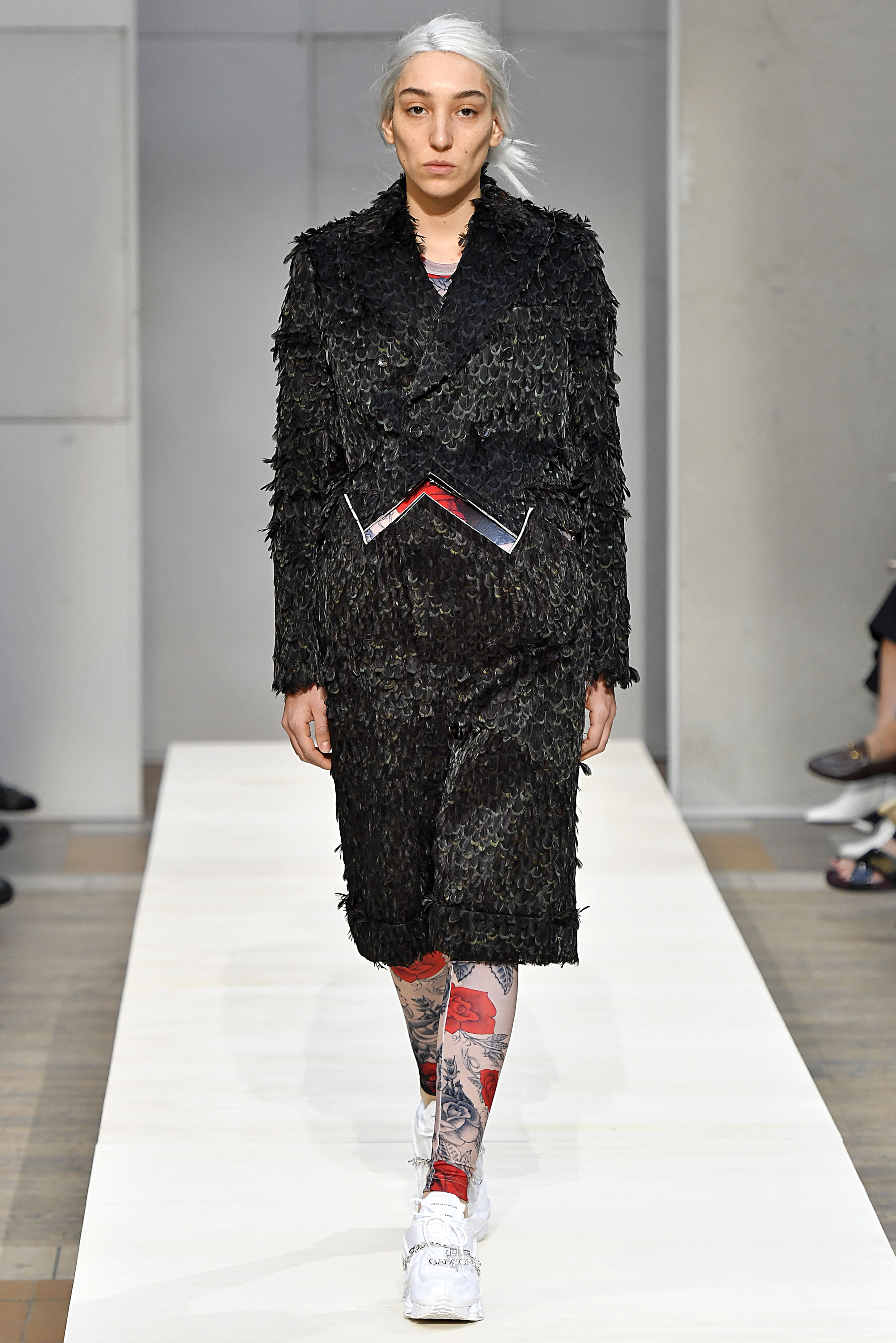 Creating something new, bringing a new creative idea to life, is painful. It can be torture: in two of the looks, perhaps the most haunting, chains ran beneath a sheer scrim of fabric, clanging audibly as the models walked. These are not the chains of Chanel, who put them on her handbags to coyly and cattily allude to her dependence on the lovers who underwrote her fashion line. These were box chains—nothing pretty.
This season of Paris Fashion Week has been an awkward interrogation into how the fashion world relates to the rest of the universe. How can we justify talking about clothing when so much else is at stake? How can we interpret these things in a way that feels relevant but not silly? At the Comme show, I felt like I suddenly dropped an elaborate tea set I had been trying to balance all week, shattering everything, and it didn't matter. Kawakubo's torturously intimate show resonated almost too much. The personal can be enough without the political.