Blake Lively and Paul Feig. Photograph by Rob Kim via Getty Images.
What's Going On With Blake Lively's Dapper and Unnecessary Fashion Cane?
Blake Lively is swagger-jacking director Paul Feig. Are walking sticks the new frontier?
Blake Lively and Paul Feig. Photograph by Rob Kim via Getty Images.
The world may still be struggling to process Blake Lively's perplexing "naked under two blazers" look and the meaning behind her suits, but the star is already lobbing another conceptual-fashion grenade into the discourse in the form of—what else?—a cane.
Ceci n'est pas unn canne in the traditional sense, you must understand; the Daily Mail reports that Lively "isn't injured" and her new accessory is "just for style's sake." Photos of a suit-clad Lively with cane in hand have a very dapper feel to them, but is there a purpose to Lively's walking stick beyond navigating the damp streets of New York (and thoroughly mind-fucking us all)?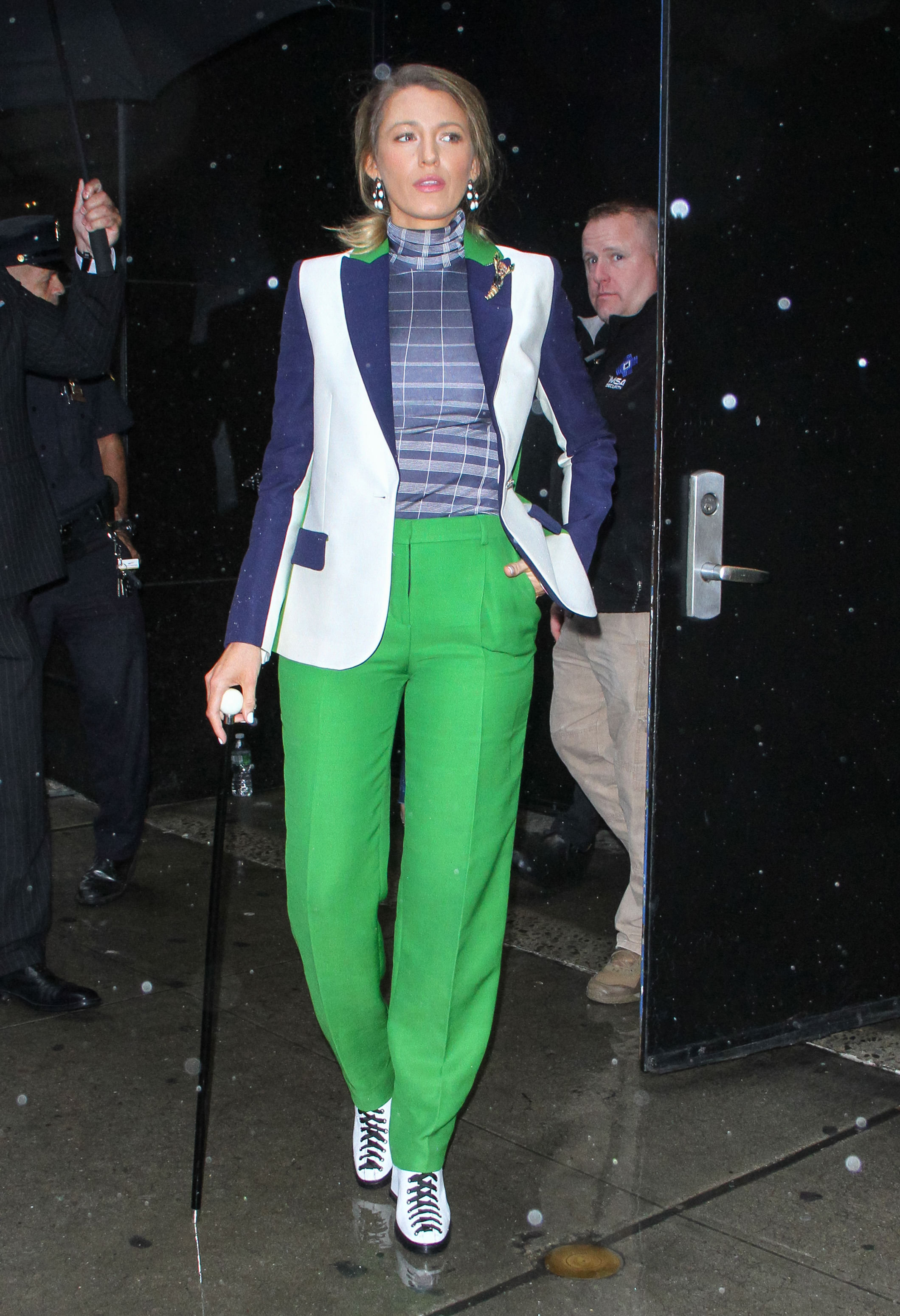 According to the New York Post, Lively's cane is actually a holdover from the set of her new movie A Simple Favor, which comes out this Friday. Apparently, Lively got so into her character as a menswear-clad fashion professional who goes missing that she commandeered director Paul Feig's own walking stick. "She comes down to set and says to Paul, 'I really want to use the walking stick,'" costume designer Renée Ehrlich Kalfus told the Post. In fact, Kalfus says, Feig's dashing, pocket square-encompassing wardrobe inspired Lively's looks for the film, which might also explain all those wild suits. Feig even took the time to give his leading lady/cane thief a "walking-stick lesson," the costume designer said.
Feig is a noted cane enthusiast, with a collection of over sixty walking sticks, according to Vulture. While he was filming Ghostbusters, he carried a snakewood cane with a silver skull, and acquired another topped with a snake and one with a fish eating another fish. (That feels ripe for an amazing Serena-and-Blair Gossip Girl subplot!)
Feig's generosity of menswear spirit doesn't just extend to famous actresses; last year, he took to YouTube to show the world how to fold a pocket square (and yes, the director obviously has his own line of J. Crew pocket squares).
Lively has since returned Feig's cane, which begs the question: whose stick was she sporting on the streets of New York? Is her new look a Charlie Chaplin x Ralph Lauren collab by way of Savile Row? Has anyone checked to make sure the Sherlock Holmes Museum hasn't been robbed? Is it possible that Lively sprained her ankle somewhere between the Ralph show and her subtle Instagram entendre-ing of husband Ryan Reynolds, and the cane is actually a medical necessity masquerading as a PR stunt? Practically speaking, the cane in question is most likely a Ralph Lauren original, since he was behind the costumes for A Simple Favor.
Personally, I like to think that Lively is just ahead of the haute-couture accessory game. Sure, her ventures don't always pan out, but sooner or later I predict we'll all find ourselves in spats and oxfords, pensively twirling the chains of our vintage pocket watches, relaxing into a gentlemanly lean on our perfectly polished walking sticks before whisking ourselves away to our rustic hunting cabins in the Cotswolds.