Is The Humble Mortarboard The Next Status Hat?
Calvin Klein and Vaquera certainly think so.
My friends, we are living through one of the most thrilling chapeau moments since Schoolboy Q donned his signature bucket hat.
Earlier this summer, my esteemed colleague Rachel Tashjian called 2018 the "summer of giant hats," with mammoth lids from La Bamba, Olmos & Flores, and Spinner shielding our delicate, cherubic faces from the toxic evils of UV rays.
Now we're officially approaching fall, and New York Fashion Week has delivered unto us a new look that threatens to dethrone the Really Big Hat™: the mortarboard.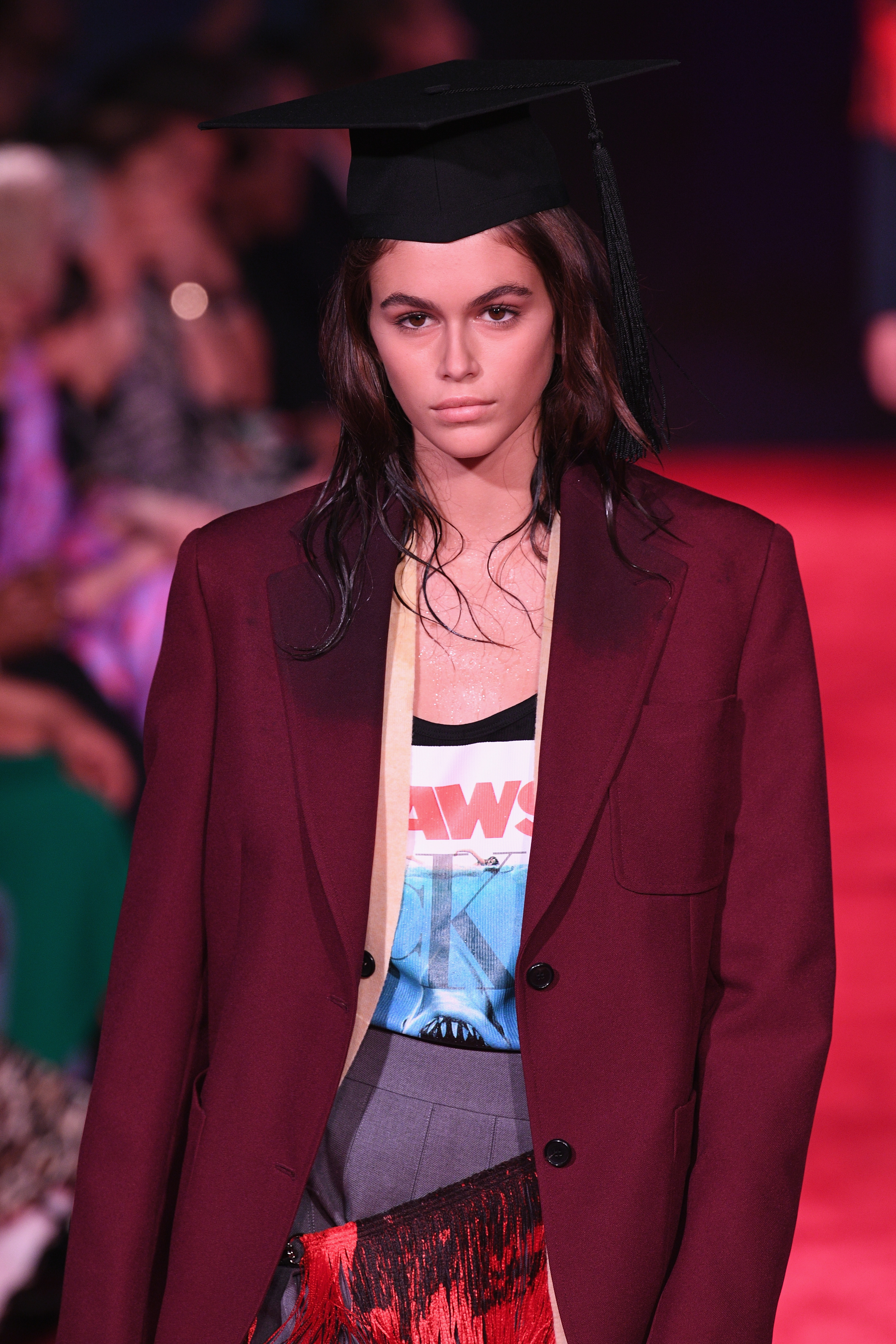 Model (and Cindy Crawford progeny) Kaia Gerber walked the Calvin Klein runway on Tuesday in an oversized blazer and Jaws tee, but above the neck, her look was peak grad. At 17, Gerber hovers right around the age at which teens traditionally sport the graduation cap IRL, along with a long, figure-cloaking robe and an upbeat attitude about how first semester of freshman year at Bard is gonna go. Raf Simons told Vogue that the hat was a reference to Mike Nichols' 1967 classic The Graduate, calling it and Jaws "very important movies in my memory."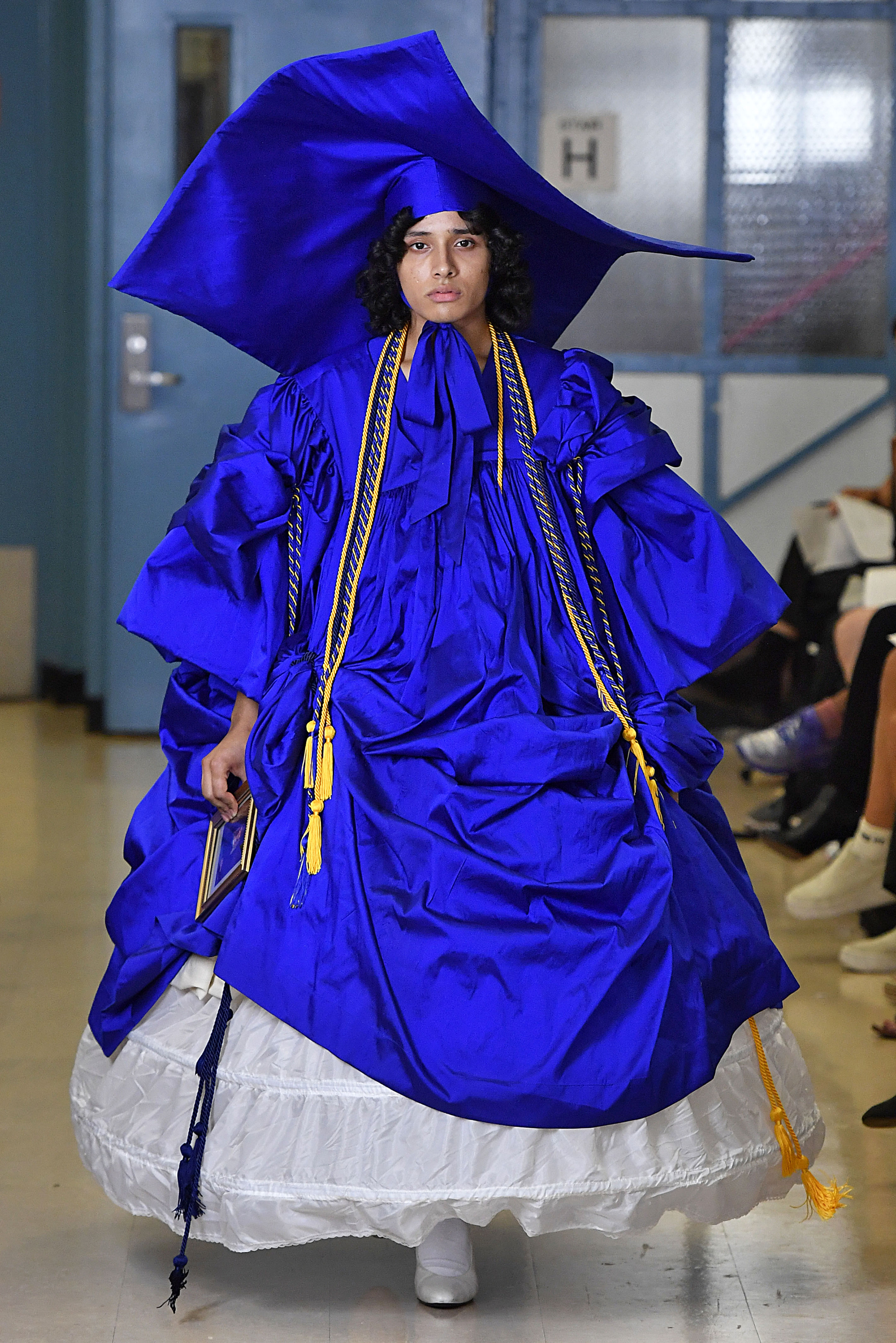 The mortarboard also made an appearance earlier that day at Vaquera, where designers Patric DiCaprio, Claire Sully, and Bryn Taubensee put their own spin on the collegiate classic, inflating it to Really Big Hat™-level proportions and pairing it with a vast, swirling royal-blue graduation robe. The look was rounded out by a framed copy of Taubensee's own graduation photo. Held in an actual school cafeteria, the whole show had a high-school feel to it, with models sauntering down the runway in homeroom-ready plaids and "Vaquera High School" oxfords, clutching glimmering silver cheerleaders' pom-poms.
"Two is not a trend!", you cry, and I know, I know...for the purposes of trend-spotting, it would be nice if, say, Rodarte had swapped its spooky-romantic veils for graduation caps. Let us not forget, though, that no less a pair of fashion luminaries than the Olsen twins – currently of The Row, previously of "The Adventures of Mary-Kate and Ashley" musical mystery video series – were early adopters of the mortarboard look in 2004.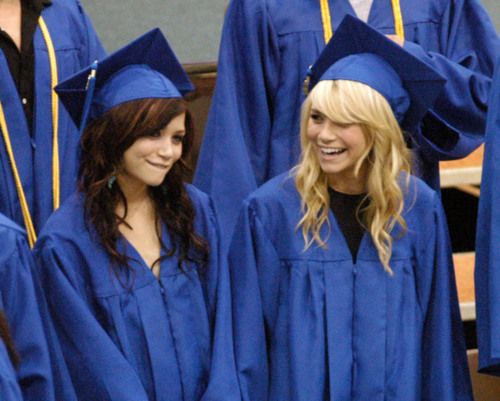 Technically, the Olsen twins' graduation-cap moment privileged function over fashion, as they were actually graduating at the time. Still, these are the women who pioneered tiny sunglasses light years before the Hadids, whether they get credit for it or not. Are we really to believe that the Olsens were merely "graduating", and not getting out ahead of a fashion lewk that took 14 years to reach the runway?
As summer slowly gives way to fall, it's hard not to see the Vaquera and Calvin Klein mortarboards as head-perched reflections on moving out of one stage of life and into another. Like most rites of passage, graduation itself can feel alternately exciting and inconsequential, so we depend on signifiers of adulthood like caps and gowns to show the world who we are and who we're becoming. College, here we come, baby!!!!!!