Robin Rhode, Lute of Pythagoras, 2017 (detail). Courtesy of the artist and Lehmann Maupin, New York and Hong Kong
Robin Rhode Has a Lot of Feelings About Geometry
In the artist's latest photos of his own wall paintings, precise shape and color become tools for both escape and interaction.
Robin Rhode, Lute of Pythagoras, 2017 (detail). Courtesy of the artist and Lehmann Maupin, New York and Hong Kong
In a body of work made over the past two years, Cape Town-born artist Robin Rhode rejects, in his term, "the current African aesthetic." Running counter to what he perceives as a tendency toward embellishment, his photographic series The Geometry of Colour, on view at Lehmann Maupin in New York, depicts simple yet vibrant large-scale geometric wall paintings. "There's an overly eccentric use of elements and the body is very present," Rhode comments on contemporary African work. "There's an emphasis on decolonization, the social condition, and the reclaiming of space. My intention was to work with a palette that is reductive. There's a vibrancy in the color, but it's very coded, very mathematical."

The photos in Rhode's new series present specific stories or allegories, each one made visible in a mathematically designed drawing that the artist and his assistants painted onto a Johannesburg wall. These works do more than simply buck art world trends; they stand in strategic contrast to their immediate surroundings. Next to the wall—and just beyond the frame—is a neighborhood that the artists characterizes as being affected by drugs and violence. The wall itself, on which Rhode and his team have been working since 2011, belongs to a former bakery that's now a squat, and stands in a gang-dominated area. "As much as I'm embracing the theories of mathematics," Rhode told GARAGE at his Berlin studio, "these works also reject reality. The reason I'm searching for a mathematical purity is because I'm rejecting the chaos in front of that wall."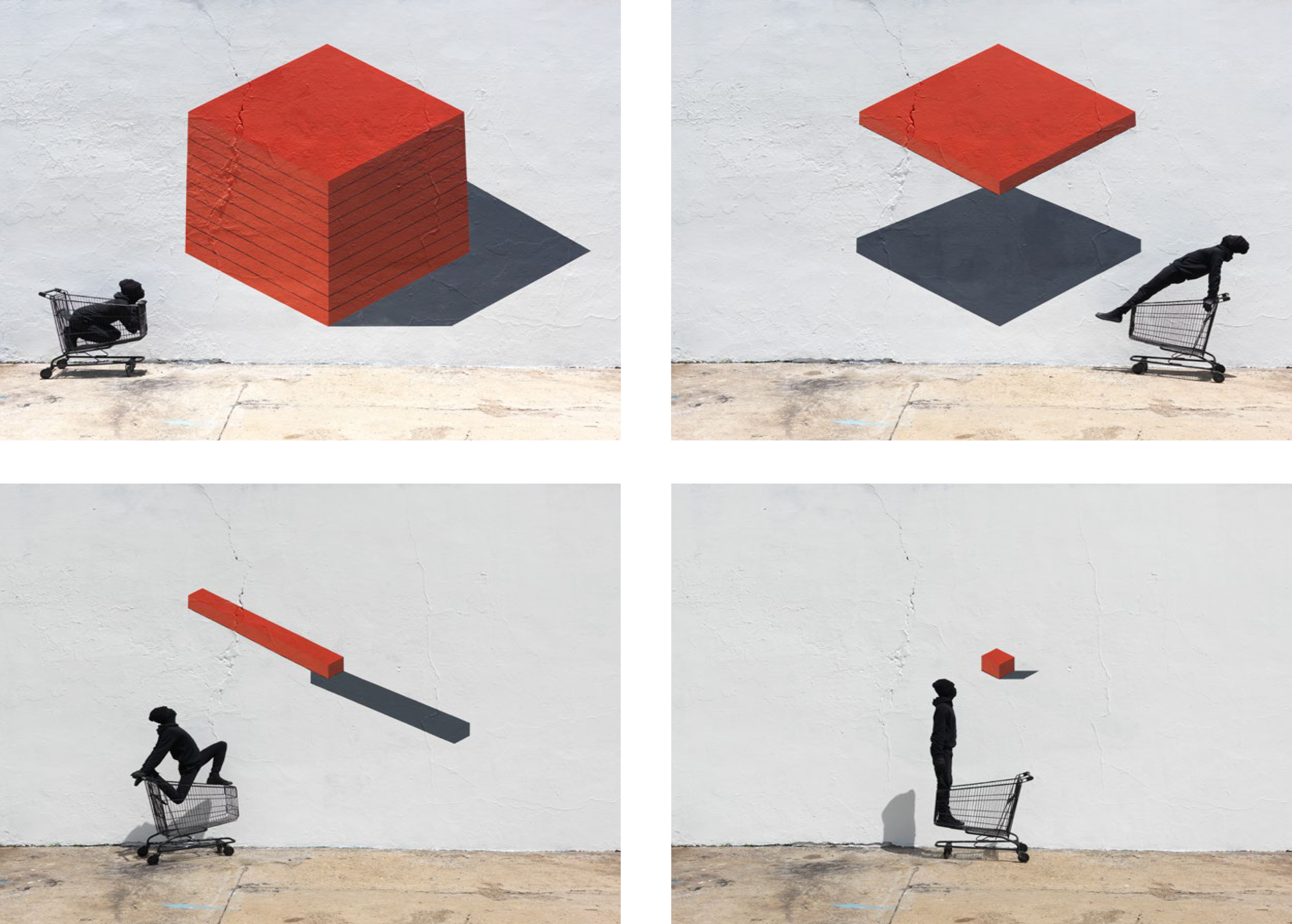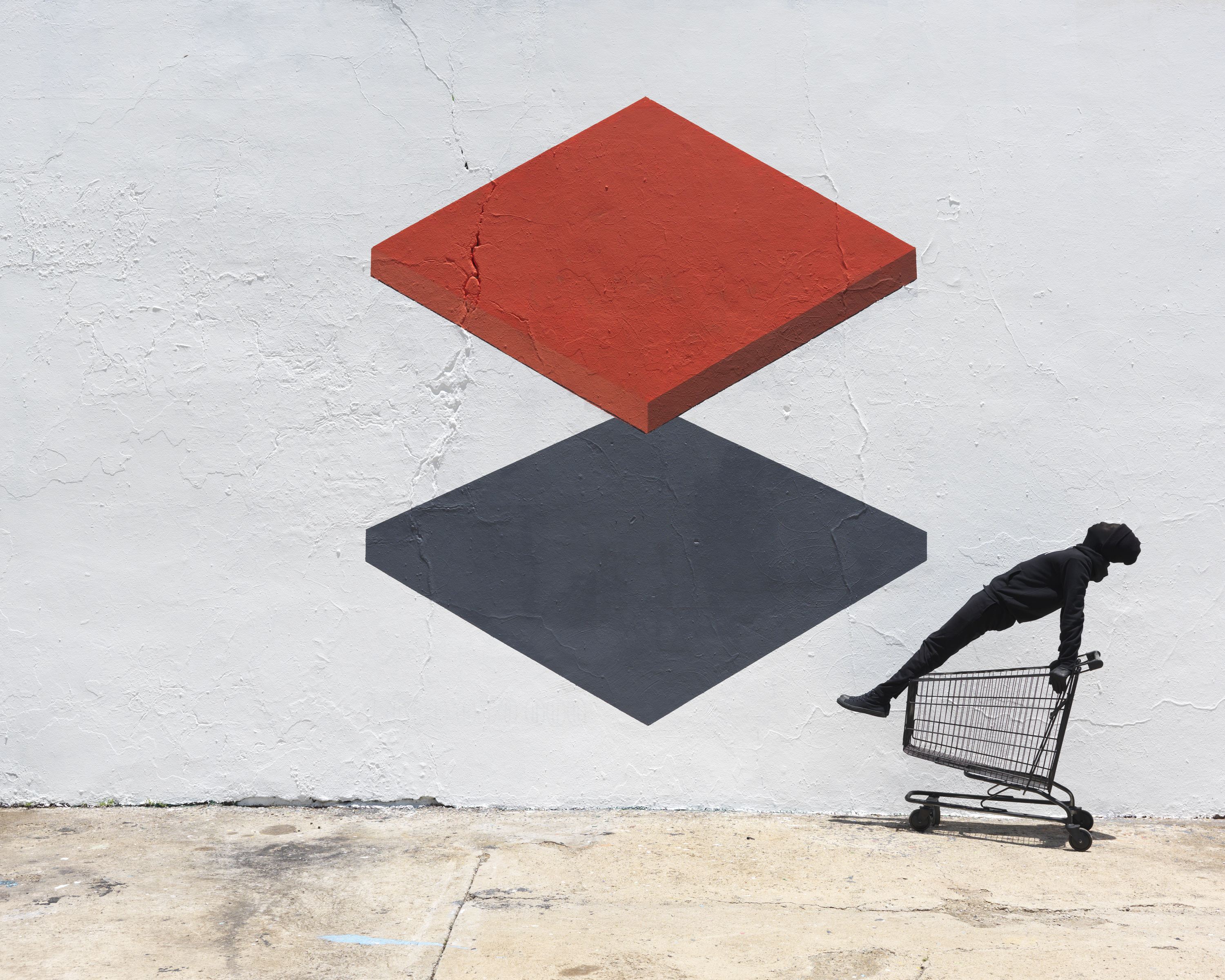 Rhode's assistants are local, and live with this chaos daily. Though all under 23, they've all already spent time in jail. The story of how Rhode came to work in this particular wall is telling, too: a local hairdresser showed it to him on her way to buy crystal meth, and he brokered a deal to paint on it in exchange for a bottle of Johnny Walker Black. Yet the artist emphasizes again that the area's social conditions aren't the subject of the work. "I'm not turning my camera onto the social," he insists. "My intention is not to make my crew the subject. I'll leave the work on the wall for three days and I'm saying, 'Stand in front of it and allow it to take you into a spiritual place.'"
Social conditions are nevertheless key to illuminating some of the paintings in Rhode's shots. In Evergreen, for example, a lawn is rendered in triangular segments of different shades of green. A figure lies in front of it, his hands and feet reaching upward to support a lawnmower as if pushing it across the grid. The painting was inspired by Rhode's own experience of cutting his mother's lawn with the same model, and by the fact that many local residents make a living from gardening. "I'm trying to reimagine that reality in a very controlled sense," the artist said. By using eight shades of the same color, Rhode also references the notion of infinity, the number eight being a looping shape.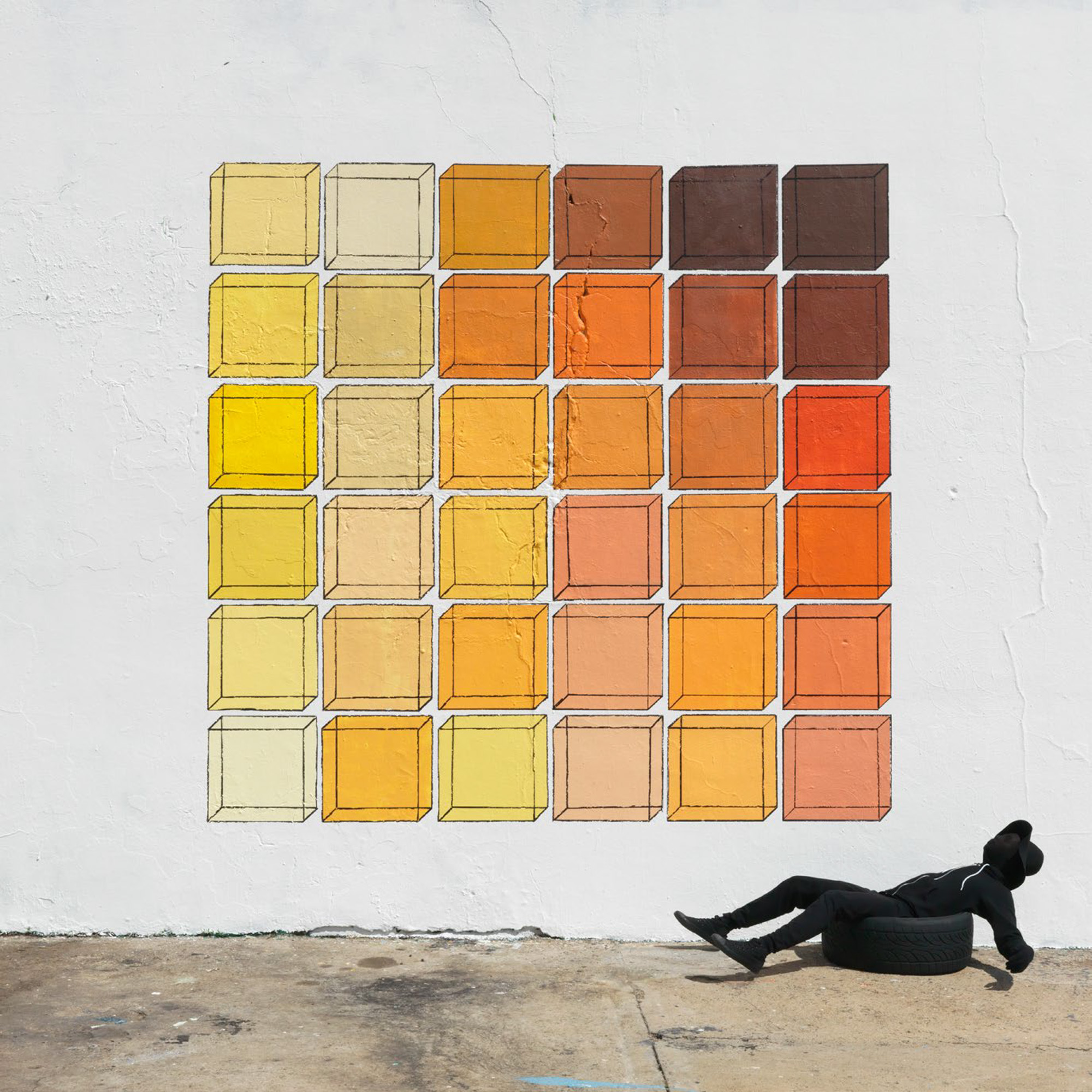 Allusions to endlessness appear throughout The Geometry of Colour, in works such as Cuts - After Carl Andre (2017), which is built, like the Andre drawing it's named for, around eight negative spaces; Inverted Cycle (2016), with its eight circles making up a color wheel; and Paradise (2016), a geometric reimagining of Monet's paradisiacal gardens. Through this thematic repetition, Rhode argued, he strives to "embrace the infinitive and the universal" so that viewers can engage with his work no matter where they are. By making the templates in his studio in Berlin, applying them to a wall in Johannesburg, and exhibiting the resultant photos at a gallery in New York, Rhode succeeds in wielding the timeless precision of geometry as a tool for communication across disparate realms. In doing so, he not only confronts art world trends, but also enters into conversation with his own life—even if he acknowledges a desire for escape: "Art is a means to transcend the reality I am in."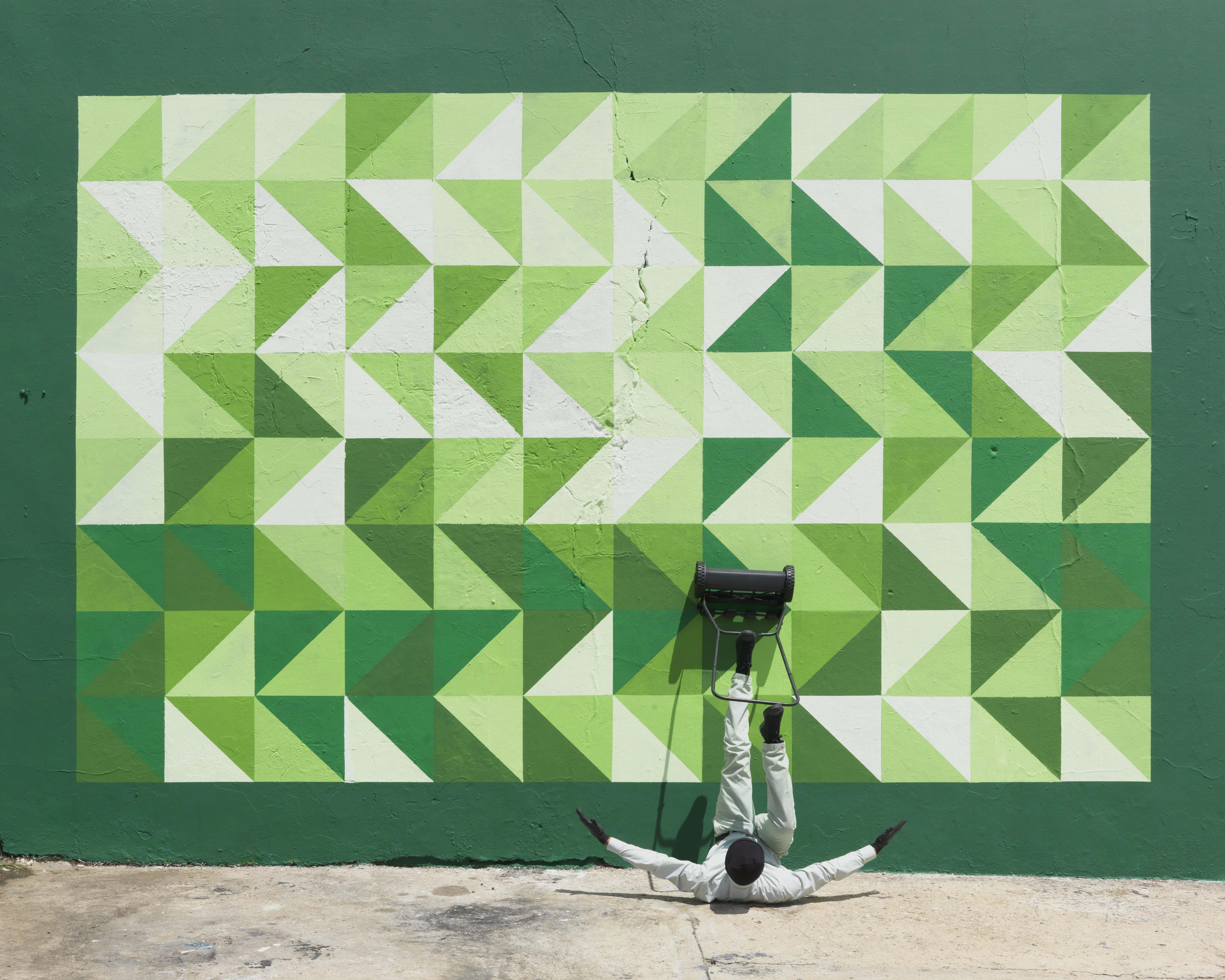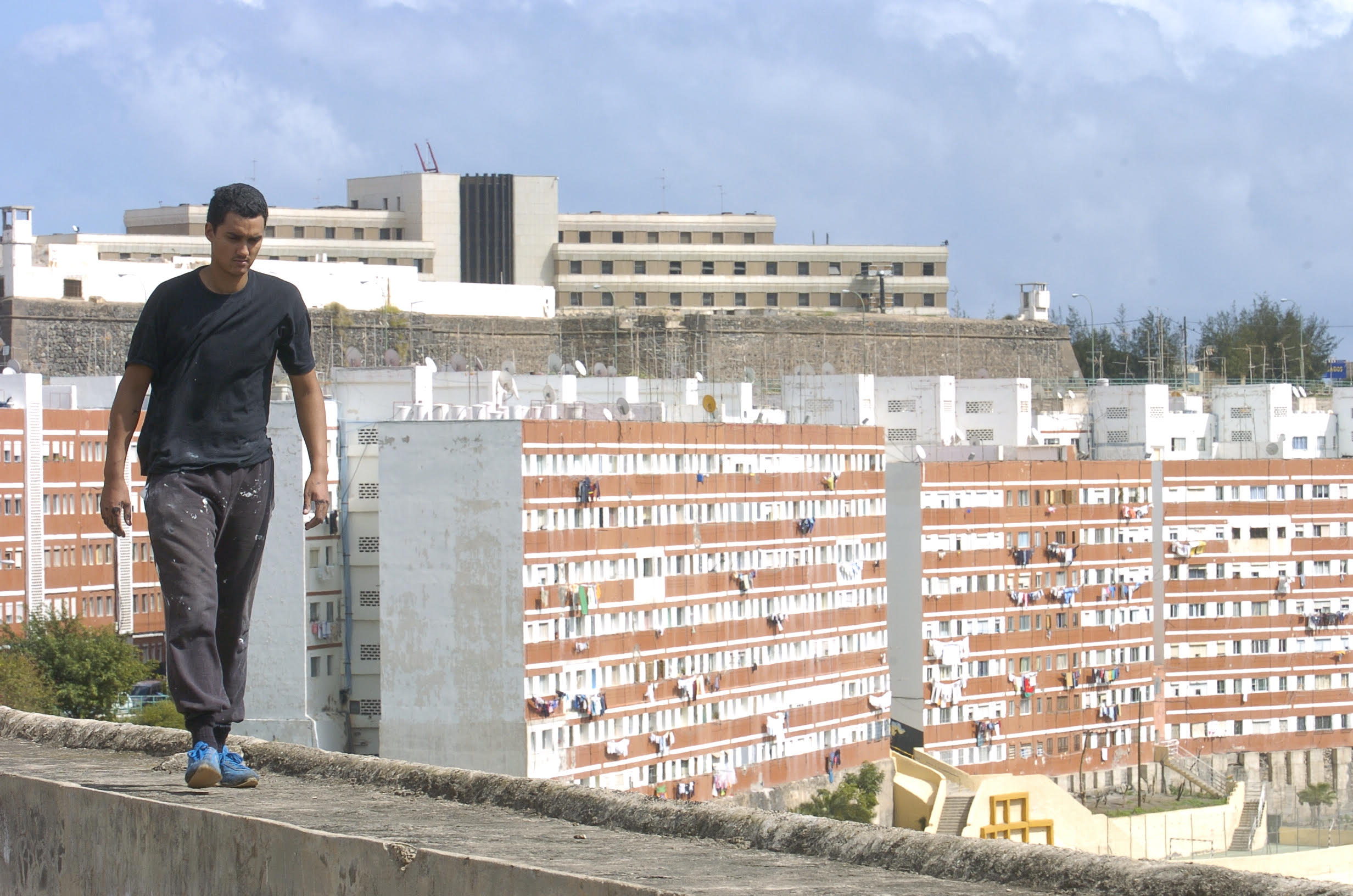 Robin Rhode, The Geometry of Colour is on view at Lehmann Maupin, New York, through February 24.