MAD Architects Founder Ma Yansong Wants to Live In Harmony
The Chinese architect's buildings may be futuristic, but they are inspired by nature.
Photo: Hufton + Crow
As trains slow on their approach to Nanjing, passengers glimpse a novel skyline. A range of softly rounded towers laced with ribbons of glass evoke mountains and waterfalls. Stroll around, and you discover they guard a village-like core of low-rise shops, tree-shaded courtyards, and pools. It's as though a Chinese ink-and-brush scroll painting has come to life. This is the Zendai Himalayas development—three mega-blocks in a city of 8.5 million—and while designing it, architect Ma Yansong was inspired by his love of nature to create an urban oasis. He calls his creation Shanshui City, borrowing a term used to describe those traditional paintings. It translates as "mountains and water," and symbolizes harmony.

Few of his peers have enjoyed such a dizzying rise to fame as Ma, who was born in Beijing in 1975, opened MAD Architects there in 2004, and now has a flourishing practice, with a second office in Los Angeles. He spent a productive year in the office of Zaha Hadid after securing an M.Arch from Yale, and then burst onto the scene with Absolute Towers, on the outer edge of Toronto. Marilyn Monroe was the name locals gave to this hip-swaying duo of high-rise apartments.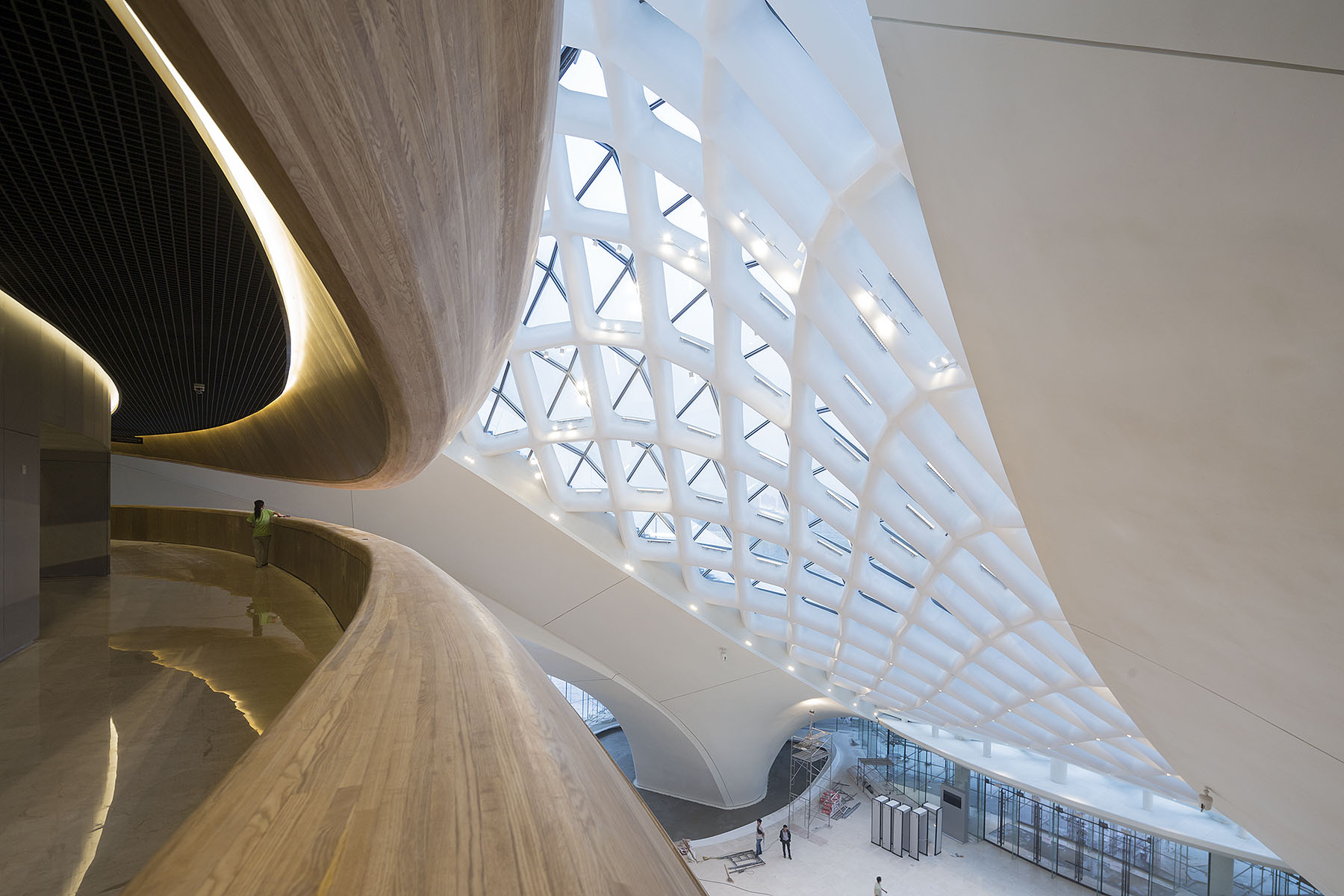 Since then, he has won acclaim for sensuously curved buildings on an increasingly ambitious scale all over China. Each has its own distinct character; Ma seeks to express the spirit of a place as well as its purpose. In the U.S., he designed a giant tent to house the Lucas Museum of Narrative Art for a lakefront site in Chicago. When local opposition persuaded George Lucas to find a new site in downtown L.A., Ma came up with a radically different design that took its cues from the horizontality of the surrounding buildings. In mid-Manhattan, he has proposed a sylph-like tower that plays off the verticality of its neighbors.
It is this ability to respond to context and clients' needs while creating dramatic forms that has brought the architect his growing fame. Ma is not yet in the top league of Frank Gehry, Jean Nouvel, Rem Koolhaas, and Herzog & de Meuron, but if he continues to mature over the next decade, he may well become a worthy rival of those celebrated names. In the meantime, Ma is as understated in person as his work is boldly assertive. Frank Lloyd Wright and Le Corbusier never tired of proclaiming their genius; Ma is content to let his art speak for him. "Some people call my buildings futuristic, but nature is timeless and I try to abstract it," Ma says. "I want to challenge all the boxes that surround us and make people feel comfortable."
In China, urban space is characterized by a frenzy of motion, from the national network of high-speed trains to the chaotic traffic on broad city boulevards. President Xi Jinping declared there should be no more "weird buildings," but that hasn't discouraged developers from competing for attention with towers and malls that twist and swoop, leap and jut with the abandon of breakdancers. Stand on the riverfront of Shanghai to see how much has changed in the past 30 years. On one side is the Bund, with its stately curve of classical stone banks and trading offices, a legacy of colonial exploitation. Across the water is the new quarter of Pudong, a surreal assortment of bizarre shapes that resembles a sci-fi movie set. In other Chinese cities there's a deadening monotony as one platoon of towers crowds in on the next, making pedestrians feel insignificant. Ma is searching for a viable alternative: a harmonious urban environment that combines the best of past and present.
He recalls his childhood in the hutongs of Beijing, where every courtyard had a large tree that was the centerpiece of community relationships. "Different families shared the courtyard, which created strong social bonds, in contrast to the present day, where people live in high-rise apartments and don't know their neighbors' names," he laments. As late as the 1980s, the capital was still a low-rise, green city with a feeling of intimacy, away from the intimidating expanse of Tiananmen Square and its pompous government buildings.
"Some people call my buildings futuristic, but nature is timeless and I try to abstract it."
Ma understands that the enormity of China's population mandates high rises—there's not enough room to house everyone in courtyards. As an alternative, he proposes a fusion of nature and human settlement, a Chinese ideal that has been lost amid mindless mimicry of Western models. "The fundamental principle of ancient Chinese architecture is the maintenance of the order that governs heaven and earth and all existence," he has said. "Architecture and the environment were [once] considered as a single entity."
In Beijing, MAD's best work to date is Chaoyang Plaza, a prestigious complex of offices, shops, and apartments. Natural land forms have been abstracted to create an architectonic sculpture, all swirling lines. You may also be reminded of Darth Vader's helmet as your eyes run over the dark, sleek curves of the asymmetrical towers and their sinuous rim. Whichever image captures your imagination, the lure of this project is undeniable. The vertiginous atrium and the constantly shifting perspectives dazzle as you circumnavigate the courtyards and winding terraces.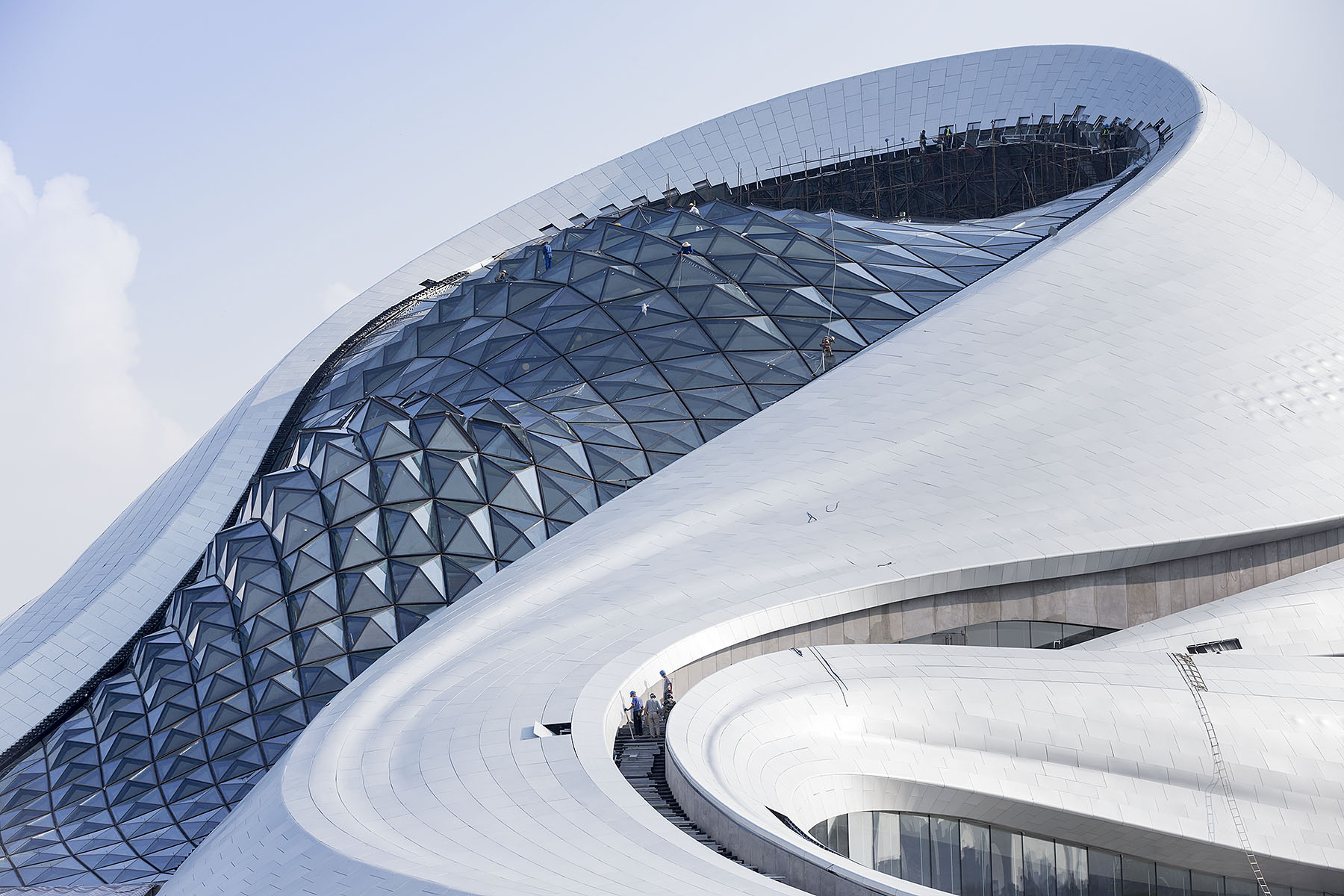 Still more seductive is the complex of opera house and theater in the northern city of Harbin, near the Russian border. Located in the wetlands to the north of the Songhua River, the curvaceous twin buildings were planned as the centerpiece of a new city that will complement the metropolis on the south bank. "When I first flew into Harbin, I saw how the river twists and turns and thought we should make the buildings into a free-flowing ribbon, or like the gentle hills on the site, which become soft mounds of snow in winter," Ma explains. Ramps are carved into the opera house so that people can take an architectural promenade to the rooftop amphitheater. A tilted, four-level glass window lights the soaring lobby and its pyramidal structure is self-supporting, eliminating the need for interior columns. Every surface is smooth and finely detailed, notably the sculptured staircase of seamlessly assembled CNC-milled sections of Manchurian ash. Ma likens the main auditorium to the inside of a giant cello, combining warmth, elegance, and precision.
In Los Angeles, the Lucas Museum was inspired by a cloud, weightless in form, rather than a spaceship in the mold of Star Wars. "When I first met George Lucas I asked him what he was looking for," Ma recalls. "He said, 'I don't know, that's why I'm asking you guys.'" So Ma worked in organic details, an American take on Shanshui City with particular attention to the connection between nature and imagination. "It's raised off the ground because I wanted to keep the park," he says. "The museum is for narrative art, and that requires a different context to transport visitors from the here and now. As a kid you could imagine standing on a cloud and everybody wanted to go on the roof and feel free. Here, the roof terrace is landscaped and becomes a second park, with a view. It draws on a concept of an ideal city, with multiple layers of landscape."
The second L.A. project is smaller in scale but sure to draw attention. In Beverly Hills, Ma was inspired by the traditional two-story houses with pitched roofs emerging from lush vegetation and stacked up the hillside. However, the site fronts the heavily trafficked Wilshire Boulevard, so he raised a horseshoe of villas above the sidewalk on a two-story retail podium covered in greenery. Like the hutong houses, they are blank on the street side and open up through glass sliders to a private courtyard. Ma has a gift for vaulting from macro to micro and back again; he has proposed a new airport terminal in Harbin designed after a snowflake—a snowflake that covers 10 million square feet. As such, the Los Angeles buildings are in scale with the quiet residential streets to the south, as well as to the house of Ma's Beijing childhood. His practice may be one of imaginative leaps into the future, but 6,000 miles from home and 40 years later, he has returned to his roots.