Photo courtesy of Ohad Meromi.
There's a Giant Orange Venus Sculpture at Duckie Brown
Artist Ohad Meromi's new works were on display Tuesday night.
Photo courtesy of Ohad Meromi.
Duckie Brown's shop is on the third floor of a West Village apartment building, not far from the Whitney Museum and just a stone's throw from a Dry Bar outpost. A studio by day, on Tuesday night the fashion brand opened its doors for Useful Things, an exhibition of sculpture, painting, and furniture by artist Ohad Meromi. (You may know him as the creator of a bubble-gum pink sculpture in Long Island City; he's also married to very funny writer Naomi Fry.)
Scattered between racks full of plush, multicolored wool coats and floral-printed shorts were Meromi's lamps, geometric paintings on wood—bright, lexical compositions that reminded me of Josef Albers and Hilma af Klint—and an orange and blue three-dimensional printed sculpture, like a Martian drinking vessel, placed on a large, central worktable on which I tried hard to avoid leaving a half-empty glass of prosecco.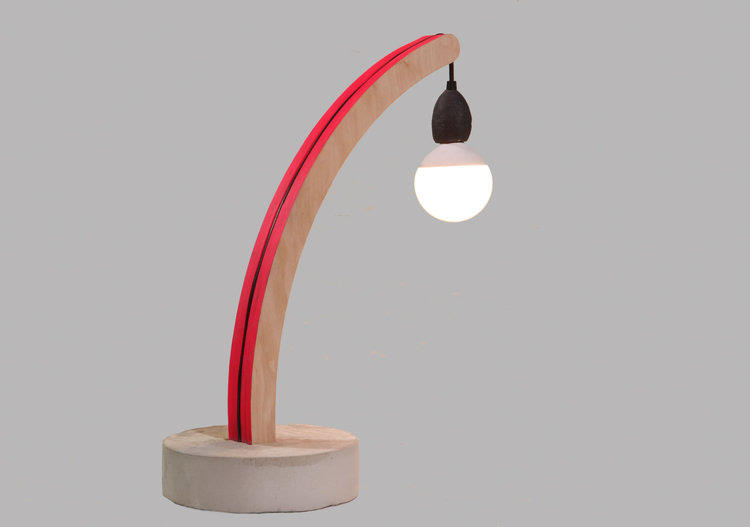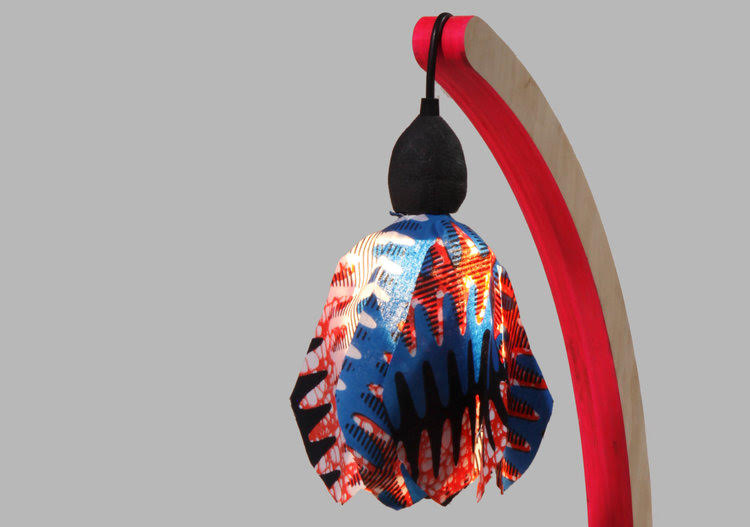 At the back of the room, a sculpture of a female figure stooped under the ceiling, sculpted from orange spray polyurethane foam: the stuff used to insulate the seams of walls. Skeins of foam represent her hair, pouffed up at the front in a pompadour; the corners of a wooden skeleton poke out from her feet, but the rest of the figure is made up of rounded, fertile shapes: a round potbelly, small round breasts, arms ending in rounded balls swinging from her shoulders, doll-like, connected by red carabiners. This, coupled with a lack of facial features, suggested a Venus figurine reimagined via the Home Depot.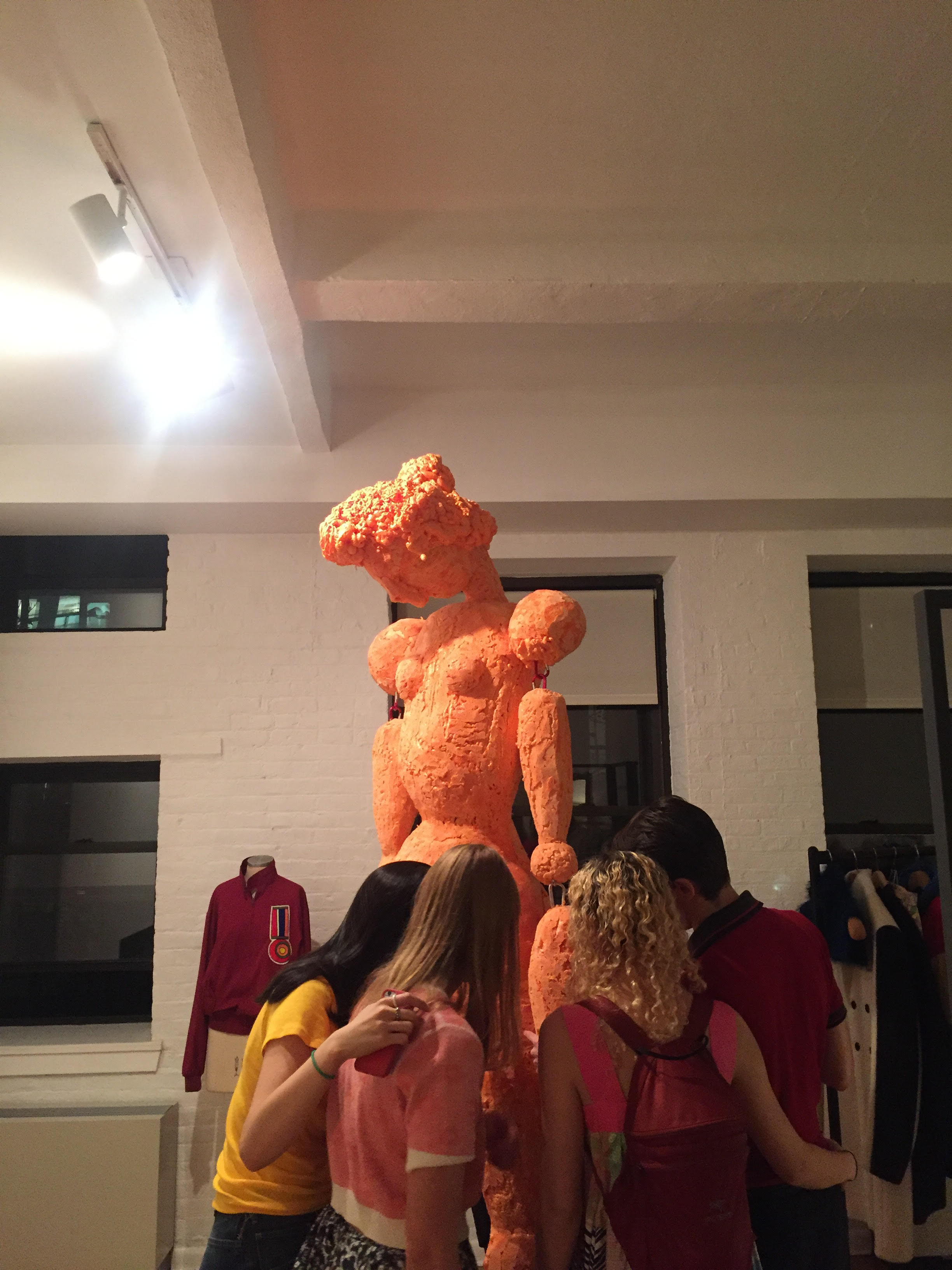 The room was packed, writers and designers and at least one ballerina wedged into little isosceles gaps bordered by clothing racks and studio furniture and exhibition furniture—the assumption would be that fashion people there for Duckie Brown, artists and writers there for Meromi and Fry, but most people were there for both. After a short discussion on whether a screen made of alternating blue-painted and unfinished wooden slats was a piece in the show, I guessed that it was the latter; someone said, "That's Ohad's color."
Meromi's pieces did blend into the everyday ephemera of the Duckie Brown studio, which hadn't been packed away for the opening: the three-dimensional printed sculpture sat near a knit smiley face balaclava with purple-lined eyes; one geometric painting was propped informally against the wall. And there is a shared sensibility, a kind of mischievousness with archetypal forms, plus a willingness to use weird materials.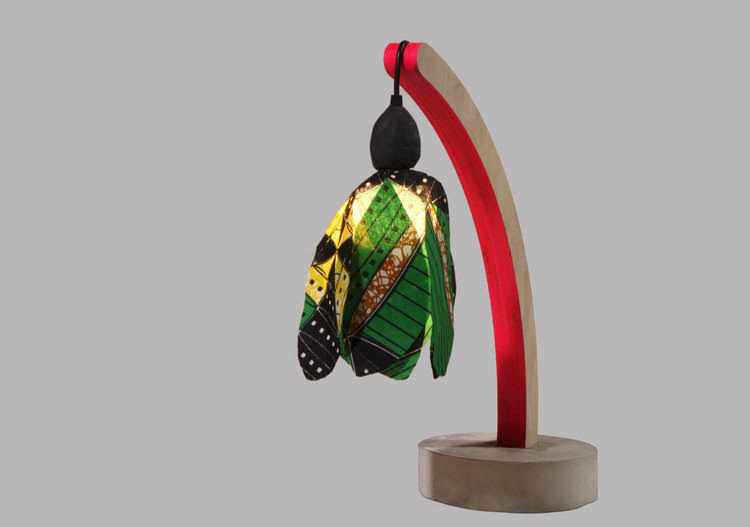 My favorite piece in the show—the Sunset Lamp, a palm tree light made from laminated wood prisms sunk into a concrete base, beads like little coconuts at the tip of each green frond—seemed very at home there. I think the lamp is nice because it's so cheerfully fake. Only two faces of the prism are painted, leaving the sides unfinished: in the lineage of Memphis design, it's more about what human handicraft can do than about nature itself. There's a delight in taking things apart and putting them back together just to show how you did it.
Editor's note: an earlier version of this story referred to the space as the Duckie Brown showroom. In fact, it is the shop. As ~insiders~, we regret the error.