The Tie-Dye Renaissance Is Here At Last
Once reserved for burnouts, hippies, and Dead Heads, Tie Dye is now becoming the new neutral.
Courtesy of Kim Shui
The jury is in—I am the jury—and "chic camp counselor" is the only way to dress this Fall.
She might seem to be an unlikely muse but when you think about it, it tracks. She first appeared in all of her crunchy-cool glory at Kim Shui. Writer and fashion show seatmate Faran Krenticil leaned into me and said, "I love that the camp counselor is the new art school girl." It's a sentiment I couldn't quite shake as I saw tie-dye take over the runways all throughout New York Fashion Week.
I emailed Faran days later to ask for more. "I think our first real-life style icons were our camp counselors. They were more mysterious than our babysitters," she explained. "How were they so good at talking to boys? When did they start sipping coffee from thermoses like grown ups? And how did they somehow emerge from two-minute cold showers looking like Venus with stringier hair? I would pretend I was cold to wear their giant tie-dye sweatshirts and sweaters. They smelled like sunscreen and kiwi lotion from The Body Shop and I felt so cool wearing them to sing-alongs and sailing lessons. If only I'd known they would be sold for $750 at Barneys, I would have stolen them for good."
She's spot on.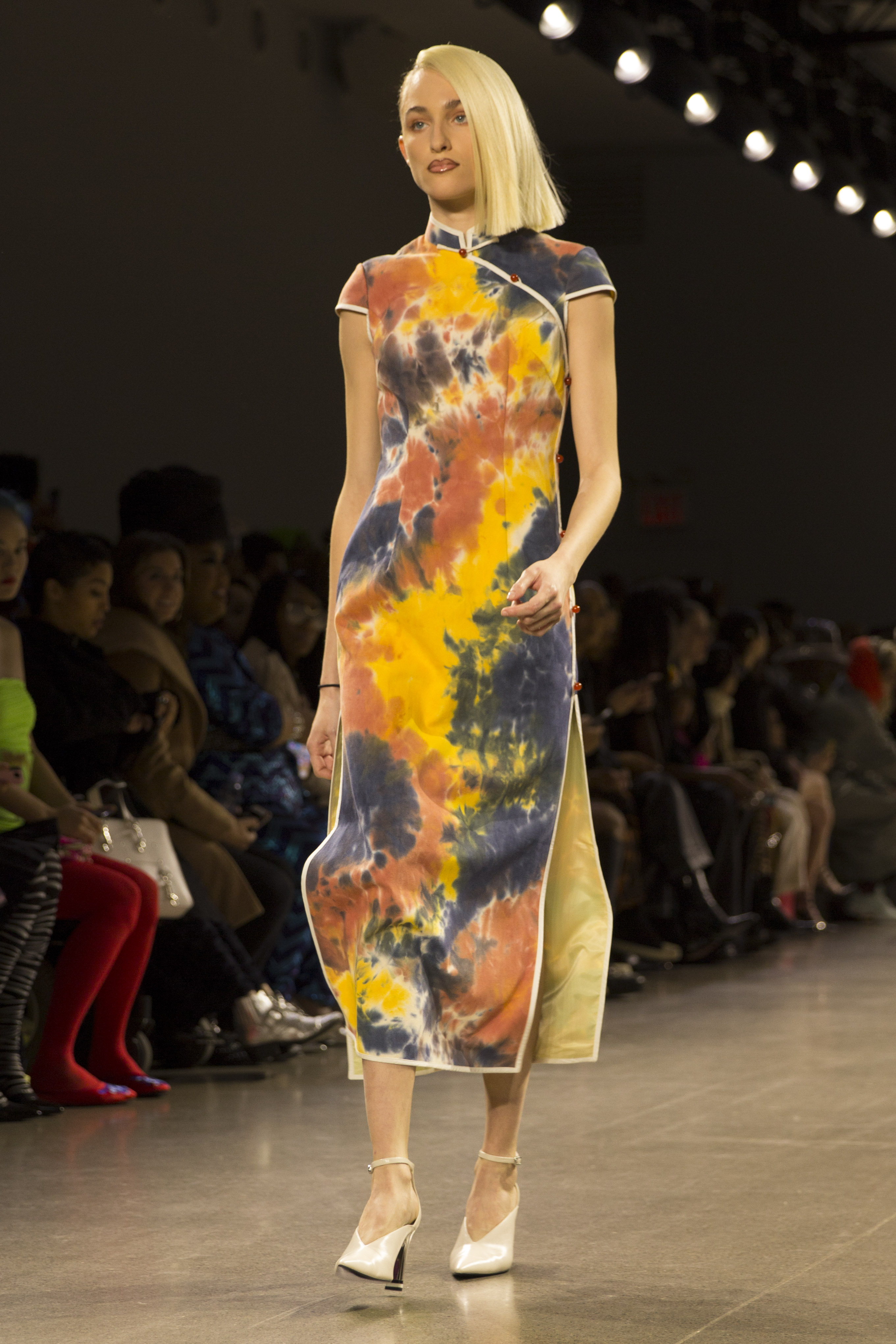 Camp counselors were older, cooler, and, after 10 summers in some pine-shrouded hermitage with little else to do than neck with the cafeteria boy, capable of rendering the perfect spiral tie-dye. If that was a skill I possessed, I'd have zero need to go shopping again. But since I don't see myself DIY-ing anytime soon, I take solace in Shui's collection as well as those seen in Collina Strada and CDLM's collections.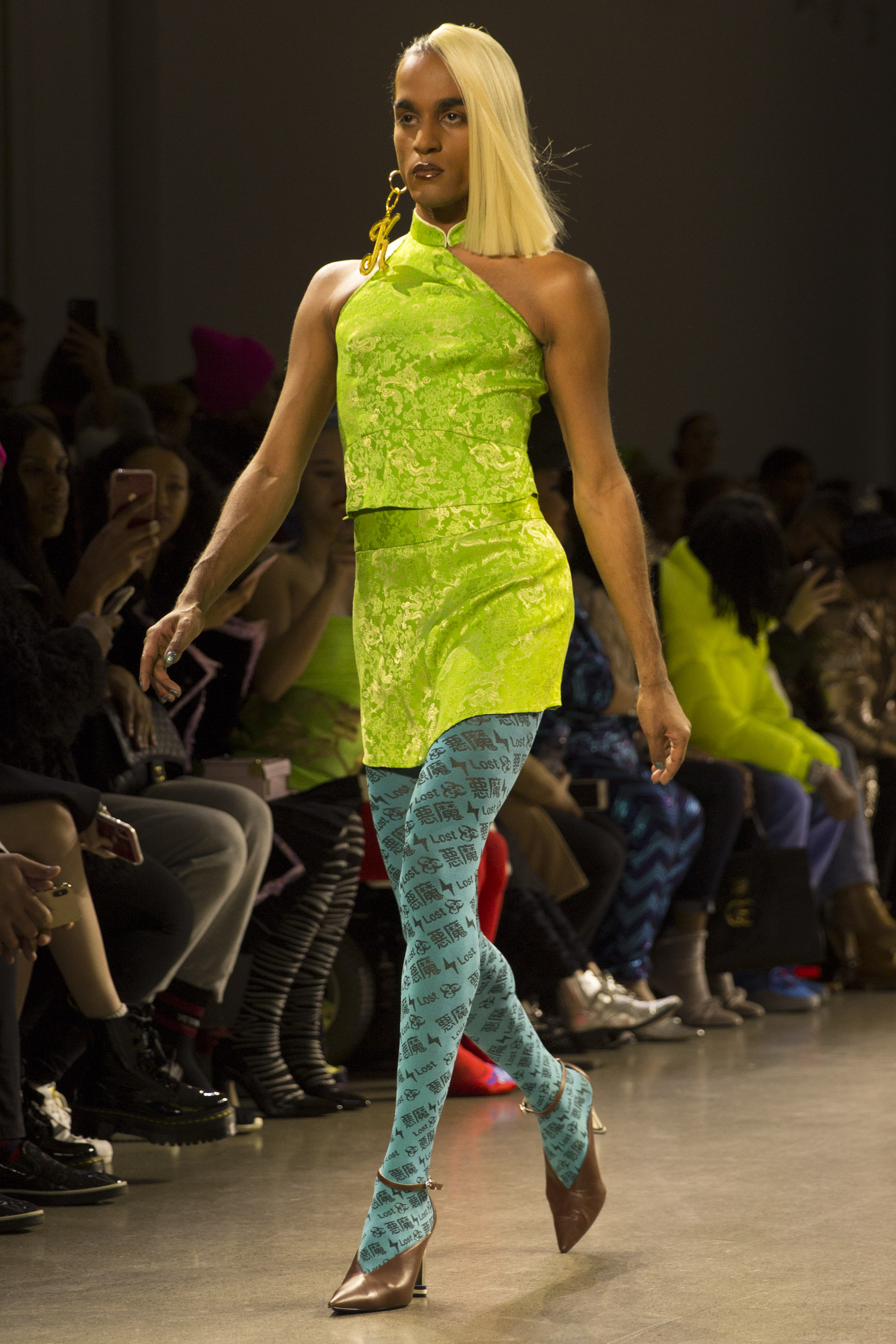 The first thing I saw at Kim Shui's banger-filled Fall/Winter presentation was a wacky riot of culture and pattern clashing. The cast—which included cool kid and model dujour, Richie Shazam, in a Chinese-inspired mini dress and twisted tights—stomped to the musical stylings of R&B goddess, Toni Braxton. You know that meme: "She's ghetto but has a runway quality about her"? Shui's show was just that, and as such existed in striking contrast to most of the tie-dye offerings on display this week. There was no pretense, no holistic message—this tie-dye was about giving it all, arguably giving the most, and I'm here for that.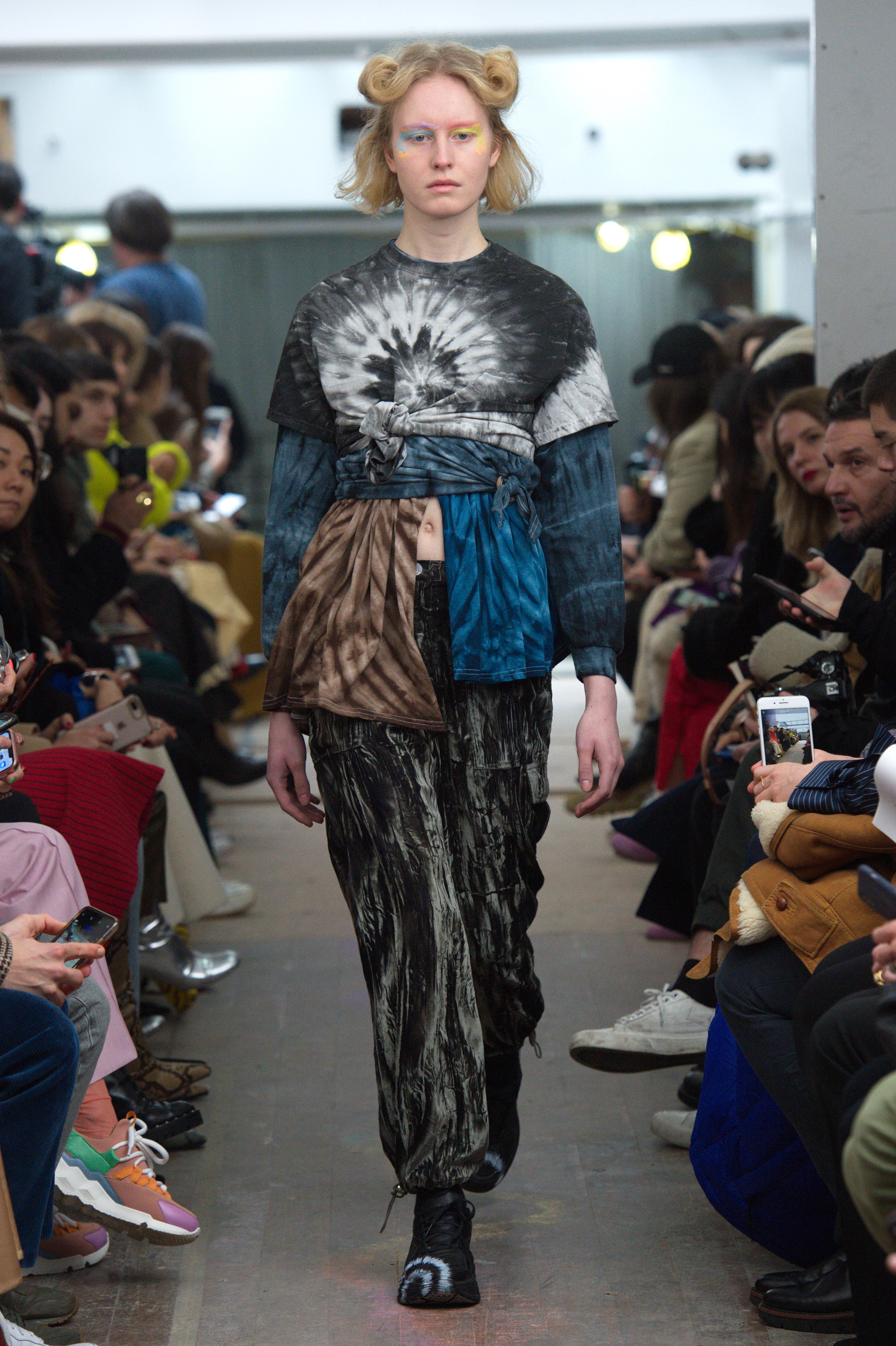 Collina Strada presented a reflection on waste and consumerism, showing models in their signature tie-dyed slouchy and snug knits. The models were seen eating from glass tupperware, drinking from reusable metal bottles, and picking up plastic waste as they made their way down the runway. I like to call this "category: classic" tie-dye—the kind that communicates a connection to our earth. It's spiritual and psychedelic and worn with purpose.
At the show, climate change warrior Xiuhtezcatl Martinez delivered an address in lieu of music, challenging the industry to protect the planet by using sustainable practices. Twin influencers Molly and Reese Bluestein sat front row at the show wearing certifiably gigantic hoodies marbled with murky browns and greens proving that crunchy hippies, Dead Heads, and yummy mummies aren't the only ones who can ride the rainbow wave with a chunky heel.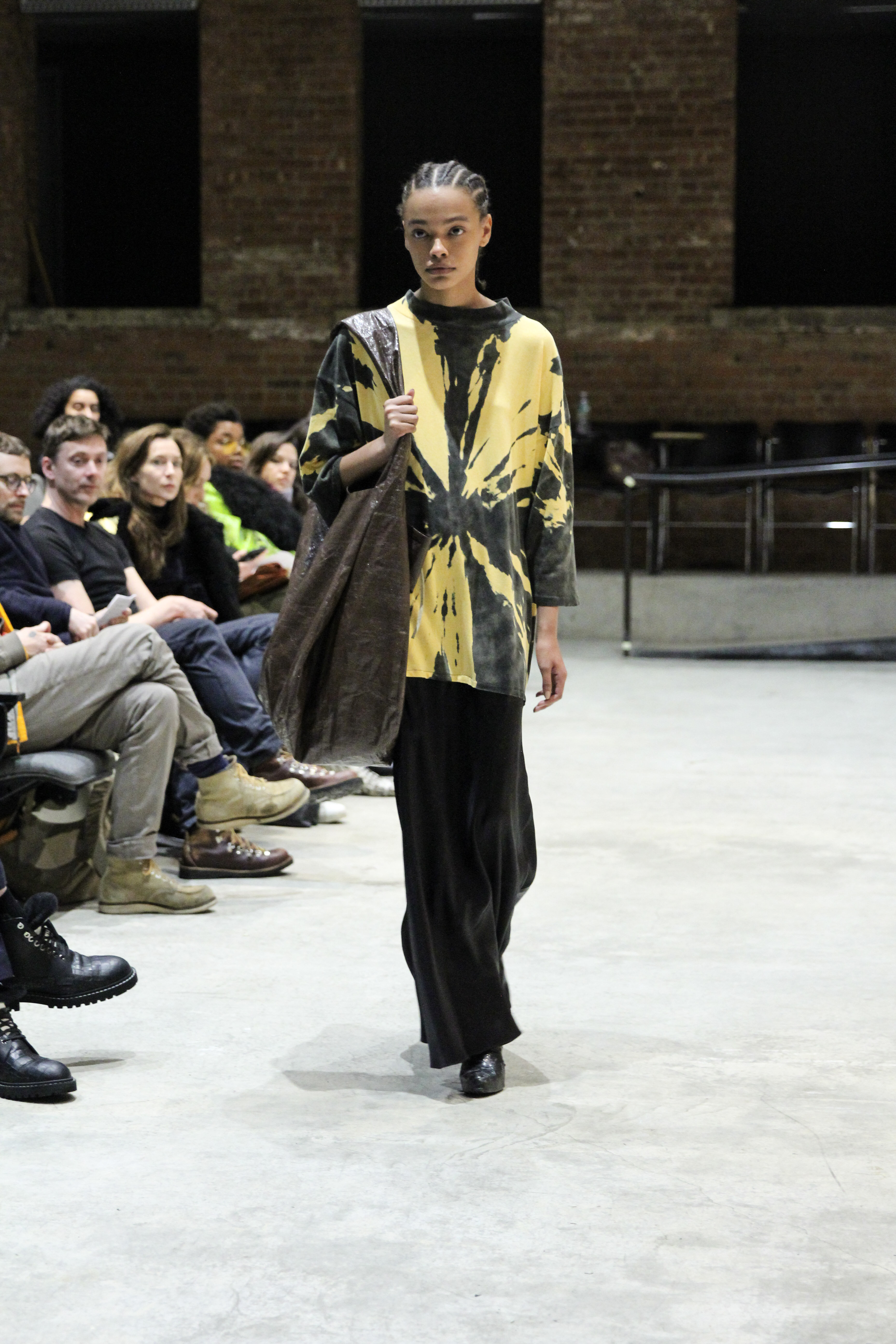 Lastly, in their second showing, CDLM joined Creatures of the Wind for a joint presentation featuring the only dress I care to wear for the foreseeable future: an upcycled, oversize T-shirt Frankensteined together with a simple black slip dress. There really is nothing more to say: just let that marinate.