These Teenage Designers Are the Future of French Indie Fashion
The designers of AFTERHOMEWORK(PARIS), Pierre Kazmarek and Elena Mottola, showed their first collection at ages 17 and 18. Now, their clothes have grown up, but their youthful spirit is reshaping the world of French sportswear.
Pierre Kaczmarek, the 19-year-old designer who makes up one half of AFTERHOMEWORK(PARIS), is nothing if not authentic. It's a word that is often used to describe his generation of creators, but in this case, the accuracy of the designation is immediately obvious. On a phone call earlier this week, he was eager to issue his unbridled opinions on the designers he idolizes, the challenges of collaborating with brands, and the recent shakeups at French fashion houses, including the recent appointment of Virgil Abloh at Louis Vuitton menswear. "I love Virgil because he makes his choice," Kaczmarek says. (His girlfriend, Elena Mottola, 20, makes up the other half of the design duo; she was out to lunch at the time of our call.) "For me, he is the definition of Artistic Director. He knows how to sell a global vision. I really love the concept he did with Nike, and to impose his vision like this to a big brand like Nike…well…we worked with Converse, and this was hard."
The brand is only its second official season, but clearly, Kaczmarek is already thinking big.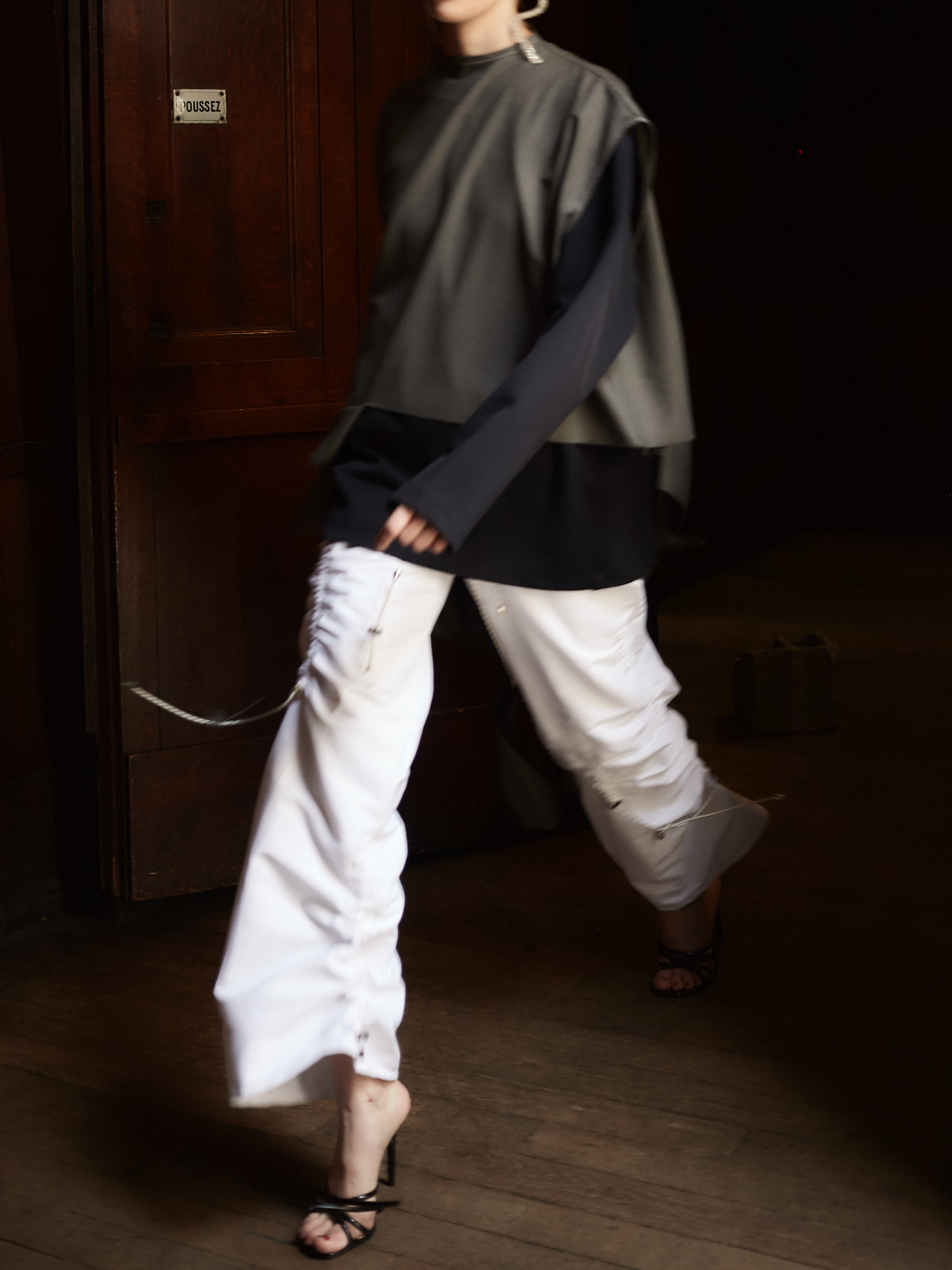 Their Fall 2018 show in Paris also spoke to that precocious gusto. They hosted a formal runway presentation despite the fact that they haven't made the official calendar controlled by La F édé ration de la Haute Couture et de la Mode. Kaczmarek realizes the validity in showing alongside the big dogs, but relishes in the freedom of being off schedule. "It is very difficult for young designers, especially in Paris, because the establishment and the Fédération tries to impose a vision on you," he says. "It's hard to stay true to your own message and show something new."
At the Church of the Redemption in the 9th arrondissement, Kaczmarek and Mottolo showed a collection of 29 looks showcasing warped and deconstructed silhouettes, experimental fabrics, and innovative draping to pews packed with press, buyers, and friends, all of whom wanted exactly what Kaczmarek said: something new. The clothes are, in a way, referential of things we've seen before—for example, bouncy pleats à la Issey Miyake—but the spirit in which they were created feels fresh. There is no obvious end game to subvert, nor to reinvent, and the execution is honest. AFTERHOMEWORK's dedication to authenticity over complete originality is, in part, due to the designers' admiration for Martin Margiela. "Margiela is like the father of every young designer now," Kaczmarek muses as we discuss the MMM retrospective at Musée Galliera. "He's done it all. The difficulty is not to copy him."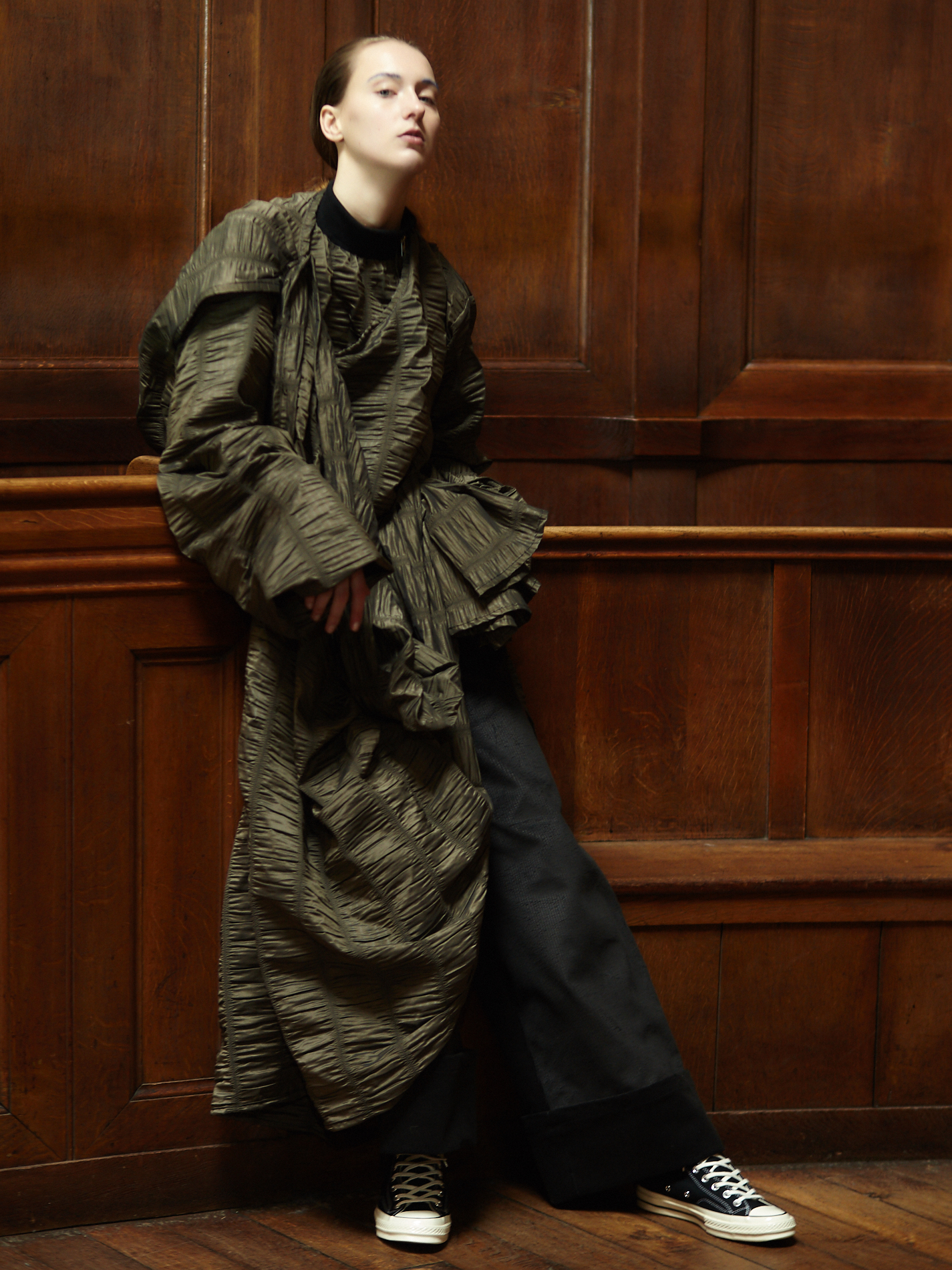 In addition to contributing to the visual language of Parisian youth, the designers are also keen to use fashion as a platform for their other cultural interests; they used a mix of their favorite songs by French rapper Timal for the show. "Right now, French rap is very strong," says Kaczmarek. "For young people, rap is more than just an inspiration. It's like rock and roll in the 70's—it's a movement. Some big brands understand its impact but interpret it in the wrong way, I think…. So I think it is important to push this culture." Still, it was a risky choice given the venue and the vulgarity of some of the lyrics. "The president of the Fédération [Ralph Toledano] was there, so we were a bit stressed about that," Kaczmarek says. Even if they weren't on the calendar this year, Toledano's presence means the brand is clearly on the radar.
While the duo is already thinking about their next collection, they are not set on plans for the future. The brand is sold in a handful of concept stores including Wut Berlin and Paris' expiremental art, fashion, and design space, The Community, but they have not forged into larger doors worldwide. "Now we are starting to sell, and we didn't do fashion school, so we're not very prepared for the future," Kaczmarek admits. "We don't know if we really want to do a business with our clothes but we are really inspired by the people in the street and so, of course, we want them to be wearing it."
For other young designers, the pressure to think as much about business as creativity is part of playing the fashion game, but it's worth remembering that Kaczmarek hasn't even exited teenagerdom and is navigating an adult world where the very real need to be practical about one's passion is an invasion of the utopian conditions of creating for its own sake. How will he and Mottola scale their brand—or is it even fair to ask? "I don't know how you say in English, but it's like a Cornelian choice," a phrase named for the French dramatist Pierre Corneille that suggests every available choice will have some kind of damaging result. A lofty invocation, but remember that it was while Kaczmarek was a young philosophy student that designing the collection went from extracurricular to a full-time job. When AFTERHOMEWORK(PARIS) was indeed just that—a brand conceived in the spare time unconstrained by young adult obligations—it could purely be about the clothes. But with the attention and demand mounting, he and Elena have had to rethink their model.
With that in mind, Kaczmarek and Mottola partnered with two larger brands for their March show: Italian outerwear giant ADD, who helped them create 30 unisex pieces in their traditional tufted down, and Paris Saint-Germain football club, with whom they made a series of jerseys. A lifelong fan of the team, Kaczmarek swears he approached PSG ahead of fashion's newest fleeting fling with sports and before Koché tapped them for their pre-fall collection, but he doesn't mind being second to the table. "We did only three jerseys, so it was not like the collaboration with Koché, because we are young and we don't have the same experience or operation as a bigger brand," he says. "But it was symbolic, and I think it was important and it was strong."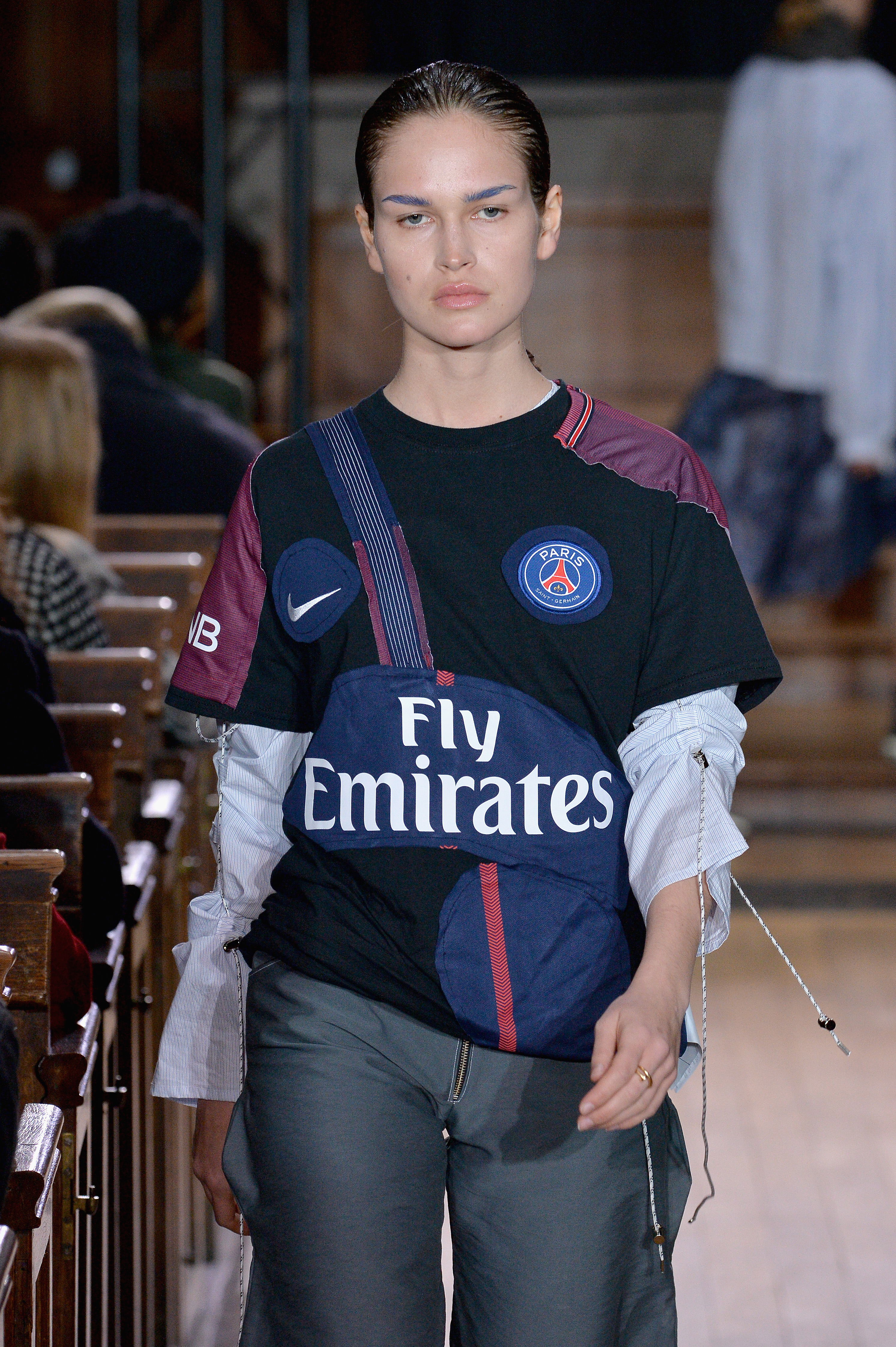 "At the time we were talking to PSG, they signed a player from the suburbs of Paris named Kylian Mbappé. He was almost the most expensive player of all time and he was only my age at the time, 18," Kaczmarek says. (Editor's note: Mbappé was the second-most expensive player, with his transfer fee estimated at over 180 million euros.) "So, for us, PSG is about the young talent of Paris. Our collaboration with them was to make something more underground that represented the significance of this club for us."
In the same way that AFTERHOMEWORK(PARIS) strives to reflect the designers' own personal truths, they also feel an obligation to explore the identity of their city and all of its people. "I remember once when I was in the stadium when I was young, there was a guy in a suit—maybe a banker," he says. "At the end of a big match he hugged this guy next to him who was a kid from the suburbs wearing Nikes and sweatpants. I think this club is the symbol of the reinvigoration of fraternity in Paris. Everyone is connected by this thing."
In a way, the same can be said for AFTERHOMEWORK as editors, buyers, and fans eagerly wait to see the next way they'll shake up the French capital's fashion culture.