Photograph by Francois Guillot for Getty Images.
The New Margiela Handbag is the Airplane Pillow of Your Dreams
And there's an eye mask and neck pillow to match!
Photograph by Francois Guillot for Getty Images.
When you board a plane for a redeye flight—one of the most uncivilized experiences in this possibly civilized world—you likely have a routine. Perhaps you have a glass of red wine. Perhaps you take a Tylenol PM (or, let's admit it, something stronger). Perhaps you put on Enya and watch the soothing gloss of The O.C. season 2 on mute. And then you wrap your Chloe sweater around that tragic little airplane pillow, and wedge it against the window, or stuff it behind your neck, or plunk it on the tray table and nestle it like a king ordered your head on a platter.

Enter Maison Margiela. For the Spring 2018 collection, John Galliano explored travel and comfort; there were luggage-check tags, security badges as hair ribbons, soothing neutrals, calming plastic bags (which sounds impossible, but there's serenity in knowing you can see everything), and ostrich-feather harnesses. Nuzzled in the arms of several models was a big squishy, tufted… thing, which looked like a pillow but was in fact a handbag, in a cozy white and squidgy black. One model even carried it with a handfuls of plastic bags, a matching neck pillow and eye mask.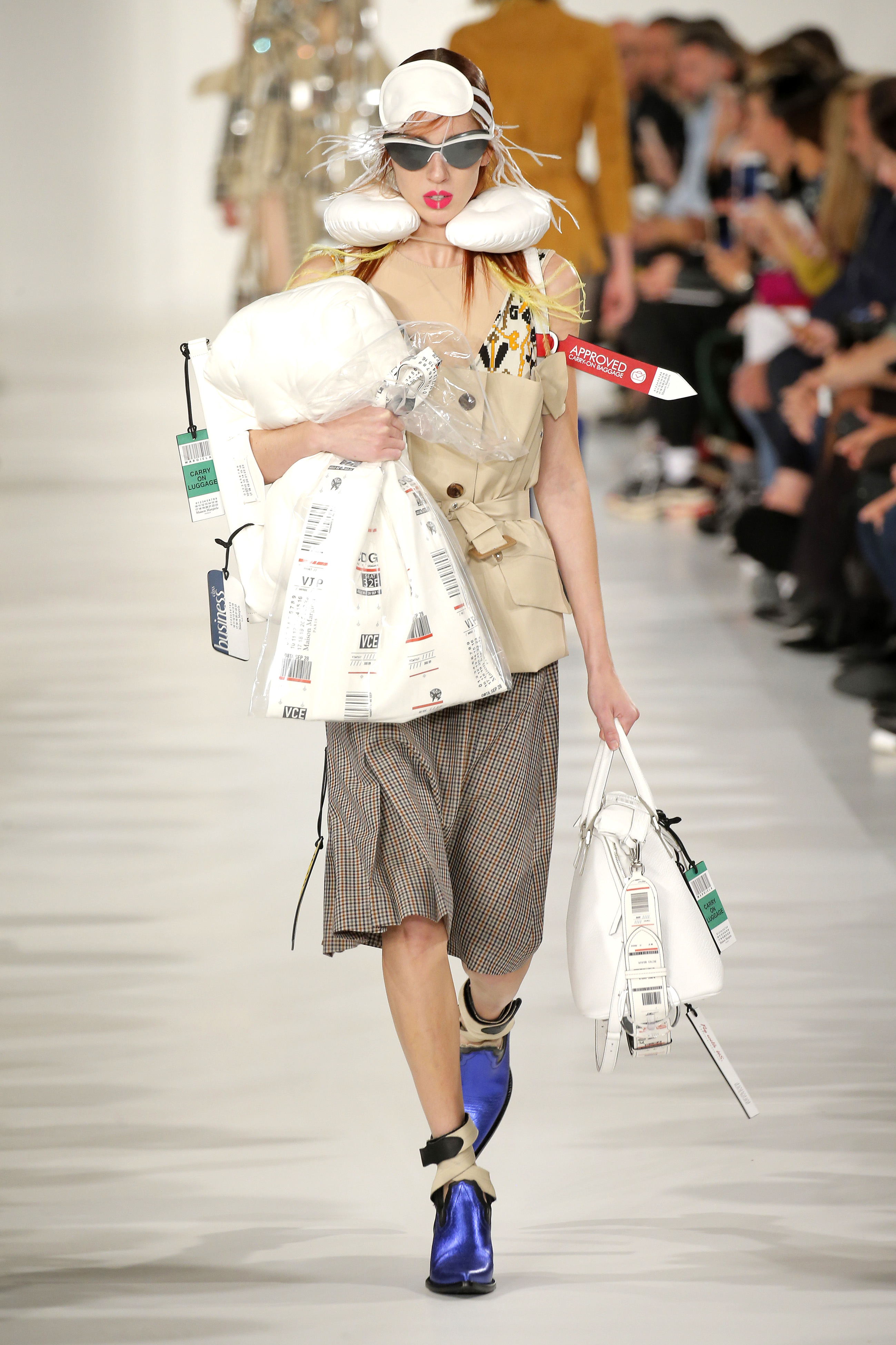 But Galliano is a magician; he takes topics we think of as the nuisances of the modern world—our relentless travel schedules or our over-reliance on our iPhones—and re-casts them as muses for joyful creation. One of the triumphs of his tenure at Margiela thus far has been his ability to re-contextualize these sorts of "necessary evils" as material for great art.
Anyway: back to handbags! Now the line of accessories—including the raucously-named Glam Slam bag—is in stores today, and let me tell you: this bag is the airplane pillow of your dreams. Forget that weird hospital gown-covered TicTac that commercial airlines call a "pillow"; give that paper-thin eye mask to your seatmate. Get yourself the full Maison Margiela air travel kit: pillow bag, neck pillow, eye mask, bag tag and all. Then let's cross our fingers that Galliano launches Margiela Air.