View of Tali Keren and Alex Strada, Save the Presidents, 2018. Times Square, New York. Photo: Courtesy of Ka-Man Tse
Zombie Presidents Are Taking Over Times Square
Tali Keren and Alex Strada's new video haunts the site with images of leaders past.
View of Tali Keren and Alex Strada, Save the Presidents, 2018. Times Square, New York. Photo: Courtesy of Ka-Man Tse
Anyone who traverses Times Square at midnight this February will encounter some imagery conspicuous even among the area's dense visual clutter. Spread across several giant electronic screens is a video of a group of decaying plaster busts of American presidents. Save the Presidents, the three-minute video in which these objects appear, is a collaboration between artists Tali Keren and Alex Strada and forms part of Times Square Arts's six-year-old "Midnight Moment" series of public video projects.

Sitting down with GARAGE over ginger tea in one of the square's cafés, the New York duo described having shot Save the Presidents in rural Virginia, where a local entrepreneur had salvaged the busts of 43 presidents, some of which were twenty feet tall, from a theme park that went bust in 2008's financial crisis. Unfortunately, the cranes this man used—along with natural erosion—left the plaster sculptures looking decidedly mangled. Keren and Strada's video documents the damaged goods, also offering poetic commentary on the compromised state of the nation's highest office.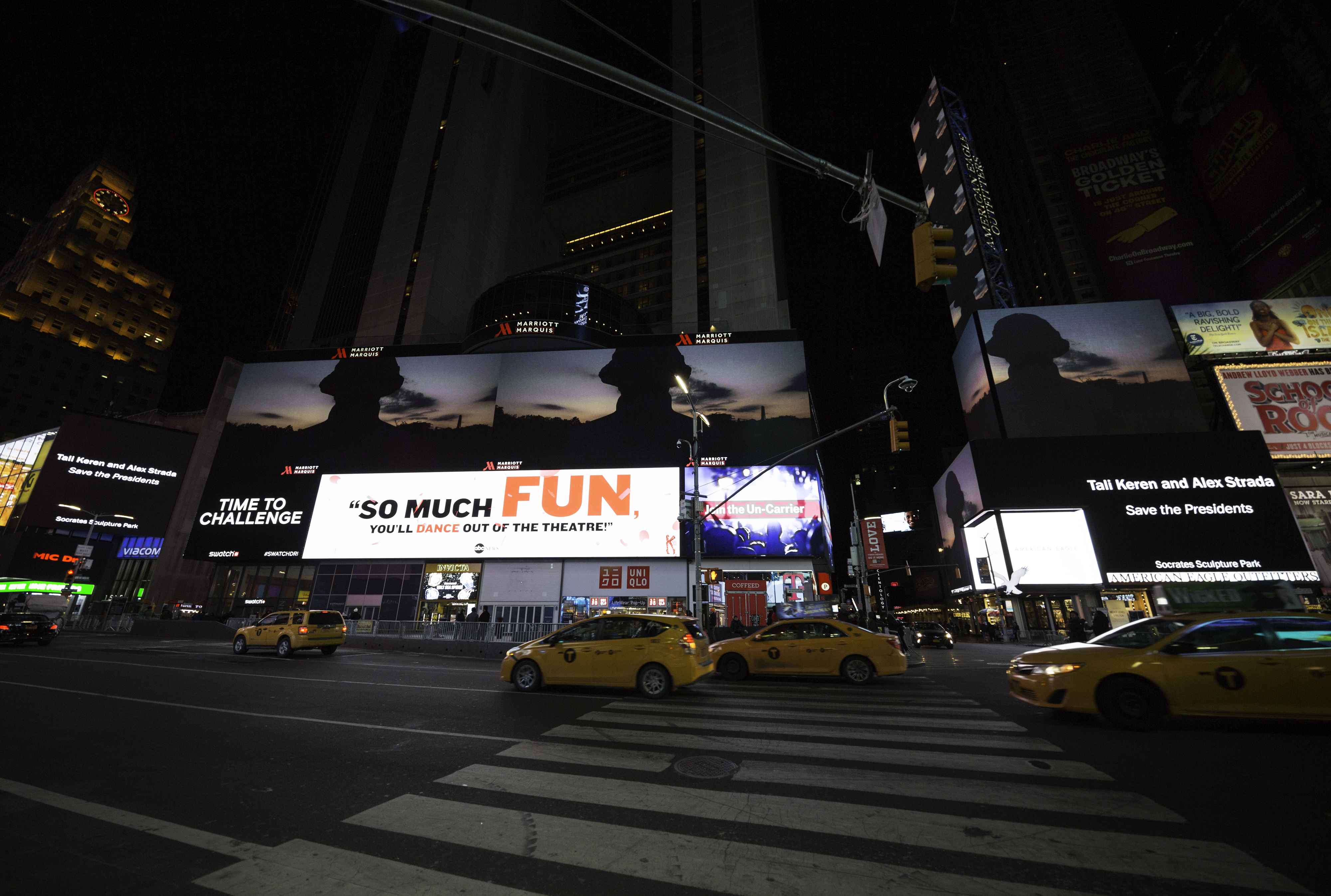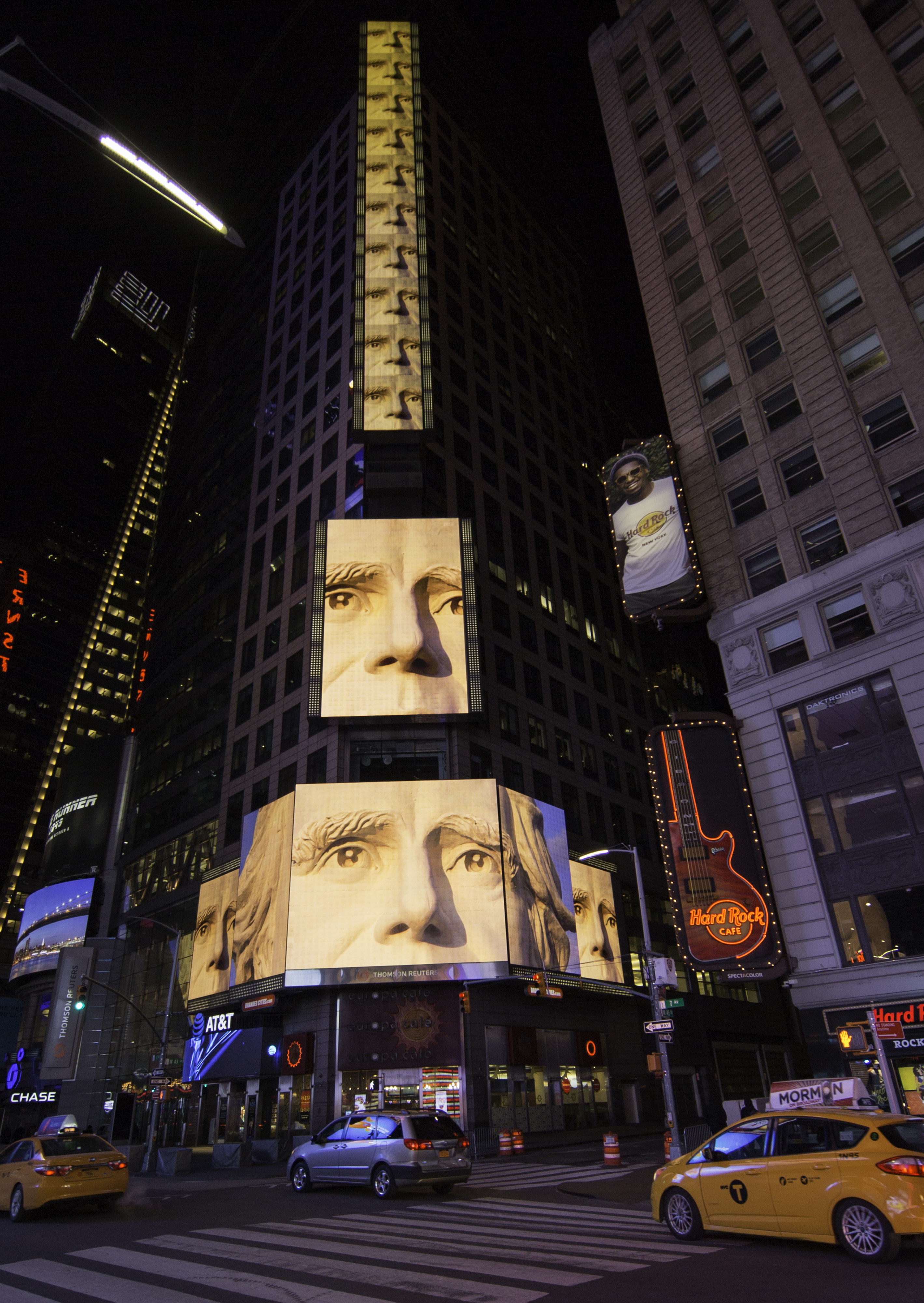 As well as filming the busts, the artists also make reference to them in National Park, a photographic and audio work on view at Socrates Sculpture Park in Queens. Here, a large vinyl banner is printed with a panoramic photograph and accompanied by an audio recording. A future iteration of the project will be a lecture-performance at the Goethe-Institut in New York, at which the artists will discuss with legal scholar Kendall Thomas issues of cultural politics and the changing image and function of the American presidency.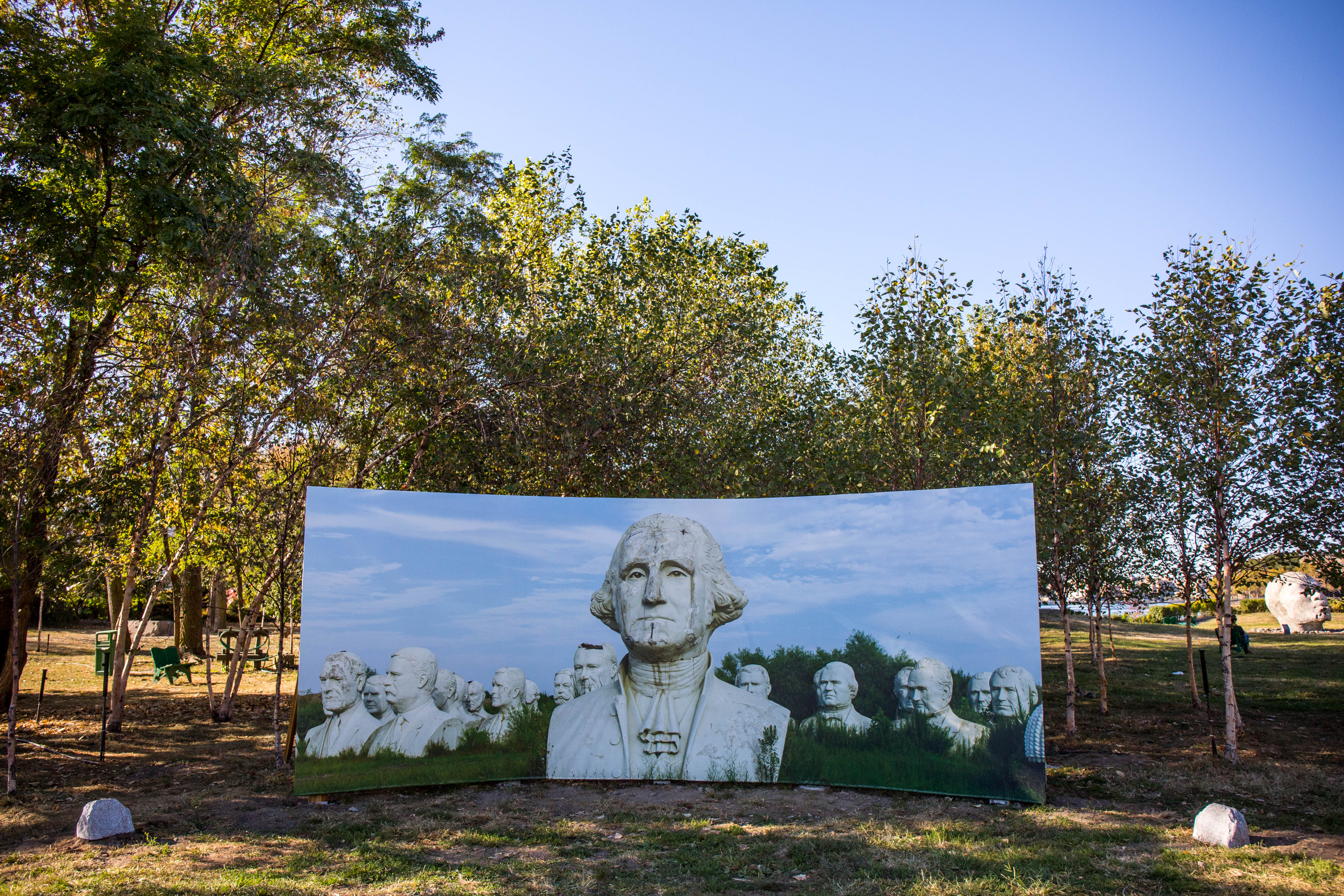 When asked how it felt to show art on such a monumental scale, and in such a recognizable and heavily trafficked space, Strada replied, "My immigrant grandparents came here through Ellis Island, and for them, seeing their granddaughter in Times Square would have been surreal," asserted Strada. For Keren, who moved to New York for grad school, the site also retains its beacon-like status for overseas visitors and their families back home.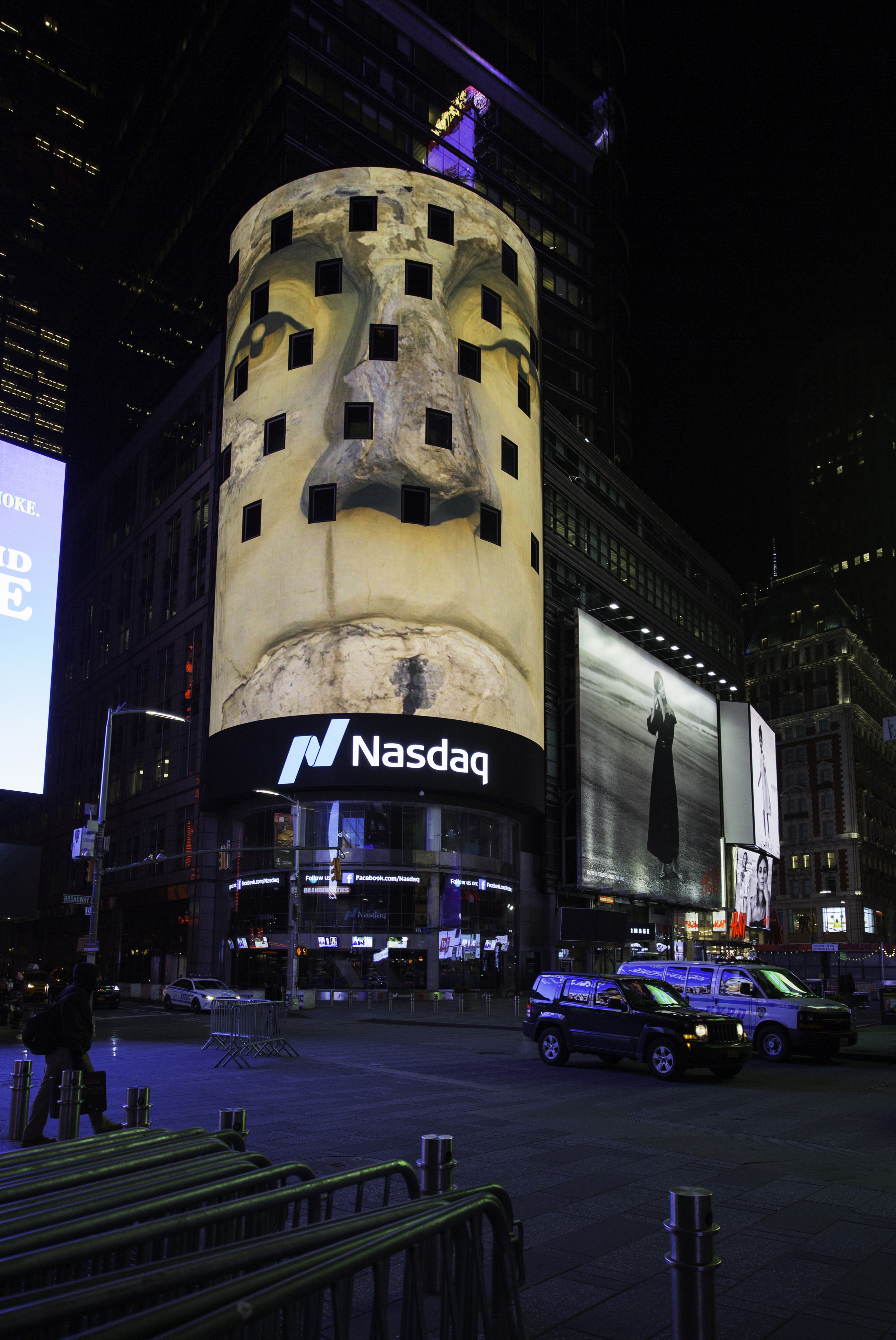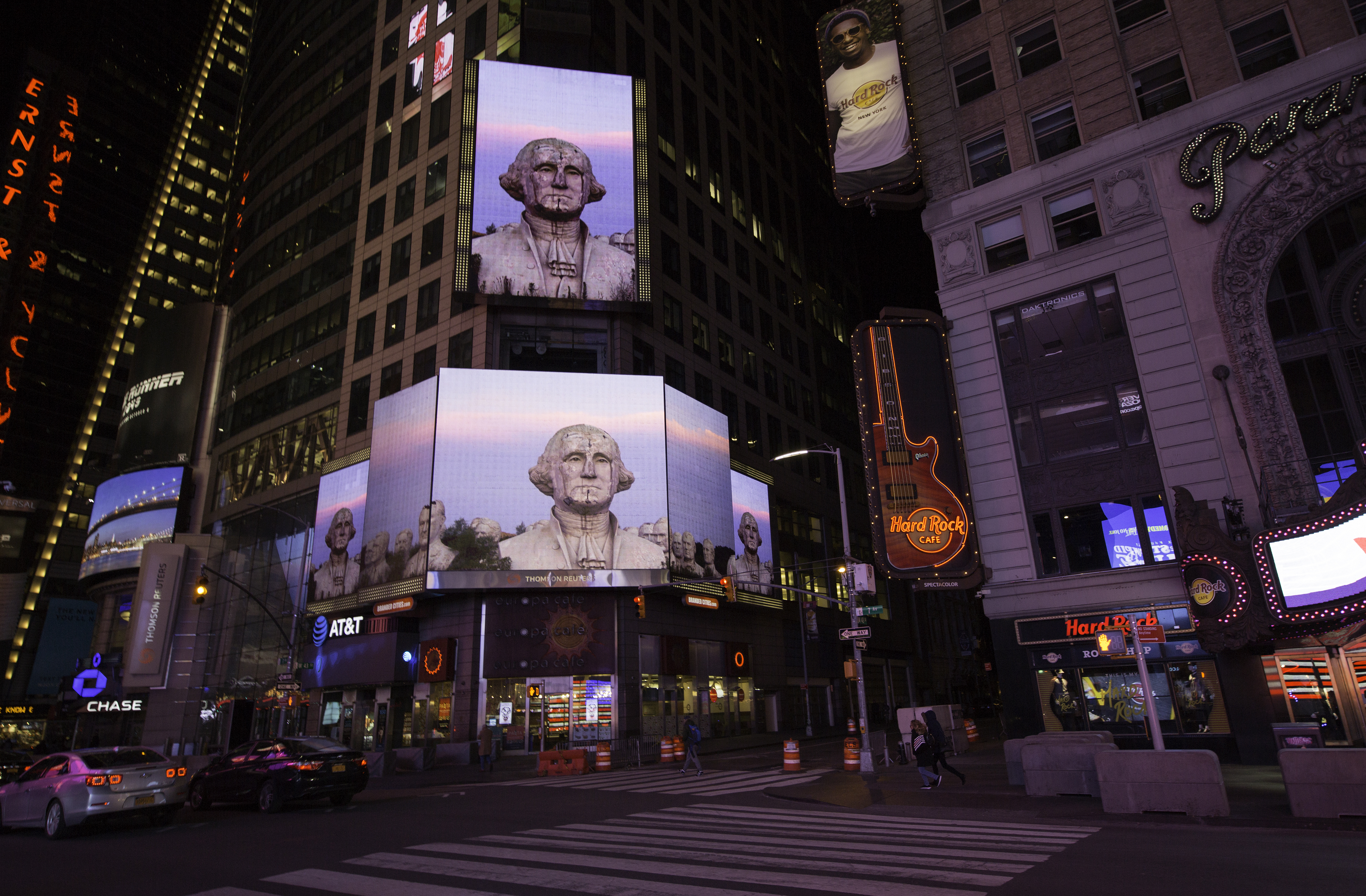 There's something haunting about seeing the crumbling representations of men who governed this country hover above the intersection of Broadway and 42nd Street, surrounded by chain restaurants and a constellation of gaudy neon lights. Not ordinarily a locus for art, the spot is a symbol of American consumer excess. Still, explained the artists, "ads clear the stage for art." In their case, the art interacts with its surroundings in unsettling ways; the juxtaposition of bygone presidents with the Nasdaq building in the context of Trump's America is a striking one indeed.
As midnight approached and we braced ourselves against the cold and the crowds, the artists summed up the their vision: "We see the work as a kind of counter-monument, in which the buildings of Times Square are themselves transformed, temporarily, into decaying monuments to former presidents." Surrounded by the ceaseless traffic and size-matters signage, the faces of celebrities on billboards seemed to morph into those patriotic icons that had glared out at us a short time before, their battered visages still striving to make out a golden future.
Save the Presidents is on view in Times Square every night at 11:57 PM through February 28. The Socrates Annual is on view at Socrates Sculpture Park though March 25.