Photograph courtesy of the Museum at the Fashion Institute of Technology.
You Have to Spend a Week in Japan to Get Shoes from Lady Gaga's Favorite Designer
Noritaka Tatehana is best known for the shoes he crafts for Daphne Guinness and Lady Gaga, but he's also on a mission to bring a sense of history to his customers.
Photograph courtesy of the Museum at the Fashion Institute of Technology.
At first glance, Noritaka Tatehana's shoes look like an illusion. A platform shoe with the back carved out and arched keeps the wearer literally on edge—a slight tilt backwards would have her tumbling down. Leather, studs, satin; whatever the material, they're at once brutalist and delicate. His recent inclusion in the Museum of Modern Art's exhibition "Items: Is Fashion Modern?" —where a pair of his sculptural creations stands next to McQueen's Armadillos and Elton John's sparkling disco platforms—presents his work in a contemporary context. And while the shoes appear avant-garde, they're in fact derived from historic Japanese designs.
While studying to become a fashion designer, Tatehana researched old craftsmanship techniques and found inspiration in the geta, wooden platform shoes originally worn by courtesans in Japan's Edo period from the 17th century. Primarily using leather, the material he had readily available to him in school, he tested out different ideas and stumbled upon a design that not only stayed upright, but incredibly, was easy to walk in. Since that discovery, he established an atelier where he handcrafts these bespoke shoes, which are now being exhibited around the world.
The impetus behind Tatehana's craft is not simply artistic expression, but rather a deep desire to revitalize an interest in Japan's aesthetic history, which he calls rich in "cultural wealth." Japan has long endured a fetishization of the exotic from the West, through the rise of Japonism with works by the likes of Monet, Van Gogh, and Renoir. Yet, while the West finds inspiration abroad, Tatehana says the Japanese are slowly losing an interest in their own cultural history.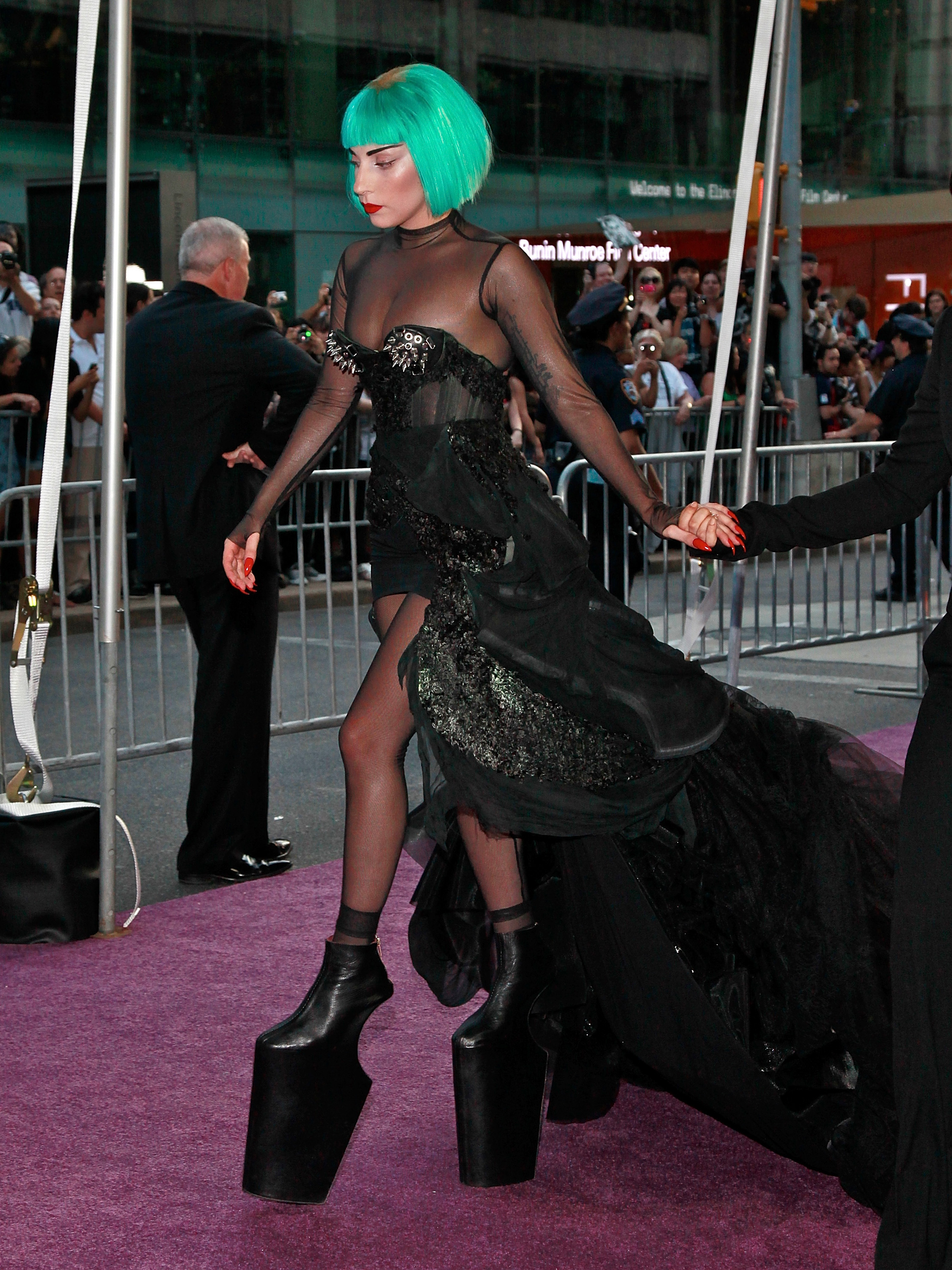 "People think that fashion is very cool in Japan, but the people in Japan buy brands from overseas," he said in a recent interview. He explained that the only way to achieve success at home is first to be accepted overseas. It was through the embrace of Lady Gaga and Daphne Guinness (the latter of whom almost exclusively wears his shoes) that he piqued the interest of the Japanese fashion world.
Of course, he also wants the Western world to learn more about Japan beyond what they see through television or art, so Tatehana will only craft his shoes for those who are willing to fly out to Japan and spend a week with him. "Of course I'm happy that they come to Tokyo to meet me, but not only that," he said. "They're supporting Japanese culture, and that's very precious for me. It's nice to be a reason to come to Japan."
With a small atelier and about a two-week process to craft a pair of the shoes, there is inevitably a long waiting list of customers, some of whom wait up to three years. "[What's] more important for me is to actually meet the customers and share ideas," he said. "Every time is a collaboration."
A few years ago, Tatehana live-streamed the process of crafting the shoes at Nick Knight's SHOWstudio. I asked him if he was concerned that others would more easily steal his concept now that he's shown the process behind it. He was not. "Japanese art is craftsmanship, and I wanted to show that," he said. "Of course some designers may have copied. [But] even if they try to make it, it's kind of impossible!"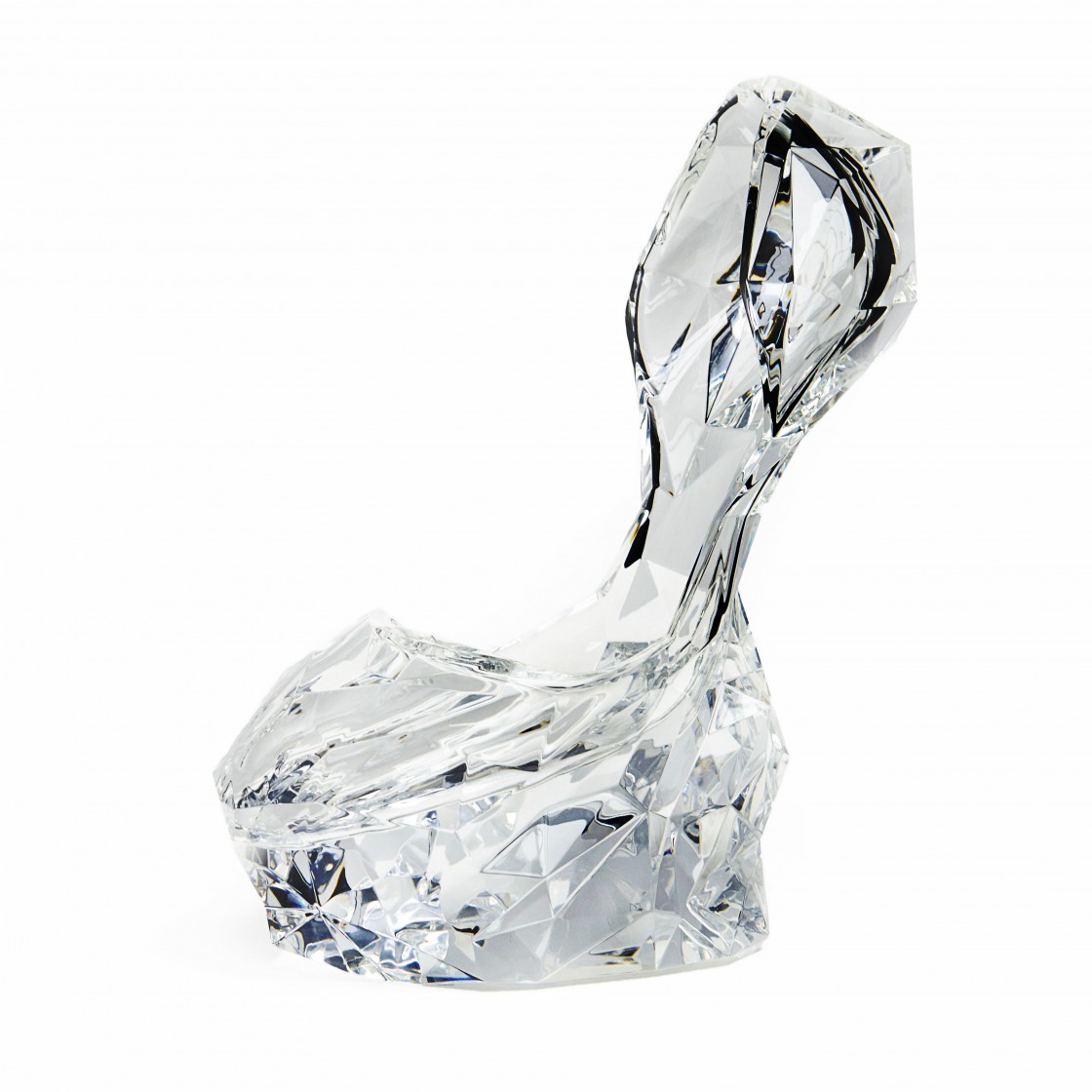 The fashion-as-art debate has raged on for years, but shoes, seen more as a subset of fashion as a whole, are rarely discussed during these debates largely because of their more overt functionality. But creations like his pair of crystalline shoes (above), a Cinderella's dream, appear more sculptural than wearable. The philosopher Freidrich Schiller famously wrote that "art is the daughter of freedom" and should not have a utilitarian purpose; Tatehana surprisingly agrees with this sentiment. "I don't think of [my shoes] as an art piece," he said. "But the idea behind it is. Art is not in the look, but in the action."
With the advent of 3D printing, Tatehana began to evolve his creations to include more technology-driven pieces, resulting in the aforementioned glass slipper, and a 2015 collaboration with technological maven Iris van Herpen. He's not worried, however, that a machine will replace him. "The computer doesn't do it automatically," he said. "In the end, it's all work by us, humans. Anything can be made easily by machines but the quality of it will be quite low."
"That's why I made the glass shoes," he added, saying that they were made possible through 3D modelling with help from a team of experts that collaborated with him on the project. "I have my duty to show this quality we can make. [And] it's a team thing; it's not only one person. I'm always wanting to bring up the whole team of the Japanese, as a Japanese. I'm not very happy with just coming up by myself!"