A New Exhibition Shows the New York Skyline That Could Have Been
Sometimes, it's the plans that never make it to bricks and mortar (or glass and steel) that turn out to have been the best. A new exhibition reveals how the New York skyline could have looked had certain architects got their way.
My wife and I bought our apartment in NYC's South Street Seaport a few years ago, in the wake of 9/11, when lower Manhattan was still in recovery mode. We were seduced by its million-dollar view of the Brooklyn Bridge (the actual price was well south of that). Time proved our instincts correct until we caught wind of a proposal to construct an eight-story apartment block between us and the water on the site of a vacated pub that had been decaying slowly and unobtrusively seven floors beneath us.
London, Vancouver, and San Francisco, in addition to a growing list of other urban centers, have enacted protected-view laws that prohibit the construction of impediments to culturally significant sightlines—a powerful way to ensure the sustainability of we might call a city's "visual patrimony." New York City is not following suit, nor should we expect it to. Patrimony is a concept alien to the US and its shallow history. Manhattan proper is an artificial field of shape-shifting vectors that renders the concept of "place-making" (trendy shorthand for the collective re-envisioning of public spaces based on their physical properties) a laughable insult to the city's constant drive to mutate and grow.
The dénouement of our apartment misfortune was that as the new building went up, we decided to stay put, and learned to love our remaining restricted view along with the neighborhood's rapidly expanding amenities. Manhattan is in a state of perpetual self-improvement, a quality very much at odds with the fact that it exists on a finite plot that allows only for only vertical expansion and infill projects that cluster and proliferate like fungus on a fallen log. It might feel as if the city long ago hit maximum density, and that's likely correct. There is a huge difference, however, between density and congestion, and despite zoning laws dating back to 1916 that were enacted to preserve any vestiges of natural light and air that made it down to street level, developers seem to have an inexhaustible toolbox of variances and workarounds that keep the construction cranes across the city at full mast.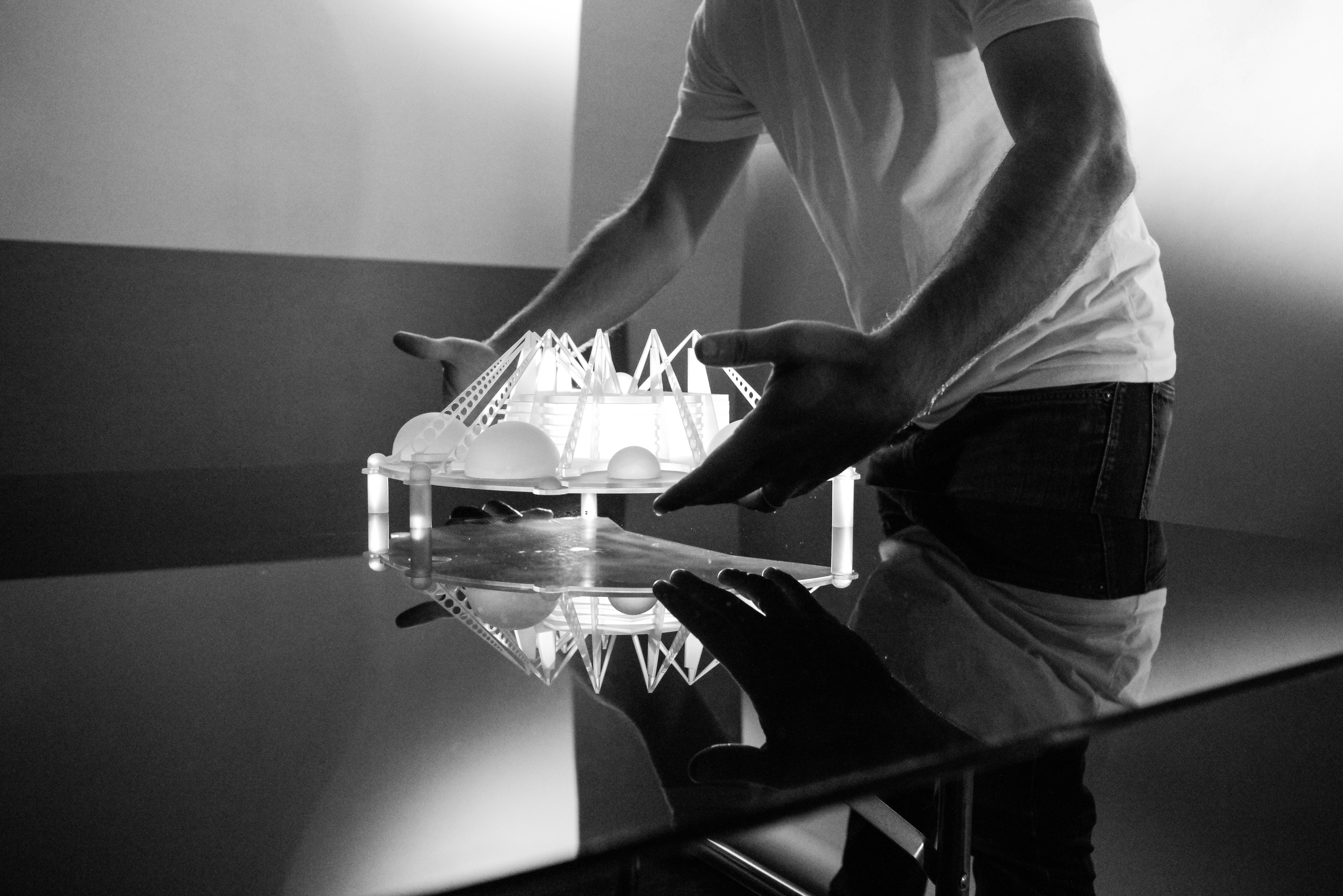 For every building erected, there are probably hundreds that never get past the design phase. Many are sober contributions that adhere to architectural convention. Others belong to a corpus of wildly imaginative, often futuristic projects seemingly conceived as acts of aesthetic and technological provocation. Never Built New York at the Queens Museum mines the archive of both categories to present a comprehensive and thrilling survey of unconstructed projects from the past 150 years.
The exhibition draws on the meticulously assembled 2016 book of the same name by Greg Goldin and Sam Lubell—two architectural critics and historians who also curated the exhibition. Goldin and Lubell use the singular amenities of the Queens Museum to express in two and three dimensions a fabulous landscape of projects—some well-known, others shamefully obscure—that might have significantly altered the cityscape. The museum itself sits on the site 1964 World's Fair. Notably, the theme of that event was "Peace Through Understanding," and it was dedicated to "Man's Achievement on a Shrinking Globe in an Expanding Universe." It's hard to think of a more appropriate place to explore the collected efforts to demonstrate humankind's architectural achievements (spatially speaking) in a shrinking city.
The curators demonstrate a completist's passion in the sheer number of projects on display. Even in close quarters, the encompassing wealth of sketches, models, and renderings mimics the on-the-ground experience of a purposeful walk through Gotham during which one is simultaneously haunted by ghosts of vanished buildings, and by anticipatory glances skyward at the steel and concrete frameworks of those soon to be. Standouts that are perhaps less widely recognized include Frank Lloyd Wright's surprisingly Jetsons-like Key Project for Ellis Island (1959). For those who think that the idea of an architect finding inspiration while scribbling on a scrap of paper, the curators have included a cocktail napkin from the Plaza Hotel on which Wright outlined his Ellis Island scheme while cradling an Old Fashioned in his other hand.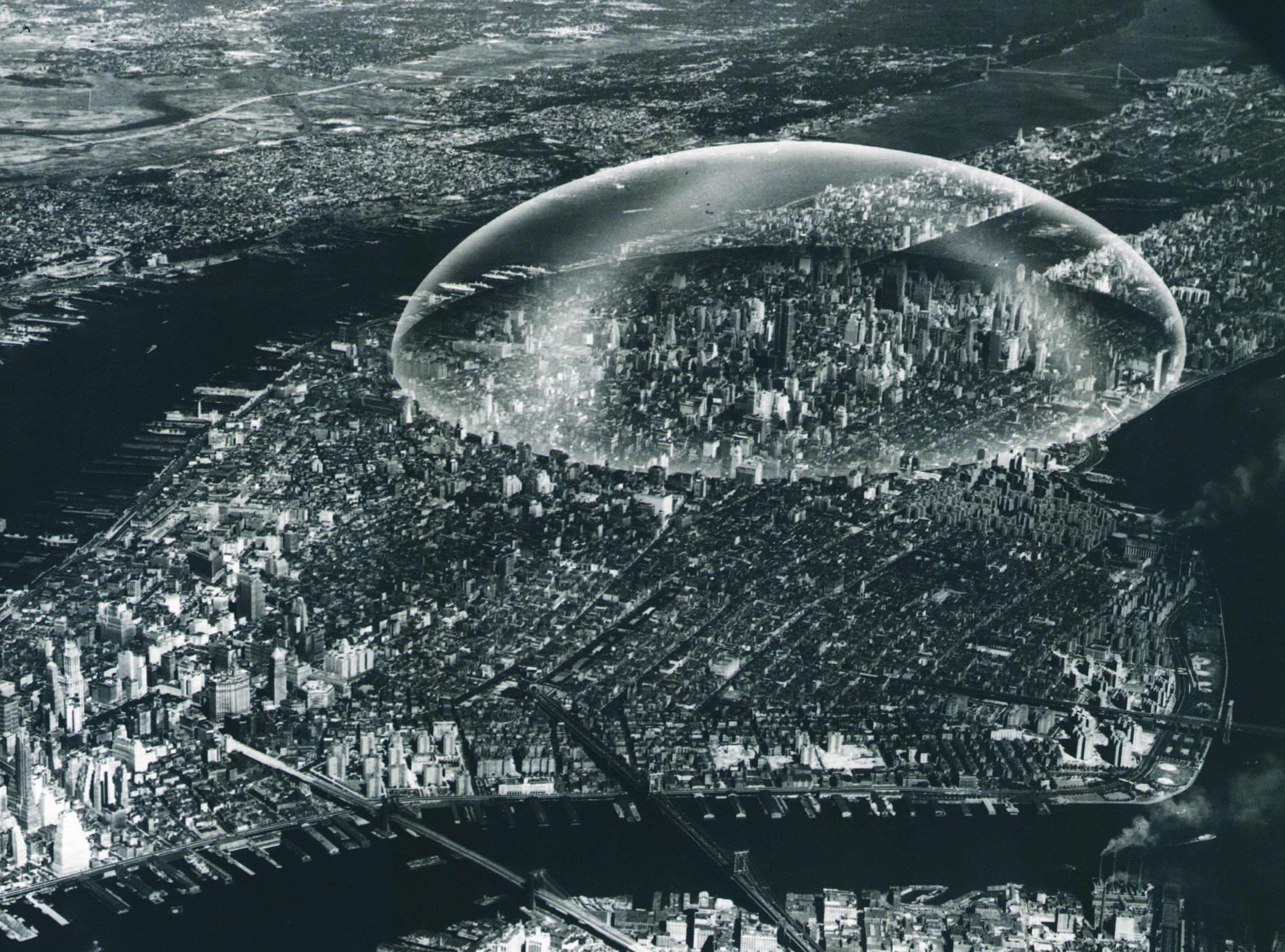 Another is the lightning rod proposal for a neo-Gothic Washington Monument in Union Square by Calvin Pollard [1843]. I'd never considered the fact that NYC is a largely monument-free city; given the unspoken dictum of "form following finance," it's understandable that Manhattan's prized real estate gets used for functional rather than symbolic buildings (though that doesn't preclude functional buildings from becoming symbolic). Pollard's structure was meant to redress this lack, but the use of the Catholic gothic style clashed mightily with the 19th-century's stubborn adherence to the language of classicism (hence the Washington Square Arch, 1892).
It's a shame that the drawings are hung salon-style in the Rubin Gallery, a mere splinter of space within the overall museum, while the magnificent collection of architectural models crowd the meager floor space between the walls. And it's tough to make out fine details in these faded sketches (most of them, regrettably, facsimiles and not originals). I'd also have liked to know the sites for which all the projects were slated. Some are obvious from the titles (Zaha Hadid's 425 Park Avenue) but what about the location of I. M. Pei's compelling Helix Apartments (1948–9), a proposed DNA-like structure that foreshadowed by more than a decade both Japan's Metabolists and Bertrand Goldberg's iconic Marina City in Chicago?
One gets a greater contextual understanding of unbuilt projects in the second gallery. Built for the 1964 fair and the museum's centerpiece, the Panorama of the City of New York is a room-sized, three-dimensional, 1:1200-scaled map encircled by a ramp from which to gaze down on the Big Apple like some erstwhile deity. Goldin and Lubell have adapted the panorama to the exhibition by inserting into it miniature luminescent models (constructed by architecture grad students at Columbia University) of some of the projects precisely where they would have appeared if completed. These include some of the more fascinating could-have-beens in the show, such as architect and shopping mall innovator Victor Gruen's high-density, fixed-income housing project for what is now called Roosevelt Island (1961); engineer and techno-utopianist Buckminster Fuller's collaboration with Norman Bel Geddes for the Brooklyn Dodger Dome (1955), a last-ditch effort to keep the storied team from making its ill-fated move to LA; and philosopher-turned-theoretical brainiac Peter Eisenman's Staten Island Institute of Arts and Sciences (1997), a project that if realized might have heralded the legitimacy of blob architecture, an honor that instead goes to its exact contemporary, Frank Gehry's Bilbao Museum.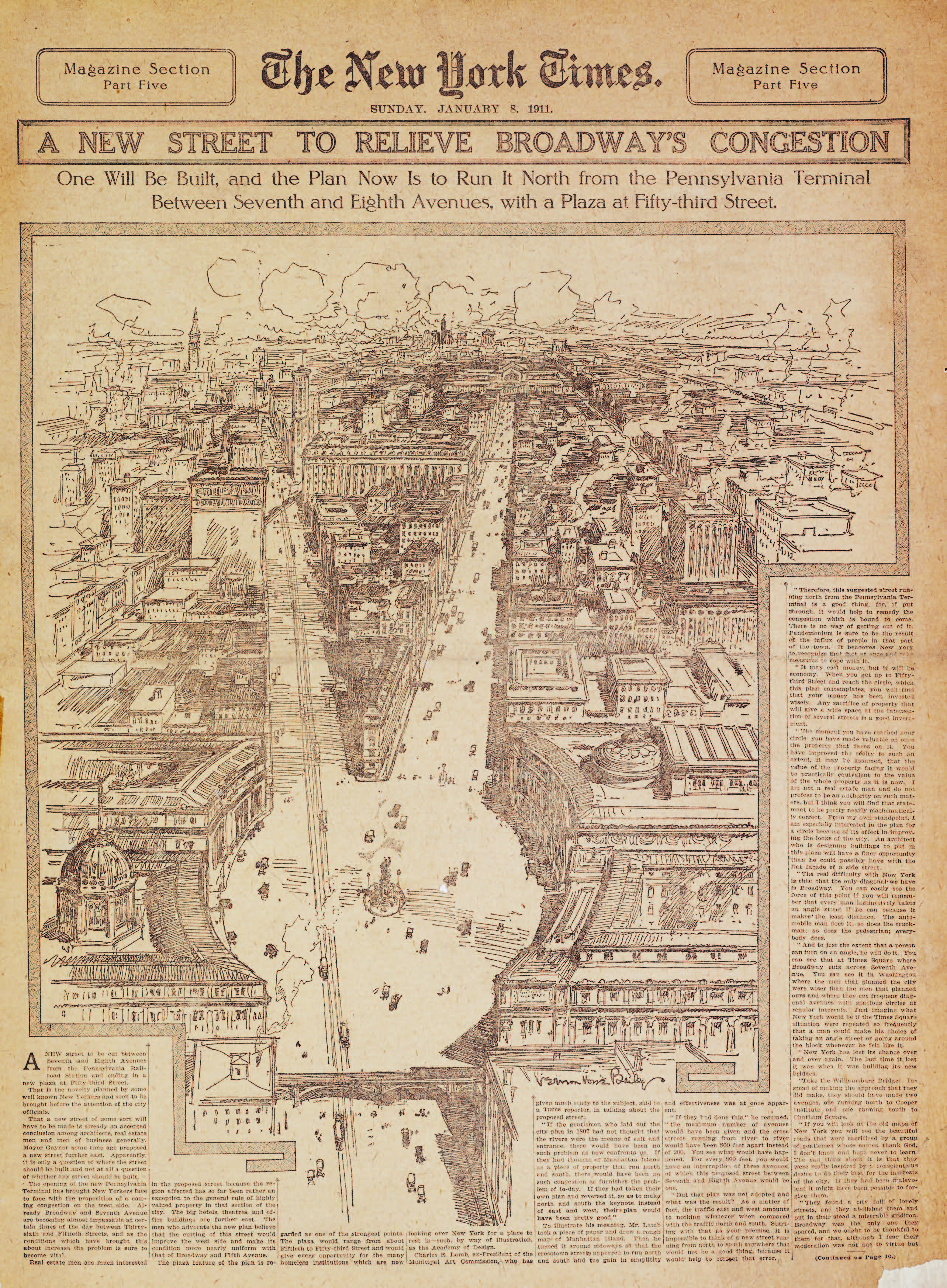 The third and largest portion of the exhibition is dedicated to unbuilt projects for the museum's own millieu, Flushing Meadows Park—an understandable choice but unfortunate in terms of how the show's total real estate is allocated. The large central Skylight Gallery is now ringed with drawings for the World's Fair and other Queens-related designs; prominently at the center is a Claes Oldenburg-esque "soft" model of Eliot Noyes's silver-orbed Westinghouse Pavilion [1964], transformed here into an actual bouncy castle.
Also included in the show are two unbuilt projects by Spanish architect Santiago Calatrava, whose recently opened (and highly controversial) Oculus transit hub-cum-high-end mall at the World Trade Center is the architect's first completed building in NYC. Walking today through the Oculus's soaring avian atrium, it seems nearly inconceivable that the structure was approved at all, let alone brought to fruition. Calatrava proposed his first project for the city in 2003—an apartment building comprised of twelve cubes suspended within a steel armature, located at 80 South Street. Each volume represented a single four-story residence, and at the time the speculated price per unit ranged from a then-astounding $29 million to a positively gut-busting $59 million. Like Dr. Evil's laughable ransom request of "one million dollars," these prices barely give pause in 2017. However, it would have been a pleasure of a building, visible through the sliver of view left in my apartment after the bridge-blocking development. Undoubtedly something else will be erected on that site. Read as a double-entendre, the title Never Built New York could serve as New York City's unofficial motto: the city as a project never to be completed.

Never Built New York is on view at the Queens Museum, New York, through February 18, 2018

Noah Chasin