Dennis Rodman Was a Harbinger of This Golden and Hellish Age of Celebrity-Dominated Politics
In an age of social media and ever-escalating spectacle, the state would love us to keep paying attention.
Former NBA basketball star Dennis Rodman presents Trump's "Art of the Deal" to North Korea's sports minister, Kim Il Guk, in Pyongyang on June 15, 2017. Kim Kwang Hyon/AP.
Dennis Rodman, the retired Chicago Bull, boarded a plane to North Korea in 2013. He returned the next year with a handful of other NBA retirees to play a game as a special exhibition for Kim Jong-un in honor of the leader's birthday. In 2017, Rodman, freelance ambassador to the Hermit Kingdom, handed Kim's minister a copy of Donald Trump's book, The Art of the Deal. In Singapore in June, there for backup at the historic Trump x Kim meetings, Rodman held a press conference while wearing a T-shirt advertising PotCoin.com. If all this makes you sad, congratulations—at least you can still feel something. World events like these haven't sucked you dry. You haven't given up.
With the lack of direct democracy (which, let's face it, is making no one happy fast), American culture has developed an elaborate system for lobbying the ruling class both home and abroad. Celebrities are emotional lightning rods, and our high-grossing stars have also appointed themselves to more ambassadorial roles—the better to influence political players on our behalf, with Kim Kardashian's recent trip to the Oval Office being just one recent and notable example. These personalities carry our sensibilities, ethics, and values to the court of public opinion. If you like what they sing or say, the degree to which they convince, then you feel somehow represented.
And when they go off script—saying reckless, hurtful, wrongful things—all you can do is publicly disown them for all they're worth, this is called canceling. Dennis Rodman's penchant for Ed Hardy streetwear notwithstanding, his friendships-for-life with Donald Trump and Kim Jong-un reflect his dismal taste. But even good taste does not guarantee good politics. When Kanye West, who enlists a range of incredible but not necessarily famous talent to execute his visions, claimed during a live TV fundraiser in 2005 that "George Bush doesn't care about black people," we might question his tact, but not his message. Then again, when his free-thinking and shoot-from-the-hip-style leads him to plump for Trump, or to say slavery was a choice—consider him canceled. And when David Lynch lets slip a few misguided remarks about the president, some of his fans feel nothing less than betrayed. For, as the more hysterical reactions have it, if even Lynch is against us, who can be with us?
Heads of state and cultural aristocrats, like the figure of the Hollywood liberal, are ultimately on the same side, no matter how closely we track their beefs.
If it wasn't already obvious, the medieval spectacle of supplicants queuing up in the brassy lobby of Trump Tower—a tower!—during America's time of transition made it plain that our president would rather be our king. Al Gore played along for the planet's sake; Fox News' Judge Jeanine insinuated herself into Trump's orbit; West went to see what he could get. Nobody ostensibly won much from the miser in chief or even seemed to bend his ear until last May, when actor Sylvester Stallone wheedled out of POTUS a posthumous pardon for boxing champion Jack Johnson, and again in June, when West's spouse and reality TV star Kim Kardashian convinced him to commute the life sentence of Alice Marie Johnson (no relation to Jack).
This was a small good, for sure, but a highly alloyed one. After all—why has it come to this? It's good PR for Kardashian, and bittersweet luck for Johnson (now 63, she has been imprisoned for over twenty years)—but who else gains from such an asymmetrical mercy as that of a duchess begging the throne on behalf of a single life? The dominance of the carceral state remains unchecked.
Trump's grace seems evermore hollow when you consider that celebrity influence flows both ways. Placate the VIPs, and those big names will in turn soothe the distressed masses. It's the promise of such manipulation that might compel the Donald and his ilk to grant celebrities an audience in the first place—or the fact that he's one of them, and not a politician in the traditional sense. Kings, after all, have respect for the institution of kingship (the crown, if not the country), and undermine others' fame at their own peril. Heads of state and cultural aristocrats, like the figure of the Hollywood liberal, are ultimately on the same side, no matter how closely we track their beefs.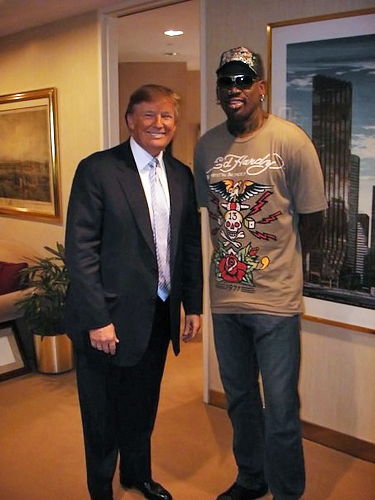 When he mocks his critics, the ones without names to their name, Trump sets the timer for their fifteen minutes, the better to do battle on his terms, escalating towards a non-climax. So what if Taylor Swift, whom the alt-right adores, styles her latest album with a Gothic, Fraktur-type font, as if dog-whispering for the most unsavory "likes" she can get? Go ahead and worry, as long as you're still paying her attention. When French regent Louis XIV first took the throne, he had many rivals at court—but, ingeniously, put such an emphasis on high fashion that he soon had jealous lords and ladies focused on counting ruffles while he reigned. By nursing an atmosphere of superficial discord, a ruler can keep the discourse superficial.

For our part, it's more than a little perverse when, abandoned by one big name, we condemn them and move on to another, aided by the blood sport of social media. There is no rest for the obsessed: "Repressive forces," as French philosopher Gilles Deleuze said in a 1985 interview, "don't stop people from expressing themselves, but rather force them to express themselves." In other words, our constant interest is taken for our consent to be herded and prodded for reactions, like a studio audience, or like a stadium's worth of subjects forced to watch their sovereign watching basketball.
In 2013, the same year Rodman and the Harlem Globetrotters played against the DPRK team, I dreamed that Dennis Rodman had died in his 40s. I saw it on TV, they showed news clips from his life—it was the saddest thing I had ever heard. In the dream, I cried and cried. I woke up crying. Now, I wonder who my sympathy was really for.