Still from Beuys (Dir. Andres Veiel, Beta Cinema, 2017). Copyright Zero One Film, Ernst von Siemens Art Foundation, and Museum Schloss Moyland. Photo: Ute Klophaus
A New Film About Iconic Artist Joseph Beuys Sorts Truth from Myth
Beuys will be Beuys, but what exactly is the divisive figure's legacy?
Still from Beuys (Dir. Andres Veiel, Beta Cinema, 2017). Copyright Zero One Film, Ernst von Siemens Art Foundation, and Museum Schloss Moyland. Photo: Ute Klophaus
A titan of modernism, Joseph Beuys was a star like Dalí and Warhol—the public face and marketing ambassador of a tectonic shift in art—and suffered from similar overexposure and critical backlash. His conceptual artworks and performance "actions" could be as gnomic and inscrutable as Duchamp's, but unlike his wry, remote forebear, Beuys was loud, boisterous, and confrontational, as comfortable in front of cameras and microphones as he was in the studio or lecture hall. He was a fabulist, a self-mythologizer. His oft-told "origin story"—having crashed his Stuka dive bomber in Crimea during World War II, Beuys claimed that he was rescued from a snowy grave by nomadic Tatars who swaddled him in fat and felt, later his signature art materials—turned out to be a tall tale (the crash and location were real; nothing else was).
Like the recent James Baldwin documentary I Am Not Your Negro (2016), Andres Veiel's Beuys is constructed almost entirely of sutured period footage and still photos, presenting its subject in his own words. As such, the film is primarily in black-and-white, making the artist's life and times seem more historically distant than they actually are (he died in 1986). This is less of a demerit than it seems. With his brutally handsome Bogart-like face, Beuys looks better (or at least more striking) in grainy duochrome, and I can't imagine the extensive footage cut into the film of some of his most famous "actions"—How to Explain Pictures to a Dead Hare (1965), Celtic+ (1971), and I Like America and America Likes Me (1974)—in color.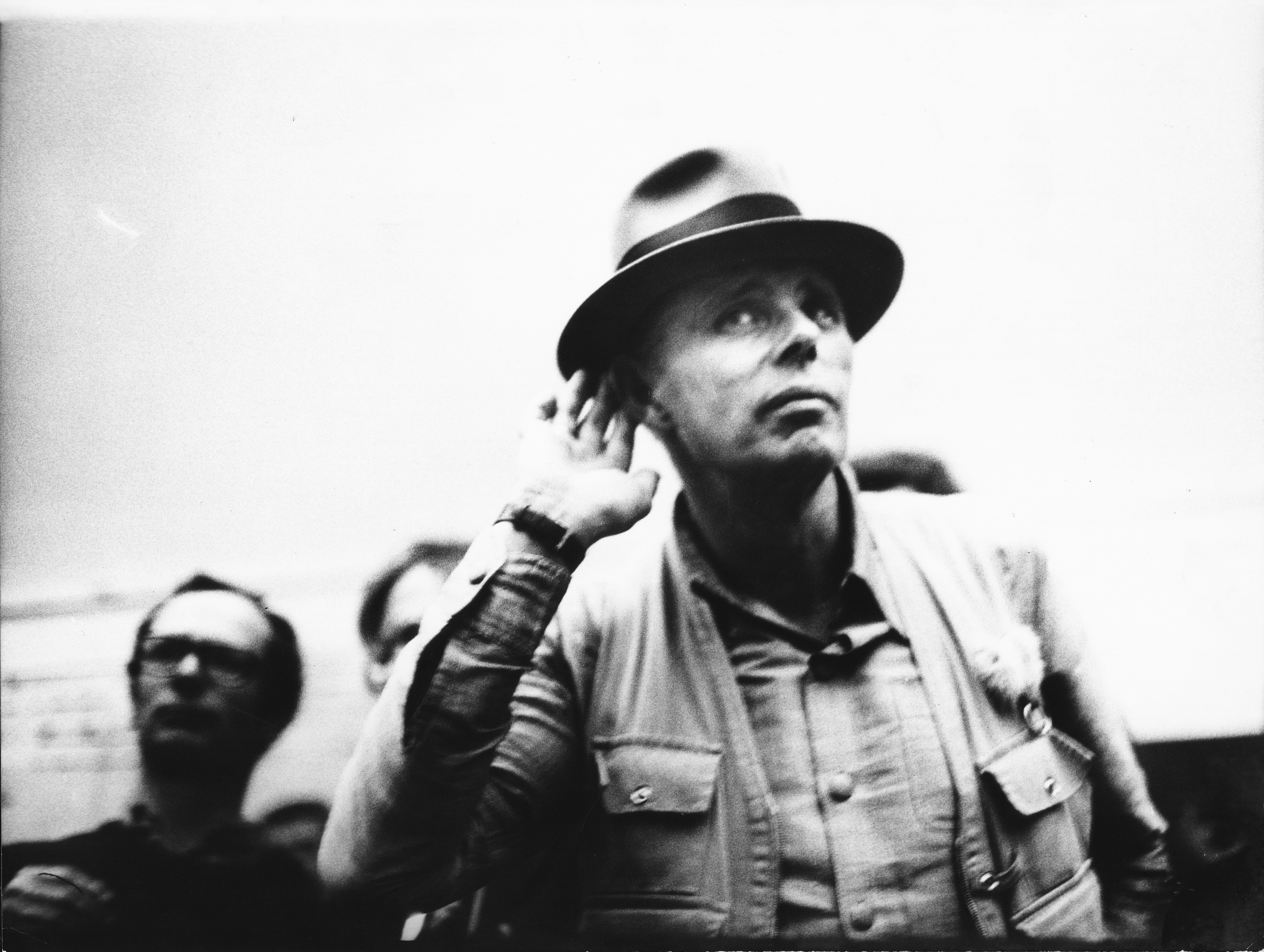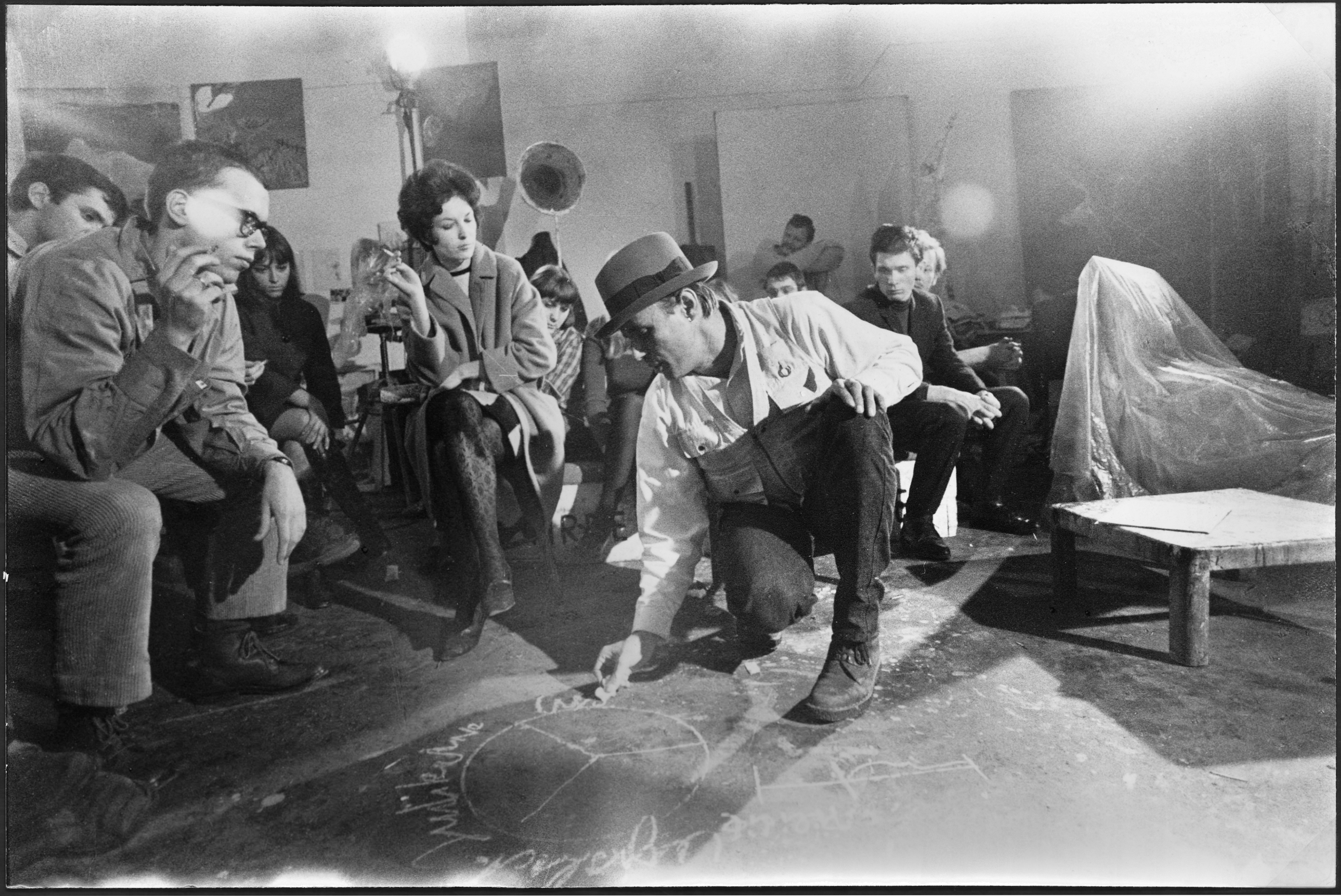 If Beuys hadn't been such a live wire, he might have been mistaken for a Beckett character, resembling the aging Buster Keaton in Film (1965), the author's only foray into screenwriting. At rest, Beuys's face seemed haunted by similar ghosts. As one sequence in the film reveals, his eternal fedora was perhaps to hide an absurd, near Trumpian combover (his partial baldness may have been related to head injuries from his plane crash).
Although his face would often crack into a toothy grin, there seemed to be an enormous reservoir of pain in Beuys's demeanor. Beuys was a member of the Hitler Youth and fought on the eastern front as a Luftwaffe pilot, experiences he never denied but about which he said little in his work or in interviews. This led to late-career criticism that he was some kind of apologist for, or at least in denial about, Nazism. After his death, it was discovered that Beuys had in 1958 submitted a proposal in a national design competition for an Auschwitz-Birkenau memorial, which took some bite out of that particular criticism.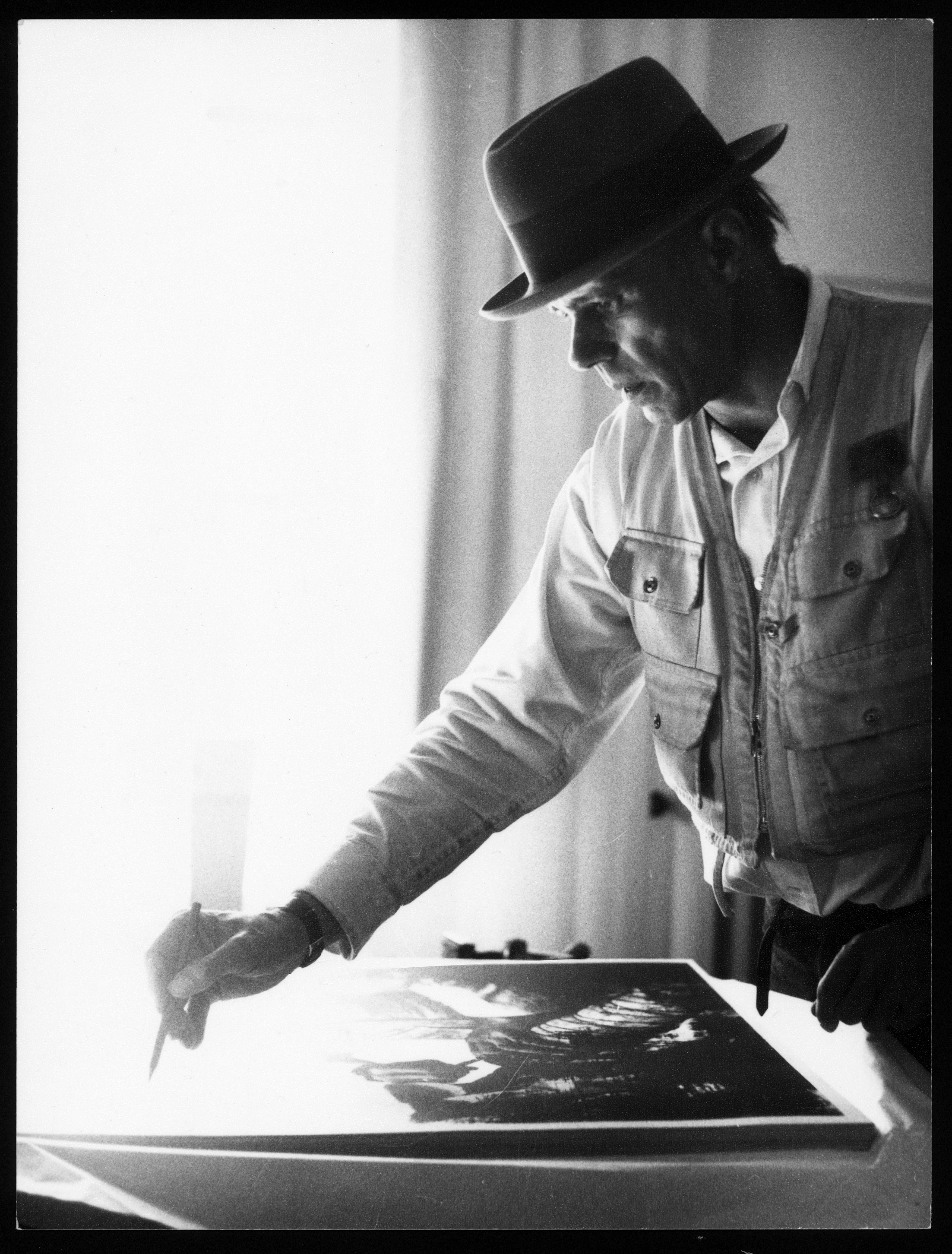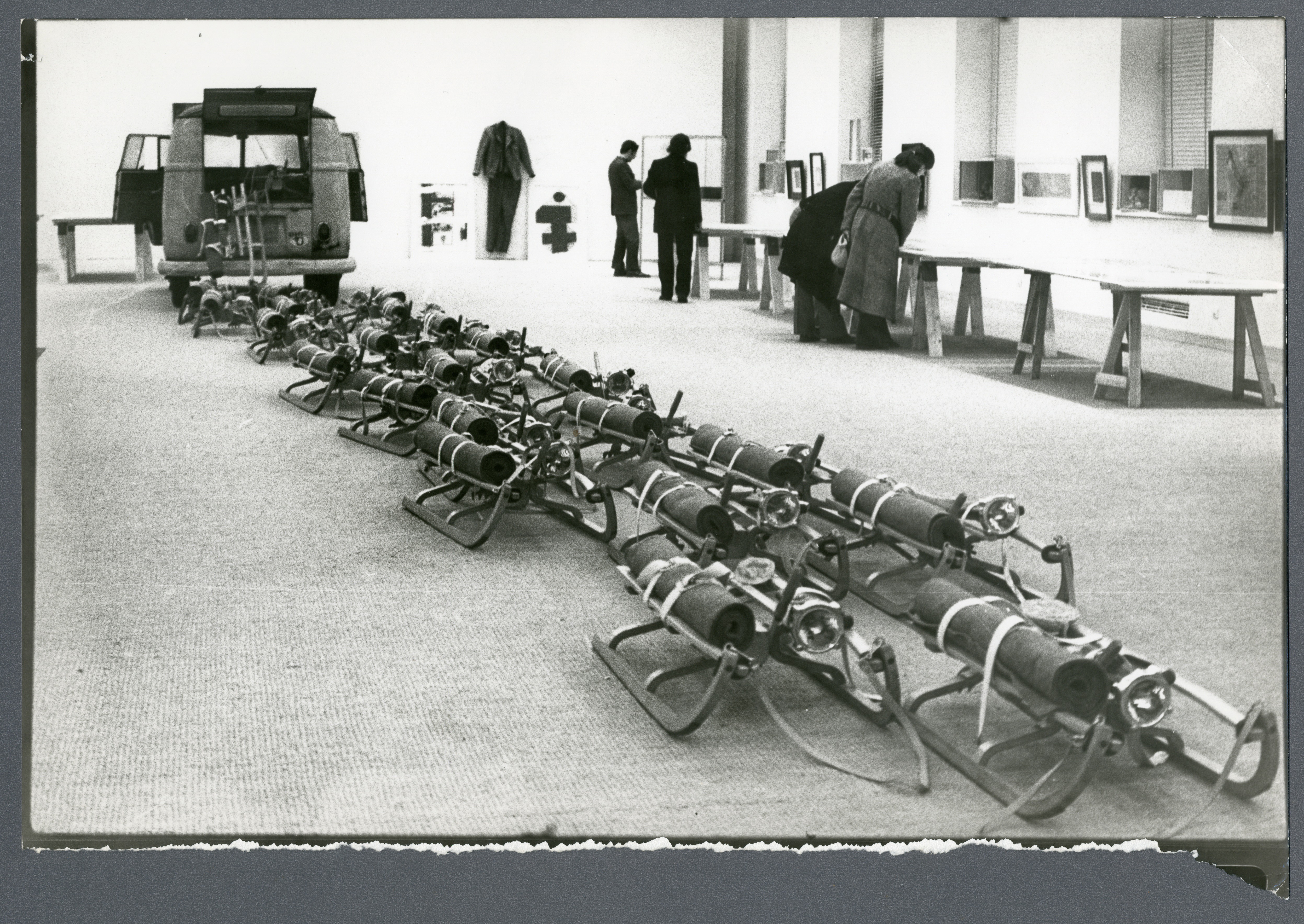 In the film, Beuys quotes Picasso: "The purpose of art is not to decorate our apartments. It is a weapon against the enemy." His subsequent query, "The question is, who is the enemy?", reveals the vagueness at the center of his otherwise strident political protest. The "enemy" at various times seems to be Germany's postwar "party-political bureaucracy," capitalism, unambitious artists, or a generalized unfreedom. "Eliminate the State—that's the real art" was a typical pronouncement. His primary sociopolitical message was "anyone can be an artist, anything can be art." He also coined the term "social sculpture" to denote the conceptual design of a more just future society. Such sculpture didn't require objecthood. "Thought is sculpture," he maintained. "Thought affects the world."
The widely variable responses to Beuys and his work from the art-critical establishment were roughly analogous to those granted to LSD guru Timothy Leary by the psychiatric establishment, though Beuys was more talented in his field and made a greater contribution to its development. There were other parallels between the two men. Both were charming rogues with the gift of blarney, both promoted rather gooey, abstract notions of freedom, and both were conscripted by the counterculture of the 1960s and '70s, roles they gladly inhabited and exploited. As with Leary, doctrinaire Marxists had little time for Beuys, considering him a dreamy utopian and, above all, a liberal—someone who trafficked in "revolutionary" talk but lacked any program for an actual revolution.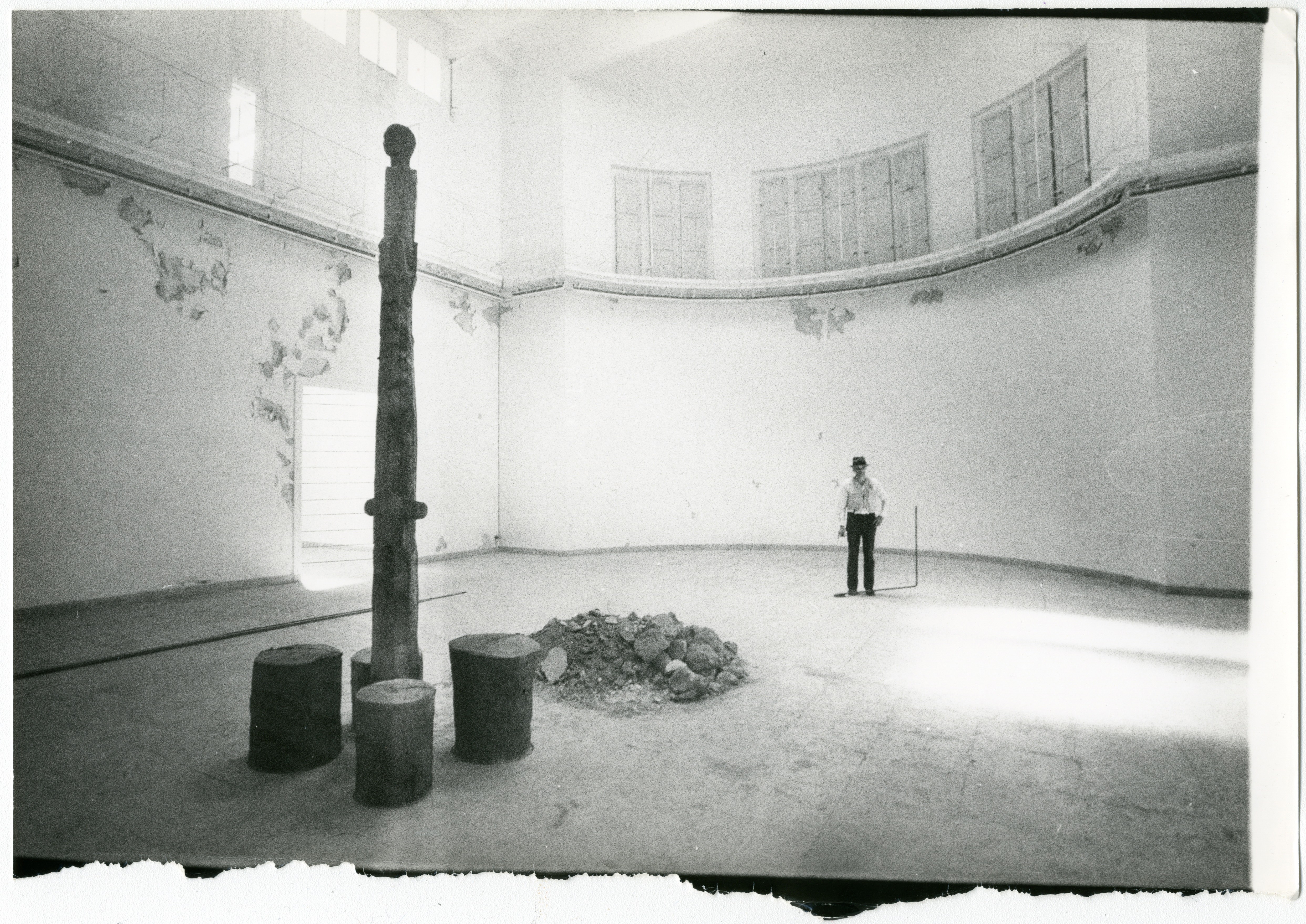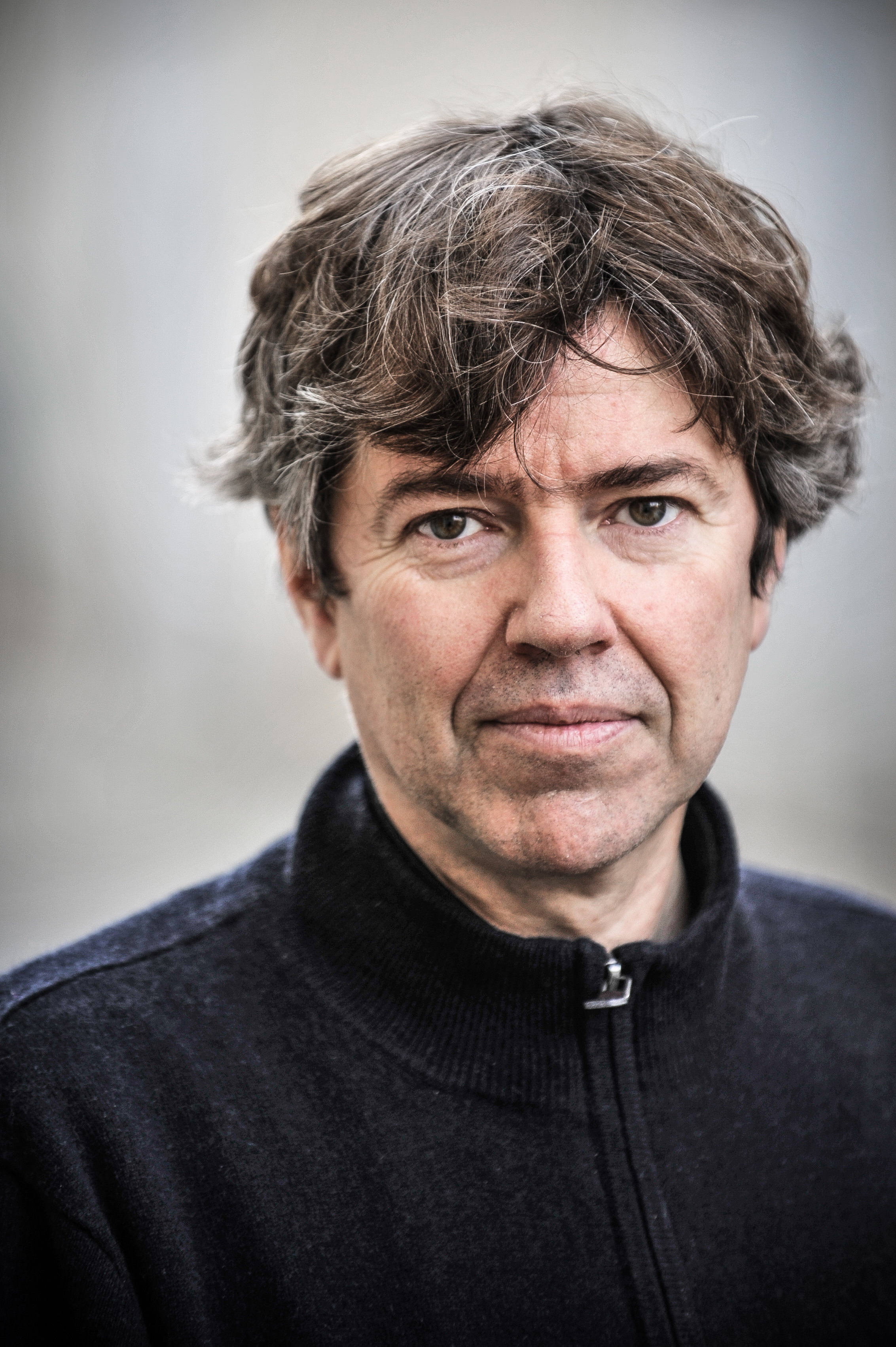 The film acknowledges the spirited criticism that Beuys endured for most of his career with clips of a contentious panel discussion between the artist and German art professors and critics, as well as footage of shouted questions from American students in his 1970s lectures. The few present-day talking heads who offer their reminiscences are sympathetic colleagues, critics, and disciples. Ultimately, Beuys may be best remembered as an iconic educator. His wildly popular, if controversial, post at the Düsseldorf Art Academy in the late-'60s–early '70s, from which he was finally dismissed for advocating open admission to his classes, was as fundamental to his legacy as any of his artworks or political demonstrations. The film honors this aspect of his career with lively footage of his lectures, which he illustrated with ararchic blackboard doodles, revealing him to be a Pied Piper of sorts, an inspirational, mischievous tour guide to unknown destinations.

"Teaching is my greatest work of art," Beuys said. "The rest is the waste product, a demonstration. If you want to express yourself you must present something tangible. But after a while this has only the function of a historic document. Objects aren't very important any more. I want to get to the origin of matter, to the thought behind it." Though he was assailable on a number of fronts and a bit too in love with himself, it's hard to witness Beuys in action and dislike him. The chief virtue of Veiel's film may be to put this puckish, maddening, criminally charismatic man in front of us once more, working his strange magic on anyone he encounters.

Beuys screens at Film Forum, New York, through January 30.