Jason Martin. Photo by Calvin Sit © The artist, courtesy of Lisson Gallery
It's Monochrome Painting, But with More Colors
British artist Jason Martin's first New York show in 20 years is a muted pleasure.
Jason Martin. Photo by Calvin Sit © The artist, courtesy of Lisson Gallery
There's a framing store near Jason Martin's home studio in the London suburb of Teddington called But Is It Art?, one of those friendly neighborhood places that'll happily mount a signed sports shirt. I wonder what they'd make of Martin's work, with its extreme fetishization of texture, dalliance with the limits of the monochrome, and giddy comingling of painting and sculpture. To be fair, Martin doesn't have much use for frames—his paintings are solid things that burst from the wall, the licks of paint that course past the edges of their aluminum supports often their most expressive element.
Teddington is Thames-side, low-rise, and pleasant. Halfway up a neat lane of terraced cottages with planted window boxes and bright front doors, Martin's studio registers as alien: a windowless white façade with a unnumbered grey door, it occupies the site of a former glass workshop. Inside, his studio and the home that it backs onto hold works and experiments that span his career. Some he's retained simply because he likes them: "I can look at a painting I made 20 years ago," he told GARAGE, "and think that, while I'd never make that work now, for 20 years ago it was quite good." Others, by contrast, have earned their place for the unresolved challenges they represent. "There are times that you touch on something and think that you're not ready to explore it, so you park it for a while."
On a wall of the paint-spattered studio is one of a series of glossy, black-surfaced oils in which the fine layer of monochrome paint has been worked into textured forms with a large brush, etching strands into a surface fine and shiny as carbon fiber. Ultra-matte works in deep plum and aquamarine have had their heavily impastoed surfaces sprayed with light-sucking pigment. A rose-gold relief is an early try-out from a series of sculptures begun in 2012 that mold vast swathes of creamy paint in mirror-polished metal.
Now on view at Lisson Gallery in New York, the artist's newest body of work is a series of restrained oil panels. Blacks, whites, and grays are spiked with calorific colors that become almost imperceptible as Martin works into them. "The chaos of color I wanted to restrict to graphites and grey with very subtle amounts of more active tone. Ultimately they are grey paintings," he explained, adding, cheerily, "Rothko described gray as 'the color of tragedy.'" They seem appropriately wintery, like NYC snow absorbing the grot of traffic, but Martin's plane of reference is more the territory of Agnes Martin, Robert Ryman, and Brice Marden, art from an epoch referred to by Peter Schjeldahl as "the Age of Paying Attention, or the Noticing Years, or the Not So Fast Era."
Each work is finished with gestural stripes as Martin tracks a brush horizontally back and forth in an even rhythm, the strokes dictated by the length of his reach. If you don't sense it right away, his titles send you back to seek out color: Untitled (Titanium White / French Ardoise Grey / Dianthus Pink), Untitled (Titanium White / French Ardoise Grey / Scheveningen Blue).

The Lisson show is Martin's first New York outing in 20 years. His last, in 1998, received a sharply worded review from Roberta Smith in the New York Times. Let's assume it smarted: the artist can still quote Smith verbatim while admitting that her payoff suggestion—that the works in that show had "the brief dazzle of a Slinky toy making its way down the stairs"—was not one he necessarily felt as a criticism. The new series is the result of "quite a frenzied period of making," and even more frenzied editing. "I've made many that have not worked out," he admitted. "The majority were stripped and reworked." The result is a tight series of paintings that performs as an ensemble. "I like to think you could create a tension between a group of works," he says. "If you are working with colors where you are slightly shifting away from gray, you see the particularities of each work arising from differences rather than similarities." In his ongoing urge to crack all the possibilities offered to him by oils, each painting also earns its place as an individual: "there are certain moments within the making of each work that got them invited to the party."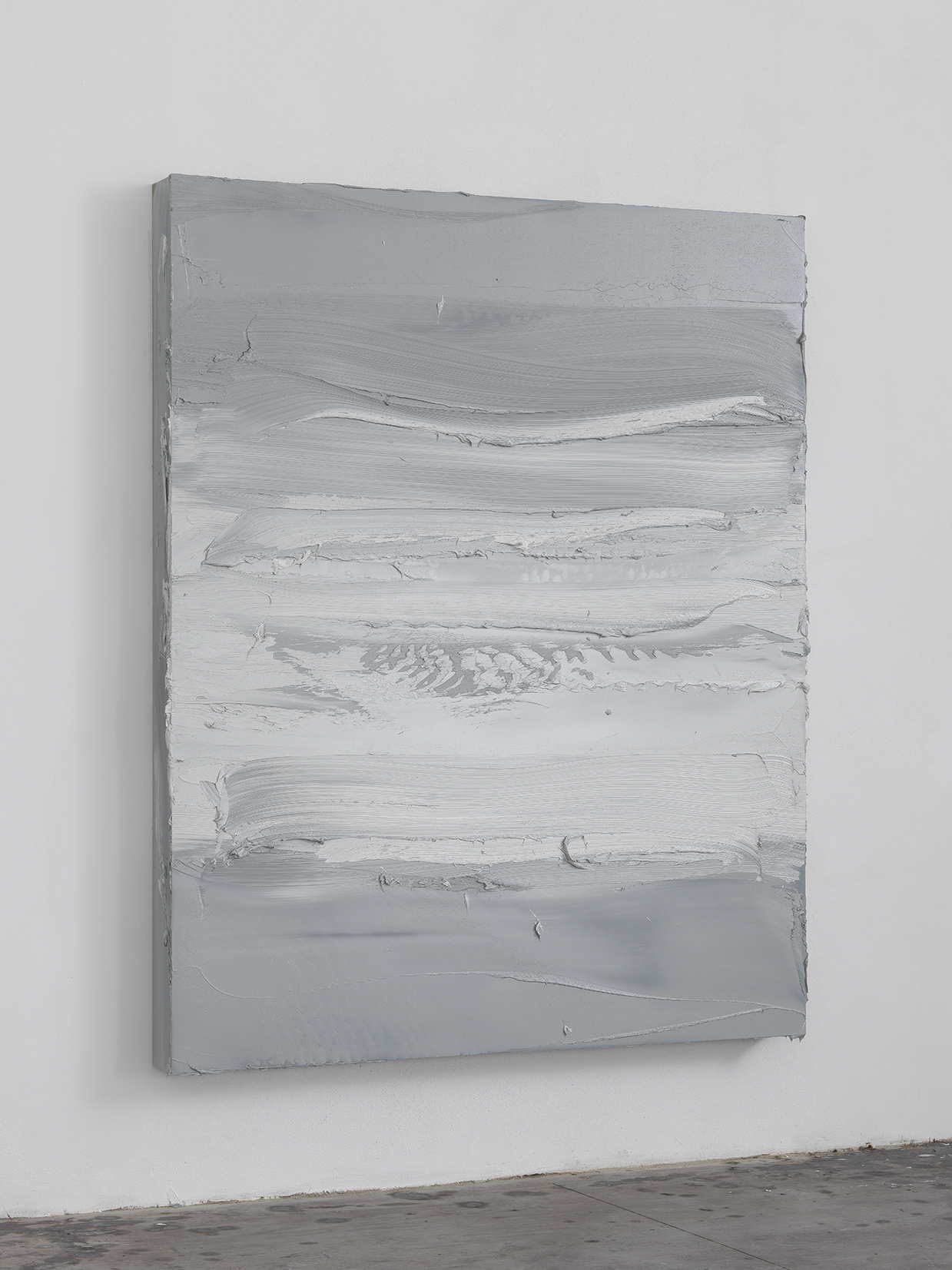 Jason Martin is on view at Lisson Gallery New York, through February 24.