The Gucci Garden Just Changed the Game for Mega-Brands
Even though it's not, in fact, a garden.
The Gucci Garden, which opens to the public today in Florence, is many things: a highly curated non-museum, a concept shop selling product exclusively conceived for the space, three-Michelin-starred chef Massimo Bottura's newest restaurant, and a seamless celebration of both Gucci's legacy and its recent resuscitation at the hands of creative director Alessandro Michele—and all in the brand's hometown, no less.
One thing it is not, however, is an actual garden.

So what is it, then? Michele himself offered up the word "bazaar." The fashion historian and curator Maria Luisa Frisa, who conceived of six galleries across the Garden's two upper floors—you could call her Michele's landscape designer—liked the description of "playground" (she also referenced Hieronymus Bosch, whose Garden of Earthly Delights feels like an apt comparison). Someone used the word "laboratory." Given Michele's penchant for emblazoning his clothes with pictures of animals, "menagerie" seems most apt. Of one thing, at least, Michele was clear when he addressed a group of journalists yesterday: "What you're going to see is not a museum," he insisted. "I didn't want this to be a dead place. There's life here." Michele, as eloquent as he is visually astute, described the Garden as a manifestation of "my unconscious experience of the brand," a translation of "my own lexicon." A chance, he said, to see Gucci as he does.
On a tour of the Gucci Garden galleries—one of which is titled, delightfully, Guccification—the curator Frisa only had to indicate the vitrines to demonstrate how Michele fits into the history of the house. Here was a 1994 issue of The Face opened to a Nick Knight shoot in which Gucci logo tees had been sliced and diced, sitting next to a recently produced tee featuring the scrawls of artist and Michele-collaborator Coco Capitan. More than two decades separate these items, but they seemed of a piece.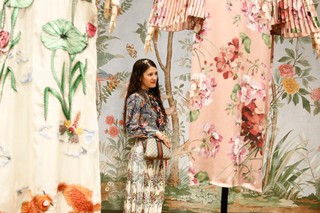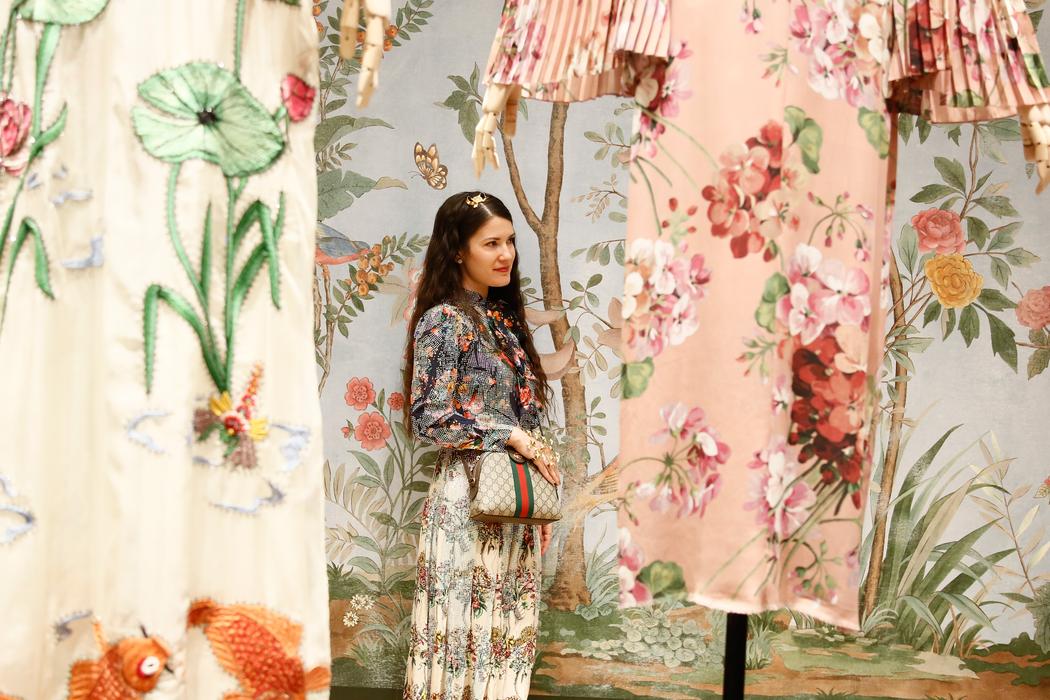 There was a silk bomber designed by Tom Ford and featuring 19th-century, Japanese-style erotica embroidered on the back, while a new Gucci jacket directly inspired by it was on the back of illustrator Angelica Hicks at the opening party last night. Classic double-G prints were presented next to the graffiti work of Trevor Andrew (aka GucciGhost). The original Gucci Flora print concieved by Vittorio Accornero in 1966 was displayed so that it was not immediately distinguishable from some of Michele's own designs.

When juxtaposed with Gucci's extraordinary history of furs—Tom Ford really is at his most brilliant and twisted when mixing and mismatching the pelts of various species of big cat—it dawned on me that for Michele's affinity for figurative animal prints may be at least partly deference to the house's aesthetic heritage. (That's especially in light of his declaration that Gucci will go fur-free.) It's as if Michele knows the Gucci archive better than anyone—like a film director who can anticipate an actor's reactions better than the actor herself.
When the then "unknown" Michele stepped up to Gucci's creative helm in 2015, critics and Kering stockholders were equally ecstatic about his seemingly radical new direction for the nearly century-old house. But it turns out Michele, who was already a ten-year veteran of the house when he took his job, has been playing around in the archive all along.
On the ground floor, what could be called the world's most elaborate museum (or rather non-museum) gift shop offers versions of beloved Michele designs made exclusively for the Gucci Garden, identified by customized labels. Mannequins upholstered in rare, recovered fabrics abound, as do brass hangers decorated with Michele's favorite sculptural motifs (bees and tigers among them, of course). Wall colors are Kelly green, oxblood, and elephant grey. In another room, Frisa's selection of niche magazines and vintage art books lead the way to Massimo Bottura's Osteria which is, of course, delectable. (The tortellini made with 36-month-aged Parmagiano Reggano will send you to Modena and back in the span of two bites.) There, lines from a 15th-century carnival song by Lorenzo de' Medici are painted across the tops of the walls in gold calligraphy. One imagines that if Michele had his druthers, every Gucci shop would look like this.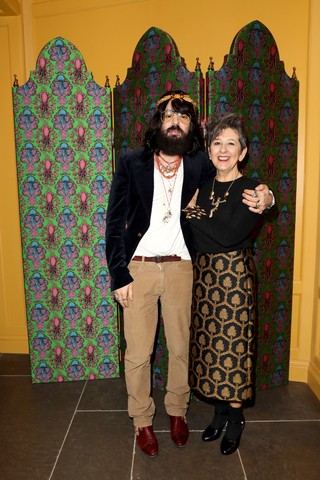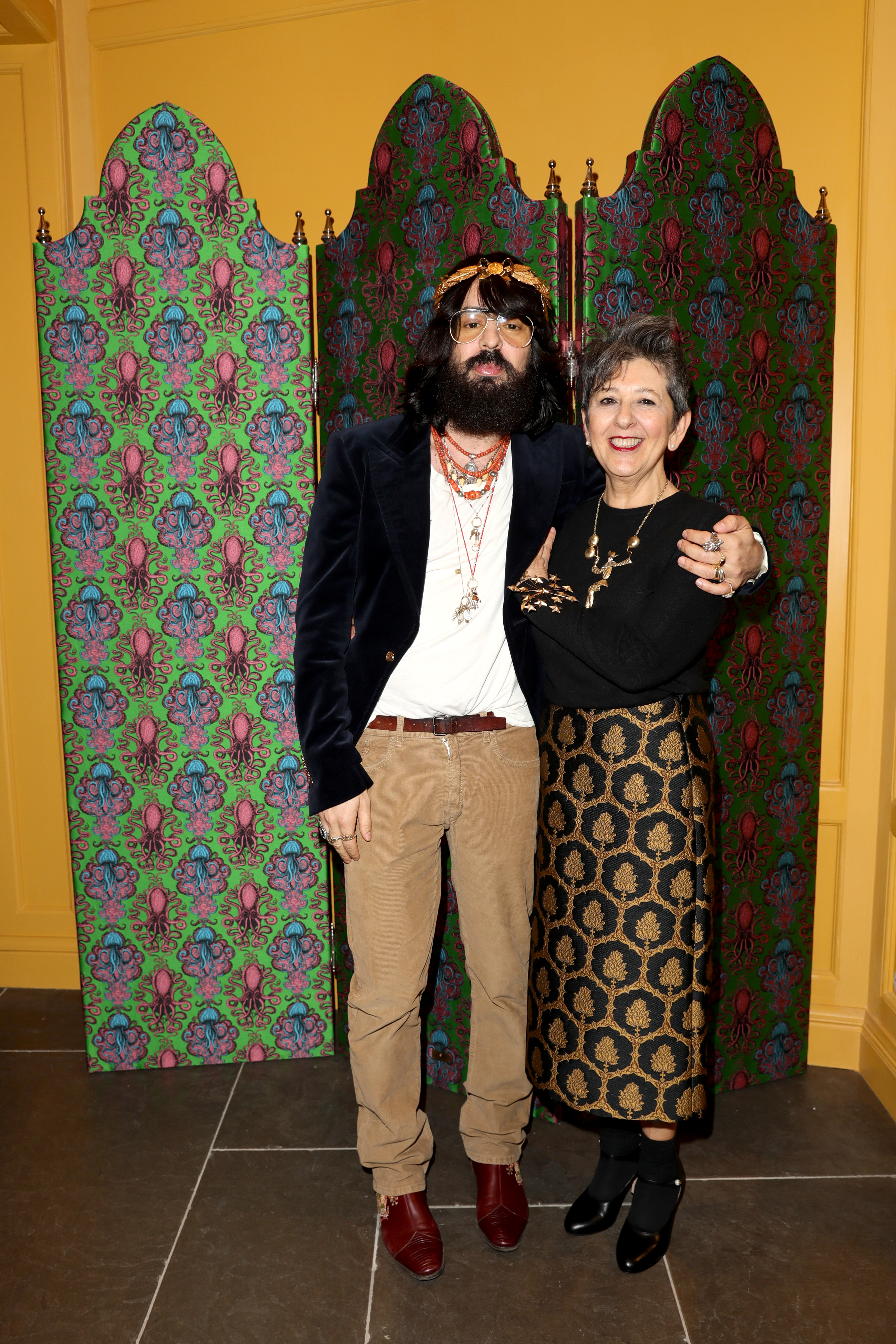 For Gucci stans, the Garden is instantly a must-see (or, rather, must-shop) destination in Florence—Nobody else in L.A. will have this particular brocade on their fur slides—but even casual fans will find it refreshing compared to the slog that is the Via Tornabuoni, which by comparison seems like a hangover from another era of luxury retail.
Situated adjacent to the Uffizi Galleries in the Piazza della Signoria, which along with the Duomo was one of the most important public hubs of the medieval city, a pedestrian first identifies the Gucci Garden by a massive light sculpture of a spider's-web-like eye near the top of its façade (the eye, along with the bat, turns out to be a new Michele motif found only on items sold at the Garden). It could be read as a fairly ominous thing, this neon eye of Sauron surveying the citizenry, but I think that eye is looking outward, forecasting the future. What does it see? Certainly the days of traditional brand museums are over. And with any luck, the return of bamboo Gucci accessories is on the horizon.