Chris at In Goop Health. Photograph courtesy of Chris Black.
We Sent a Man to Gwyneth Paltrow's "In Goop Health" Conference
His review: "Honestly, better than cocaine."
Chris at In Goop Health. Photograph courtesy of Chris Black.
Saturday, I—a 35-year-old man named Chris Black—went to Gwyneth Paltrow's health summit "In Goop Health" in Manhattan.
Let me start at the beginning: about a week before the whitest healthy stuff conference in the world, I received a confirmation email and was told that I should register for the treatments and panels that I would like to attend. My "Turmeric" level ticket gave me a pretty decent selection ("Ginger" ticket holders, who paid $1,000 to Turmeric's $650, allegedly had access to self-care bounties beyond my imagination). I didn't see the email for a few hours, and by the time I clicked and surfed my way to the correct URL, most of the good stuff was booked. I missed out on the facial cupping, magnetic acupressure, and self-hypnosis. But luckily, I was able to sign-up for a facial massage and an LED eye treatment. Things were looking good!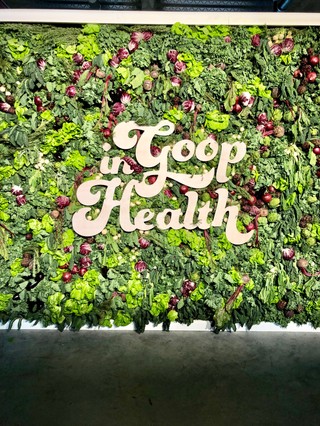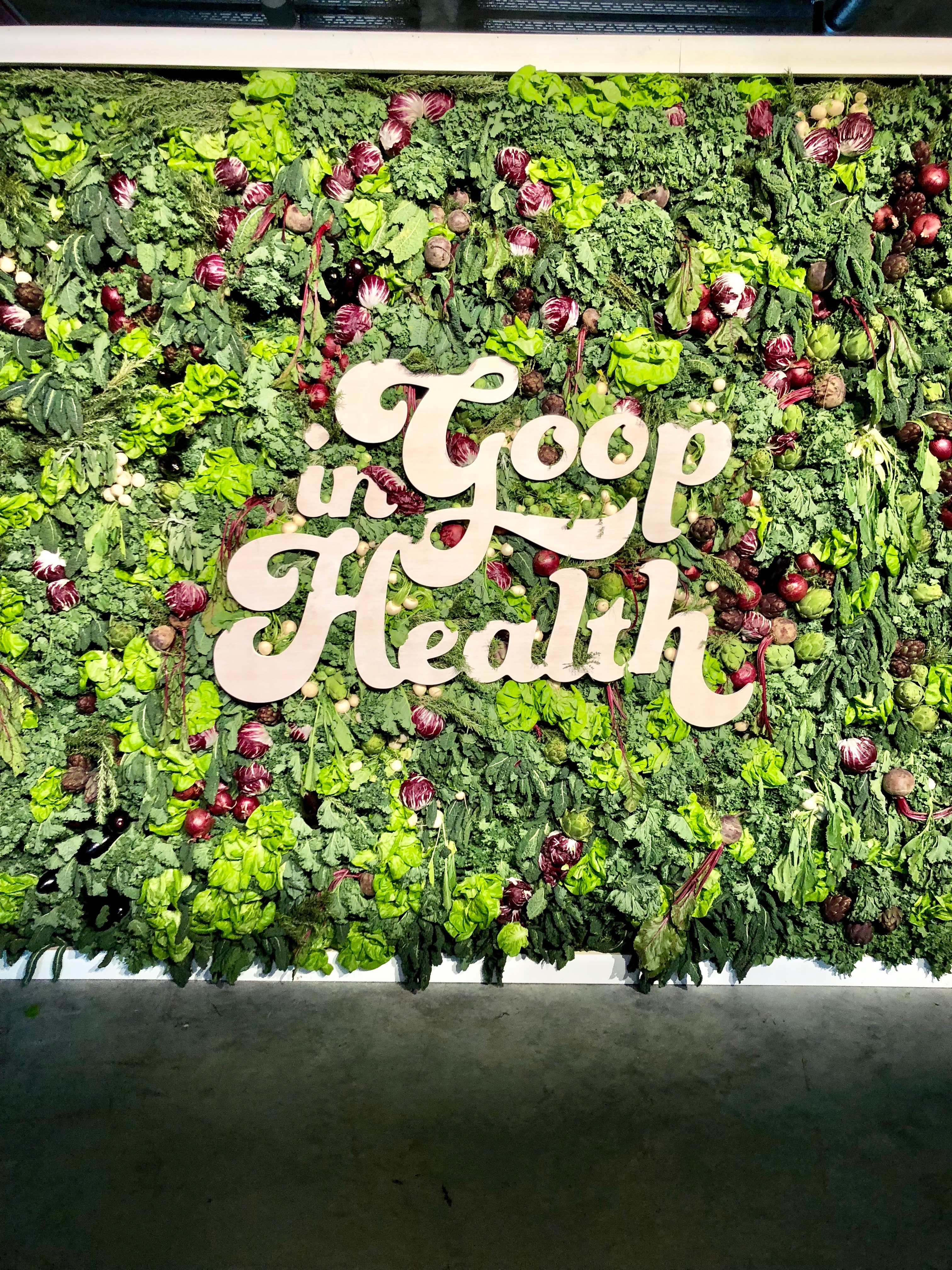 I made my way down to Pier 17 in Manhattan using a Goop Lyft code that was provided with my ticket. After going through security (they had metal detectors!), I took the escalator to the registration desk. They checked me in and handed me what looked like a cheap necklace from Anthropologie that I was supposed to wear like a backstage pass. I quickly hid it in my pocket and strolled toward the entrance. They encouraged everyone to change into Minnetonka slippers (a sponsor, naturally) to get more comfortable. I chose to keep my Converse on so I could be more agile when maneuvering gracefully through the well-appointed and tastefully decorated Goop Hall. I had a few minutes to kill before the kick-off panel, so I took a quick lap to survey the scene. It felt like a TriBeCa SoulCycle class on holiday at the Brentwood Country Mart. The looks were scarily consistent: Gwyneth clones with less taste and even less access: leggings, puffy vests, designer sneakers, expensive jewelry, non-invasive plastic surgery. But the overall vibe was pretty good. These people had paid top dollar to be comfortably zenned out: who needs Xanax when the nanny is watching the baby, and you are meditating with the lead actress from 1998's Sliding Doors!
The kick-off panel was…heady, man. The "Chat Room" was packed when Karen Newell took the stage and led the rapt audience in a "binaural beats sound meditation." I tried to get in the zone, because, look, I love shit like this, but I couldn't keep a straight face. I held it together, but I had to check Instagram a few times, make light conversation with my friend Chantal who I ran into, and giggle when Derek Blasberg snuck in late looking he just woke up.
Next was the goddess herself, Gwyneth Paltrow, who looked radiant (of course!) and probably smelled good. She took the stage wearing a mature skirt and sweater with a less than chic (but functional) headset mic. She addressed her congregation with grace and wit; she even seemed a bit nervous! As you can imagine, everyone's phone (even mine, SMFH) went up to catch a flick for their IG stories. She kept it short and then introduced an English teacher from Long Island named Laura Lynne Jackson who moonlights as a medium. She darted around the room spewing absolute bullshit for a good twenty minutes. The people loved it though!
Once the panel finished, I had to move quickly to my facial massage appointment with FaceLove. And let me tell you: that shit was incredible. It felt amazing, smelled great, and ended with a chilled jade roller that really de-puffed my tired eyes! I stood up and my co-conspirator, Nicholas Morgenstern, congratulated me: "Shit, you look younger." Success!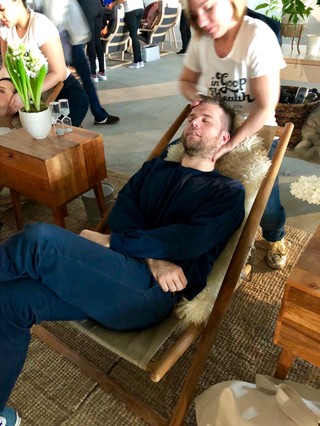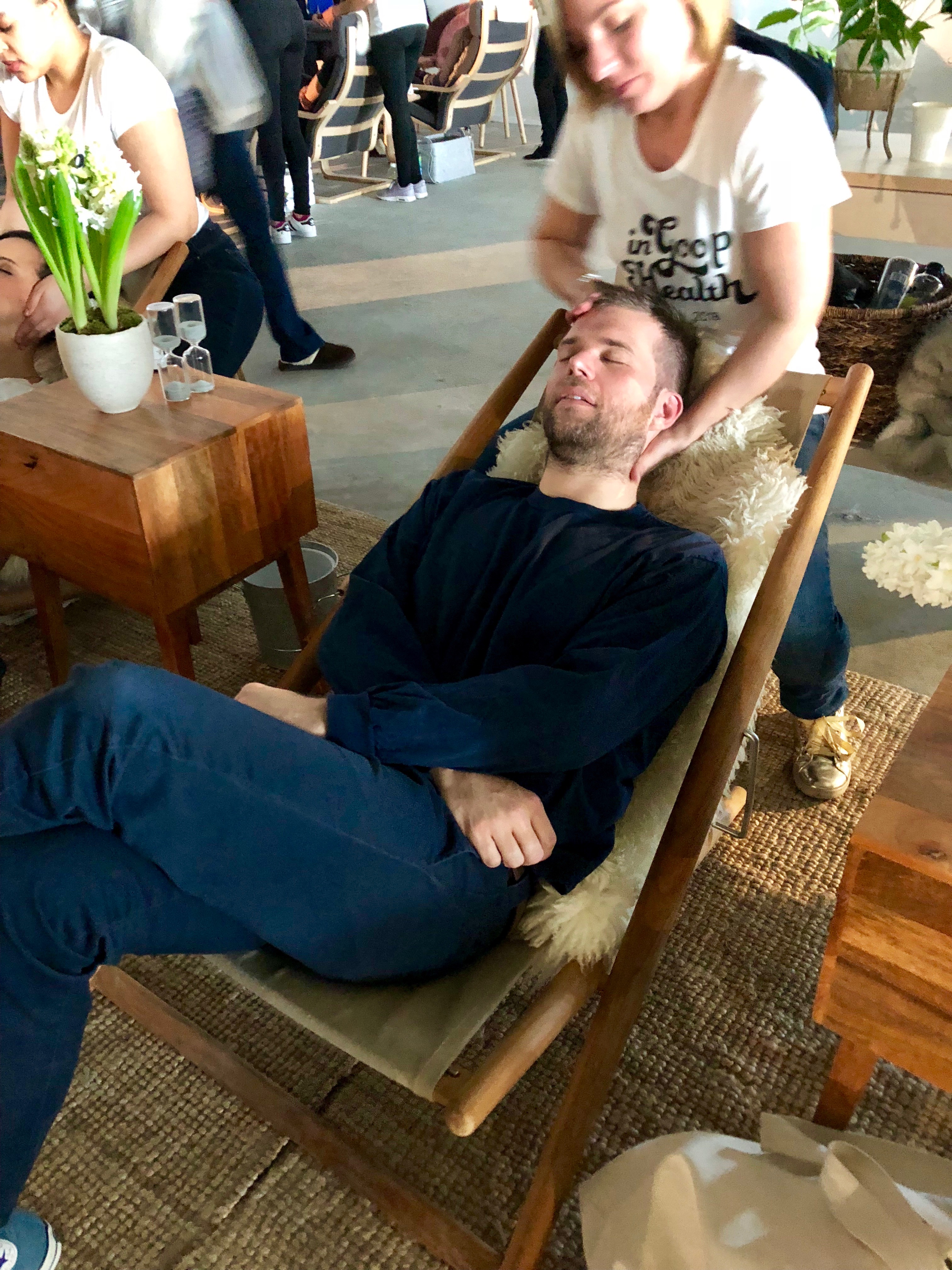 We had some time to kill, so we sauntered over to try some of the food and beverages that were available. We kicked it off with a shot of the much-lauded "Sex Dust" from Moon Juice. It tasted like watery chocolate milk;not bad. We sauntered through Gwyneth's movable feast: paleo-approved gluten-free bread topped with ghee, herbal steel-cut oatmeal from abcV, avocado toast topped with turmeric from Avocaderia, broth from Brodo. They had it all!
I was feeling a bit fatigued when I was told it was time to get a B12 shot. I signed my rights away and pulled my pants down right in the middle of Goop Hall, at which point the nurse, God bless her, fired pure uncut vitamins into my bloodstream. I WAS FLYING! Honestly: better than cocaine. I grabbed a SoulCycle x Milkbar collaborative cookie and made some small talk. I had an LED eye treatment booked for later in the afternoon, but I didn't want to waste this incredible energy. I needed to work out, IMMEDIATELY. I grabbed Nicholas, and we headed for the door, but we had to make a quick stop to pick up our gift bags. We were each handed a giant backpack stuffed to the gills with vitamins, eye creams, moisturizers, deodorant, face wipes, even granola! I felt like a fucking beauty editor in the early 2000s!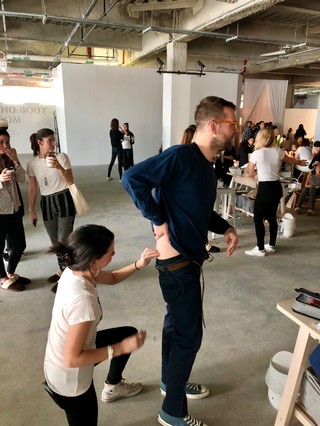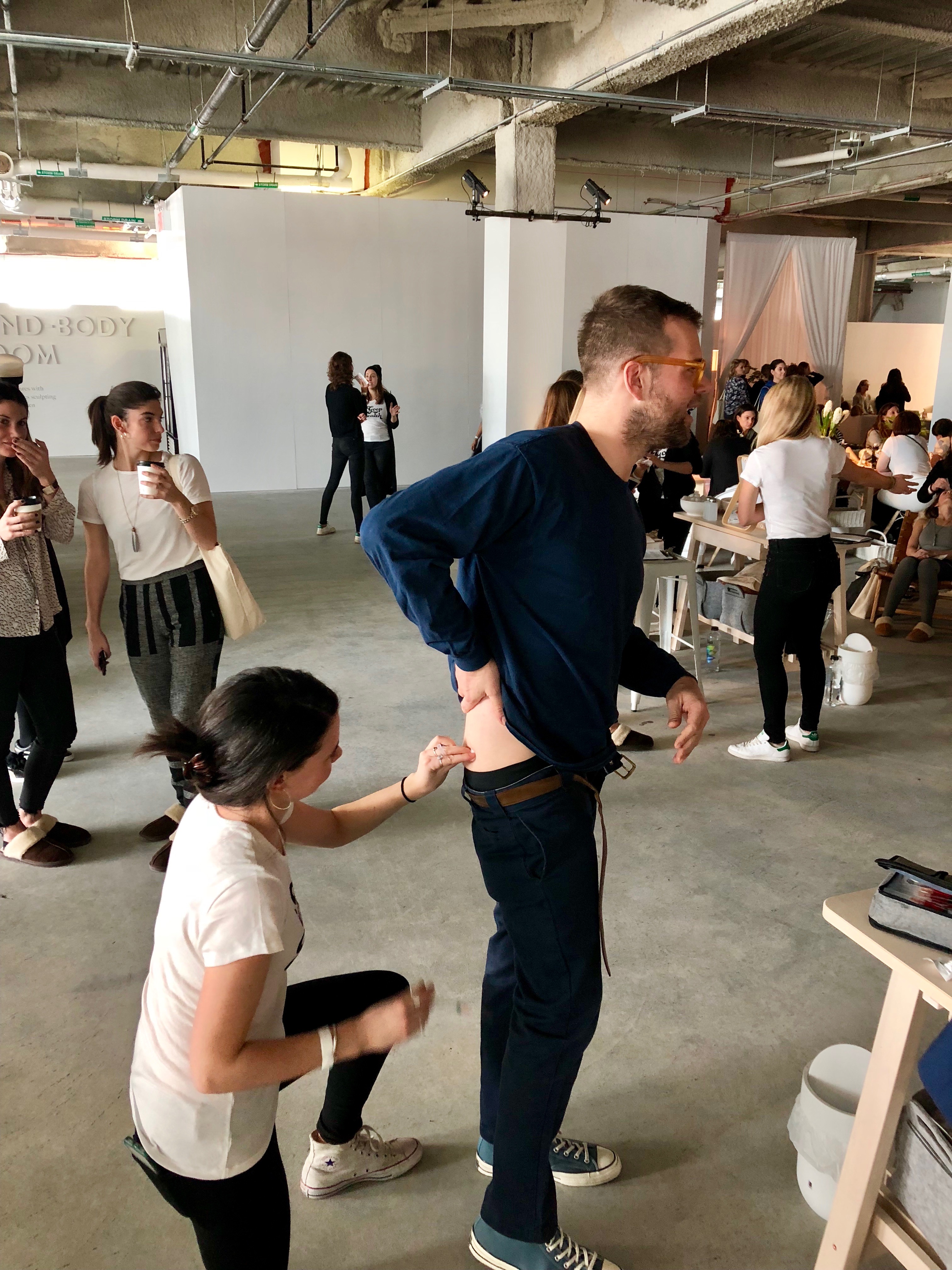 We made a break for the idling late model Suburban I had called using the Goop Lyft promo code. We rode back to my East Village apartment in style, both of us trying to digest what we had just experienced. I ran inside, dropped the gift bag, changed clothes and went for a run. When I finished (made great time, btw), I sat and reflected. Yes, I missed Susan Miller, didn't use the hygge room, and didn't get a photo with Gwyneth. But In Goop Health was…fun! It was a window into a world that I thought I knew, but after going neck-deep, I realize, I really had no idea. In the most bougie enclaves all around the country, these Goop groupies exist. They are your neighbors, your friends, maybe even your family members. They will spend any amount of money to feel and look good, and in this humble writer's opinion, there is nothing wrong with that.
UPDATE: Chris wrote that GARAGE's Derek Blasberg arrived looking "like he had just woken up." He had, in fact, just come from the gym.