I Attended The Wake of Topshop
Hey kid, want a discount garment rack?
Photo by Jordan Barse.
The reality of the thing is not so shocking as the urgency of its execution. Last week, across every American Topshop/Topman store, a smattering of red and black signs declaring EVERYTHING MUST GO! and 50-80% OFF! NOTHING HELD BACK! hung in clear view. The typeface was universally familiar and read distinctly unlike branded copy designed to lure you in for a fashionable, mid-season sale. This was something darker—a corporate blowout, a hand-off to a third party undertaker. This was bankruptcy.
Ten years ago, Topshop's billionaire owner Sir Philip Green linked arms with supermodel Kate Moss atop a box emblazoned with a British crown as a veil lifted before the grand opening of the high street (read: British fast fashion) sensation's US debut in the central artery of New York's shopaholic heart: SoHo. It was April 2, 2009, and behind them, sunflowers hung optimistically from the ceiling, evoking an alchemical denial of the ongoing recession surging New York's unemployment rate to a five-year high. The ambitious 25,000 sq. foot SoHo store boasted three levels of womenswear (including a hypeworthy capsule collection designed by Ms. Moss), a basement floor for men's, and a zone for personal shopper services. Green wasn't worried about his $24 million stateside investment, though, telling reporters: "People are still wearing clothes. They want to be inspired. They still want to shop. Get real."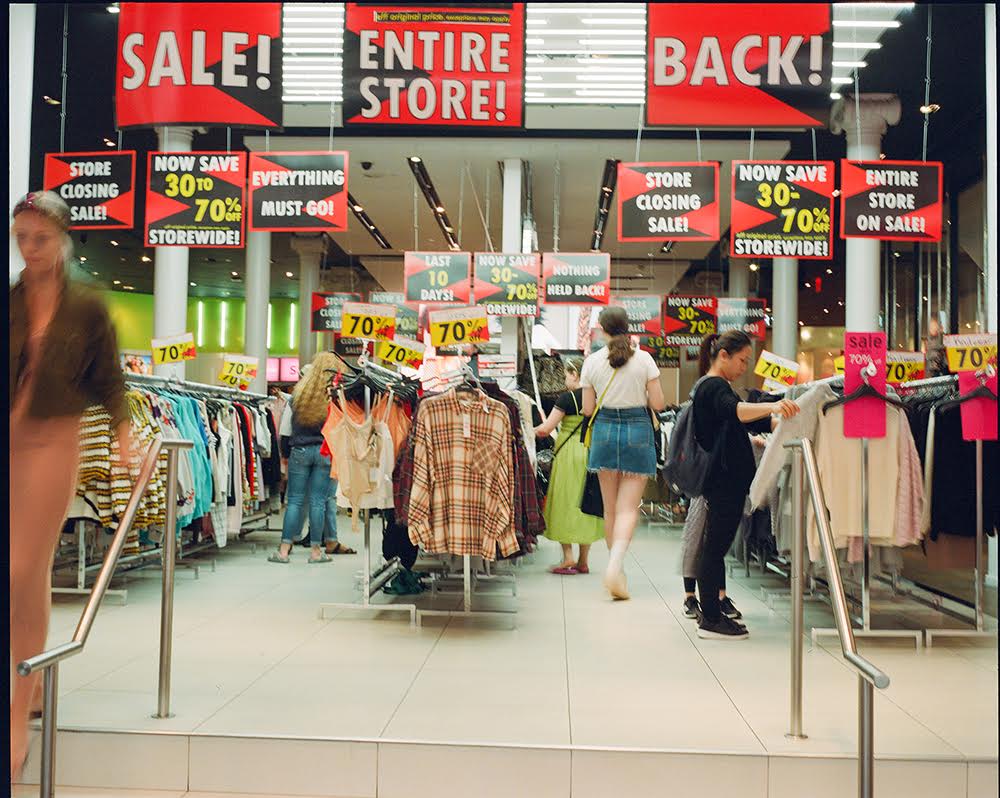 Topshop ruled the aughts, easily, building a phenomenal mass market empire that dictated trends as much as it mimicked them. With accessible prices and Kate Moss stamp of approval, its flagship in Oxford Circus was a London destination for shoppers who read Teen Vogue and NYLON religiously. The design team was composed of 14 young women led by Nick Passmore and Jane Shepherdson, and the competition for cheap and chic was virtually unmatched. Global chains Zara and H&M had their moments, but Topshop had its finger firmly on the pulse of the likes of Sienna Miller and the Olsen twins.
In a review of the Topshop Unique Spring 2007 runway collection, the only of its high street kind, Sarah Mower described the look as "somewhere between Chloé and Marc by Marc Jacobs, with a lot of the less 'designed' pieces looking on target enough to please the brand's millions of young followers." It was no wonder, then, that Anglophilic shoppers lined up around the block for the chain's New York debut.
Last week in SoHo, clearance placards had taken the place of sunflowers and a countdown ran to the final hour: Saturday at 8PM. On the ground floor, stacked cardboard boxes marked "FREE bottom hangers" greeted shoppers at the tiled entrance. To the right, hasty photo printouts of garment racks, back office furniture and appliances were taped to an easel under the heading "FIXTURES for SALE!" Upstairs, this proved true, as priced rows of empty metal racks and shelving units faced down an opposing team of naked mannequins huddled together with poise. Behind, the walls once covered with garments were stripped bare, revealing what resembled rough concrete to be a glossy trompe l'oeil wallpaper.
Agoraphobia loomed over the draining ground floor as massive glaciers of pre-distressed skinny jeans emitted dull whines of ambivalence. They know they're burdensome, and they seemed to regret being made in the first place. The rest of the remaining offerings by week's end weren't too full of themselves either: oversize Christmas-themed sweaters in chunky, poly-viscose blends were marked down to $35 from $110. A notably chic pale yellow gown with scattered rhinestones and a '30s-style bias cut bore striking verisimilitude to silk, but its 100% viscose looked bedraggled with tugs among the thrashing racks, drained of ambition. Newsboy caps in every pattern the eye can see were lumped in a bin on the floor beside Halloween accessories and colorful scarves as big as blankets, an affront to the summer city heat. Bikini bottoms clung to plastic hangers like withering plants. All the bags were brown and depressingly practical. Downstairs at Topman, the dregs were somewhat more dignified; t-shirts galore, some funky suits. Nothing to write home about.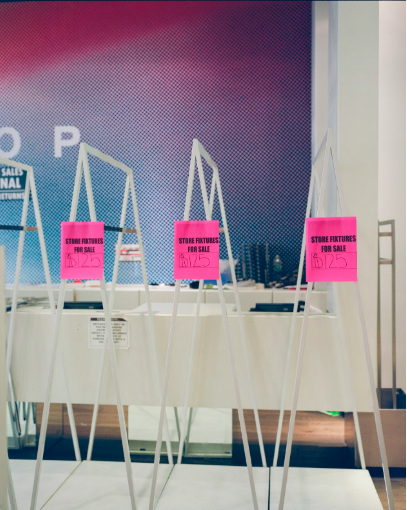 What happened to Topshop? Competition, first and foremost. Online stores with similarly fashionable offerings unburdened by the ball and chain of brick-and-mortar such as ASOS rose to international prominence as Topshop's ace design team disbanded, seeking greater premiums on their prescience than the alleged abuse invoked by Philip Green's bullying tenor. In 2013, ASOS's gross profits more than doubled those of Topshop's parent company Arcadia Group, and by 2017 Topshop reported an annual loss of about $14 million. Public statements from Green acknowledge Topshop's inability to keep up with the pace and innovation of online competitors, but it goes deeper.
Just as the retail landscape evolved, so did the capitalist social. Instagram has spawned a commercial superhighway through which the feedback loop of ditsy floral dresses has so reduced garments of meaning that brands without distinctive identity–be that through represented ambassadorship or actually unique viewpoints (see: Brandy Melville and skinny 16-year-olds who make their 29-year-old English teachers nervous) or the lowest prices–seem doomed for failure. In fact, Zara's industry ascendence could likely be attributed to its well-reported designer copycat squabbles, earning its rep as an irrefutable source of runway looks for less. Retail experts have pointed at Topshop's internal scandals and unfocused efforts to establish stateside brand following as its Achilles heel, but browsing through Instagram, it seems plainly obvious that there is virtually no distinction between clothes sold by Topshop, Forever 21, Boohoo, Pretty Little Thing, Miss Guided, and H&M… except that all the others have lower prices, cleaner web interfaces, faster turnovers. Take this Topshop pleated snake print midi skirt, marked $75. ASOS has one for $24. Debatable scam SheIn has one for $17.
On Instagram, influencers gratefully tagging their gifted outfits to brands prioritizing social investment bring in millions as walking, Boomerang-ing #ad revenue, nearly all of which feel disturbingly repetitive. Lip fillers and off-the-shoulder ruffled chambray dresses before palm trees or crosswalks are ready currency for likes and perpetual @pullandbear freebies, an ouroboros of profit-driven pop aestheticizing. The indirect translation model of tabloids and teen mags to Topshop racks has been outmoded by Instagram's greasing of the FashionNova wheel, spewing out ersatz renderings of a Kardashian's birthday look in a fortnight, with free shipping.
Millennial shoppers are largely despondent about the loss. 26-year-old artist Isabel Legate recalled visiting New York to look at colleges in 2009, back when Topshop still "felt exotic." "I remember getting off the double-decker bus with my mom specifically to go to Topshop and try on the Kate Moss collection," she shared. "There was a moment when the brand felt very cutting edge. They brought in fresh CSM collaborators, downtown It Girl DJs… all of it." After visiting the store this week, however, Legate concluded, "Tthe magic was lost and it was really palpable. But what was the magic anyways? Fashion is ephemeral and I think I've lost the taste for this flavor along with everyone else."