Sitting Pretty: Mario Milana Makes Peculiar Furniture Feel Elegant
Milana worked under designers Denis Santachiara and Karim Rashid before striking out on his own.
It's a daunting task to make furniture that marries both functionality and eccentricity—and yet, the Italian-born designer Mario Milana strikes that balance with exacting precision. Many of Milana's tables and chairs move and rotate, allowing for the object to adapt to better meets the needs and comfort of the user. Whether it is intended or not, this movement adds a layer of dynamic playfulness to the designer's work. Who wouldn't want a comfortable chair that you can also fiddle and play with?
Milana's first gig upon graduating from the Istituto Europeo del Design of Milan in 2003 was to work under fellow Italian Denis Santachiara, a designer known for blending art and design. (Santachiara also made a name for himself with his popular brightly colored poufs, too.) In the mid-aughts, Milana then moved to New York and spent eight years working for well-known industrial designer Karim "Prince of Plastic" Rashid before opening his eponymous studio in 2014. Since branching out on his own, he has always strived to keep a focus on functionality and dynamism.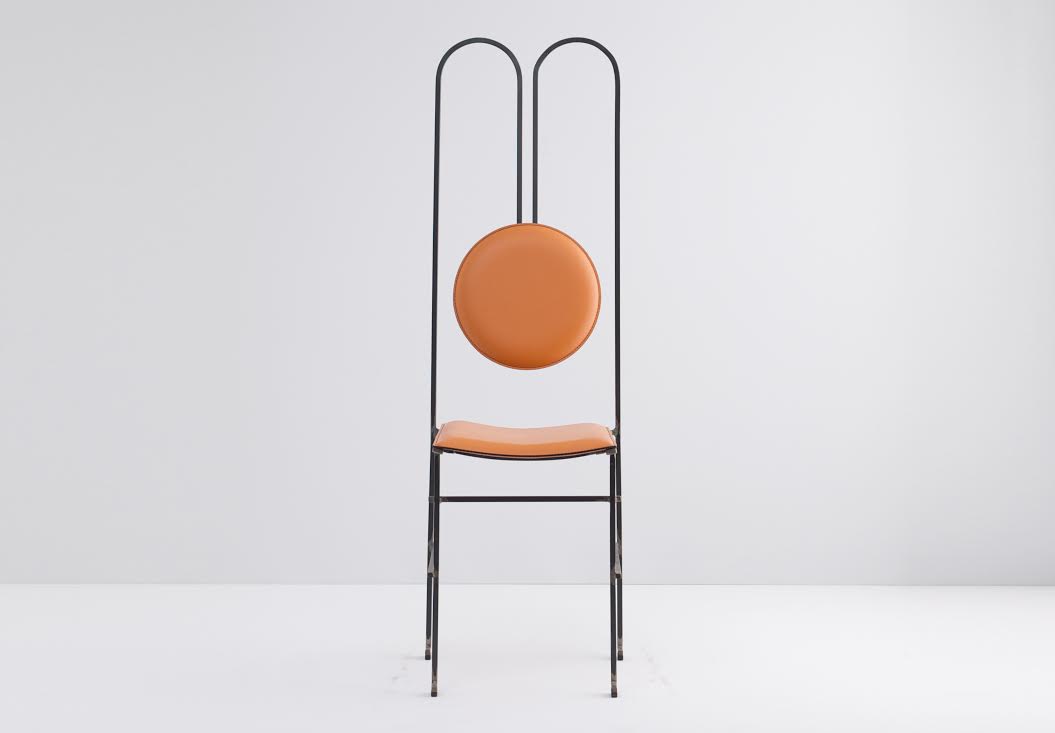 Milana-designed furniture is full of whimsical shapes and offbeat details: circular sections, pivoting armrests, and animatronic-esque silhouettes, to name a few. Take the 'designer's "M" line of armchairs, for example. At a straight glance, the chair looks a smidge offbeat, but not totally removed from what one might expect. 'There's round backrests, square-ish seats, and metal legs. But a profile view of the object reveals more cartoonish qualities, from the forward-facing feet to the human-like posture. Beyond these motifs, Milana works with alluring colors: banana yellow, ice white-mint, robin egg blue. Even in a well-lit white studio, where most furniture tends to skew modernist, the chairs look playful and serene.
All of the chairs are handmade in Italy and this is not a fact that Milana takes for granted. He enlists the best artisans the region has to offer: the metals are all hand-welded and the highest quality leather is all hand-stitched. This level of extravagant detail is evident in the finished product. Milana makes peculiar furniture that is whimsically designed and painstakingly crafted—and it's a combination of sensibilities that is a sight to see.