Billie Zangewa, In My Solitude, 2018, Silk collage, Courtesy of the artist and blank projects
At Frieze, Soft Art For Hard Times
The fair brings together artists like Do Ho Suh and Shezad Dawood, who are working with textiles in a whole new way.
Billie Zangewa, In My Solitude, 2018, Silk collage, Courtesy of the artist and blank projects
From the time when the artworld was all port and powdered wigs, right through to art's bourbon and testosterone years, textiles were seen as "women's stuff." Quilting, weaving and embroidery were practical and decorative: nice pursuits for the home, not the gallery. At the Bauhaus, the great textile artist Anni Albers only ended up in the weaving workshop because it was considered more appropriate for a woman than the painting studios.
The late twentieth century was peppered with female artists reclaiming textiles for fine art, from Tracey Emin's sexually confessional quilts, to Louise Bourgeois's sassy update on the embroidery sampler: "I have been to hell and back. And let me tell you it was wonderful." Meanwhile Sheila Hicks—a student of both Josef and Anni Albers—made a strong case for fiber as a sculptural medium, bringing intense color and yielding surface texture into great rolling interior landscapes and tiny picture-like studies.

Thanks to Hicks and her fibrous peers, the soft stuff is having a moment. Phaidon's recent book Vitamin T is dedicated to threads and textile art. Diedrick Brackens, whose work was acquired by the Brooklyn Museum of Art via the Frieze LIFEWTR Fund is talking about weaving at Frieze London this week. Threads are also the theme of Frieze London's curated section 'Woven'.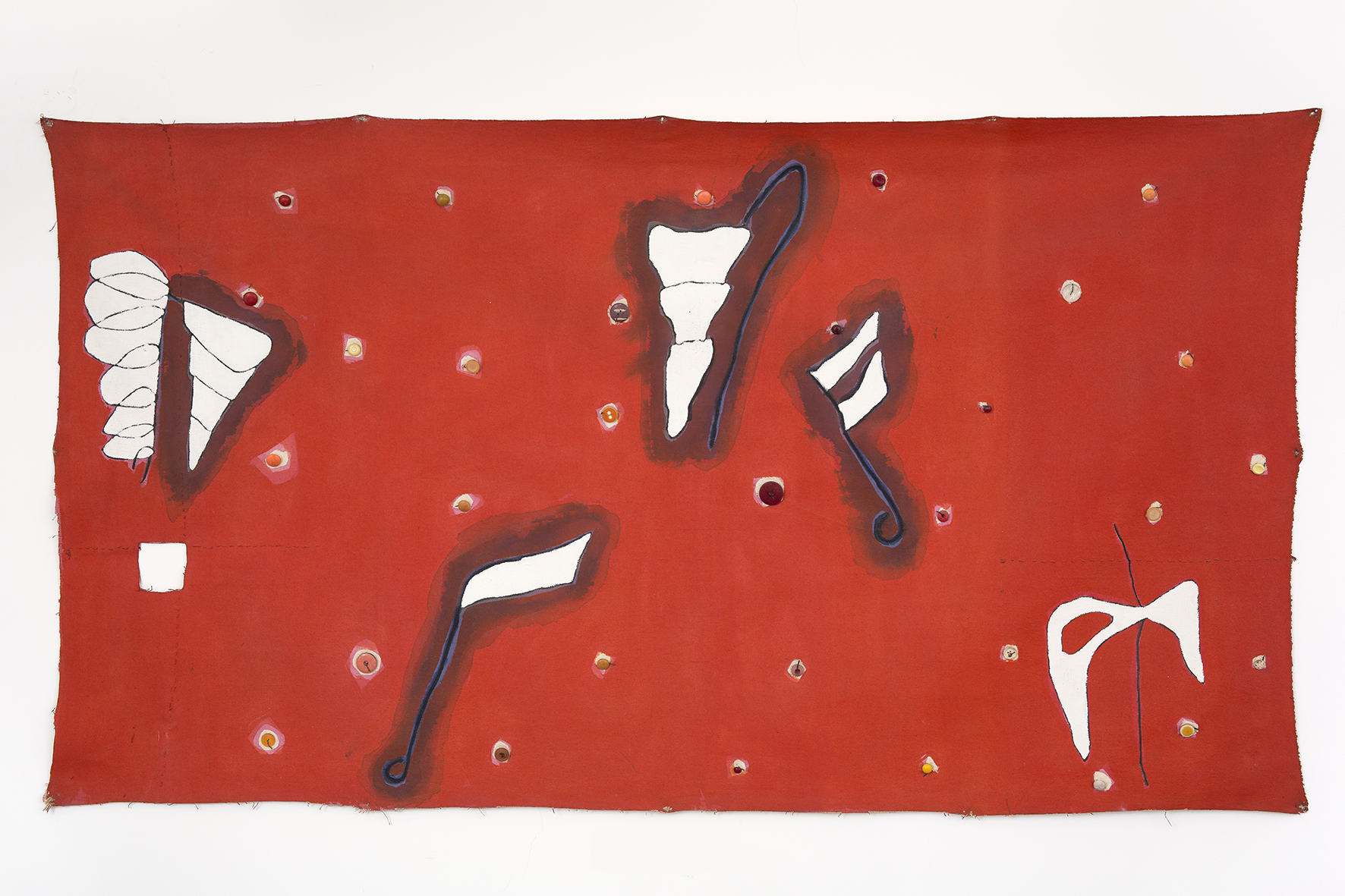 Directed by Cosmin Costinas of Para/Site in Hong Kong, 'Woven' flops together eight artists of diverse backgrounds. Among them are Mrinalini Mukherjee, whose enthralling biomorphic figures made of dyed hemp rope were just shown at the Met Breuer, and José Leonilson, who stitched intimate embroidered panels during the AIDS epidemic in New York, ahead of his own early death in 1993.

Costinas's premise steps away from the standard narrative (macho art world fails to value fiber art because it's feminine) and looks instead at the medium in the context of colony. Textile making was one of the earliest of human creative endeavors. Tapestries, rugs, ceremonial garments, print designs, banners and flags have cultural significance to societies across the globe. But they don't conform to European ideas of fine art: colonizing powers asserted their superiority with stolid, commodifiable bronze and marble sculpture, and oil paintings that glorified subject, artist and owner alike. Textiles were relegated to the status of indigenous craft. Costinas thinks the art world is still living through a colonial hangover.

Beyond "Woven," there's a good amount of other textile and fiber art showing at the Frieze fairs. Costinas's point is well made: most exponents are either associated with the feminist avant-garde, or aligned with non Euro-American traditions.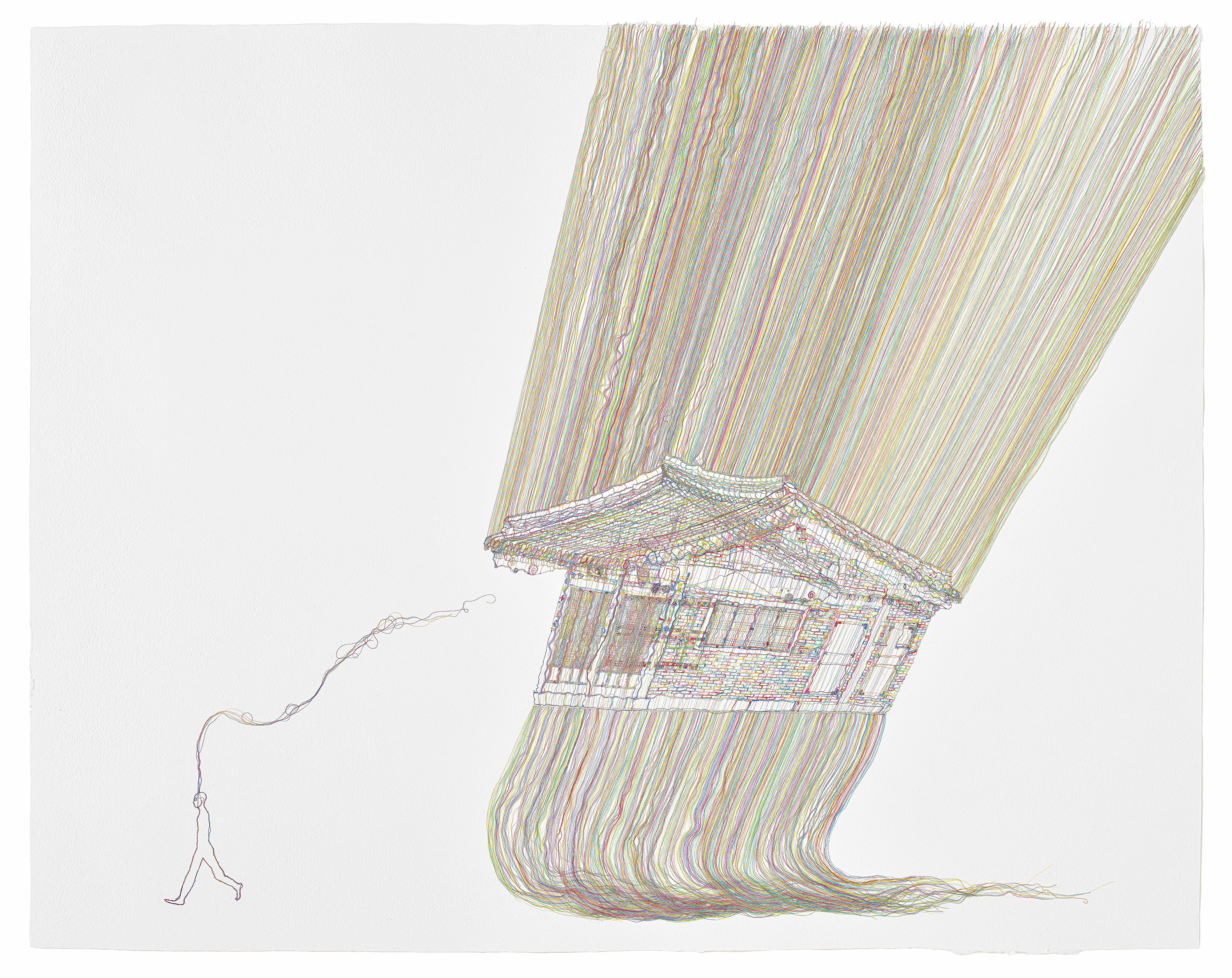 It's not always a marginal medium: the great South-Korean-born artist Do Ho Suh has long used thread to crowd pleasing effect in his candy-colored architectural sculptures. This year he's showing delicious 'drawings' of bright threads embedded in paper, among them pictures of the houses he's lived in floating weightlessly across the page, trailing threads like jellyfish as they go.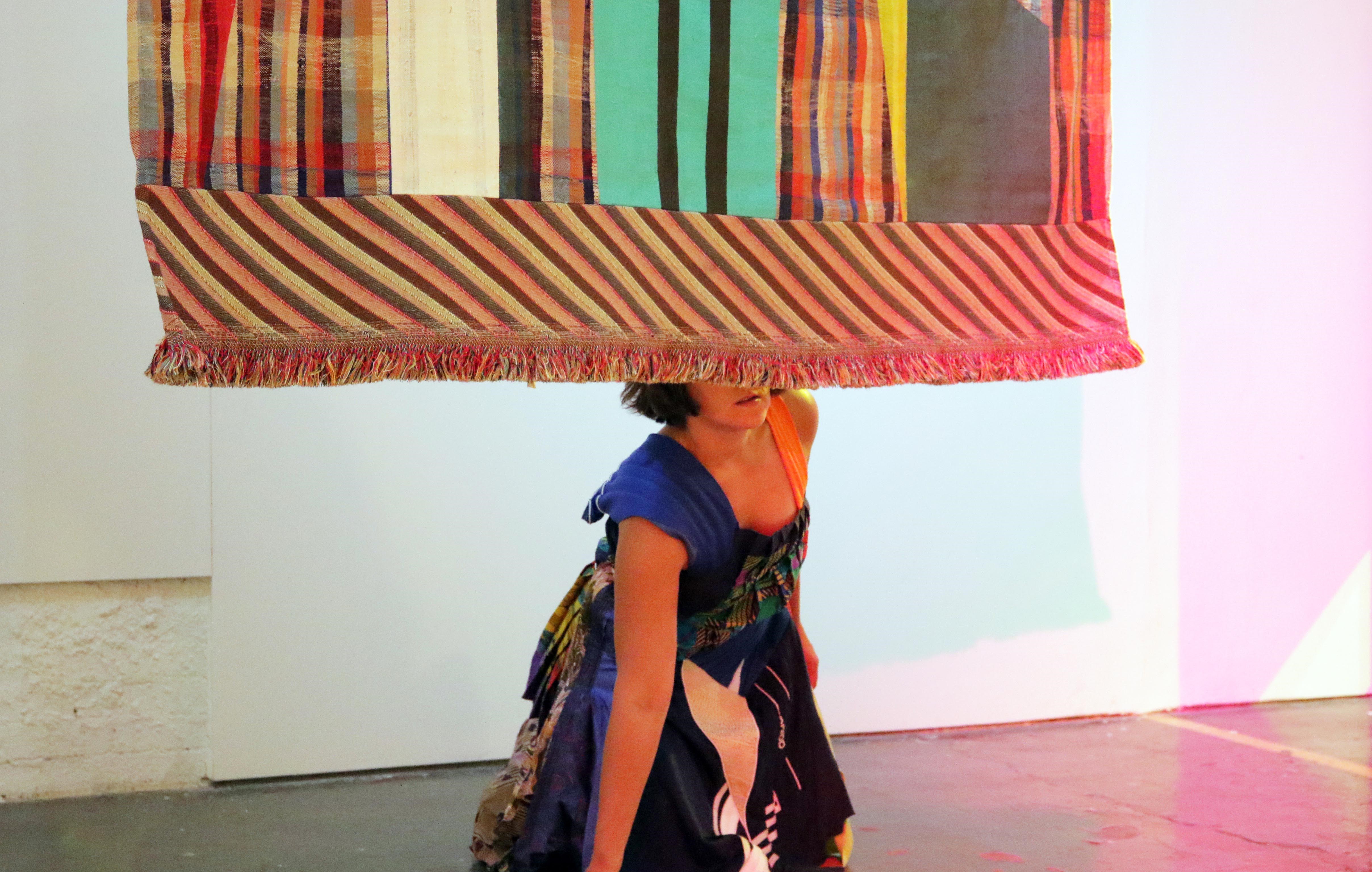 In the last few years, Shezad Dawood has made monumentally ambitious work in video and VR: he also makes textile collages with vintage fabric that he calls 'paintings without painting.' He's in Frieze London's live program with performances exploring non-binary thinking in South Asian modernism: pioneering mid-century architecture and art that imagined ways to be both modern and vernacular, rural and urban.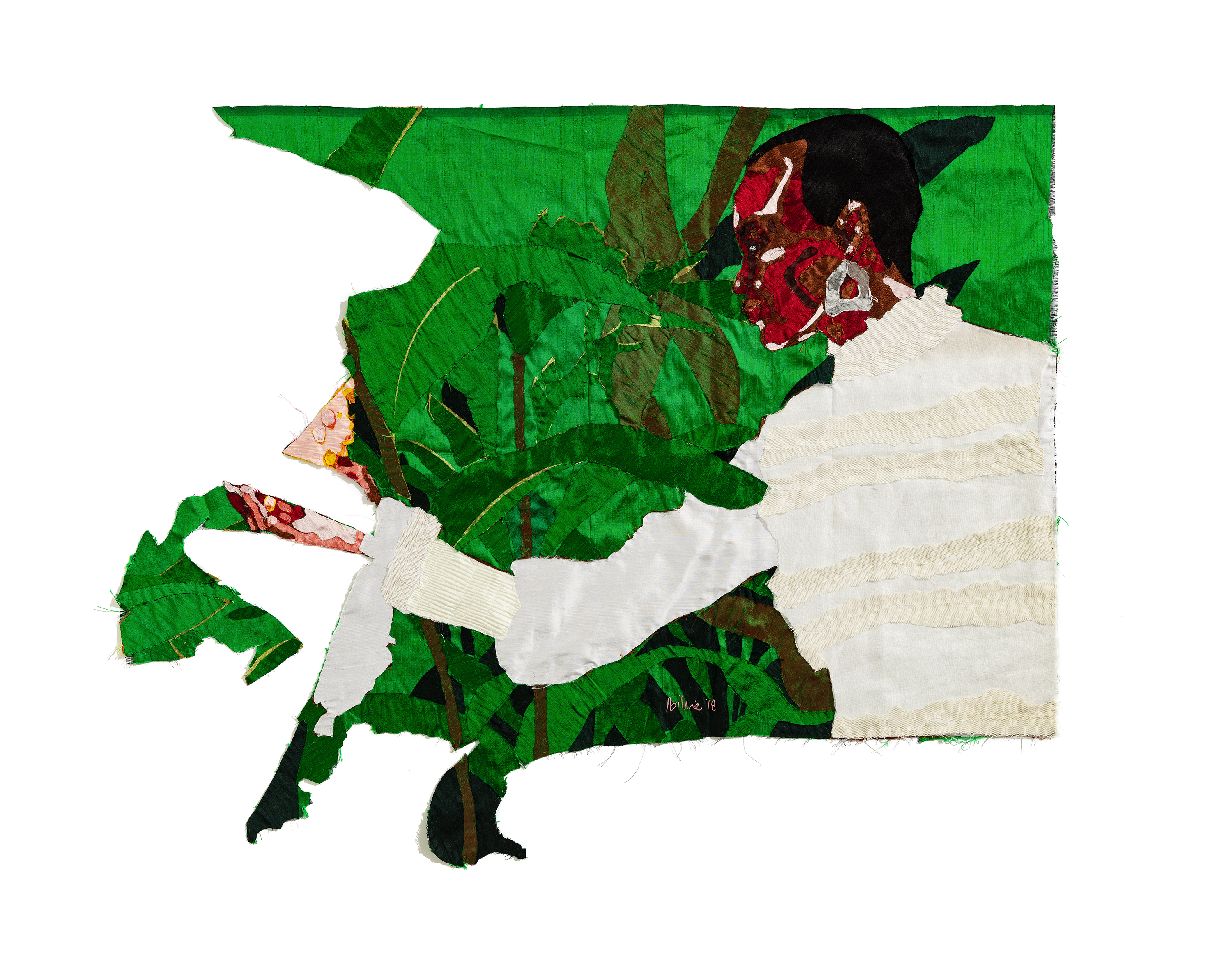 Billie Zangewa also 'paints' with textiles, but her gorgeous silk wall hangings (often ripped and oddly-shaped, as if they were capturing a moment glimpsed fleetingly) show snippets of life in the modern city. Zangewa supported herself for a while with modeling work, and still looks to fashion photography and garment design in composing her hand-stitched textile pictures, while also exploring issues around gender, skin tone and women's role in South African society.
Croatian artist Jagoda Buić came into textile work, too, from a garment background, though in her case it was theatrical costumes rather than fashion. That sense of drama rolled over into her art: in the 1960s and 70s she staged happenings out in the Balkan wilds (there's a great photo of her riding a horse between monumental suspended tapestries.) Her textile works look ready to receive a performance, like pieces of avant-garde music woven in fiber.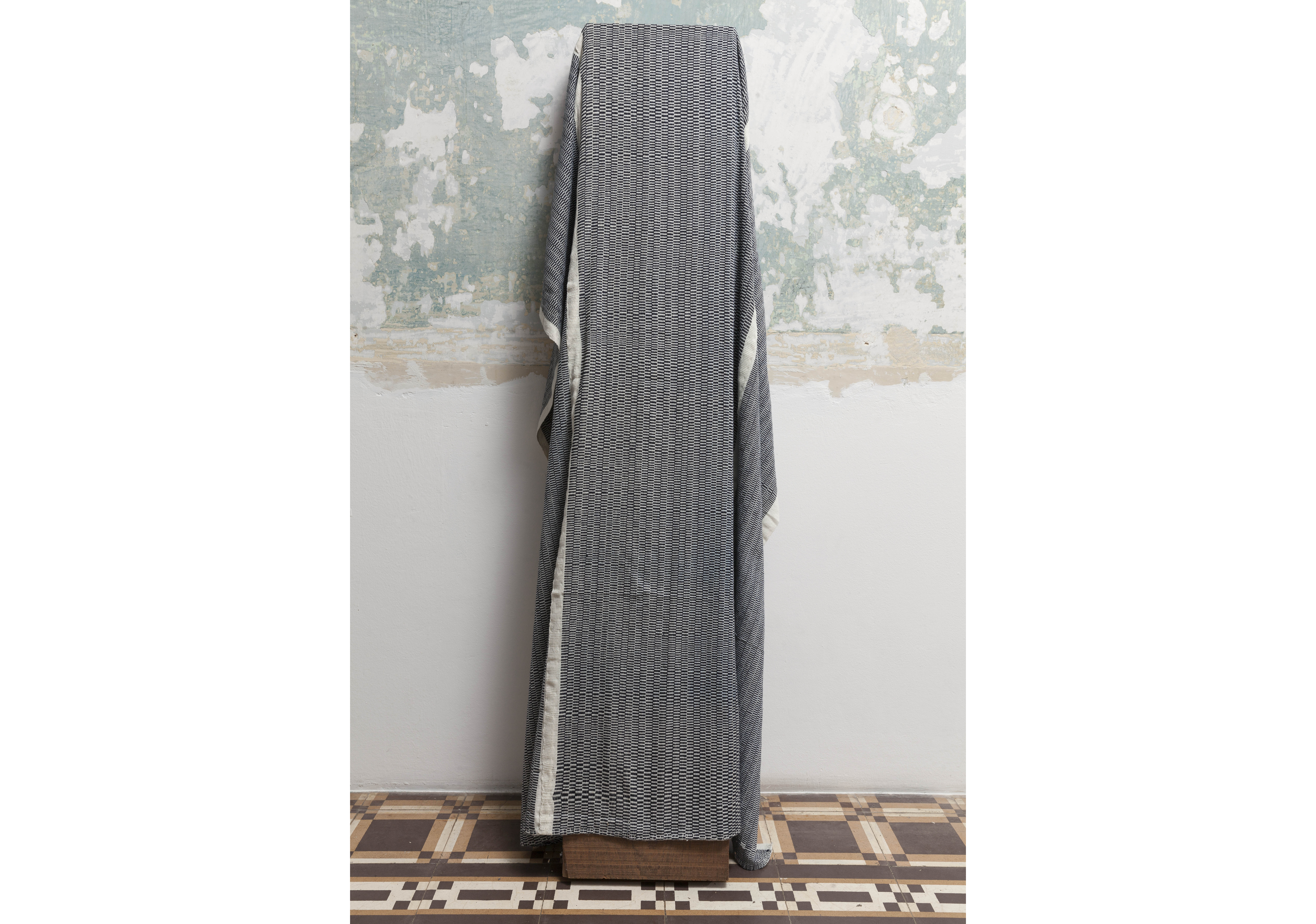 Hellen Ascoli is among the artists engaging more directly with ancient forms of making. Her elegant sculptural and suspended works were all woven on a back strap loom, still used for traditional Central American textiles. She has strong modernist antecedents: in the 1940s Anni Albers put back strap loom weaving on the curriculum of Black Mountain College, alma mater of Willem and Elaine de Kooning, Robert Rauschenberg, Merce Cunningham, John Cage, Cy Twombly and Kenneth Noland.
Following the ripples from Black Mountain, fiber art's last big moment came half a century ago. In 1969 MoMA staged the exhibition Wall Hangings, supposedly propelling the medium into the arty mainstream—Sheila Hicks was one of the star turns, as was Buić. By the end of the 1970s, crafty, hippy associations had done for it: soft and pliable, handmade and heartfelt, textile art hardly aligned with the dominant values of the 1980s. Textile's return is part of a broader crafty revival, but maybe we also need soft art for hard times.

Tagged: