Accidental Style Icon: Irma Vep
Latex serves as a transformative power in this '90s Olivier Assayas film starring Maggie Cheung.
Olivier Assayas's 1996 film Irma Vep acts as a document of three distinct but overlapping kinds of love: the love of cinema, the burgeoning love of a hip director for his actress, and—crucially, and most sensually—the love between a shy, luminous woman and her skin-tight fetish costume. Made in 1996, two years before Assayas married Maggie Cheung, it is a mostly-improvised, meandering film about filmmaking, propelled by an extraordinary turn from its lead actress as "herself." What is real and what is not real in Irma Vep is worthy of a dissertation. A filmmaker, René Vidal, is remaking a French film from 1915, Les Vampires, and has enlisted a beautiful star from Hong Kong to take on the role of Irma Vep, a cat-burglar in a black costume whose name is an anagram of "Vampire." René Vidal is fictional; Les Vampires, which was directed by Louis Feuillade, is not.
Because the film was made during the first flush of Assayas and Cheung's love affair, the camera looks at Maggie Cheung the same way "Maggie Cheung" looks at herself in mirrors once she's dressed as Irma Vep: longingly, nervously, with a slow-blooming undertone of the erotic. Vidal's vision for the character is inspired by the costume worn by Michelle Pfeiffer as Catwoman in Batman Returns, a detail that is made significant by the fact Pfeiffer first appears in the film not as Catwoman, but as the mousy and sexless secretary Selina Kyle. ("Mousy and sexless" is, obviously, relative in the case of Michelle Pfeiffer, just as the idea of Maggie Cheung not being aware of her own sex appeal requires that we willingly suspend our disbelief.) Accordingly, "Cheung" is taken to a Parisian sex shop for a fitting. "I say it's like [a] hooker['s outfit]," the costume designer, Zoé, says, a cigarette still dangling from her mouth, "but you know, if he wants hooker, that's okay. So now we are in a shop for hookers."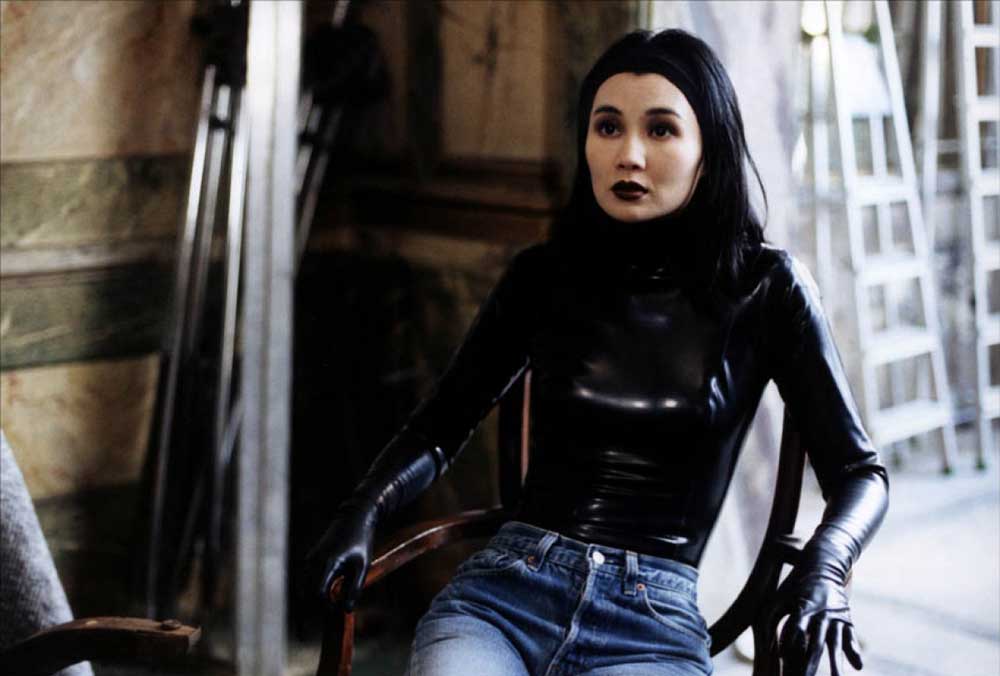 "During her costume fitting," Zoé later tells a friend, "she really seemed to get into it. Her costume is pretty tight. All latex. It's the usual, except no zippers on the breasts. It does have zippers [on the crotch]. But she's pretty, so she wears it well…[and] it seemed to turn her on. In fact, she asked if she could buy it after the shoot." Zoé is outspoken and openly bisexual, a chaos agent with a moped and a nicotine addiction. She is also, unsurprisingly, in love with "Maggie Cheung;" the "director" is, too. How could they not be? "Cheung" treads cat-like, or cat-burglar-like, along a floss-thin tightrope between innocence and vamp-like provocation. That contradictory air is never more apparent than in a scene where she is rehearsing on the set, covering up her oil-slick catsuit with a pair of 501s. Her upper body and her make-up, heavy as a look for Halloween, remain haute-gothic; from the waist down, she is dressed for running errands at the mall. The look is so extraordinary that it seems ridiculous that no designer has yet copied it: it is bizarre, and accidentally high-concept, and against all odds it also looks desirably chic, a high-low mix of domme and farmhand worthy of Demna Gvasalia.
"I wasn't filming Maggie Cheung," Assayas wrote in 2008, "but a performer wholly receptive to looking inside herself…and ready to follow that through into its innermost darkness, into the invisible." The movie's "Maggie Cheung" excavates her character's psyche as a means of uncovering the mysteries of her own; what turns her on about the catsuit is not necessarily the fact that it is so revealing, but the fact that it reveals some previously-hidden version of herself. When René Vidal tells her he wants her to "be" rather than act in her first scene, she gestures to the skin-tight suit: "It's not so easy," she says bashfully, "in this." "No, this is your mask for the world," he fires back. "Wearing it will make you free." Assayas presumably did not mean to make a movie about the self-actualizing possibilities of clothing—the importance of adopting, as the smaller of the Edies famously says in Grey Gardens, "the best costume for the day"—so much as he intended for the suit to be a metaphor: a visualization of a newer skin, a stranger, freer self. In the film's most iconic scene, we watch 'Cheung' tiptoeing at night through her hotel dressed in her costume, stealing jewelry from a stranger, and then tossing what she's looted off the balcony. She is a cat-burglar on a hotel roof, as hot as molten asphalt. "Dreamin', dreamin' of a girl like me," we hear Kim Gordon snarl, a Sonic Youth song on the soundtrack. "And I feel like I'm disappearing, getting smaller everyday / But I look in the mirror, and I'm bigger in every way."