Ancuta Sarca's Frankenstein Footwear Wonderland
The 28-year-old Romanian designer and Fashion East upstart talks about her radically sustainable process.
Photo Will Sanders
One of the weirdest and greatest parts of the most recent Fashion East show at London Fashion Week, was a presentation from a young Romanian designer named Ancuta Sarca. A former Meadham Kirchhoff intern and member of the Ashish studio team, the 28-year-old designer splices upcycled Nikes and kitten heels together to create a Frankenstein-esque pair of shoes that carefully balance masculine and feminine.
Sarca's process is one that is inherently sustainable: she sources her materials all across London's flea markets and thrift stores, and often reuses materials across several different pieces. Nothing she makes is mass-produced—it usually takes her a few weeks to finish a pair of shoes, even with the help of a small team. The meticulousness pays off: Sarca's craft is incredibly alien and boundlessly creative. GARAGE talked to the designer about how fashion can work towards being more sustainable, and how her life has changed in light of coronavirus.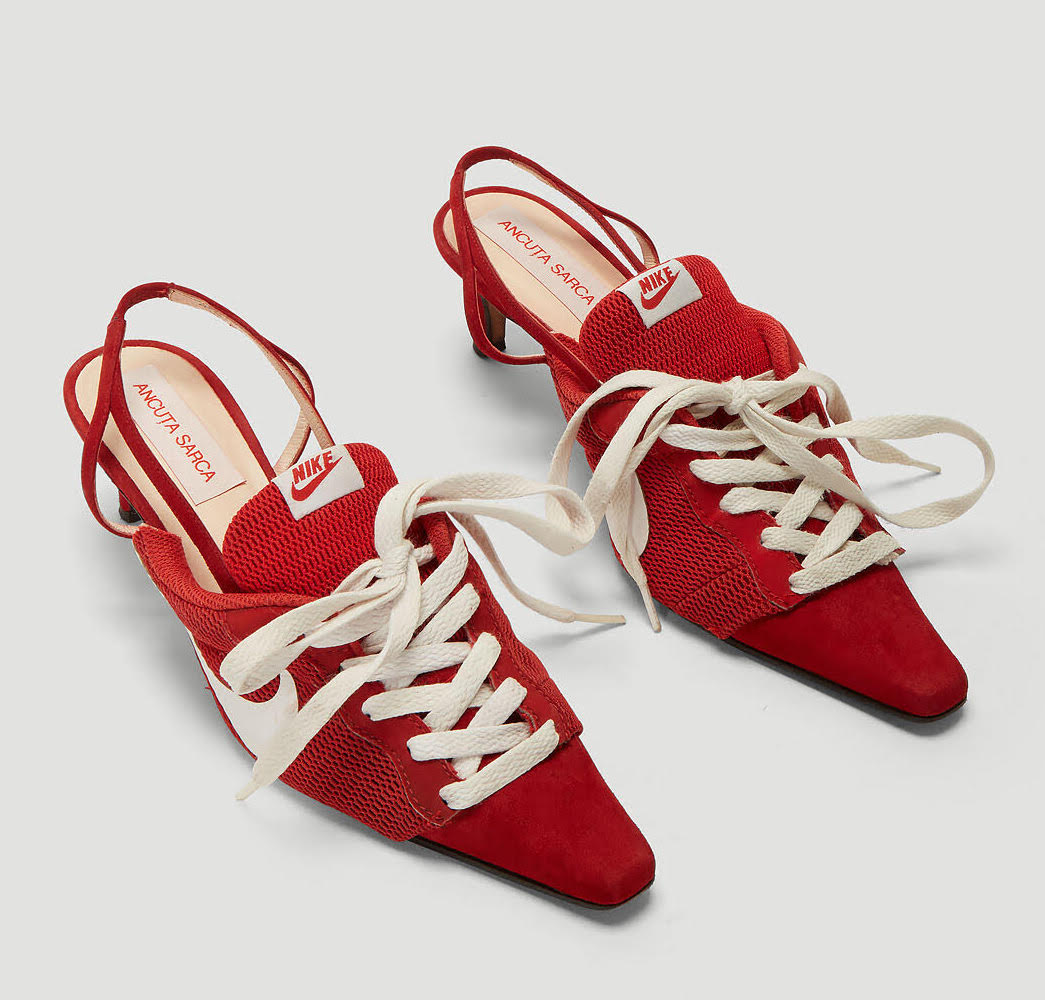 Tell me what is exciting and subversive to you about making shoes that are both extremely feminine and masculine at the same time.
I like the versatility and the contrast of it. For a very long time trainers have been associated with sports and menswear, and I like the idea of feminizing them, and wearing them as heels and changing their purpose. Same with the kitten heels, they usually seem very feminine or uncomfortable but the Nike trainers change the perspective, I think.
What is important to you about upcycling and sustainability in fashion?
Working as a designer for so many years I could see from my own experiences how much waste goes into making a new collection. I think we need to change that and re-think the process. Using materials and products that exist already instead of throwing them away, is a good start. We need to rethink and reflect upon what has gone wrong in the past that brought us here, and make changes. People who work in fashion earn very little to nothing, from manufacturers, assistants, unpaid interns. We should reconsider the way we work with materials, the fabrics we use, and what we are going to do with all the waste and start working towards that.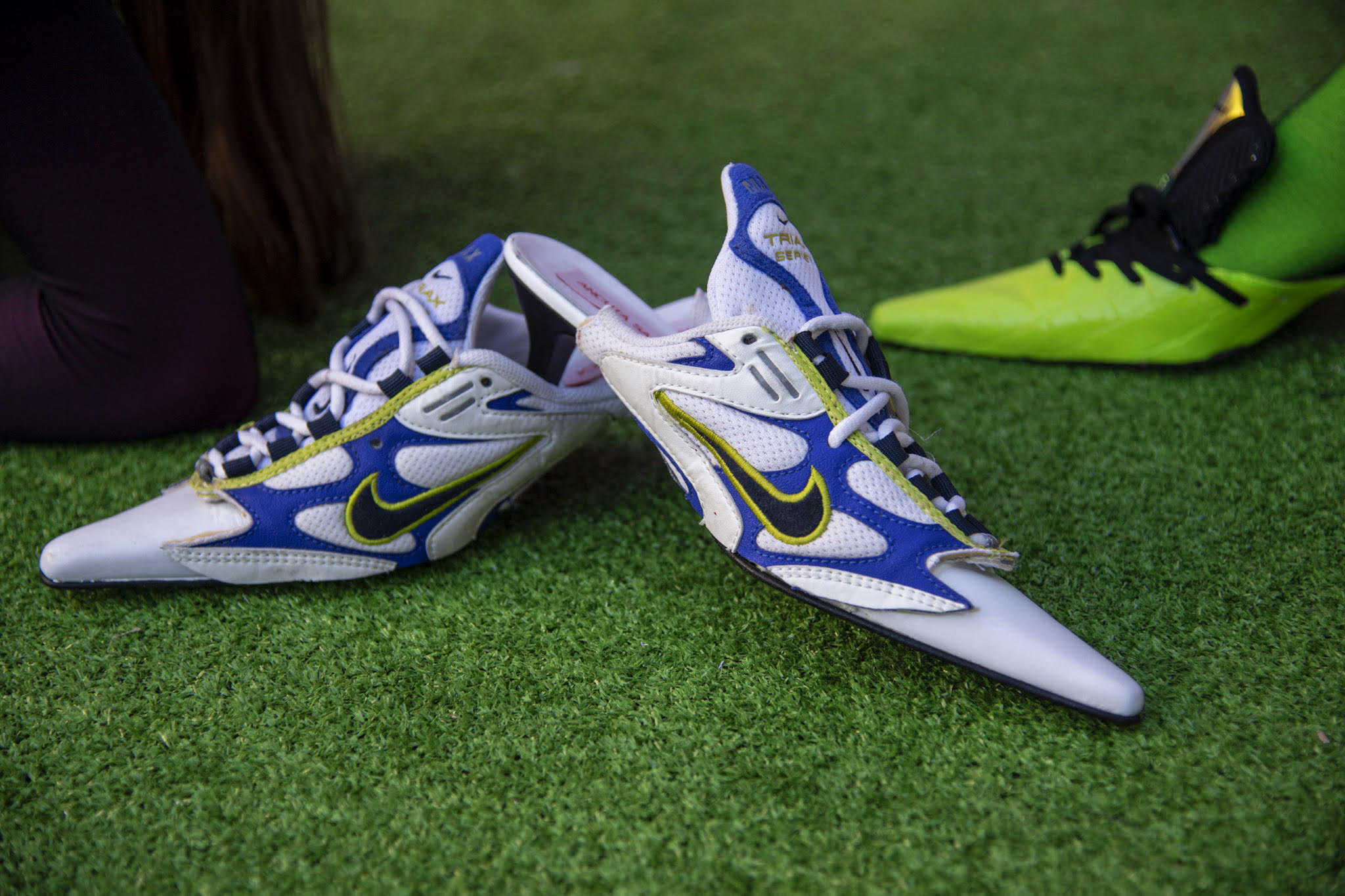 How does sustainability factor into your life and your craft?
My previous collections are made out of upcycled materials—I buy second hand and deadstock products that stores can't sell anymore and re-work them so they don't go to waste. I think circular design is a first small step towards a more sustainable future. I don't do mass production, and I reuse a lot of the materials I have left from previous projects. So basically I just try to reduce the waste as much as I can. It's very challenging though especially when it comes to production, or finding factories to help, as it's a totally different process for them than what their normal practice. In terms of my own upcycling practices, I start by looking for both trainers and heels and I buy whatever feels attractive to me and inspires me. If I have a pair of trainers that I really like but there is nothing I can match it with, then I have to look for the perfect heel shape that would work with. I have some people helping me with cutting and sewing, and I also did some samples with a small factory in Italy, as I am trying to improve the quality as much as possible. I use a very complex process of re-making them from hand sewing to dying the trainer or the heels, airbrushing, painting, or changing the upper materials to something newer, varnishing, etc (see image attached). This season I also used individually sourced vintage metallic clasps on some of the styles. It's a very long process and it can take weeks to finalize a pair of shoes.
How does being Romanian shape your sensibility as a designer?
I don't think I take direct inspiration from Romanian culture, but I think it's helped shaped my design and craft approach. I learned how to sew when I was around 13 from my grandmother who was making traditional costumes (I grew up in a very traditional town where people still wear traditional costumes at celebrations or on Sundays). The work on these garments is insanely intricate and very meticulous and it was fascinating to see my grandmother having so much patience with it. This was a great craft example for me and it had a big impact on how I work.
W**hat does your life look like right now during this extremely uncertain time. How are you coping in isolation? Do you feel more or less compelled to create? Are you still in London?**
I am isolated at home in London, I share a flat with another friend so at least I haven't lost total connection with people. I try to do as much work as I can but I also use this time to reflect on my practice and how I can evolve and what changes I could make. In a way it's actually good for me not to feel the social pressure for a while and change the life rhythm a bit. I try to have a daily routine so in the morning I exercise, then work, cook, read, and take video calls with family and friends. It's really difficult to work though since all the factories, suppliers, stockists, warehouses, stores are closed down at the moment and not sure when they are going to open. There will be some delays in the production since all the suppliers are currently closed but I am trying to make the most of what I can every day.
GARAGE is committed to ongoing coverage of the global climate crisis. Read all of our Anger Management zine here, and more of Vice's Earth Day coverage here.