In Praise of Nina Van Horn
The iconic former model and editrix from the late 90's sitcom "Just Shoot Me" belongs in the pantheon of most fashionable TV characters of all time.
Among many other things, quarantine has been a time in which people have been revisiting iconic TV shows of years past, like Gossip Girl and The Sopranos. I have instead been rewatching Just Shoot Me, a workplace sitcom about a fictional fashion magazine named Blush that ran on NBC beginning in 1997. The star of the show was ostensibly David Spade, fresh off his sting on Saturday Night Live and two movies with Chris Farley (R.I.P.), who played the assistant to the magazine's founder and editor-in-chief played by George Segal. (Yes, I had a crush on Spade. And yes, his blonde hair—in all its glorious iterations throughout the years—remains an important point of discussion/follicular inspiration, but this piece is not about him.)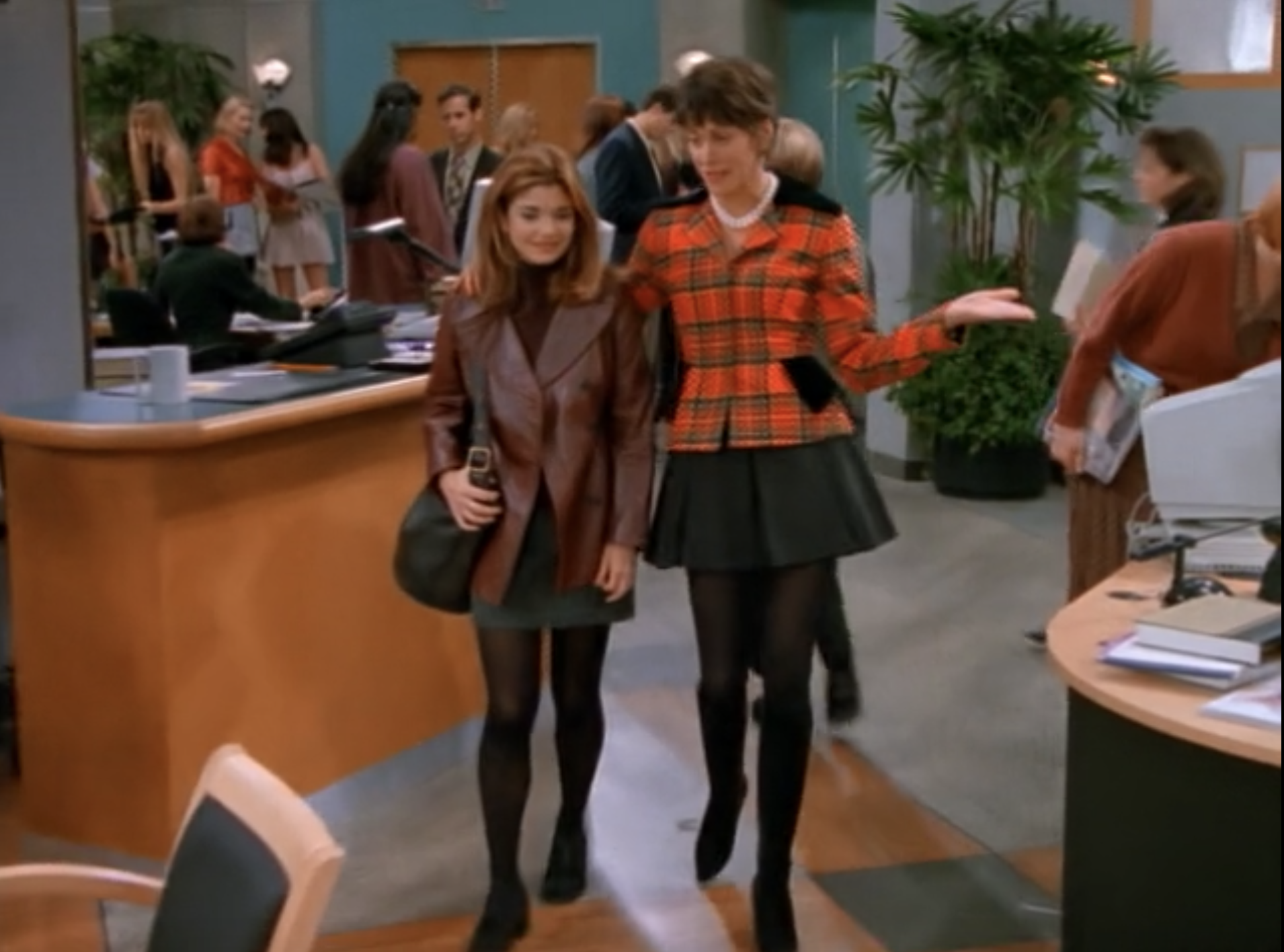 Instead I would like to direct your attention to the glorious, inimitable Nina Van Horn, a model-turned-fashion-editor played by Wendie Malick, who embodies every single over-the-top fashion stereotype mushed together to become one of the weirdest and funniest characters on television. Nina doesn't believe in breakfast, loves cigarettes, lives off of booze and drugs, has had sex with everyone (and isn't afraid to talk about it!), and is definitely on PETA's most-wanted list. She's the greatest.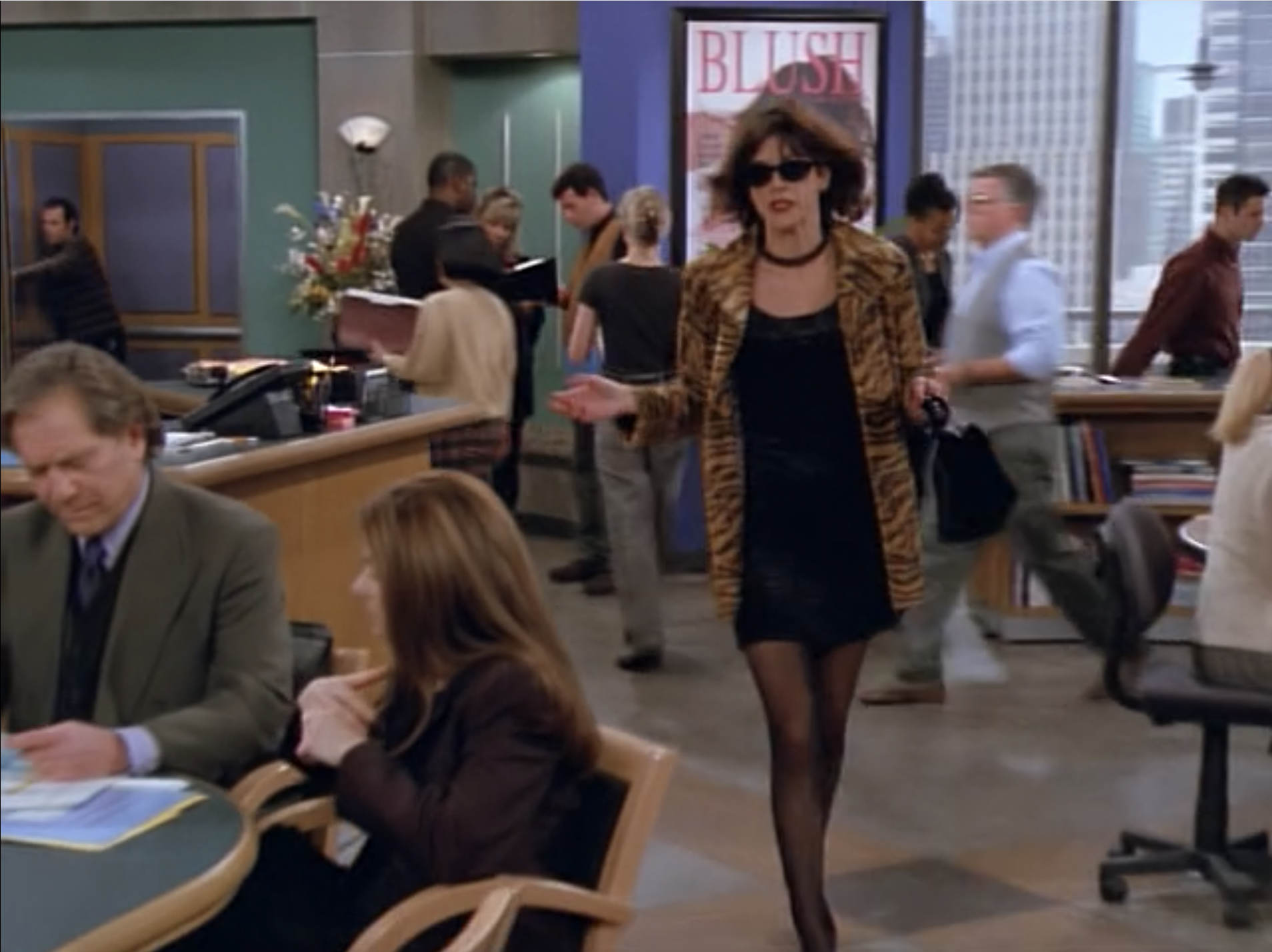 To say that this show could never get made today is an understatement, and yet, it may be because of its archaic, wholly un-PC point of view, that the it has become such an escape for me. I'm up to season four (the show ran for six seasons from 1997 to 2003), but it didn't take long to realize that Nina had an exquisite wardrobe of '90s classics that had begun to influence my searches on The RealReal late at night. She favors sleek, minimal silhouettes in animal prints and bold colors; it's all very rich and very body-conscious.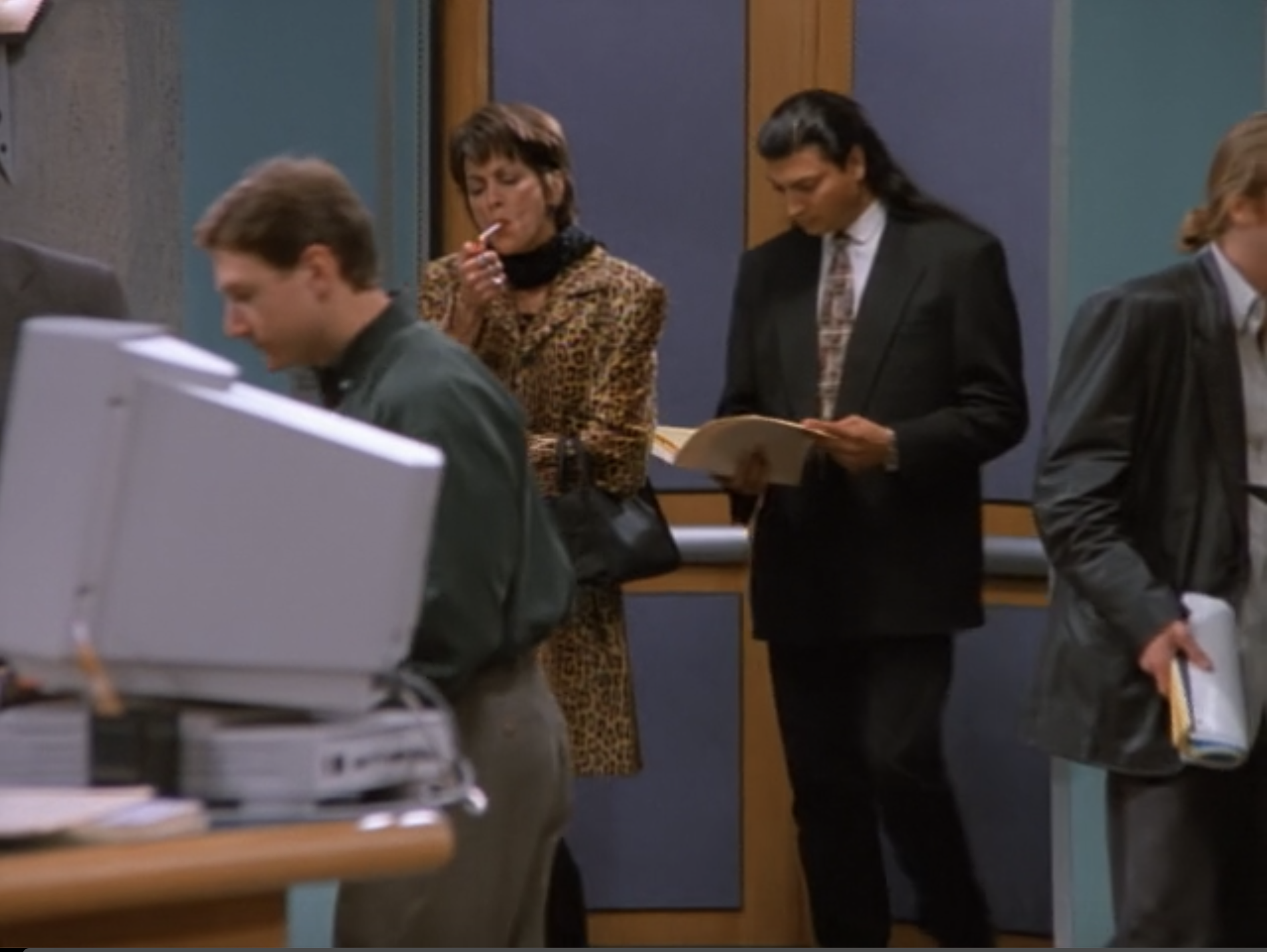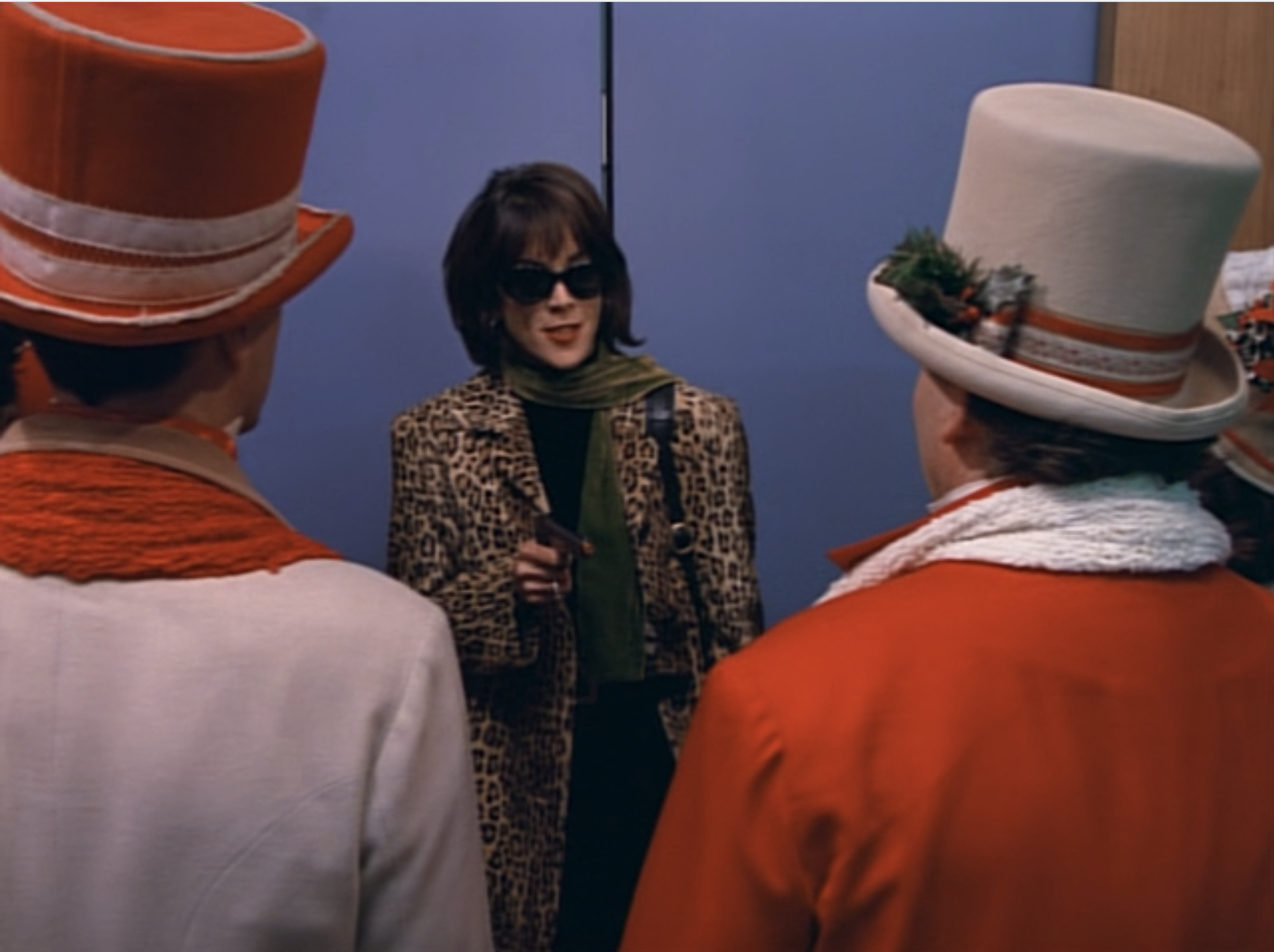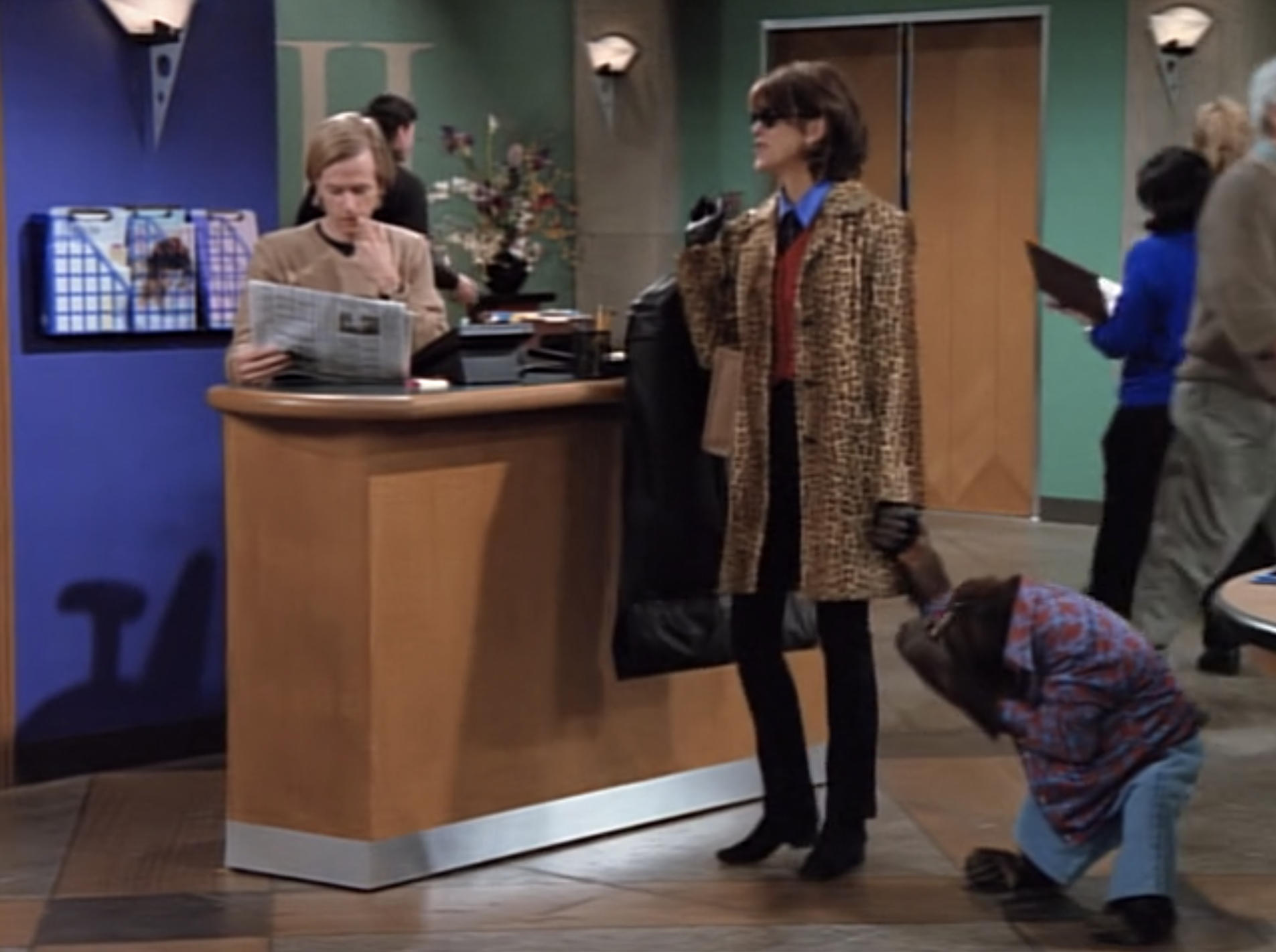 This leopard print-midi jacket might be the most ultimate Nina Van Horn wardrobe piece. I love it because it reminds me of the one Sheryl Crow wears in the video for "If It Makes You Happy" (it feels like Nina could've been the stylist for it!), but also because it's a piece that she keeps coming back to throughout the years. In fact, going through all the screenshots I had taken while watching the show, I realized that I was picking up on some of the same pieces again and again. It seems that Nina's wardrobe followed the advice of so many fashion magazines: to consider buying investment pieces that you will wear forever, except whereas magazines recommend buying pieces in neutral colors like navy, khaki, or black, Nina believes animal print is a neutral. (It is.)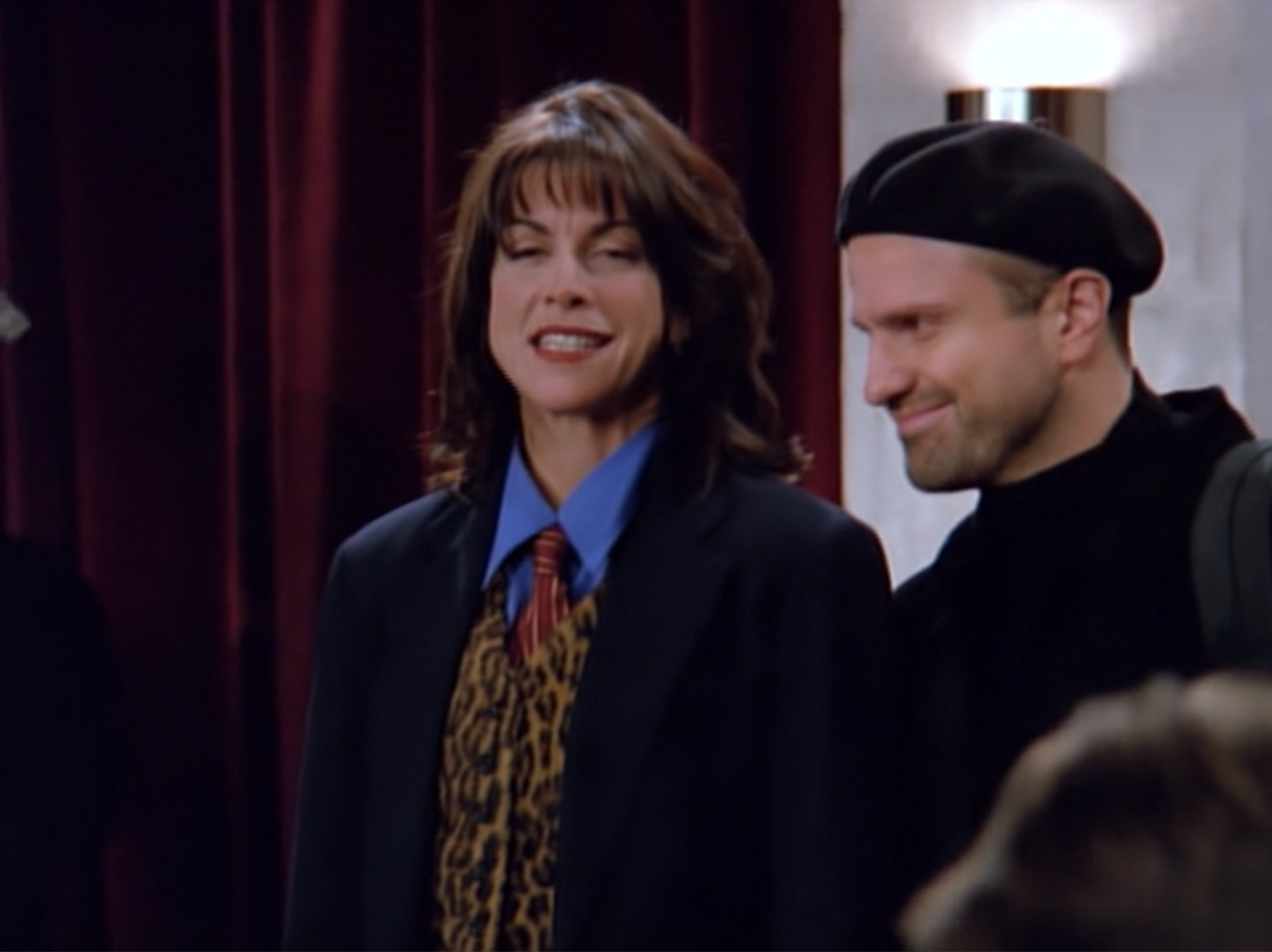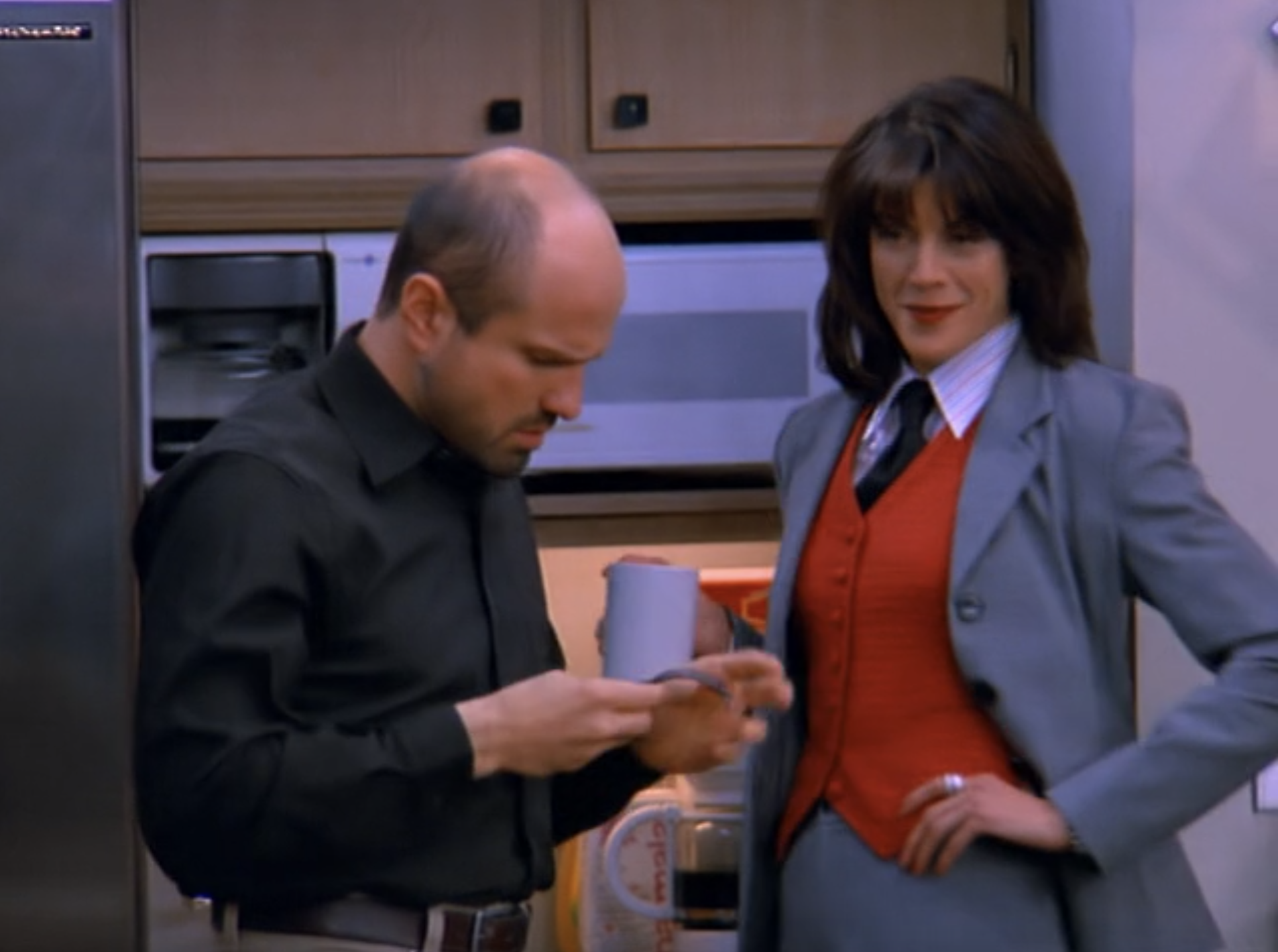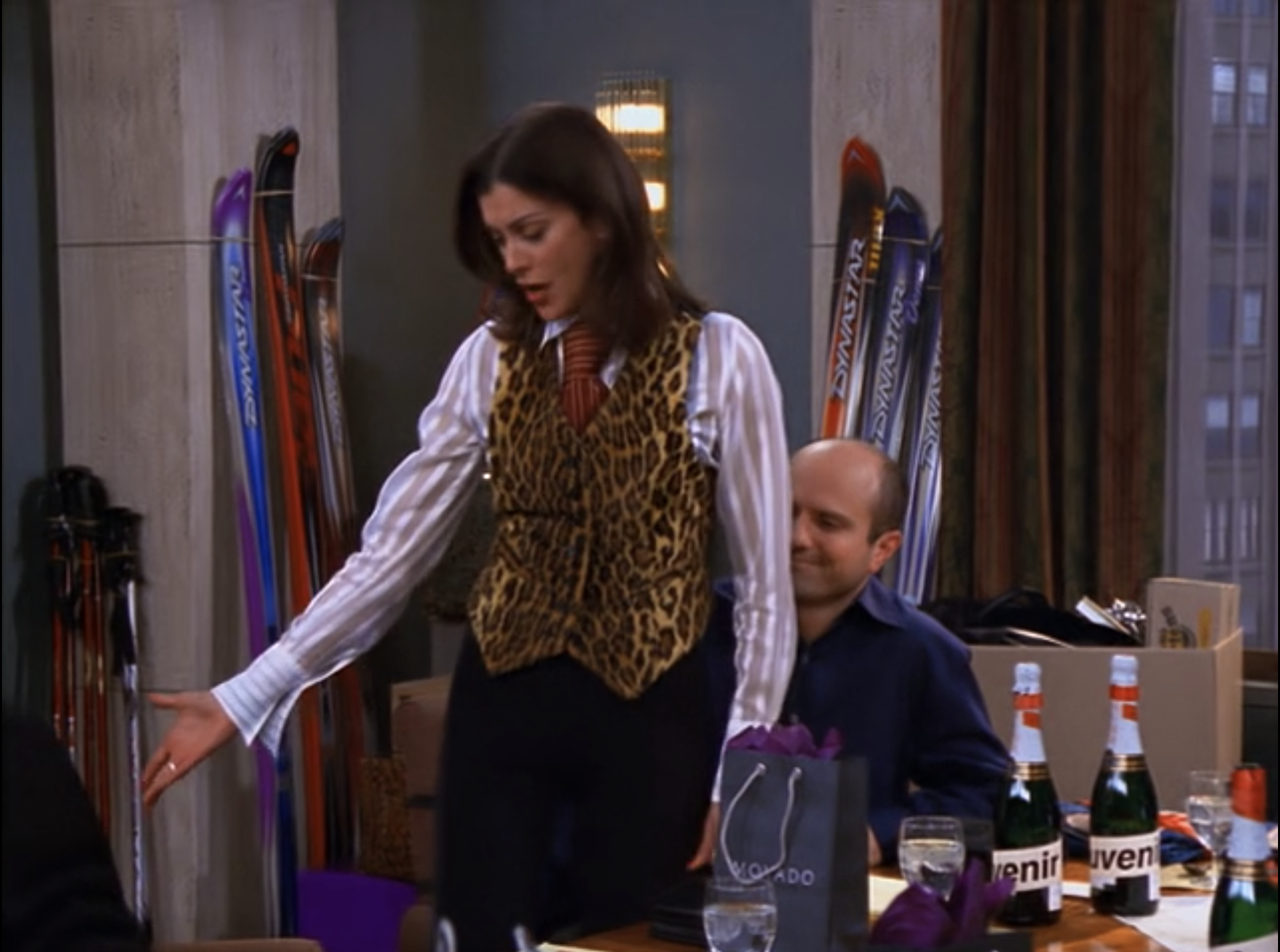 Nina also has a penchant for menswear-inspired looks, meaning wearing mix 'n' match iterations of the three piece suit. This was a very au courant thing in the '90s (hello Ralph Lauren!), but the way she does it, feels very fresh, even today. Once again, you can see the reappearance of certain pieces—the red vest, the animal print vest, the bright blue oxford (which made me think of a similar shirt The Row showed for spring of last year), and even the striped red tie. (Unsurprisingly, The Row also loves a three piece suit.) If you wanted to, you could build your own version of Nina's wardrobe, which suddenly seems like an incredibly appealing proposition. Although the delicate sheer white striped shirt is a gorgeous contrast against the leopard vest, it's the first version, with the blue shirt and red tie that does it for me. A little irreverent, but a lot of class!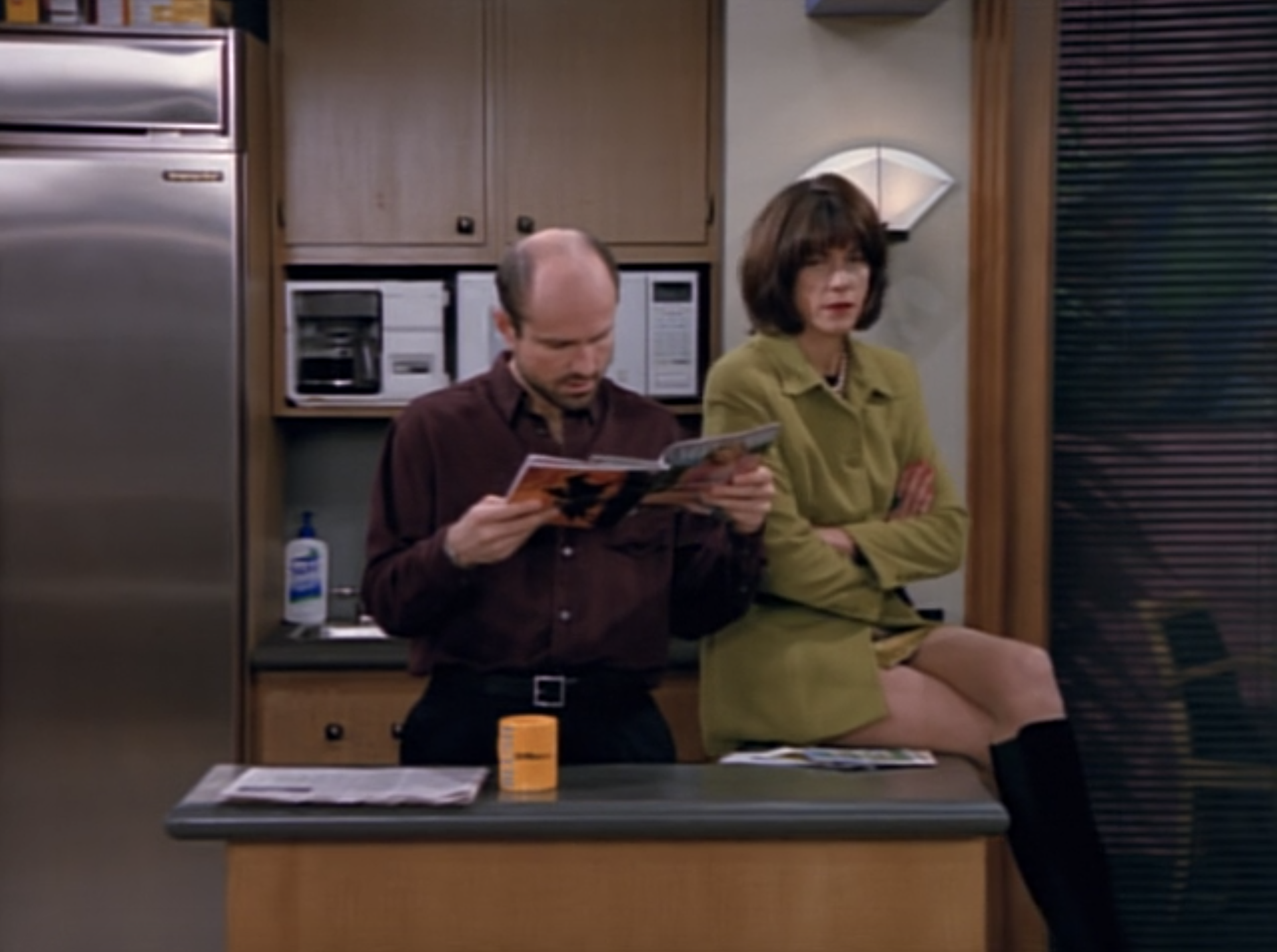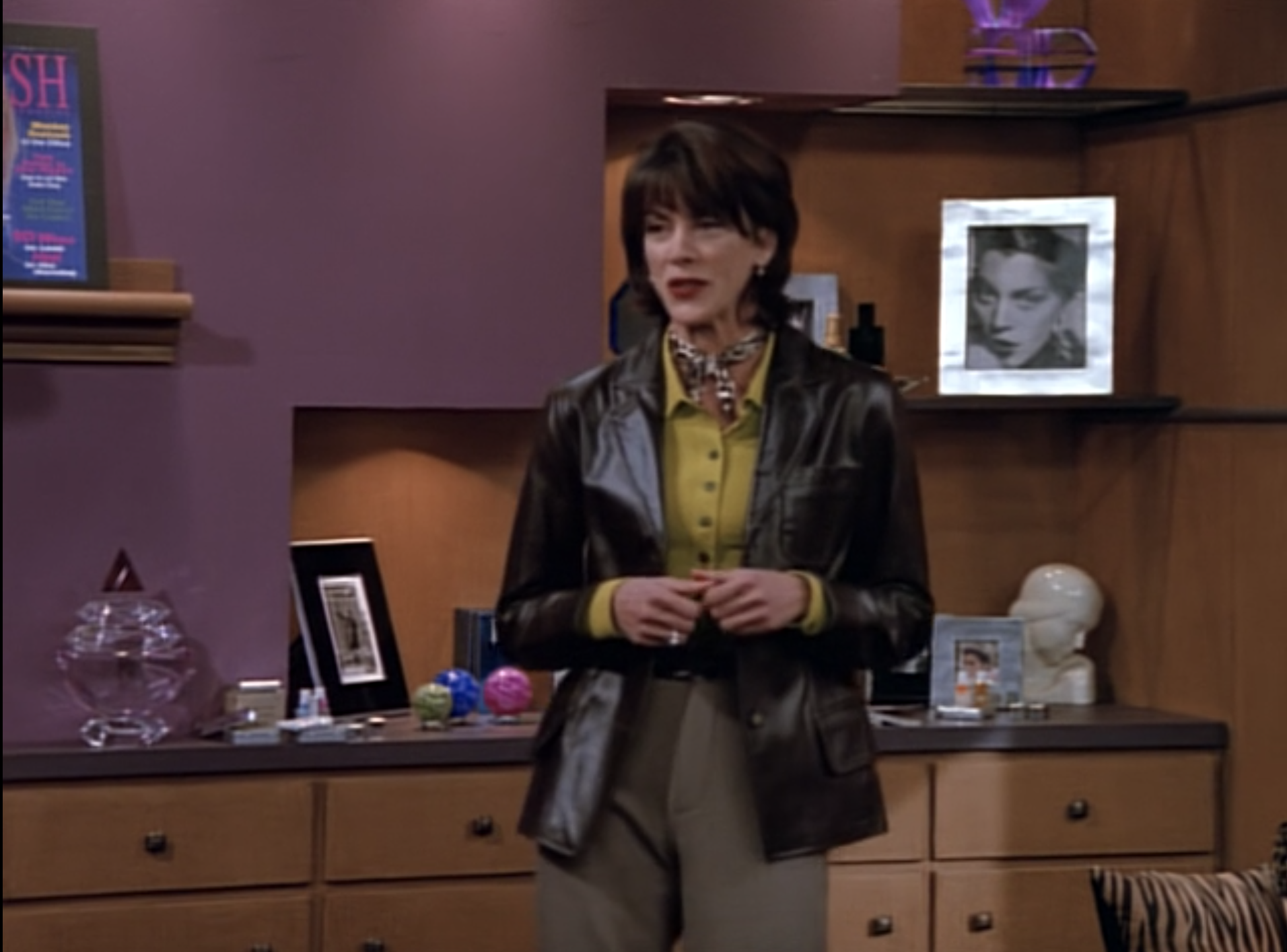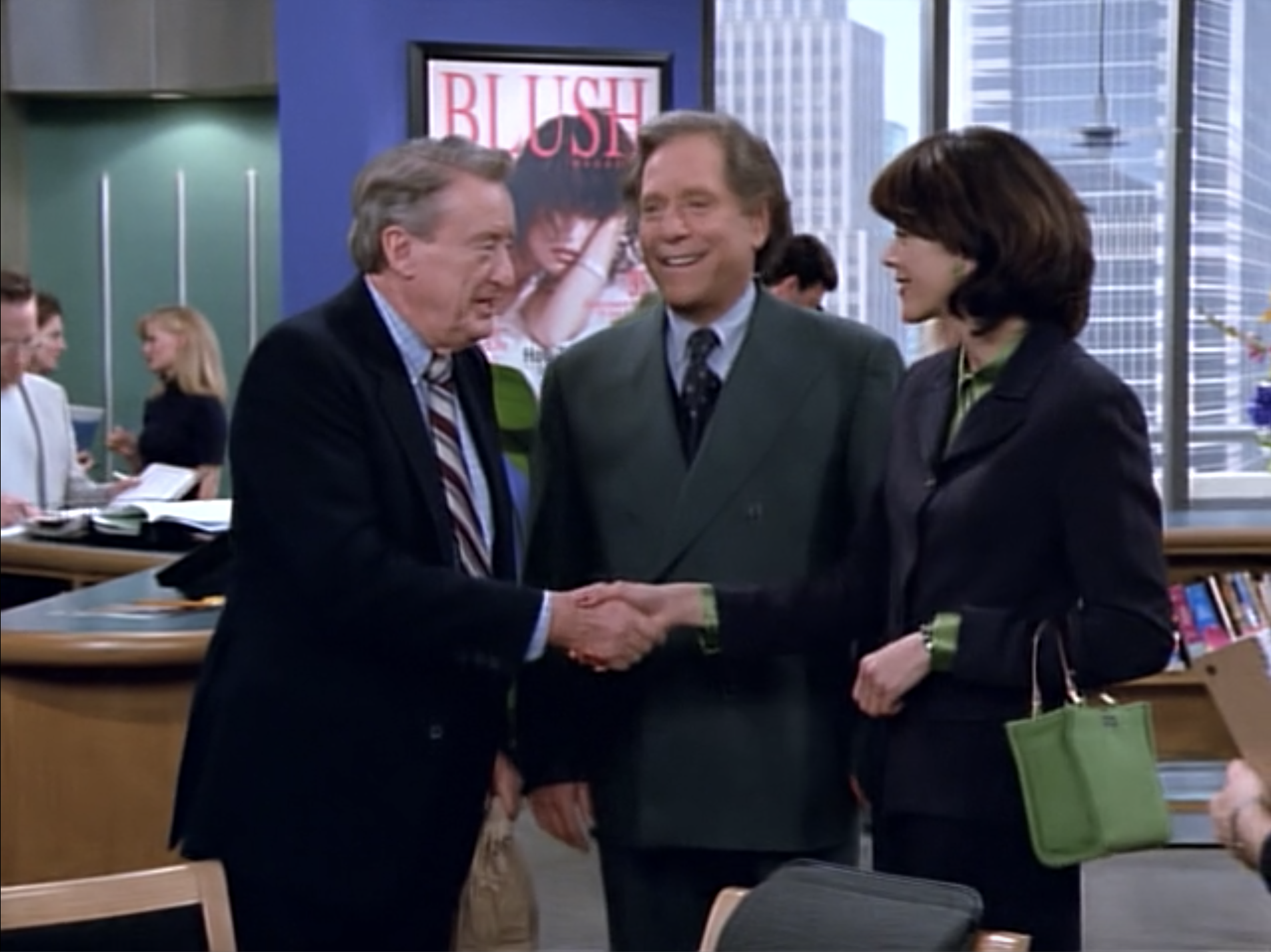 Although Nina wears a lot of (power) red, it is her penchant for greens that has become my favorite. A mossy green suit with a long jacket and a matching little skirt feels very Versace, but once again it's when she starts mixing things up that things get really exciting. The acid green knit polo tucked into pleated khakis and worn under a dark brown leather jacket is very Board of Trustees at the Metropolitan Museum of Art, especially when you tie a scarf around the neck. (Personally, I love a scarf around the neck, a forgotten accessories moment!) But THEN, we get to the navy suit worn with a green satin button down shirt (screaming '90s!!!!), it's one of her most prim and proper looks. But wait—is that a little Kate Spade sac in a matching shade of green? Ooh Nina Van Horne, you have done it aga-een.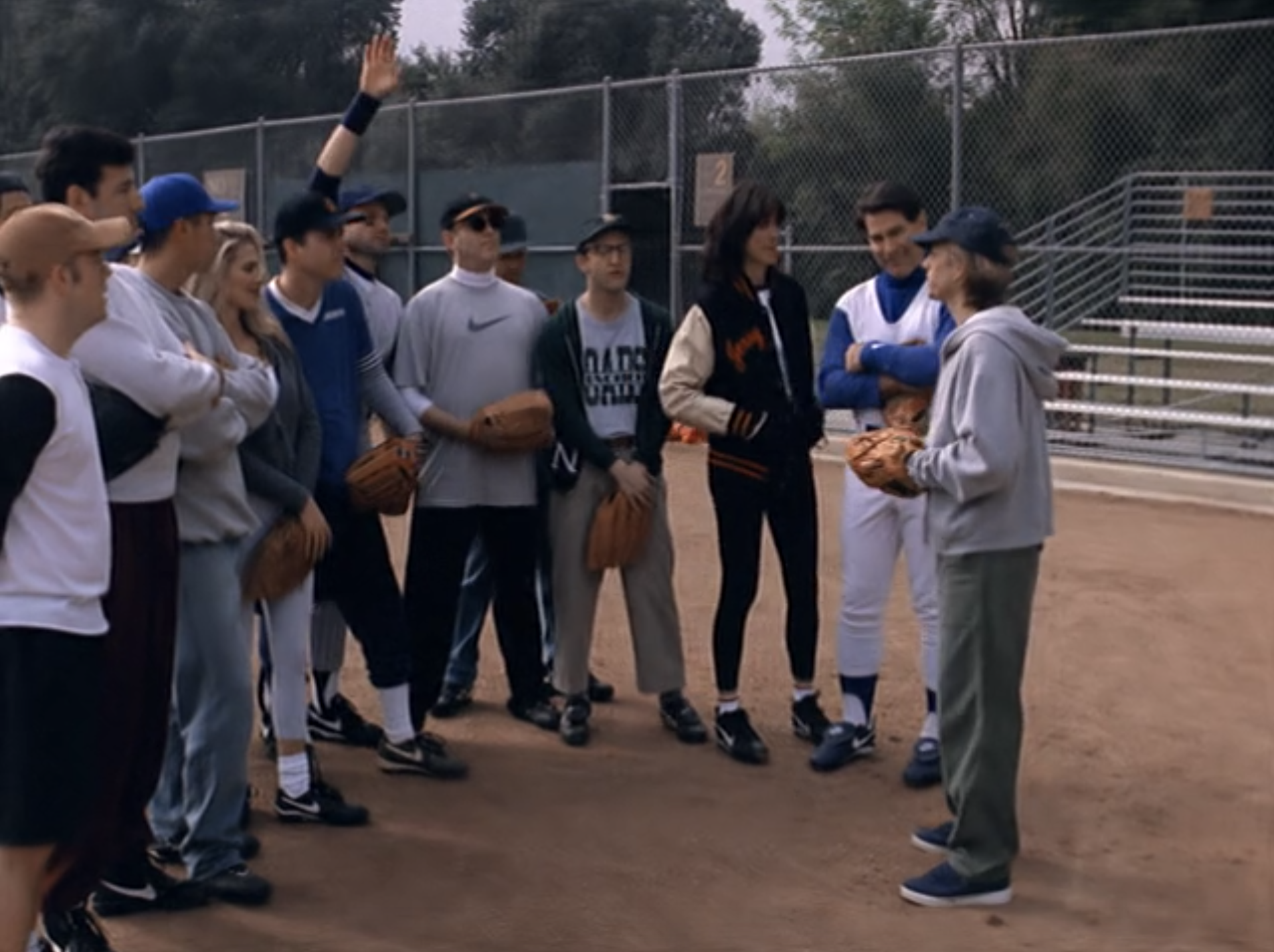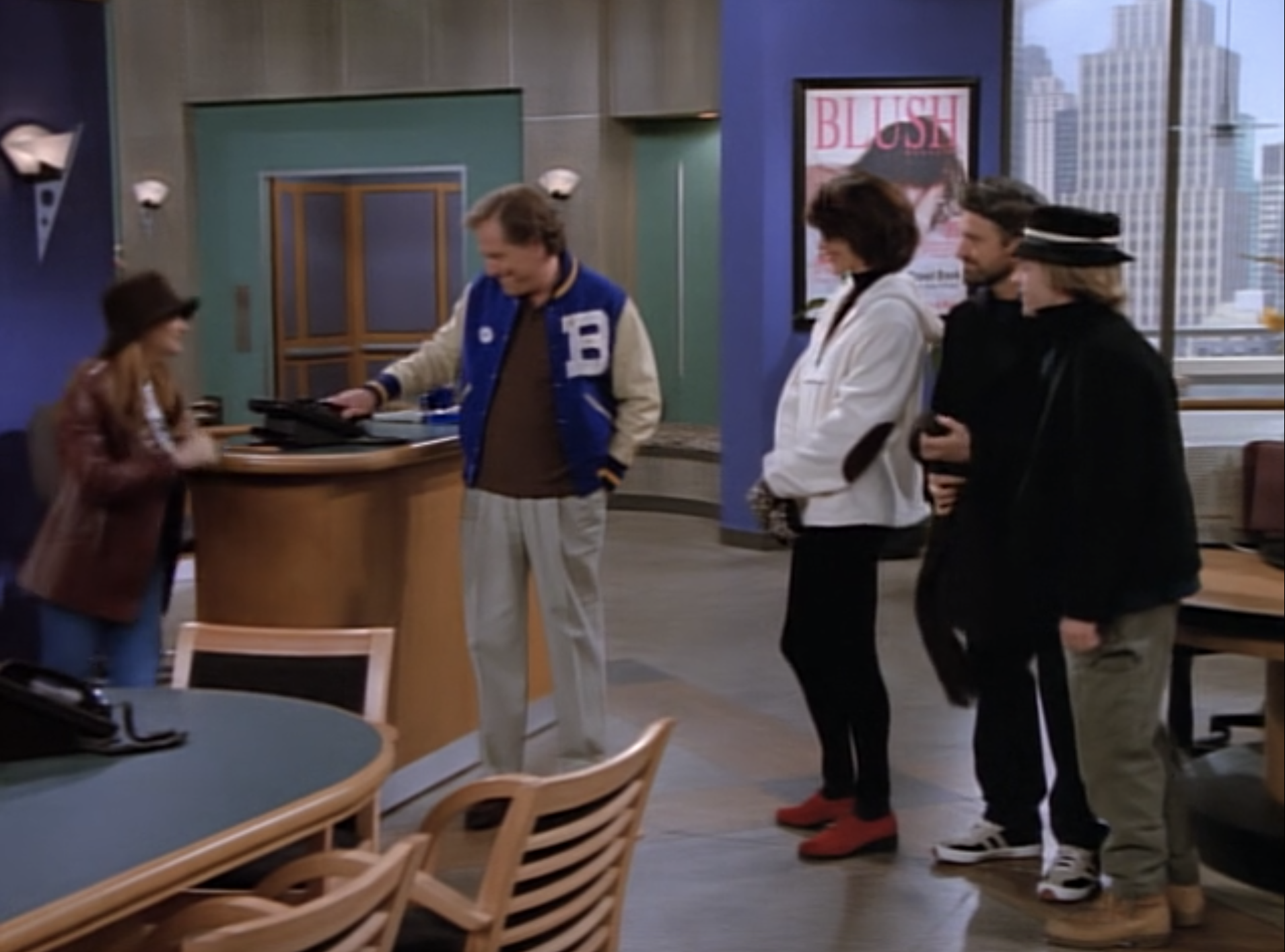 And her off-duty looks are just as killer. At the company baseball game against Cosmopolitan, she stands out in an oversized letterman jacket and fresh Nikes. For a wintry walk with her co-workers, a gorp-y white oversized fleece worn with black leggings and red suede oxfords. (If you look closely you'll notice the gloves are, indeed, leopard print). In fact, even when wearing barely anything at all, she still manages to make a statement.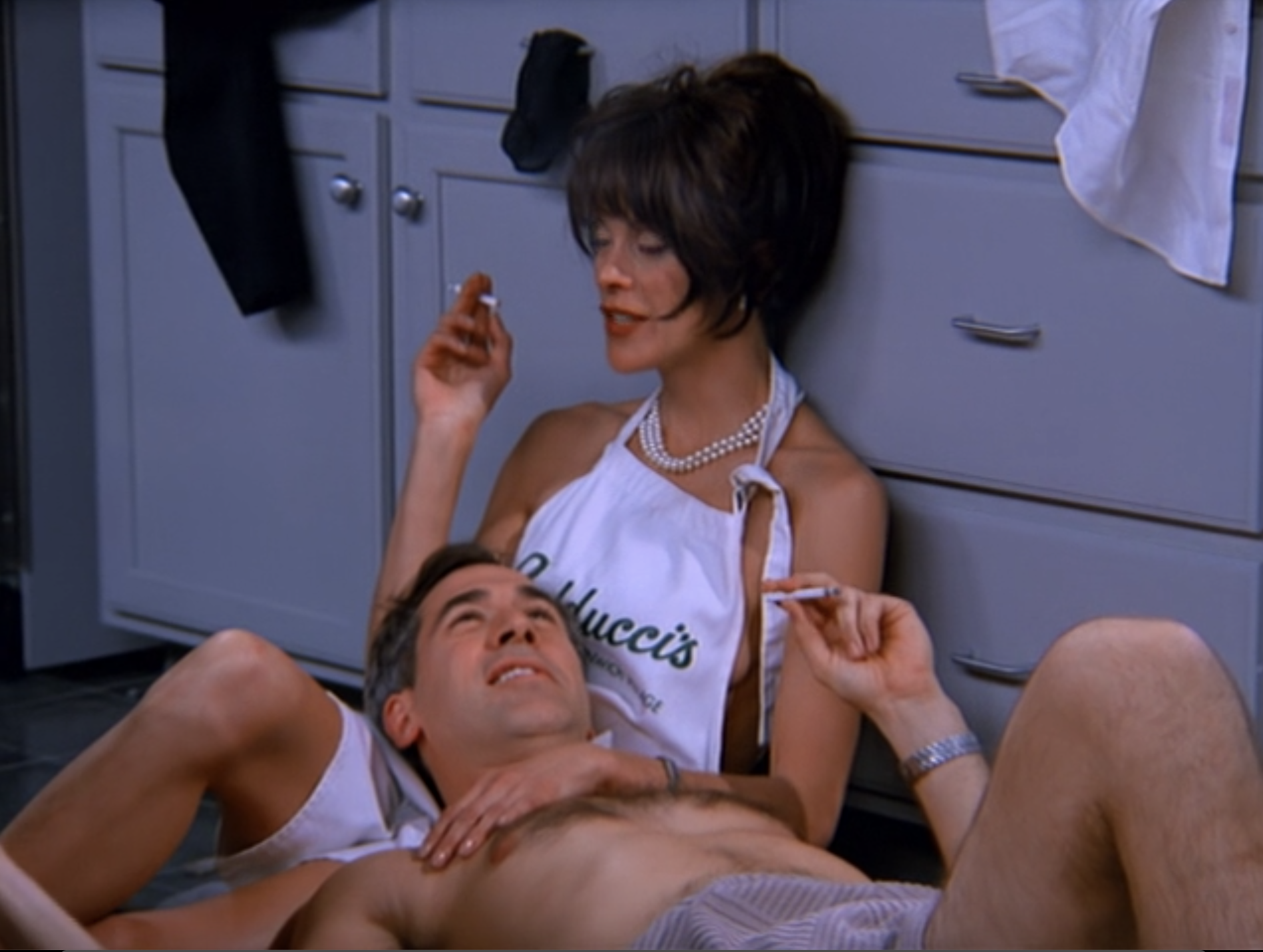 An apron, pearls, and a cigarette? What else can I say? Nina Van Horn forever.