Images courtesy of Martine Rose
Martine Rose's Digital Playhouse Feels Like Home
The British designer's one-off virtual reality film festival features short clips of friends in their natural environments all around the world.
Images courtesy of Martine Rose
As the old adage (?) goes, if Drake's in it, I'm there. In the case of Martine Rose's delightfully voyeuristic digital one-off show, What We Do All Day, Mr. OVO himself makes a six-second appearance, wearing a soft gray shirt made out of a technical sports fabric, a pair of sweatpants, and pristine white sneakers, while standing in a recording studio next to some boxed water. He is one of roughly a dozen participants in a presentation that starts out in a digitized courtyard surrounded by many green doors that open and up and reveal someone in their home. Like Drake. There is a clip with Drake. Not sure if I mentioned that yet.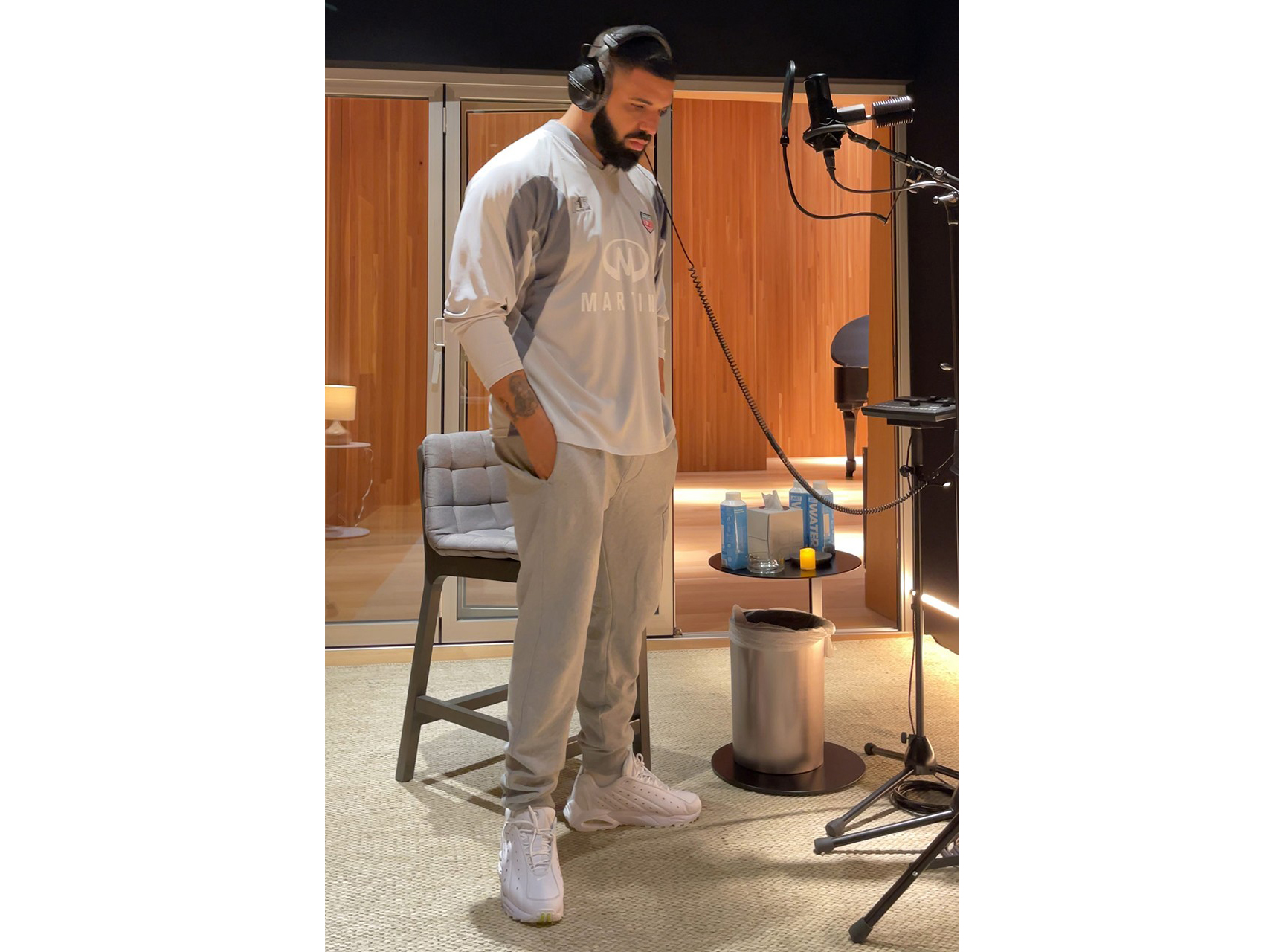 This presentation features clothes from Spring 2021, which Rose initially presented as a lookbook late last year. Featuring oversized, slightly preppy, slightly sport menswear, the collection, the collection also was a COVID-era social commentary, with models in the background in little transparent isolation pods, gazing idly into laptops and reclining alone on couches. The collection is about sex: imaginary, in person, and entirely on the internet. Because intimacy comes in all forms and can be reimagined ad nauseam, it makes sense that Rose would place her clothing in this situation—that is, on all of her friends, all around the world.
Besides Drake, Rose cast friends like Hitoshi Violet and Ylow of the punk band Psychoheads, filmed at home in the Tokyo suburbs. The two are dressed in light wash jeans and leather loafers, ripping cigs and hanging out, giving off a '70s glam rock kind of vibe. There's also Cola Boyy, a musician known for making disco pop who lives in Oxnard, California, working on new music in his room, hunched over a keyboard wearing a graphic T-shirt and lounge pants, as well as the legendary reggae DJ Big Youth in the studio in Kingston, Jamaica, in a light blue striped shirt, loosely fitted jeans, and a cowboy hat. He's smiling and looking otherwise cool as hell. We also see inside people's rooms in cities like Seoul, Algiers, and Moscow. The interiors we see couldn't be more different, even in the same cities; we visit London multiple times, and move through huge flats with high ceilings and large windows, to smaller spaces cloaked in purple lighting. Getting to see all of her friends live their lives and do whatever it is they do feels soothing, they almost kind of feel like your friends. Rose's project reminded me of being on FaceTime and watching a friend cook dinner or clean the house. In other words, What We Do All Day felt unposed and a true glimpse into the life of all different kinds of people.
Rose's reworking of the visual aspect of her own collection fits neatly into the narrative that has prevailed in the fashion industry throughout the past year. For a while now, the fashion world has been shifting its understanding of how to present clothes, something which was heightened with the arrival of quarantine measures last year. There's something about it that reminded of Balenciaga's video game presentation—it was loosely interactive—but it was more like a film festival presenting a collage of TikTok clips that show people being well, people. It's not quite like anything I had ever seen before, but it also felt almost a little bit like home.

Tagged: