How Many People Does it Take to Make Art Work?
Partners, gallerists, assistants, dancers, zombies. An artist's practice is full of collaborators—five of New York's most vital young artists share theirs.
It seemed strange to publish this story, which appears in the print version of GARAGE Issue 18, about family, community and collaborators given that living in quarantine has changed the ways we interact with the world. (For the most part, these shoots could not take place today.) We asked the artists to let us know where they were quarantining, what their version of community looks like now, and the ways in which the quarantine has changed their process if at all. Their answers are below.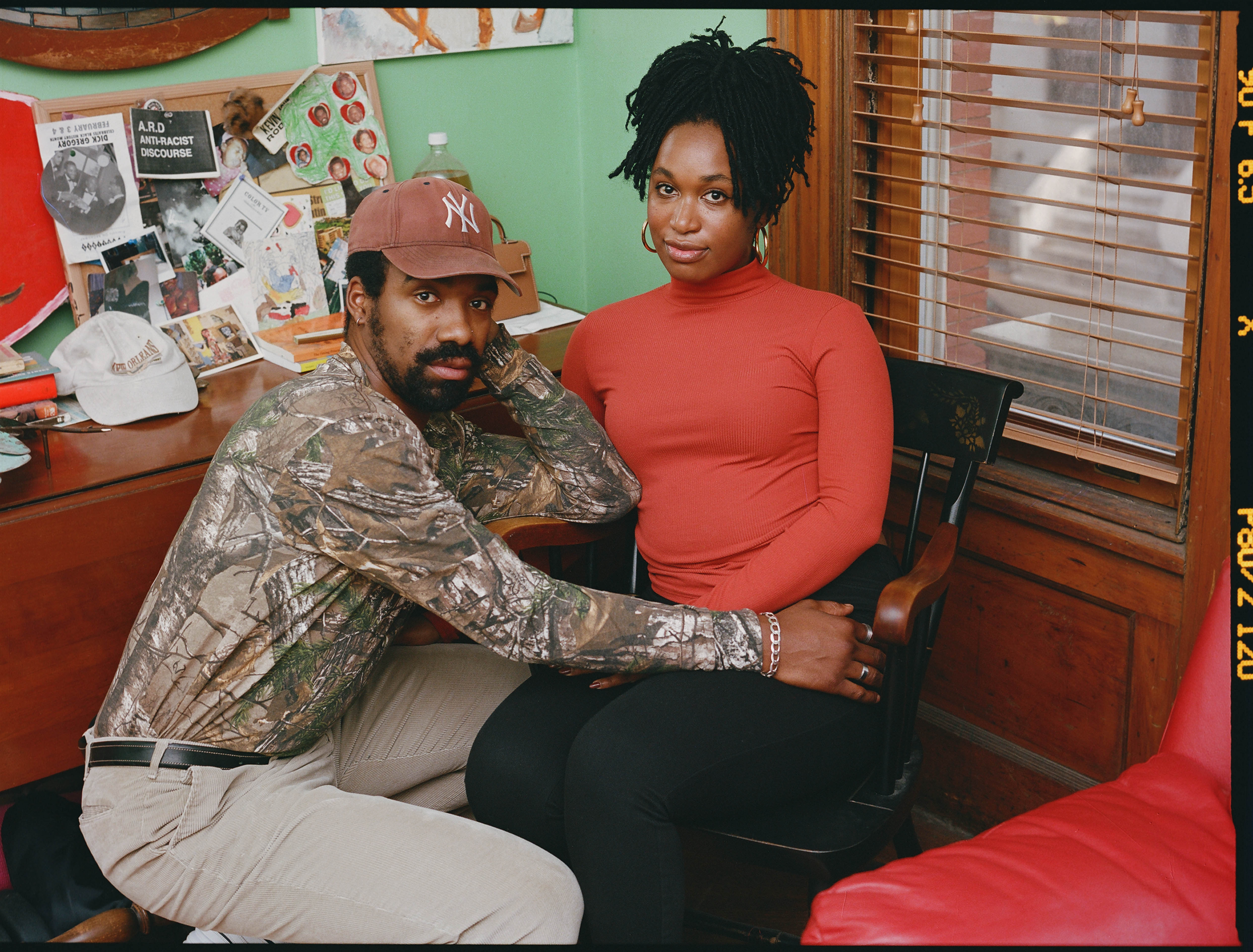 Tschabalala Self
"When I'm in New Haven, I'm just working in my space—it's a pretty solitary experience," says the painter Tschabalala Self. She adds, "I don't have a huge social life. I have my family, my four siblings, my boyfriend." She chose to be photographed with the latter. After she graduated from the MFA program at Yale in 2015, she watched as her fellow classmates gradually moved out of New Haven and on to cities that are more traditional artists' hubs—Brooklyn, Berlin, Los Angeles, etc. But Self decided to stay, and eventually started taking over the studio spaces of her neighboring friends as they left. Now she has enough space to make the increasingly ambitious, collaged canvases that she's known for, some of which will be shown this year at Eva Presenhuber's New York outpost on Great Jones Street. (It's not that bad of a commute for Self—the gallery is just over two hours from New Haven by train.) She is also close with her dealers, with whom she often travels to various openings and shows. As demand for Self's work continues to grow—her pieces have sold for almost $500,000 at auction—that travel schedule will only increase.
"I am currently quarantining in the Hudson Valley. My vision of community looks the same—I am just looking forward to the day and time when I can hold space within my community again. The quarantine has been very humbling and I am even more thankful for those closest to me. I think everyone will remember who reached out to them during this time. Quarantine has caused me to work more slowly and without a defined goal in mind which has been liberating in some ways. The uncertainty and destruction brought on by the virus has been sobering and inspires me to work harder to bring meaningful imagery into the world." —April 23, 2020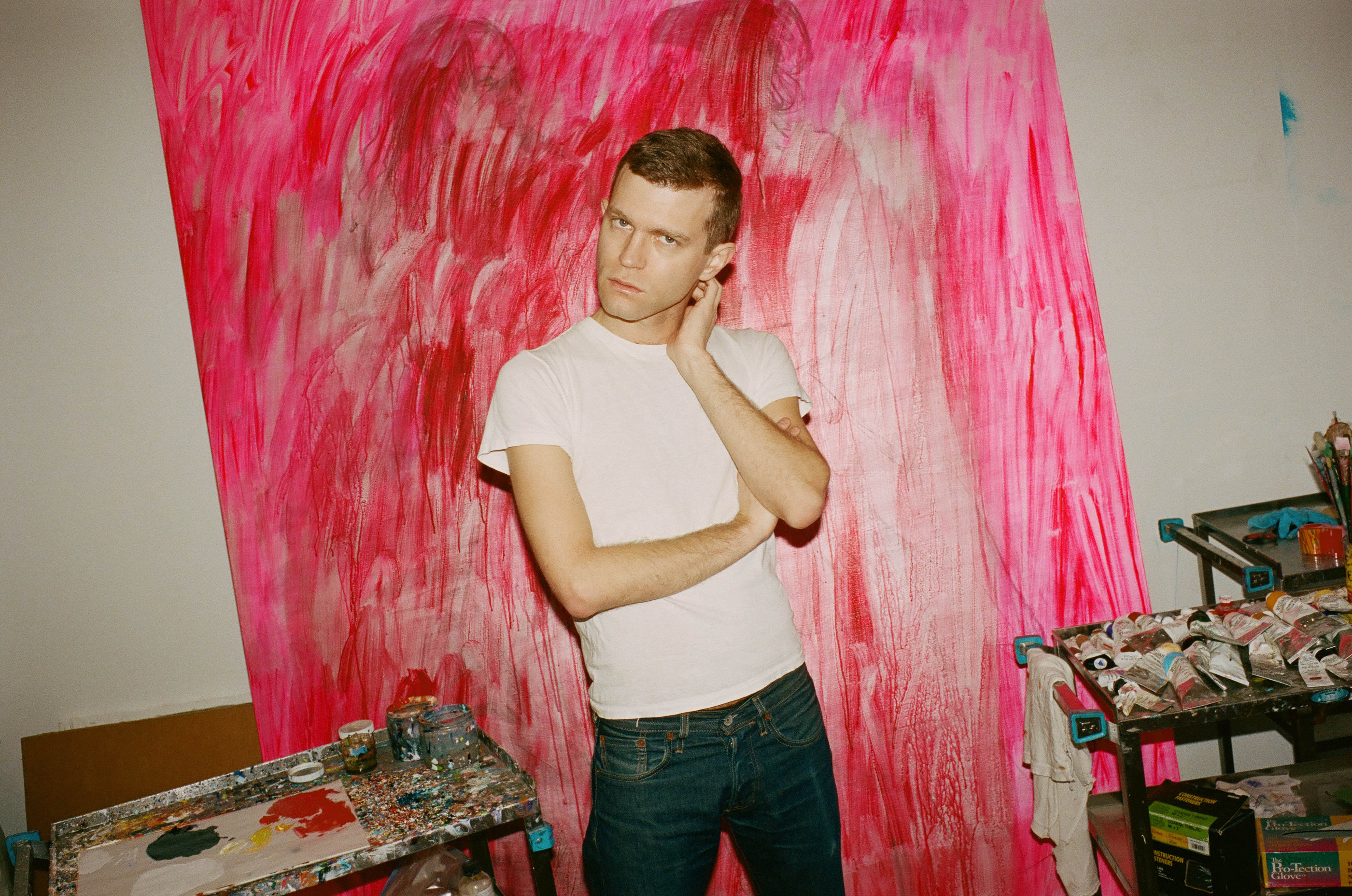 Sam McKinniss
At first, the painter Sam McKinniss wanted to be photographed with a friend—"the guy I go to happy hour with most days of the week after work," he said. "That's the community angle." But after some consideration, he decided to just go it alone. And it makes sense, given that most of the 35-year-old's subjects are iconic figures and moments so famous that they have a singular hold on our imagination: Whitney Houston mid-belt, Prince on the gigantic motorcycle in Purple Rain, Princess Diana forlorn on a yacht in Portofino, and Joan Didion, her spindly hands clasped together. Most famously, he painted the singer Lorde for the cover of her 2017 album, Melodrama, capturing her as she languidly lay in bed, an artificial light streaming over her face. More often, he paints from images he finds on Google. It's here, in this process of alchemy, that the works turn into something much more than fan worship. The gauzy paintings don't so much reproduce a celebrity as reproduce the idea of a celebrity, smudged by the passage of time and altered by the faint biases of the eye's beholder.
"I'm quarantining at home or at studio, both in Brooklyn. I live and work alone. There is no adequate style of being in a community right now. I talk on the phone more often now than I used to, which is fine. And I've gotten involved with a few projects to raise and donate funds for mutual aid, but that's all networked via phone, social media or email. We could call that a community. But I'm done with Zoom, I hate it on there. I used the HouseParty app once but it stressed me out. I miss my friends. I've slowed down again, a lot, since there's no use in hurrying. It's been over a month, every day is the same. I'm taking my time on a select few detailed pictures. I've lost concern for speed, or for having to keep up with our accelerated culture. Who cares? The culture has a lot of explaining to do. I've watched Titanic a few times during quarantine, which seems relevant. The ship sinks at the end." —April 23, 2020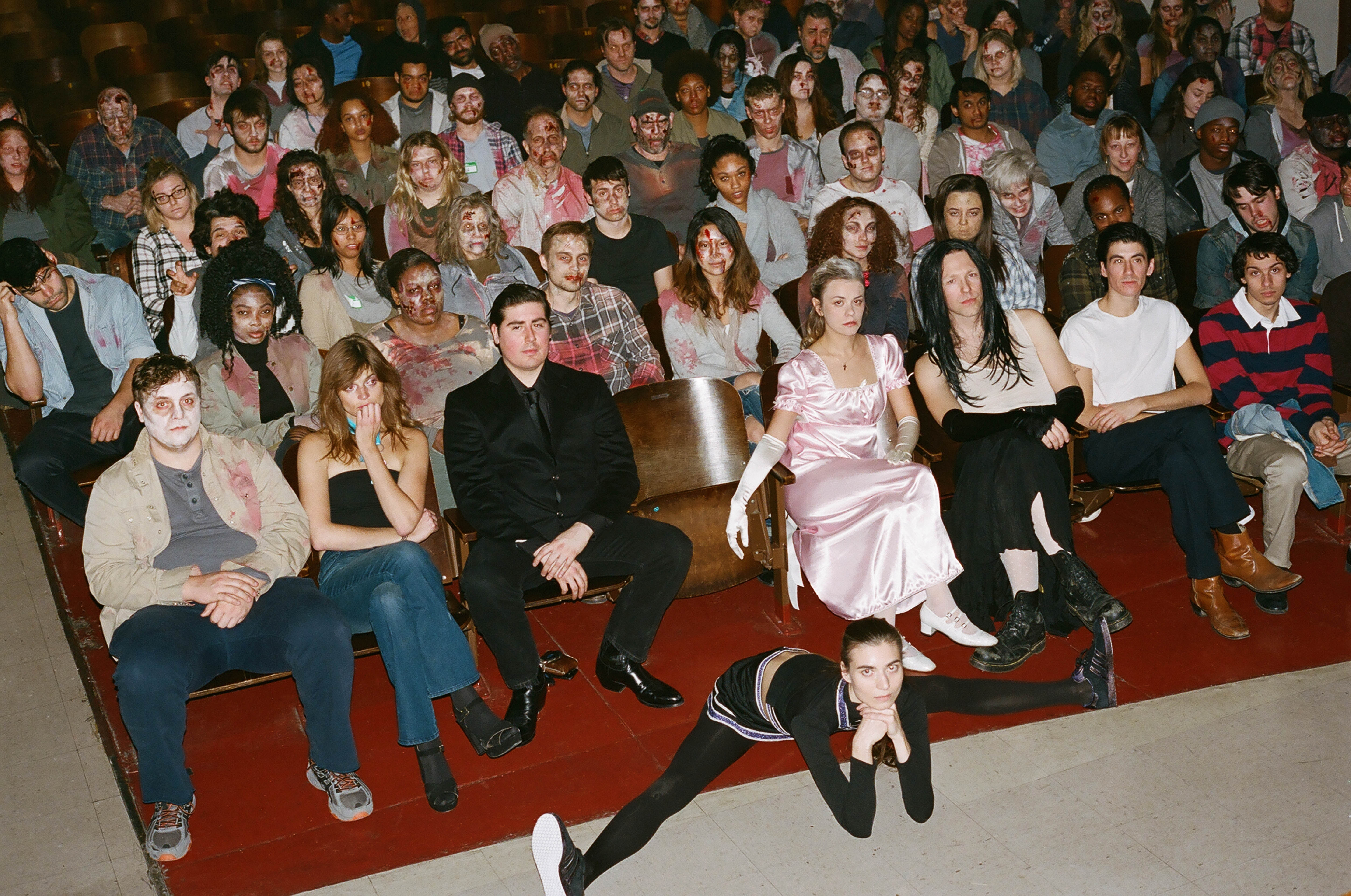 Bunny Rogers
Bunny Rogers wanted to be photographed alongside the performers who took part in her latest work, Sanctuary, staged last November during Performa 19. The piece took place at Essex Street Academy on the Lower East Side, and had the chilling effect of evoking a school shooting. She's long been infusing her work with references to the 1999 school shooting that killed 12 students and one teacher at Columbine High School in Colorado—when Bunny was just nine. At 27, she had her first solo show at the Whitney Museum in New York, Brig Und Ladder, which included an animated video titled A Very Special Holiday Performance in Columbine Auditorium, featuring a mix of characters from the animated Clone High sitcom, as well as Grizabella from Cats. There was also Columbine Library, a solo show at Société Berlin, and Columbine Cafeteria, a solo show at New York's Greenspon. But it was at Performa that she brought her community into the fold for the first time and allowed them to make work with her.
"[I'm quarantining in] New York. [My version of community right now consists of] my friends online, my friends on the phone. I'm having ups and downs. My motivation is shot. I'm just trying to take care of myself and the people I love. Admittedly still collecting Disney licensed Little Mermaid merch. It will come in handy someday." —April 24, 2020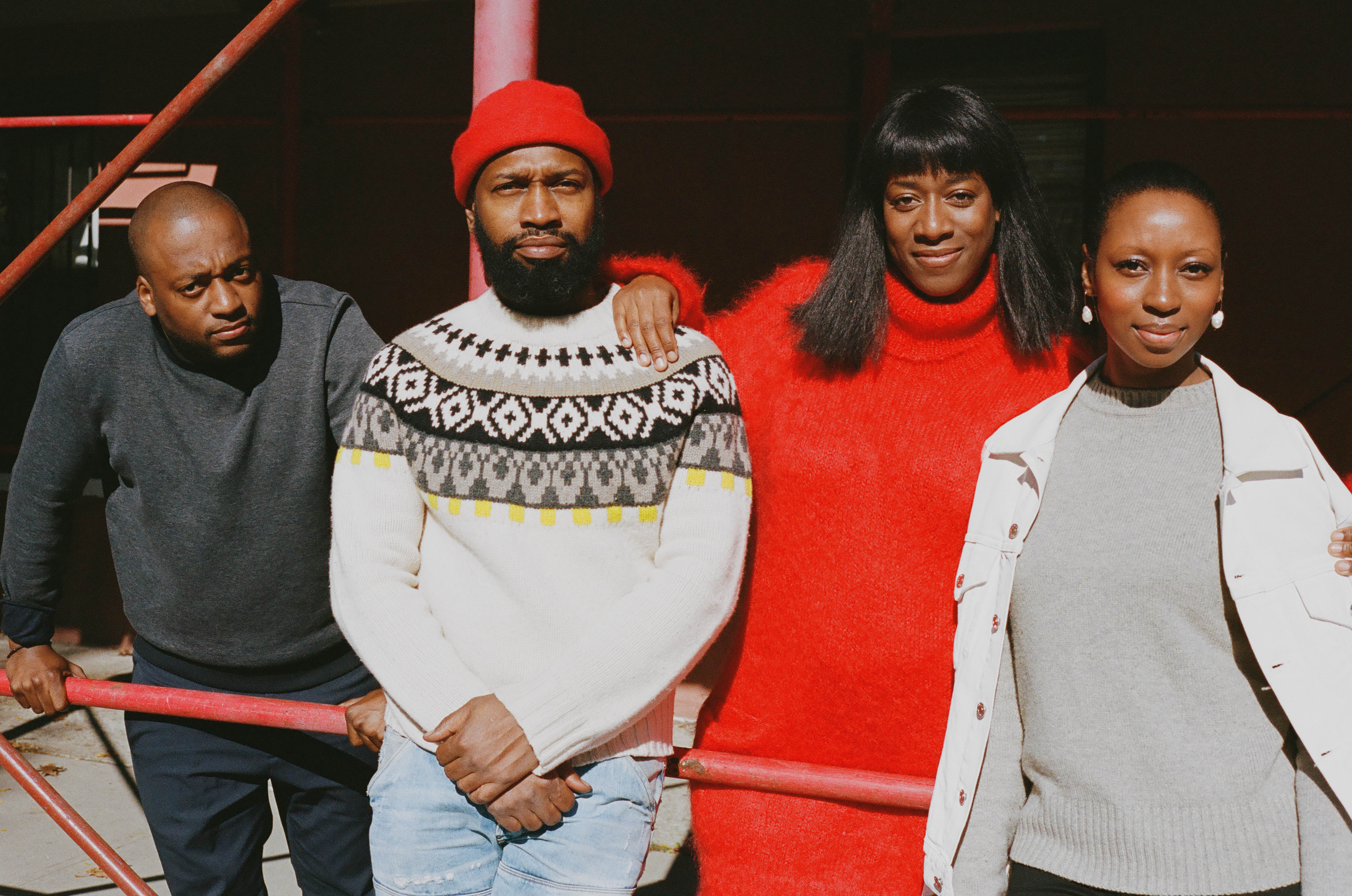 Nathaniel Mary Quinn
Nathaniel Mary Quinn doesn't need a whole big group of people helping him out while he's at the studio. The Chicago native seeks only the approval of one person: his wife, the actress Donna Augustin-Quinn. Since he first started making paintings—fabulous distorted depictions of bodies, neo-Cubist explorations of the face—she has been his first viewer, sounding board, and editor. "My wife sees everything I make, and I trust her judgment and assessment, you know?" Quinn said. And her role is not just a casual support position: She is officially Quinn's studio manager. "I don't exactly have a factory of assistants or anything of that nature…we manage everything together as a team, a loving team," he said. Even when big museum directors come calling—and they have; his work is included in the permanent collections of the Whitney Museum, the Hammer Museum, and the Art Institute of Chicago—he says he leans on her wisdom and discretion first and foremost.
"Donna and I are quarantining in our home in Brooklyn. Everybody in my community is staying-in-shelter, although there have been a sprinkle of people who seemed unmoved by the gravity of the pandemic and its associated risks. Initially, during the nascent stages of the outbreak, as the world underwent its profound shift from that which was impeccably tenuous to that which is monumentally and historically shattering, I was stopped in my tracks for about four weeks. I could not make art. I just kept reading and watching everything about the coronavirus, the pandemic, and the tremendous sorrow and pain that enveloped the world. After some time had gone by, I became increasingly embedded in my studio practice. It seems that the magic of creating has given me intermittent respite from 'The Happening.' Somehow and someway, I know that the surreal and profound impact being endured by the world is flowing through my hands, into my work—not that I'm making works specifically about our current existence—but; conversely, the works certainly bear the weight and internalized acceptance of the world's current state, while I pursue accepting it, letting go of it, dismantling concepts of control, and becoming as peacefully present as humanly possible. And yet, I am persistently thoughtful—for compassion and empathy never slumber—as we hope for and await better days, a sense of deliverance and relief that seems a day late and an hour short after each and every passing day and critical hour." —April 24, 2020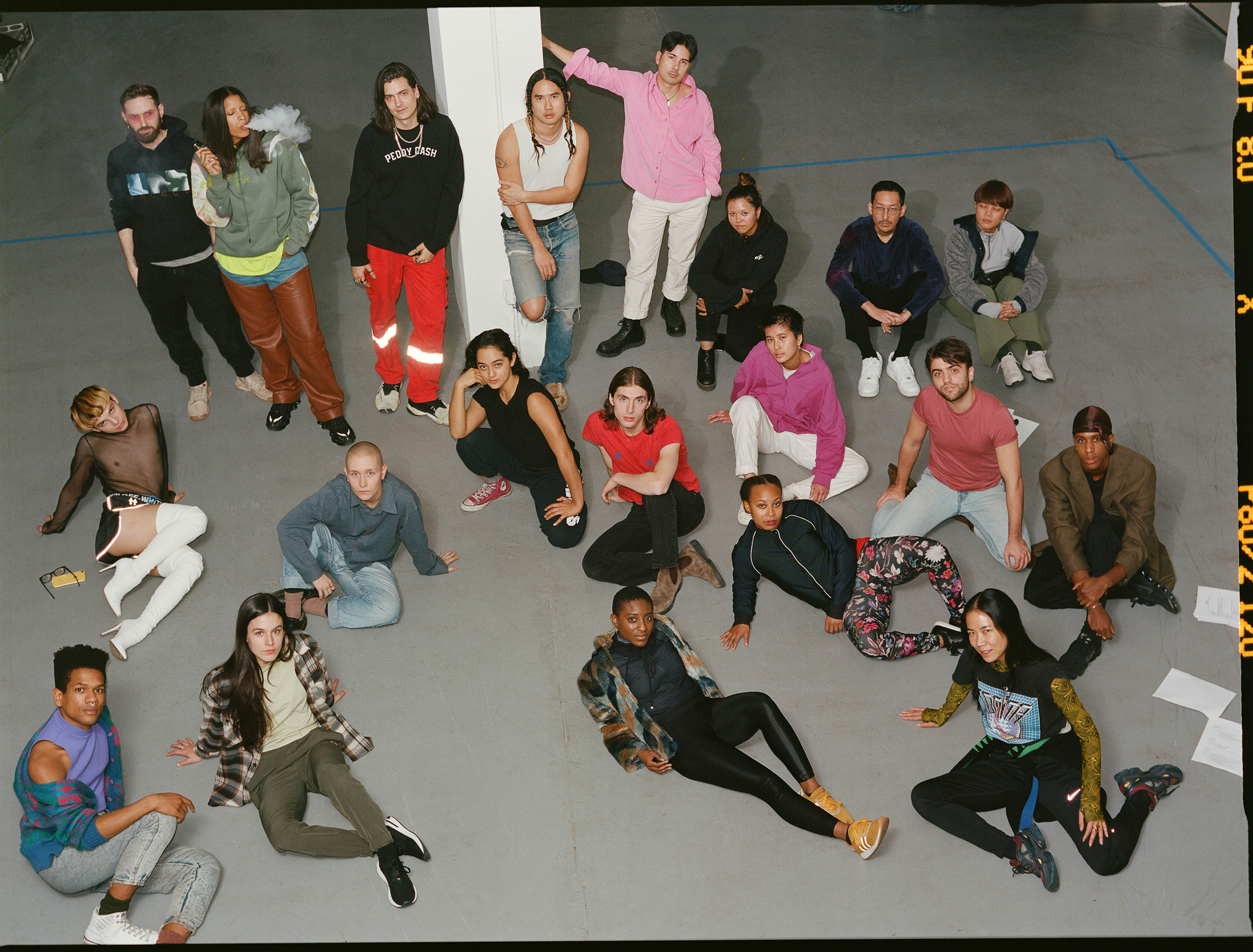 Korakrit Arunanondchai
Last November, the 33-year-old Thai artist Korakrit Arunanondchai debuted his first-ever performance art work, Together, at the Harlem Parish, as part of Performa 19. The performance featured over a dozen people, and, appropriately, he wanted to be shot with his collaborators. Collaboration is integral to Arunanondchai's work; joining him for the shoot were figures in the Korakritian orbit, such as the musician Aaron David Ross, the photo director Alex Gvojic—with whom he collaborated at the Venice Biennale—and a rotating cast of choreographers and dancers. The large group of people, all from different fields, exemplifies the on-the-move lifestyle that the artist favors. Although he now lives and works in New York, he returns to Thailand often, where he also has a studio, and where he often finds rich cultural subject matter to explore in his work. For the better part of the past decade, he's been building his own ever-expanding universe, shown through his video, multimedia, and now performance work, which has been exhibited at MoMA PS1 and at the 2019 Venice Biennale. At the shoot, Arunanondchai declared, "It will be a historic picture."
"I'm in my studio in Bangkok, Thailand. [I'm keeping in touch with my community] mostly on video and phone calls, and in person I have my twin and my parents. I was working on a few projects before this, but now the condition of the world that will be the context for these projects has changed so it is quite hard to continue. I guess the process hasn't changed but maybe terms have." —April 26, 2020