Photograph courtesy of M. Crow & Co.
Is This the Coolest Street in New York?
Howard Street is a four-block stretch in Soho that has some of the best shopping in the city—and is thriving despite the neighborhood's retail woes.
Photograph courtesy of M. Crow & Co.
Get off the 6 train stop at Canal, head a block north, and there it is: Howard Street. After loosening yourself (and your wallet) with drinks at the Blond, you can sample vintage threads at Reformation, play around in Opening Ceremony and the avant-garde Rick Owens, and score the perfect pair of canvas furniture maker's pants alongside the perfect canvas furniture at M. Crow and Co. Skip the empty storefronts and pop-ups on Broadway. Traipse past the skaters and photographers hanging out on the platform jutting out from the old American Apparel space, and keep on towards Mercer, where the streetwear buzz of VFILES and Palace await.
Some streets just capture the essence of a place, and Soho's Howard Street gives a peek at the forces and fashions continually reshaping New York. While retail drags across the city struggle to adapt to a changing street shopper demographic, Howard has been able to curate a distinct clientele that keeps its storefronts occupied and its Instagram tags buzzing.
Soho used to be called Hell's Hundred Acres, and in its early days it thrummed with vice and industry. (The infamous Triangle Shirtwaist fire blazed just a few blocks to the north in 1911.) But neighborhoods change, and when the industry hollowed out, artists moved in to work out of abandoned lofts. The artists Christo and Jeanne-Claude, lured by $140-a-month rent, once made a home and studio space out of what their 2000 biography, Christo and Jeanne-Claude: A Biography, called a "wretched space" at 48 Howard St. In 1973, the Landmarks Preservation Committee, citing the role of artists in the swing of the neighborhood from "decay" to "rebirth," created the Soho Cast Iron Historic District and froze in time the Romanesque architecture that lends Howard Street its bohemian look.

But eventually, many of the artists moved out. Putnam Rolling Ladder Co., whose offices sit atop an almost ladder-steep staircase, is a callback to what was. The shop, which vends rolling ladders to stores like Footlocker and Coach to help them retrieve stock from back rooms (and buys them back when they go belly-up), is decorated out front with a sign that used to decorate the horse-drawn cart that made deliveries. In an interview with the TV show New York Originals in 2010, Gregg Monsees noted that Putnam bought the building it operates out of in the 1940s, as well as the one next door, so the company plays landlord to Rick Owens at 32 Howard Street. "The neighborhood has really changed, and we would have been ousted a long time ago," Monsees said. "Actually, the buildings are more valuable than the business at this point."
As is common in New York real estate, the painter-residents' patrons drove up the value of retail and living spaces. The area south of Houston is now one of the wealthiest neighborhoods in the city, and this has been reflected in its transformation into a prime shopping district. When Opening Ceremony arrived on Howard in 2002, their space was an old linen store and the strip was a bigger destination for trash dumpers than a high-end shoppers. "It was right in the middle of Soho and Chinatown, but very missable," co-founder Humberto Leon told New York magazine in 2010. "There's something really sweet about that."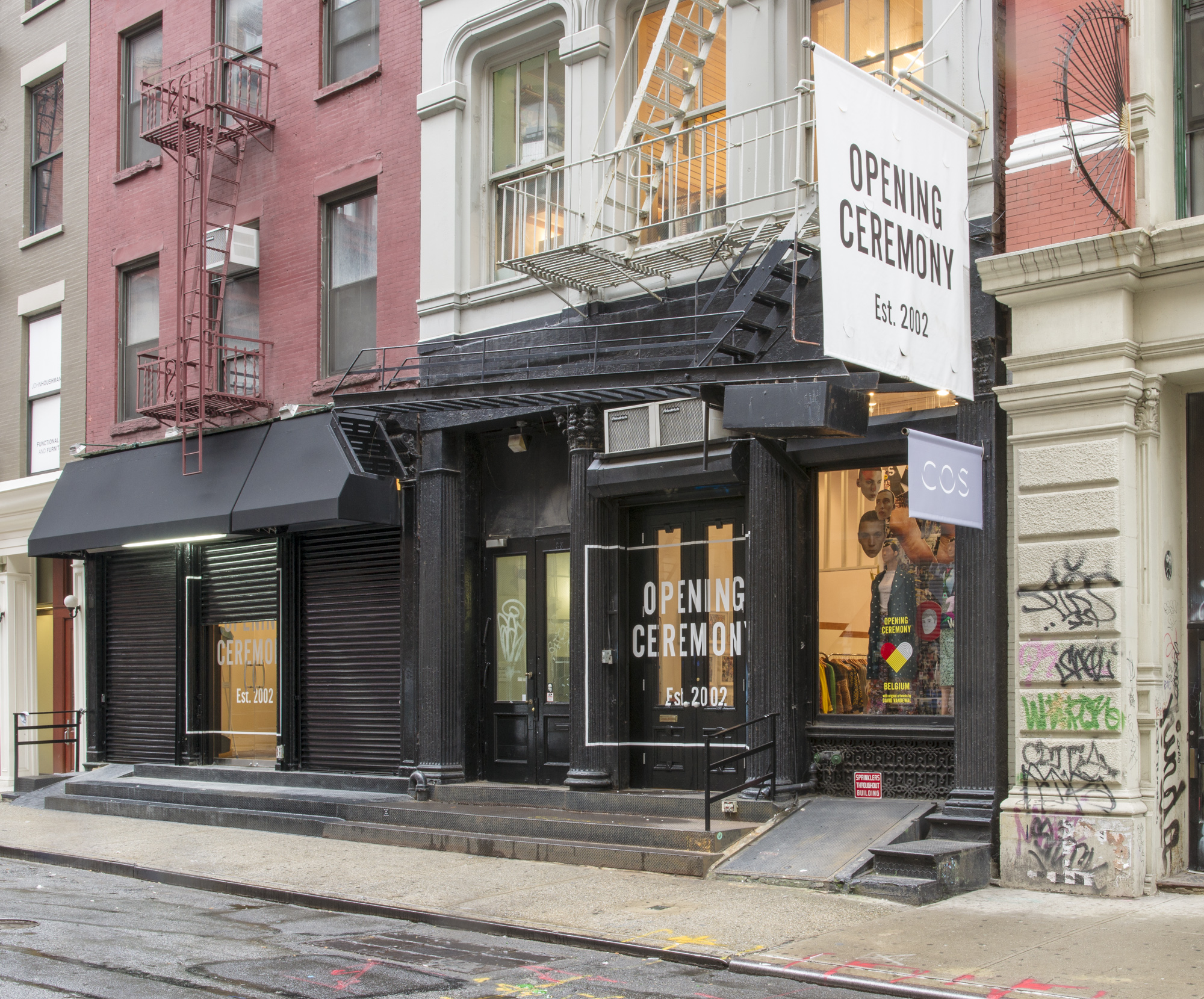 But with the help of its luxe art-kid clientele, Opening Ceremony hit $1 million in annual revenue in just a couple years and drew in other fashionable neighbors, including Raf Simons-era Jil Sander (formerly in the storefront where Rick Owens now sits). Now, it's spread over four floors in two buildings. When the Landmarks Preservation Commission expanded the Soho Historic District in 2010, it pushed the area's boundaries to include half of the block between Crosby and Lafayette Streets, and Opening Ceremony's building became historically significant. Per a report accompanying the expansion:

No. 35 Howard Street, which remains in commercial use, is evocative of the establishment of the Soho area as New York City's prime business district in the mid-nineteenth century, its continuing importance in the twentieth century as the location of small factories and warehouses, and its rising popularity for upscale boutiques in the early twenty-first century.
John McPheters, a co-founder of the sneaker consignment store Stadium Goods at 47 Howard Street, says that Opening Ceremony paved the way for other retailers on the street. When his shop was scouting locations, Howard wasn't exactly barren— agnès b. was across the street and Nike had a space around the corner on Mercer—but he does recall having ample choice in picking a spot. Still, like went with like, and now his neighbors include Billionaire Boys Club and Palace.
"It's night and day from what it was two years ago," he said.
The rents on Howard have risen alongside its stature. Michele Varian, who runs an eponymous home goods store, set up at 27 Howard St. after getting priced out of a storefront on Crosby Street. She said that she's noticed a distinct shift in the kinds of shoppers she sees walking by, from creative types that might've worked in an agency of some sort upstairs to star-eyed lookie-loos. "The people you see now are responding to what's still there, but they're there mainly for the retailers," said.
The New York Times noted over the summer that many Soho landlords, caught between the high rents they want and the tenants who won't pay them, have been resorting to pop-up shops to keep the money coming in. Howard doesn't seem to have that problem, either because it's so cool that nobody wants to leave, or, as McPheters pointed out, because the rent is (slightly) cheaper. Mirroring the brick-and-mortar woes in other parts of the neighborhood, none of the four storefronts the strip's intersection with Broadway have permanent tenants. The vacancy on the southeast corner was a discount jeans store once upon a time; a listing from the Winick Realty Group uses Opening Ceremony's proximity to lure would-be tenants, as well as a Joe Fresh location that closed in last spring. Winick's Lee Block, who is marketing the corner, said that, even though Broadway leans more heavily mass-market, the intersection still has its appeal: "If you say Howard Street, the first thing you think of is 'very fashionable.'"
Highlights from Howard Street's Retail Lineup:
The Blond
Studio Oliver Gustav at the Howard Hotel: Furniture and home goods
11 Howard Street
M. Crow & Co.: clothing, furniture, and home goods
16 Howard Street
Tom Dixon Shop: lighting and home goods
19 Howard Street
Reformation: clothing
23 Howard Street
Michele Varian: furniture and home goods
27 Howard Street
Sleepy Jones: pajamas
25 Howard Street
Rick Owens: clothing
30 Howard Street

Putnam Rolling Ladder Co., Inc.: ladders
32 Howard Street
Opening Ceremony: clothing and home goods
35 Howard Street
Stadium Goods: consignment sneakers
47 Howard Street
Palace Skateboards: skateboards and streetwear
49 Howard Street