A Year's Worth of Anti-Trump Art
How have artists weighed in against the presidency so far?
In the aftermath of the 2016 election, New York artist Jonathan Horowitz felt a need to "fight back" and started attending protests, calling his elected officials, and making donations to the ACLU. He also co-funded the action group HALT, which generated a sister organization, Dear Ivanka, and an infamous protest sign quoting Donald J. Trump's Access Hollywood rant. "Social media played such a big role in the election that it made me want to try and participate in it in some way," Horowitz told me. He did just that a month before the inauguration by conceiving an Instagram exhibition space, Daily Trumpet, built on a simple premise: For the duration of Trump's presidency, there will be one post each day by a different invited artist, reposting encouraged.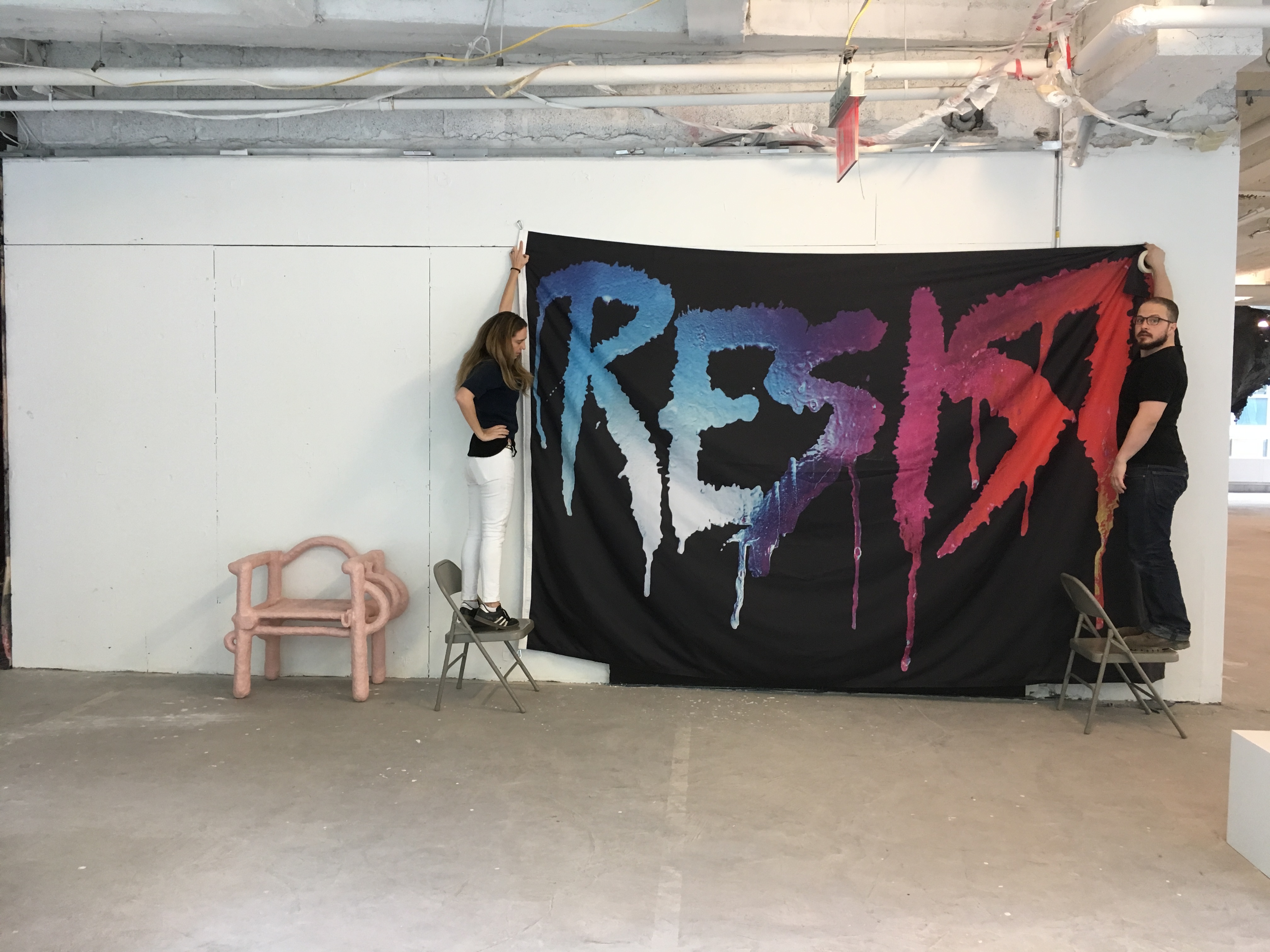 "The project started on inauguration day and hopefully will continue until this nightmare ends," said Horowitz, noting he doesn't "play a curatorial role" but rather challenges his contemporaries to respond to events. Liam Gillick has contributed a creepy photocollage of a young Trump, and his partner, Rob Pruitt, made a video of his hand unspooling a roll of toilet paper with an image of Trump's face on each square. Ascendent names including Jessica Jackson Hutchins and Jason Fox turned in haunting paintings of 45, and Alyson Shotz offered an in situ photo of a border wall installation emblazoned with Trump's visage. Says Horowitz: "I'm not interested in judging images, because who the fuck knows what will work?"
This is the simple but urgent question at the center of all anti-Trump thought: what will work? The more pointed question facing the so-called Resistance Art movement—whose most vocal practitioners run from feminist icons like Marilyn Minter and Judith Bernstein, through street styled activists like Kenny Scharf and Shepard Fairey, to humanist heroes like Mark Bradford, Henry Taylor, and Kara Walker—is starker still: what can art do to dislodge a president?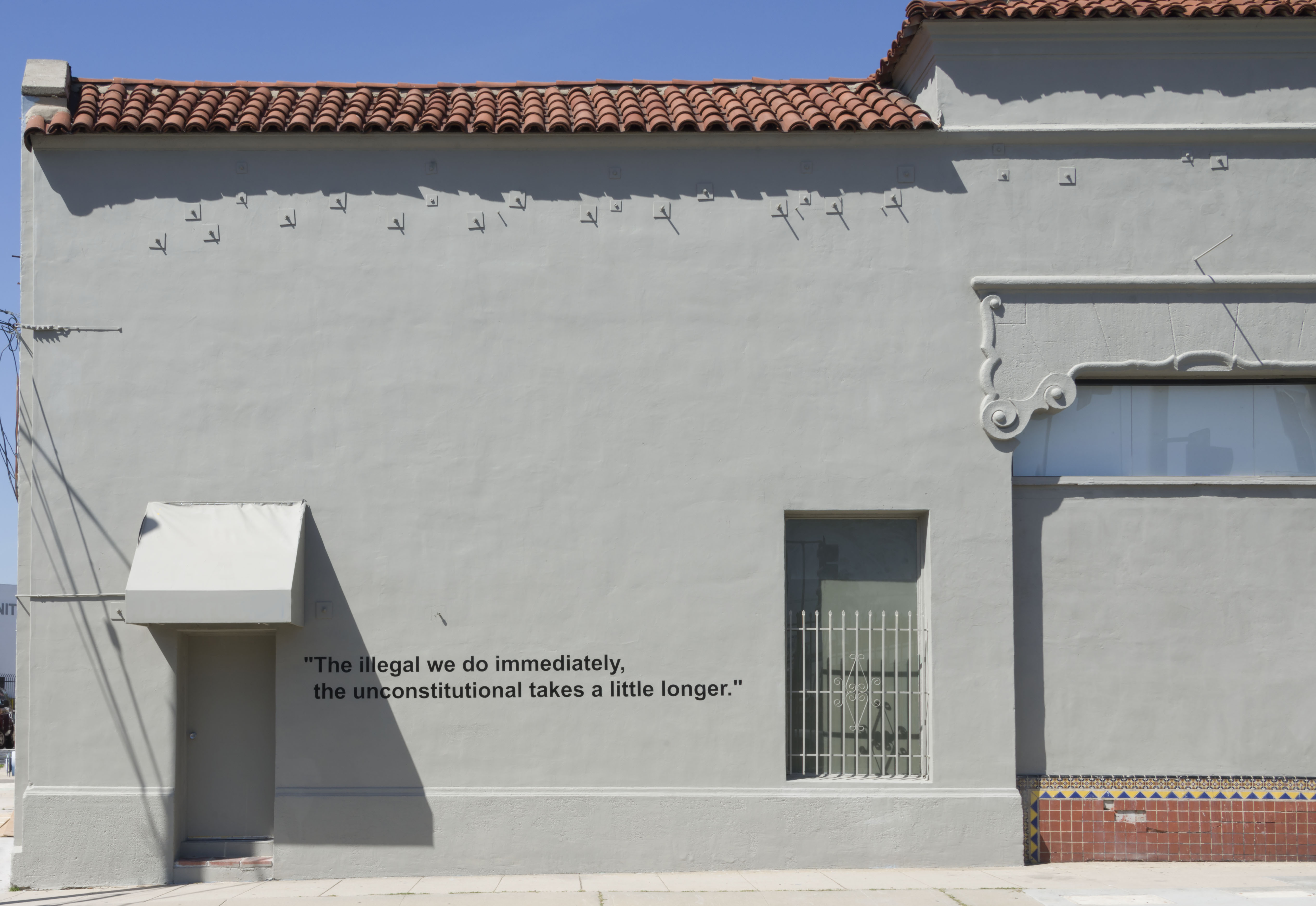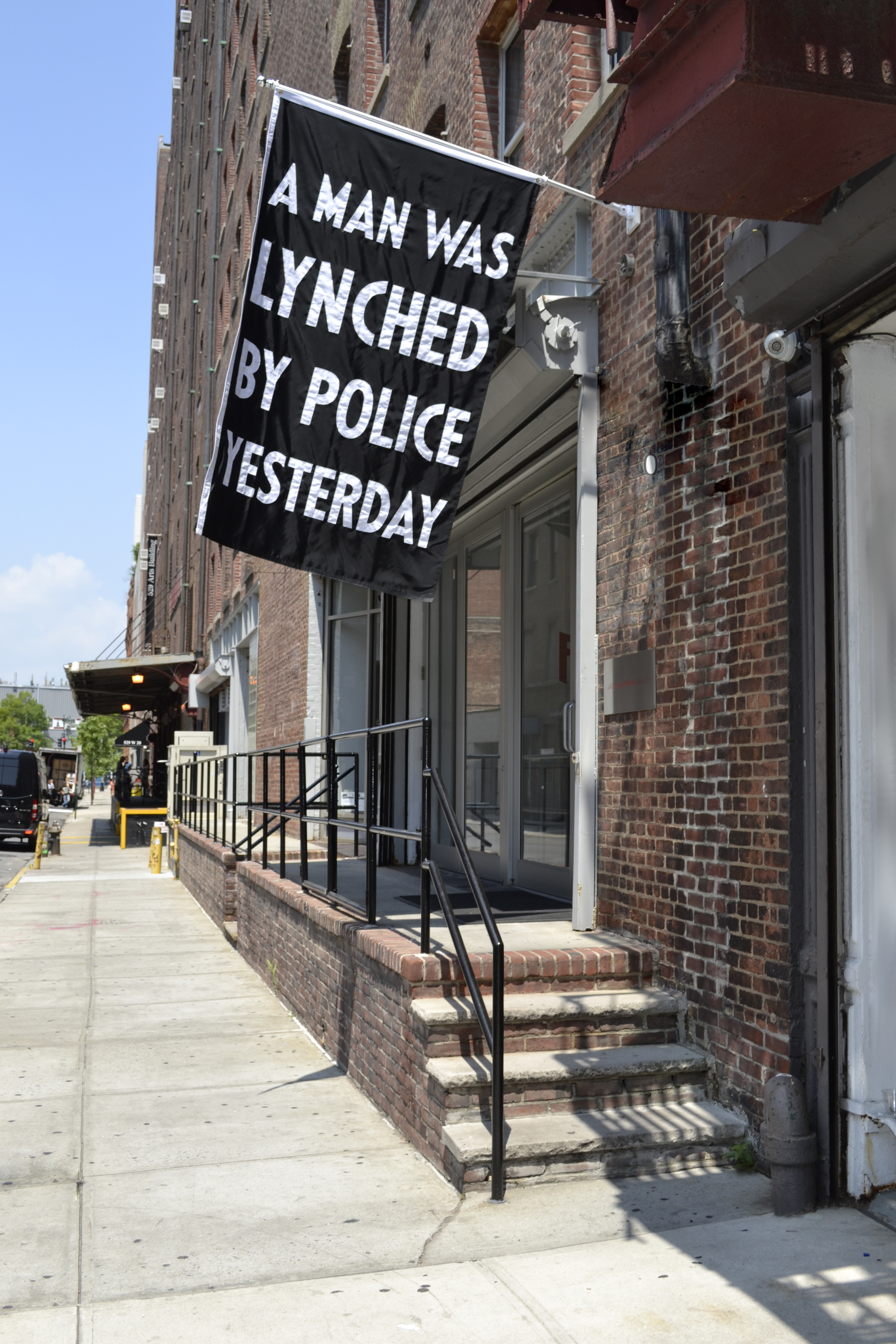 Resistance Art has gained purchase throughout 2017. Judith Bernstein's current show at New York's Drawing Center is comprised of canvases that confront the president's grasping patriarchy. And back in July, Bernstein and Minter (along with VALIE EXPORT, Dorothy Iannone, Carolee Schneemann, and Betty Tompkins) showed provocative works at the LA outpost of VENUS in the group show CUNT. Then in August the Whitney opened An Incomplete History of Protest: Selections from the Whitney's Collection, 1940–2017, featuring everything from Keith Haring's famous 1989 Act Up poster to Dread Scott's A Man Was Lynched by Police Yesterday, a black flag riffing on a phrase from a 1963 NAACP flag, which Scott also flew last summer outside Jack Shainman Gallery.

The movement is growing internationally, too. In London, Awol Erizku went straight at Trump with his April solo debut, Make America Great Again, at Ben Brown Fine Arts—most powerfully through an American flag printed with a black panther, an emblem that he also embroidered over Trump's red trucker hats, which he's selling at Miami's Alchemist store. Erizku doubled down on his protest platform this September in a solo show at LA's Night Gallery inspired by The Black Panther Coloring Book, a racially charged misinformation campaign engineered by the FBI's counterintelligence program in 1968.

Another Angeleno examining the dark history of American democracy—at home and abroad—is Mark Bradford, who transformed the US pavilion at the Venice Biennale into a dark meditative space plastered with his signature sandpapered abstractions, stripping the veneer off this architectural homage to white supremacy. Then in November he rewrote the history contained in Paul Philippoteaux's nineteenth-century cyclorama, Pickett's Charge—depicting the turning point of the Civil War at Gettysburg—with a 400-foot-long abstraction that wraps the entirety of the Hirshhorn Museum's circular third-floor galleries.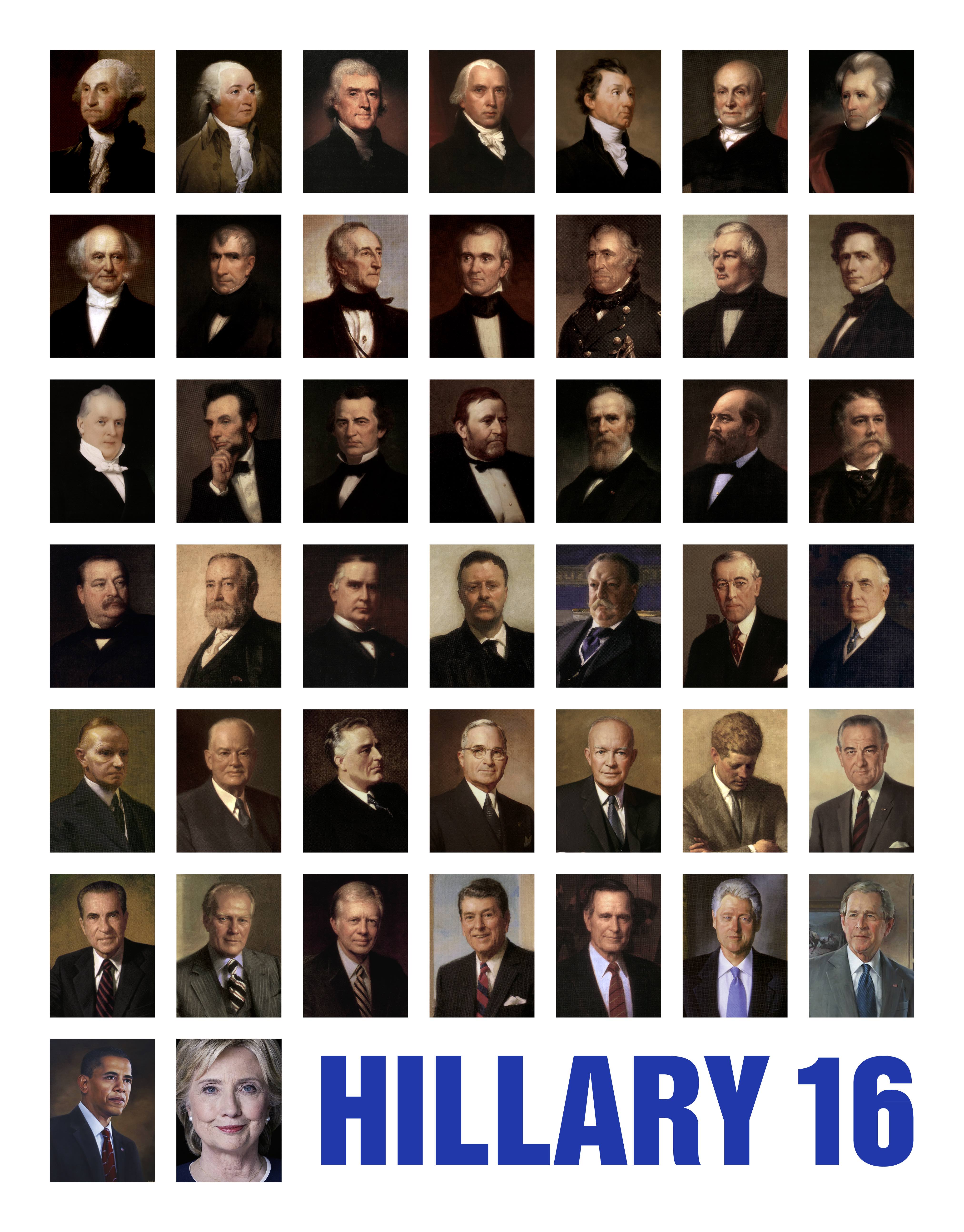 Meanwhile, in solo shows this fall, Scharf, Fairey, Jim Shaw, and Peter Saul, the last of whom caused a stir at Art Basel Miami Beach with his painting of Trump as Wonder Woman, all made works responding harshly to the president's policies, his obsession with "fake news," and even the chaotic vortex of his hair. Meanwhile, Ai Weiwei's sculptural domination of NYC in Good Fences Make Good Neighbors was at once a conceptual riff on his epic Human Flow documentary about the global refugee crisis and a big middle finger to Trump's plan to build a wall on the country's southern border.

With this steady stream of reactionary work, though, artist Hank Willis Thomas worries about "resistance fatigue" and argues that while resisting Trump is important, existential threats like nuclear war may be beyond art's effective reach. "There is a lot to be angry about, but there's more to be angry about than we can even verbalize so I've been thinking a lot about being visionary instead of being reactionary," he told me. "That's why we started For Freedoms." Thomas's strategy, an artist-run Super PAC named for a Norman Rockwell painting, uses art to change the dynamics of civic spaces either via artist-designed billboards, a traveling "Truth Booth," or old-fashioned town halls. Consider it an intellectual mashup of installation, performance, and street art.

A conceptual-art riff on the latter can be found on the exterior of ltd Los Angeles. For his summer 2017 solo show at the gallery, Belgian video artist Johan Grimonprez painted the street corner building with a prescient 1973 quote from Henry Kissinger ("The illegal we do immediately, the unconstitutional takes a little longer"). Soon afterward, a tagger—perhaps misidentifying the quote—added the cardiogram signature of Donald J. Trump. "Since it was done with such care, Johan decided to keep it," explained Shirley Morales, the owner of ltd. "This quote will remain until Trump is out of office."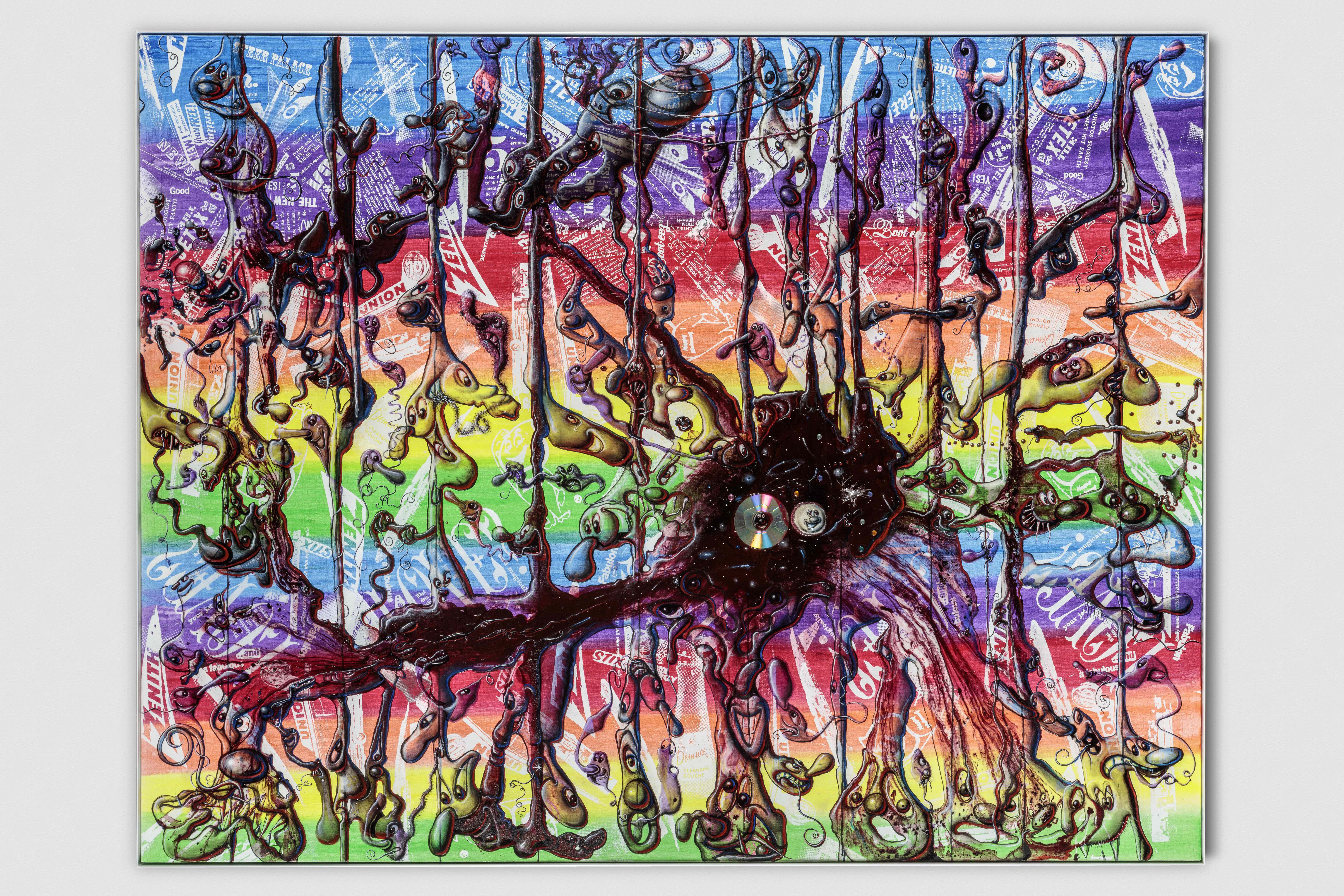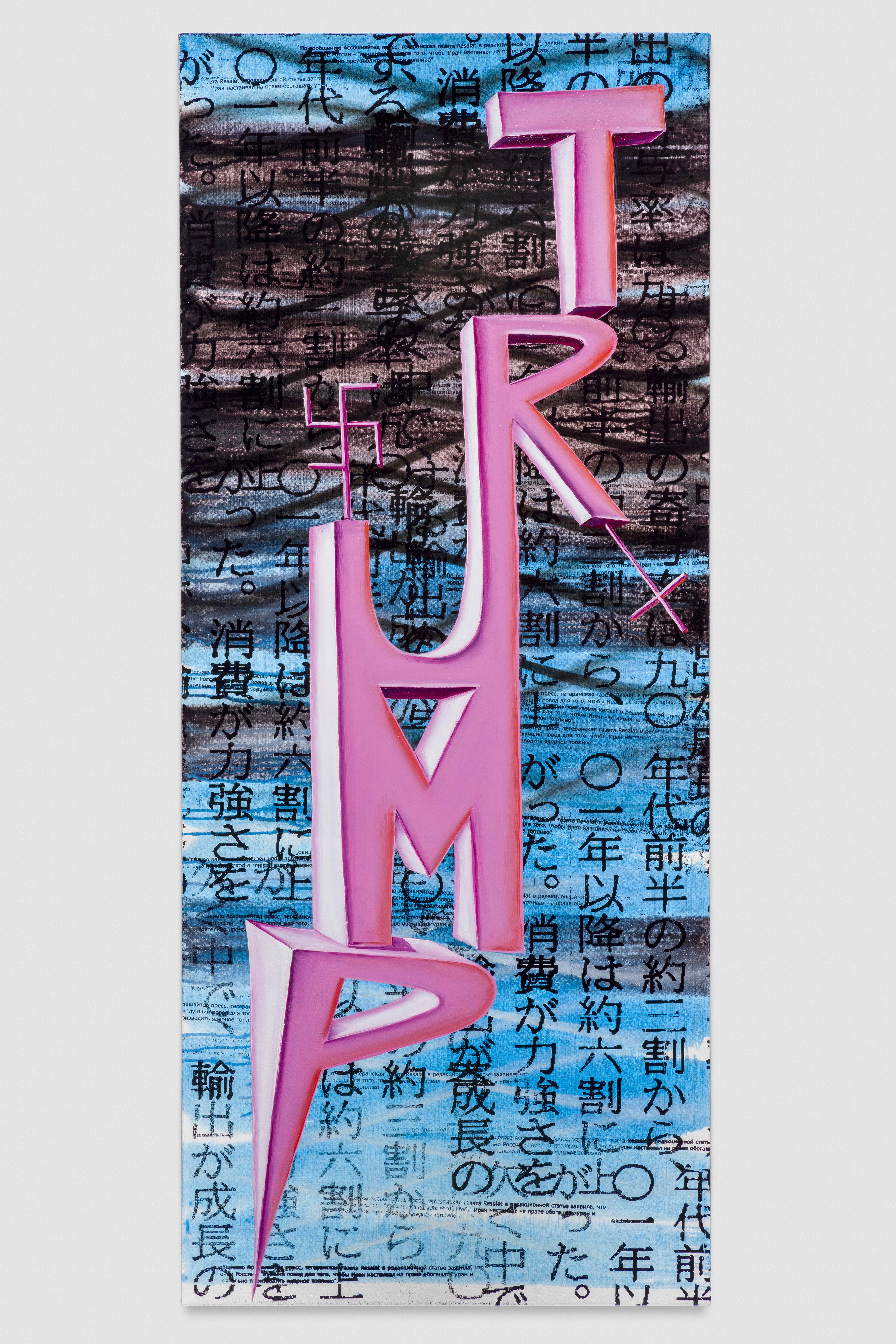 While the public appetite for such public signs of resistance may be on the rise—the media frenzy over Robin Bell's cutting word projections ("The president of the United States is a known racist and a nazi sympathizer. This is not a drill. We are all responsible to stand up and end white supremacy. #Resist") on the facade of Trump International Hotel in D.C. is just one example—the appetite to purchase them is still TBD. In October, Frieze Art Fair in London was chock full of resistance art, but much of it proved a hard sell. Marilyn Minter and art historian Adrianna Campbell are hoping that changes at the gift shop level. The two started the artist-fueled protest group, Anger Management, which opened a pop-up shop in September filled with artist-made goods inside the bookstore of the Brooklyn Museum. "I don't care about radicality anymore. I can think of many amazingly radical gestures that were not effective for anyone but a small audience of six people or so," Campbell told me. "Right now I care about utility and effectiveness, the ability of these symbols to circulate in the world, to embed themselves in places that one would not expect, and to give people a sense of solidarity."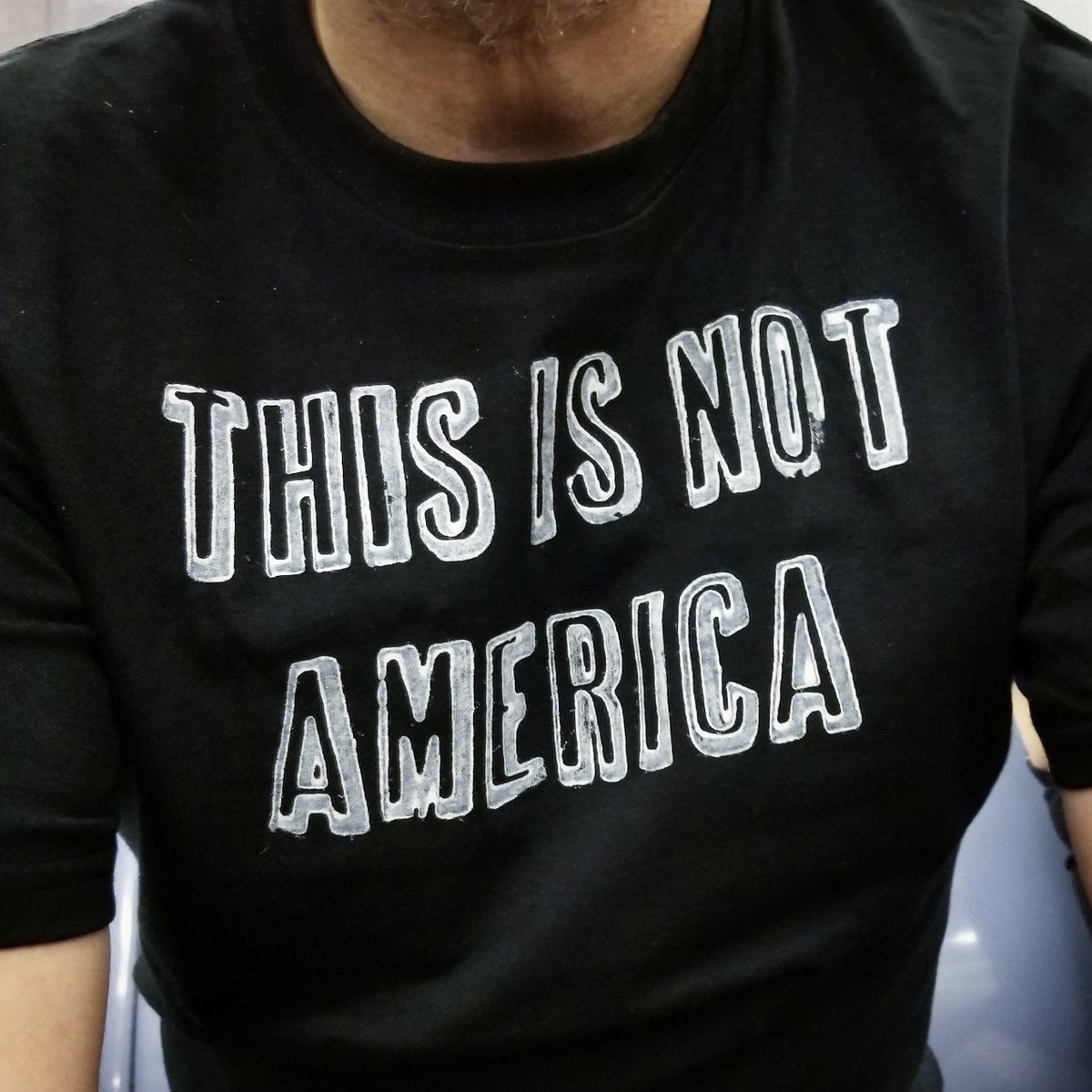 This means resistance wrapping paper by Louise Lawler, polemical coffee mugs by Cory Arcangel and Charles Gaines, and sloganed tops by a who's who of art world heavies. A black tee from critic power couple Jerry Saltz and Roberta Smith on sale at the store reads "THIS IS NOT AMERICA," while Minter's iridescent "Resist" logo has become an icon of this merchandised arm of the anti-Tump movement. It's now emblazoned on everything from $2 bumper stickers to $30 t-shirts. She's hoping the group's holiday pop-up, "Anger Management Celebrates Merry Fucking Christmas, Too," will attract more revenue through higher-end gifts like Laurie Simmons's hand-painted thongs. "I wish artists had real power," Minter lamented, "but we're still in a really isolated art world." In other words, it may be a while until we witness the Instagram era's Guernica, or even its "Hope" poster.
Though the latter reads more like advocacy than resistance, the elegant styling of Shepard Fairey's ubiquitous graphic simultaneously branded Obama as a palatable crossover candidate and disseminated his message through a single image and word. Fairey made a similar, if slightly less ubiquitous, impression with his "We The People" posters for the Women's March. Collaged versions of the latter represent a few of the 200 works in Damaged, his largest solo show to date in LA's Chinatown. The show included a working printing press to provide posters, stencils, and newspapers—what he calls "tools of empowerment"—for making statements of resistance.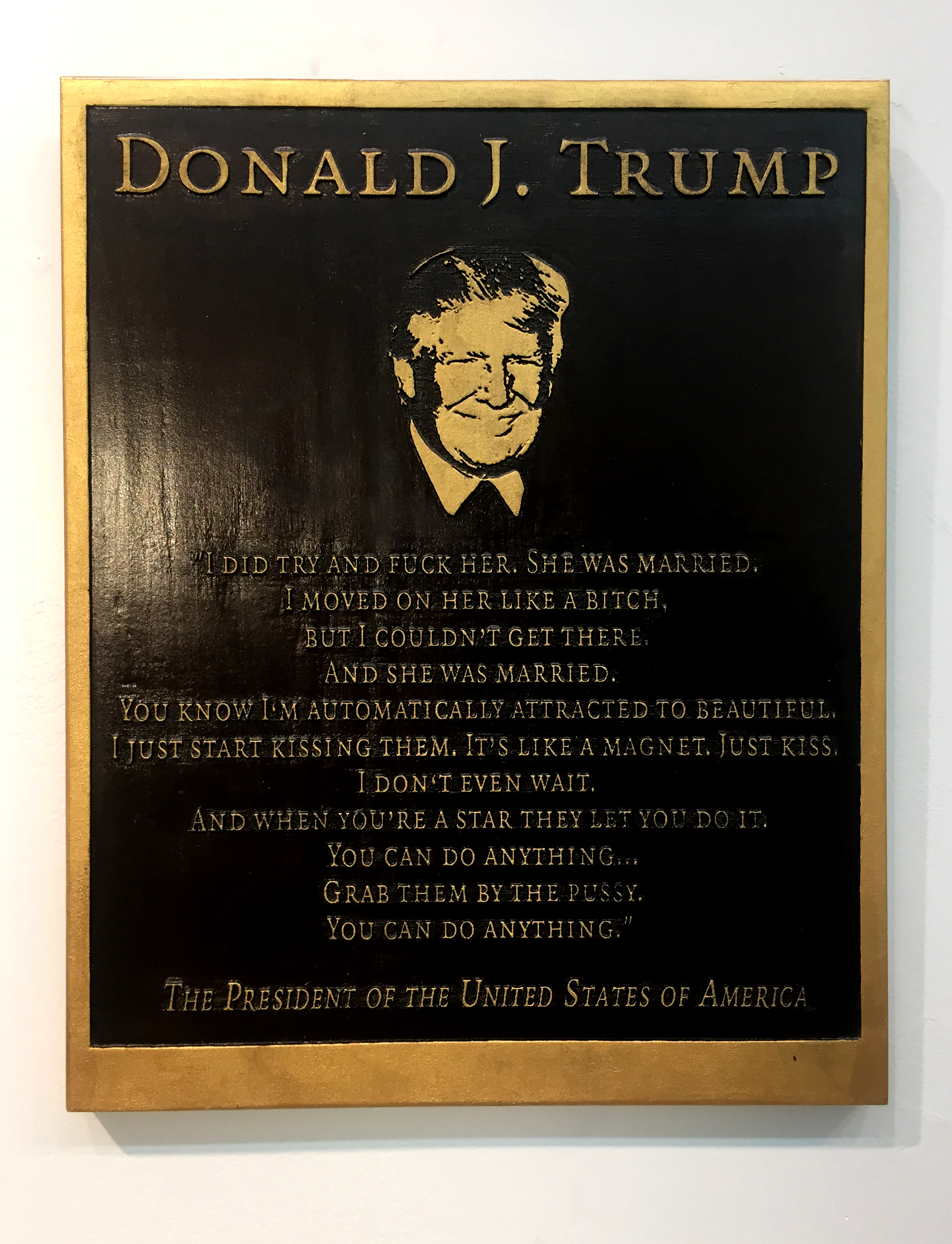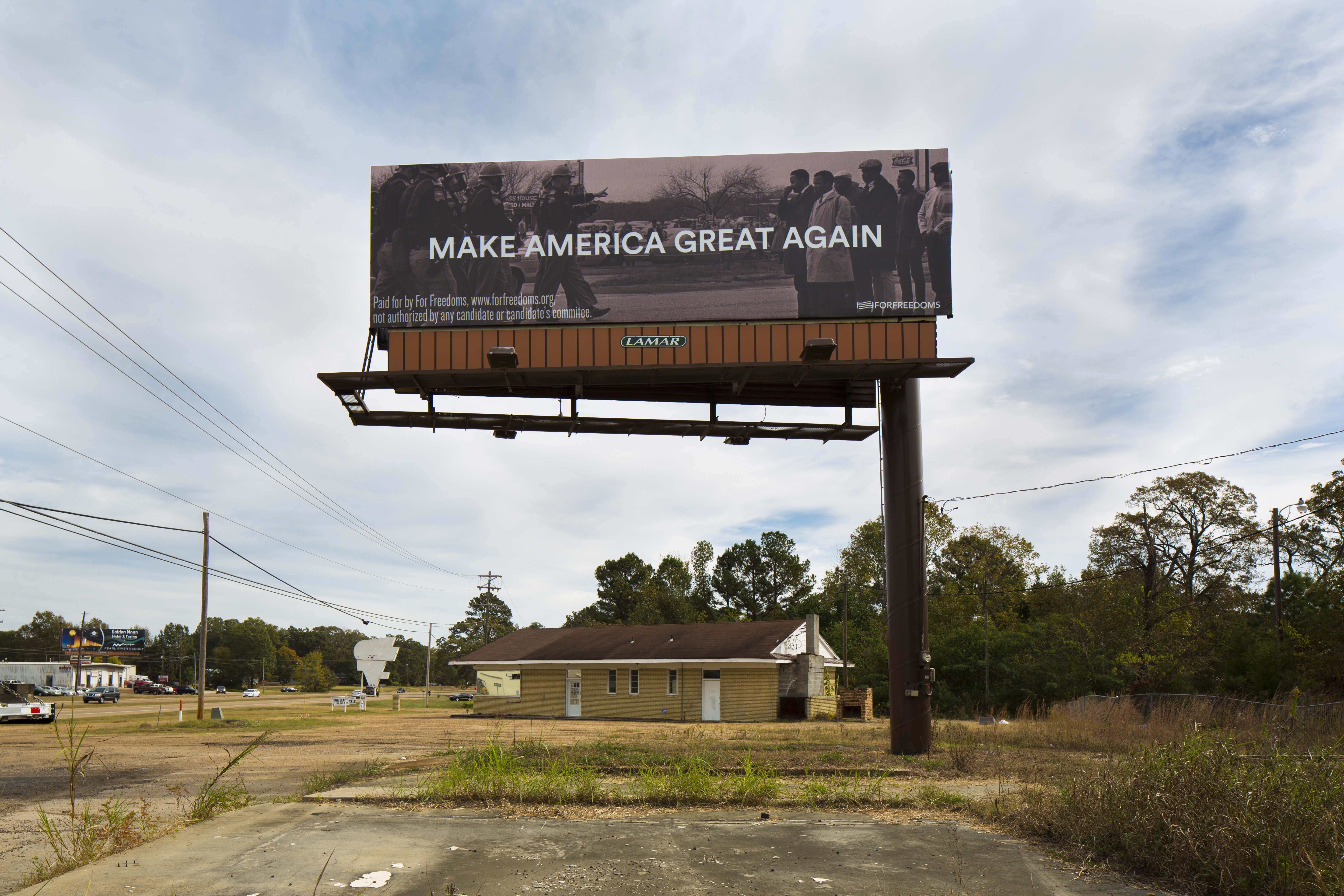 "I never believed in the one galvanizing thing because I've always seen movements overlapping," notes Hank Willis Thomas, whose non-partisan and candidate-neutral group For Freedom was active in 18 states during the 2016 election cycle. Thomas claims the best results were in Pearl, Mississippi, where the PAC installed a billboard emblazoned with Trump's MAGA slogan over a 1965 image of Bloody Sunday marchers on the Edmund Pettis Bridge, where Alabama State Troopers beat 50 peaceful protestors. While the PAC is gearing up for a new round of actions and ads for the 2018 election, Thomas's real goal is Trumpian ubiquity in 2020, by which time he hopes "complicated candidates" will be coming to them for talks and collaborations, demonstrating that politicians can hold complex, even conflicting, views and still be electable. In other words, if November's blue wave in New Jersey and Virginia—and Doug Jones's victory in Alabama—are any indication, resistance candidates are certainly becoming more attractive.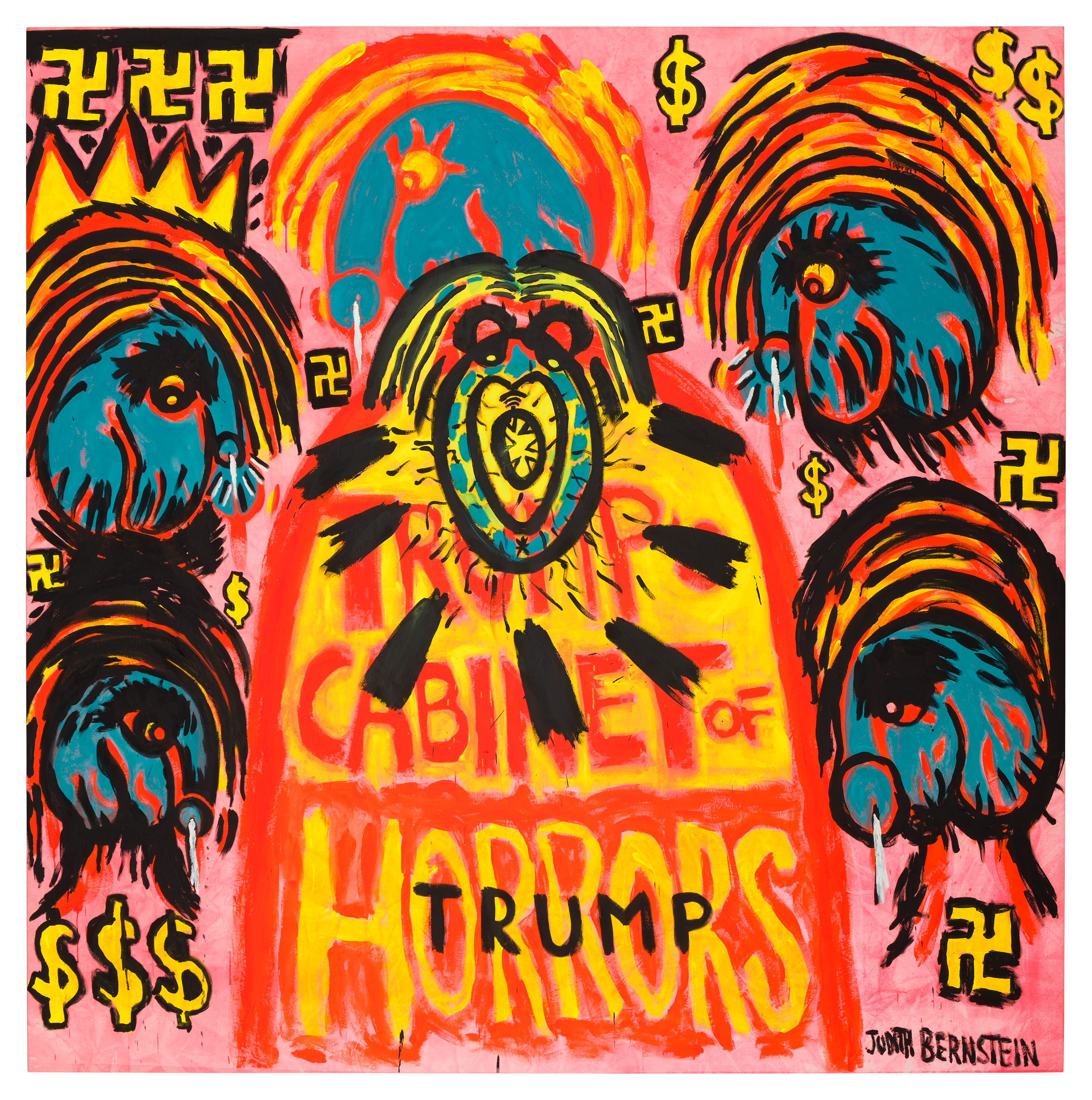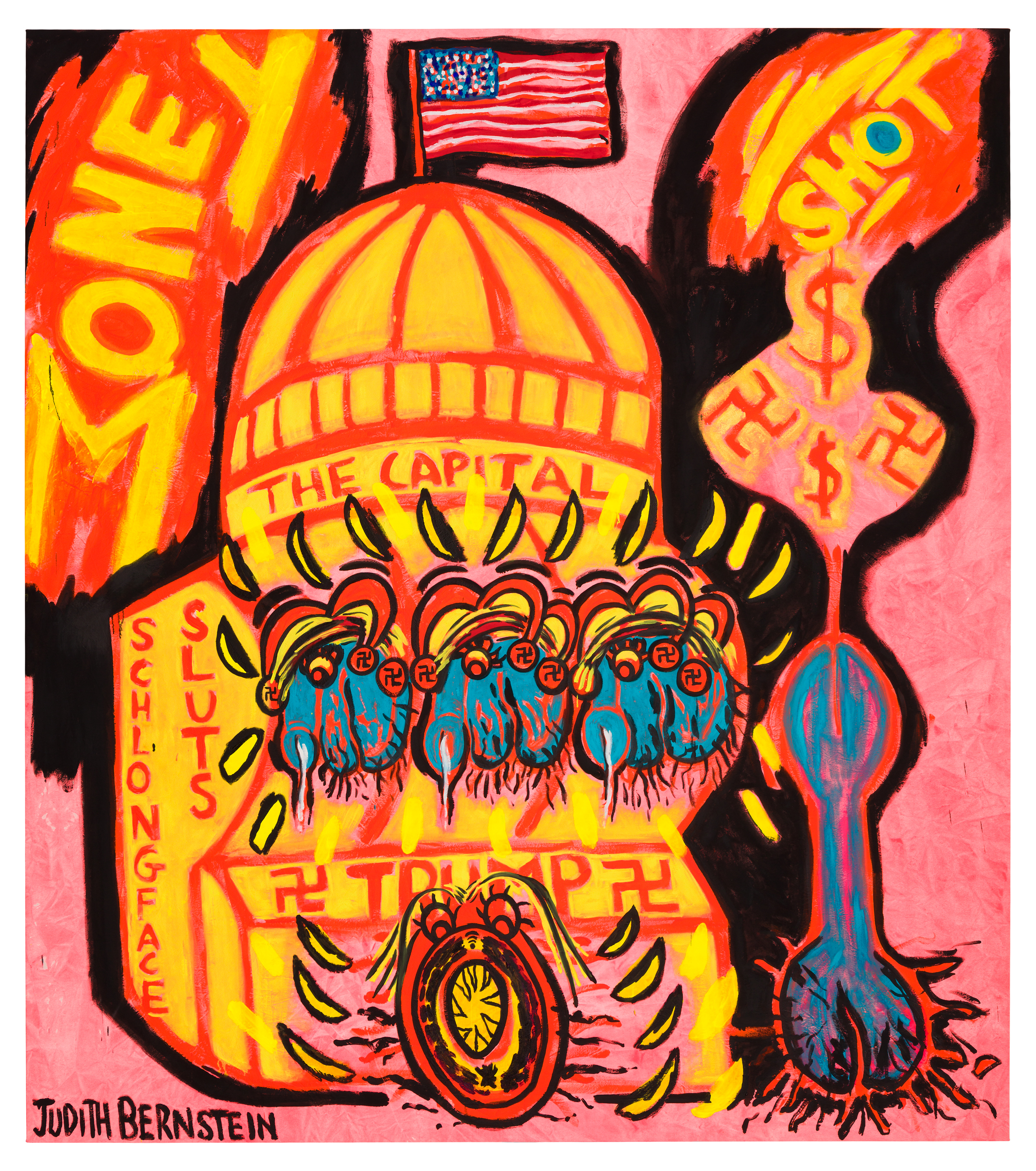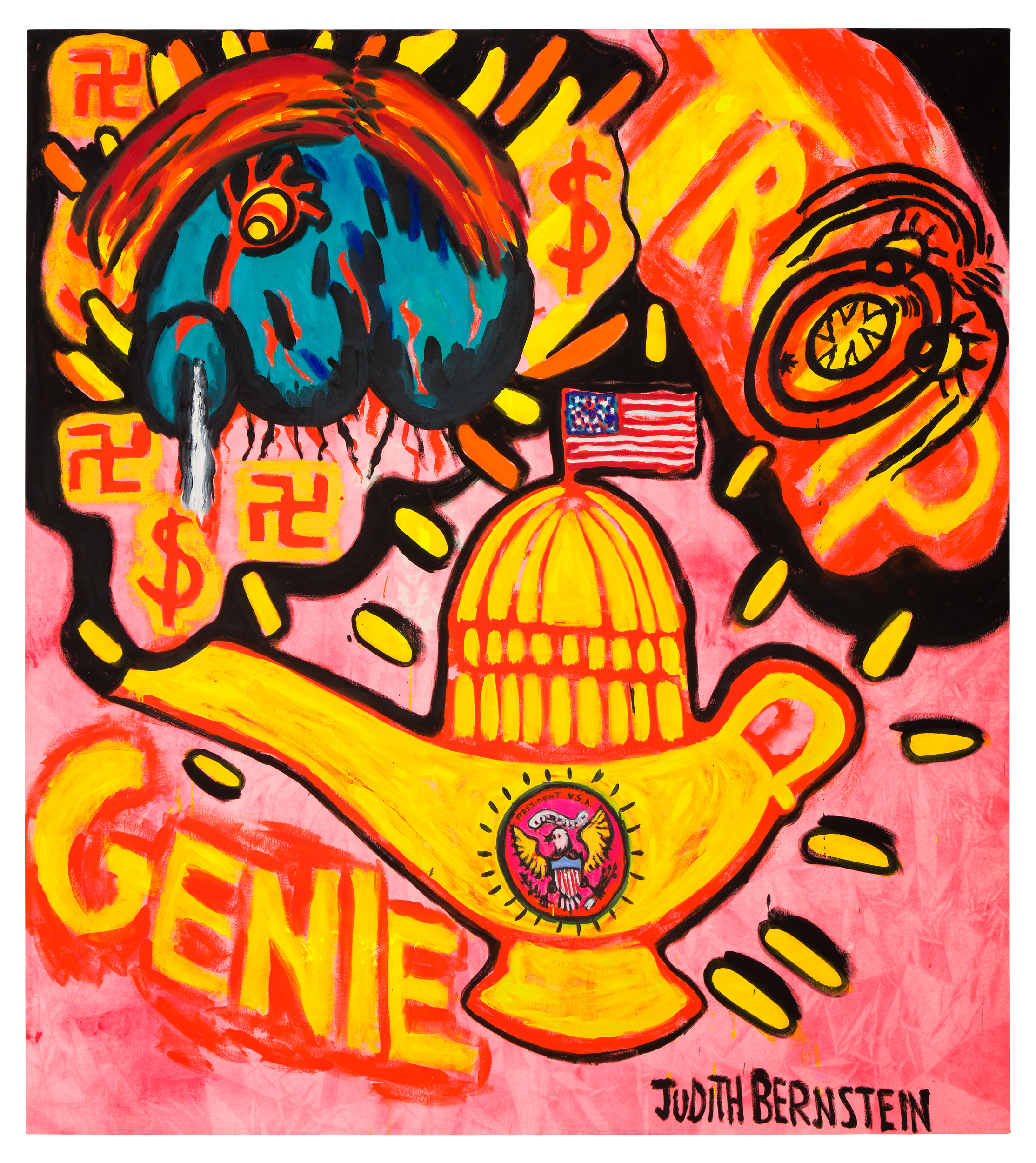 Still, things get more complicated when those in a political majority live their lives boxed into a minority position. Such is the dilemma of pioneering artists like Judith Bernstein, who has been making rage-filled art—beginning with her 1966 Cockman painting of former Alabama governor George Wallace as a walking phallus—for half a century. On the heels of her Drawing Center show, the culture finally seems to be catching up to her. She's currently preparing for Money Shot, a solo show of fluorescent paintings be addressing Trump "using the U.S. as his own personal cash machine" at Paul Kasmin Gallery in January. But it's hardly been a smooth ride. "My work has always dealt with the connection between the sexual and political," said Bernstein. Though she sees some immediate and widespread reactions happening through social media—in the form of #metoo #notsurprised #ihearyou—she still thinks the resistance art movement is scattered. "It is more acceptable to show protest art within the context of history than art about contemporary rage."
Kenny Scharf, who has taken to the street to make murals with Trump's name morphing into swastikas (a painting of which is currently on display at Jeffrey Deitch's New York gallery), can identify with this rage. "It's definitely personal and it gets some of my anger out but the reaction I get when I put it out there is so immediate," Scharf told me. He's also been defacing issues of Us Weekly with the first family on the cover and posting the results to Instagram. "For some reason Us is sent to my house and if I see them on the cover they're going to get it. If it's entering my house I will attack them."