Smile!: Keith Haring graphic. Courtesy of Harper's Apartment
Keith Haring's 1986 Pop Shop Invented Modern Day Merch
The late artist's ahead-of-the-curve experiment in retail-as-art returns to NYC for a show at Harper's Apartment.
Smile!: Keith Haring graphic. Courtesy of Harper's Apartment
By 1986, Keith Haring was an international star whose pulsating glyphs were being snapped up for tens of thousands of dollars. So when he opened the Pop Shop, a Soho storefront that sold inexpensive tchotchkes bearing imagery from his work and that of contemporaries like Jean-Michel Basquiat and Kenny Scharf—pins, stickers, t-shirts with smiling penises encouraging safe sex—critics knocked him for, of all things, selling out. The gift shop as we know it was still but a twinkle in museum directors' eyes, and for the art world, the gall of a major artist selling his own cheap reproductions was a real pearl-clutcher.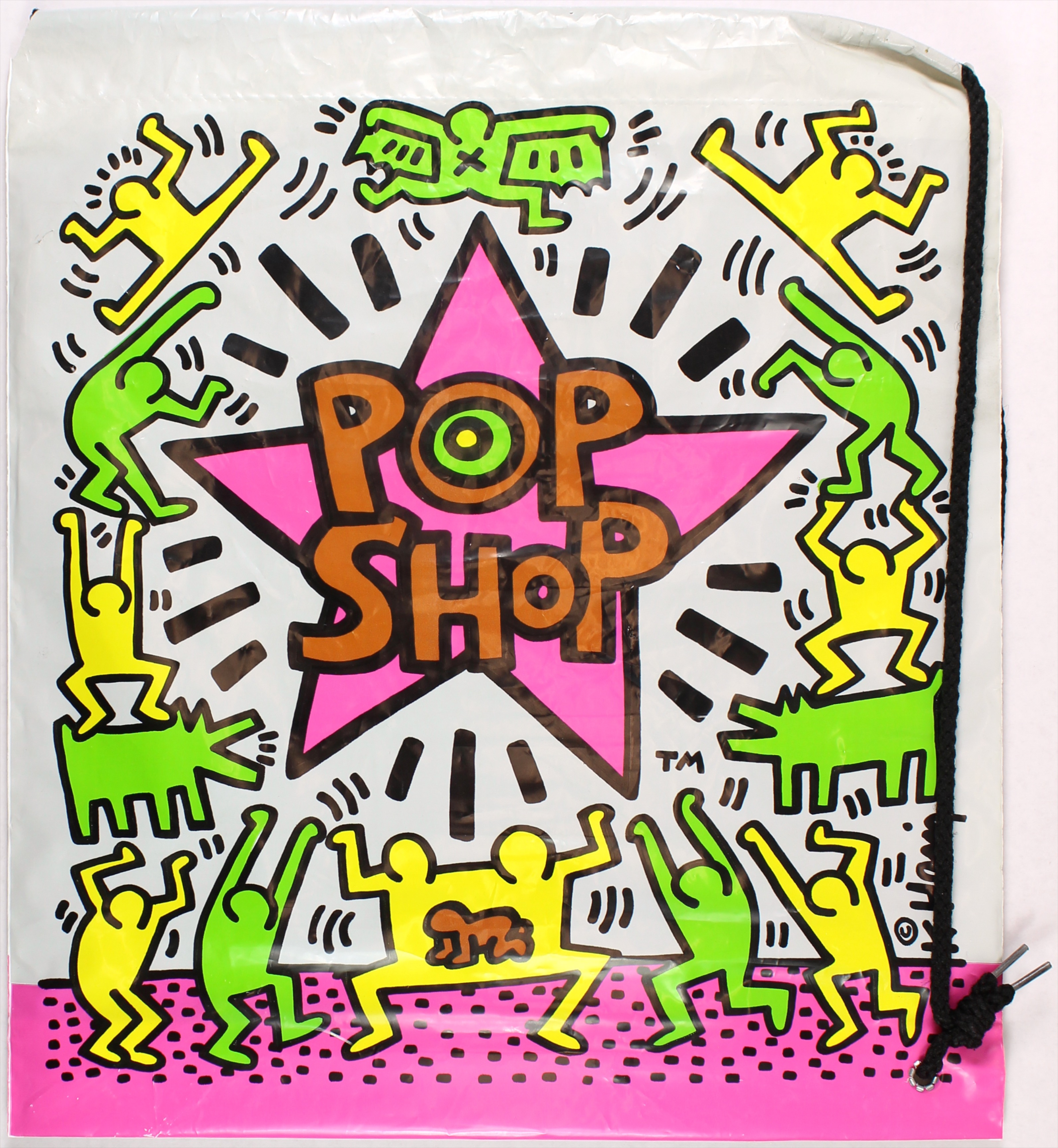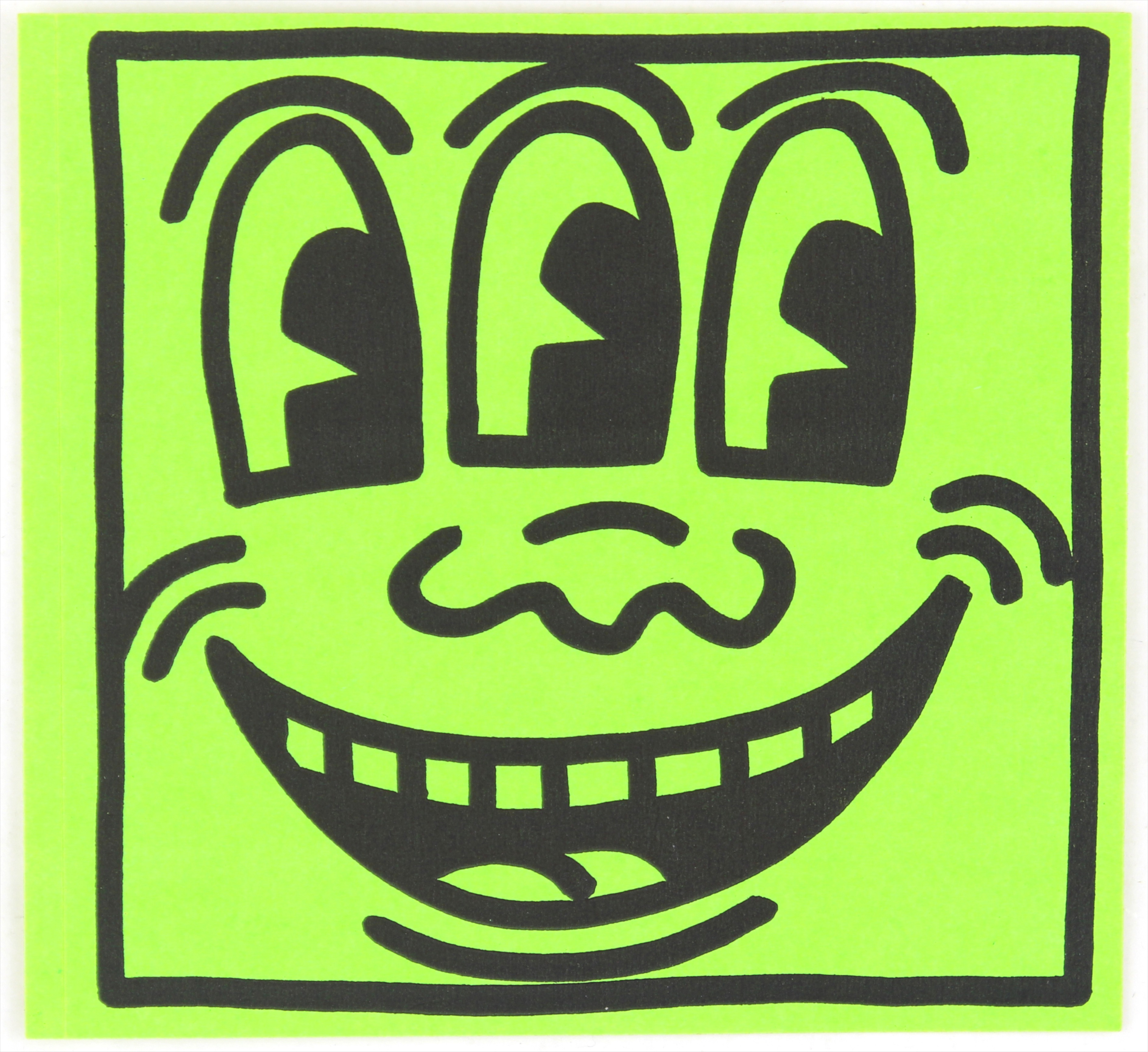 And they were cheap. Posters went for a dollar and Radiant Baby buttons—which for a while were a Haring calling card, offered for free to people who approached him in the subway as he marked the platform walls in white chalk—moved at a mere 50-cent mark-up. Haring was 27 and fully disaffected by the gallery-industrial complex that sought to commodify him, so he did the commodifying himself. The Pop Shop was meant as a corrective—the physical manifestation of Haring's view of art as social product, which he thought ought to be available to as many people as possible. He painted the shop's floor, walls, and ceiling in a contiguous black-on-white mural, and hip-hop piped out onto the street all day. "I wanted it to be a place where, yes, not only collectors could come, but also kids from the Bronx," he had said. "I assumed, after all, that the point of making art was to communicate and contribute to culture."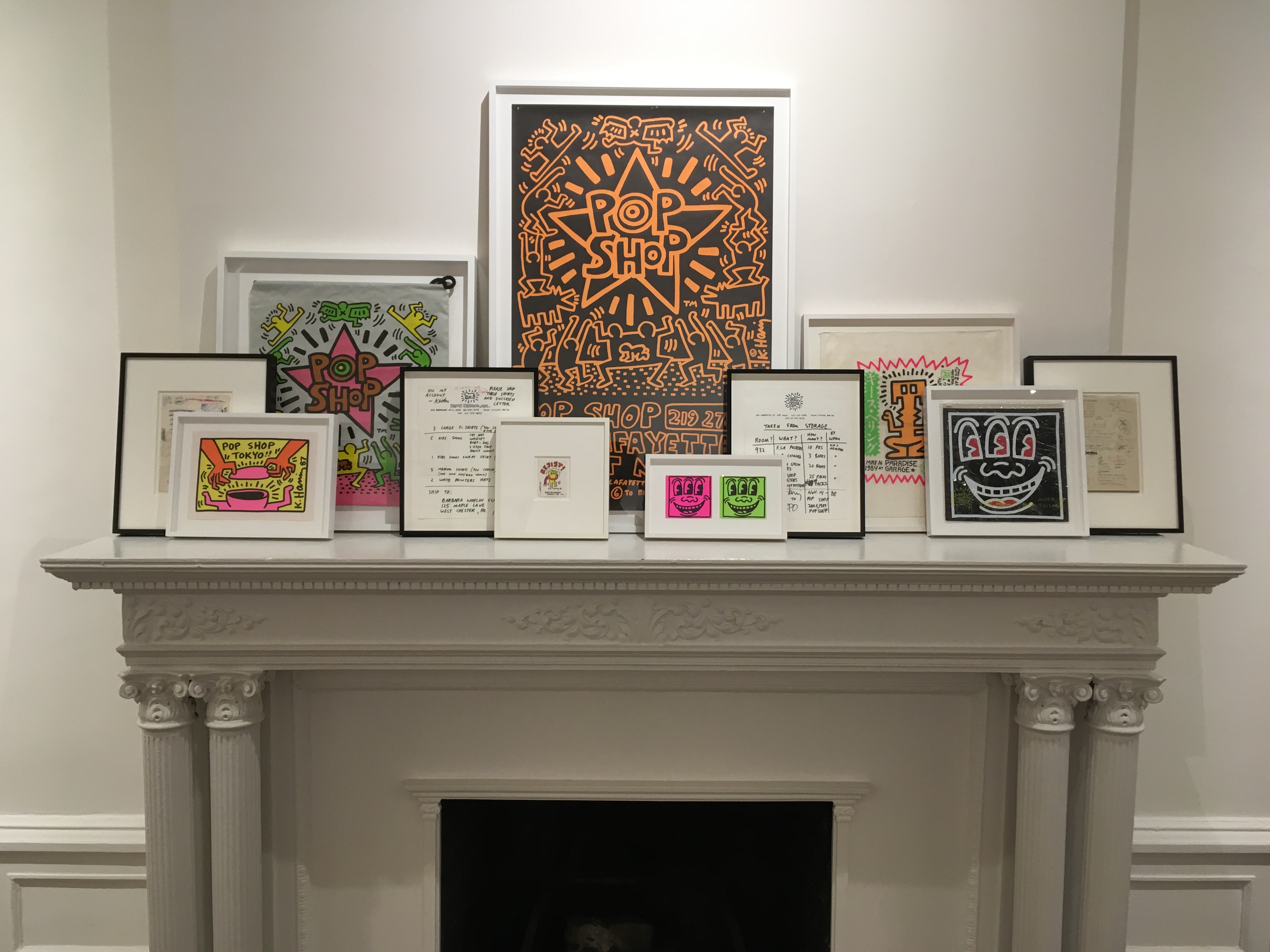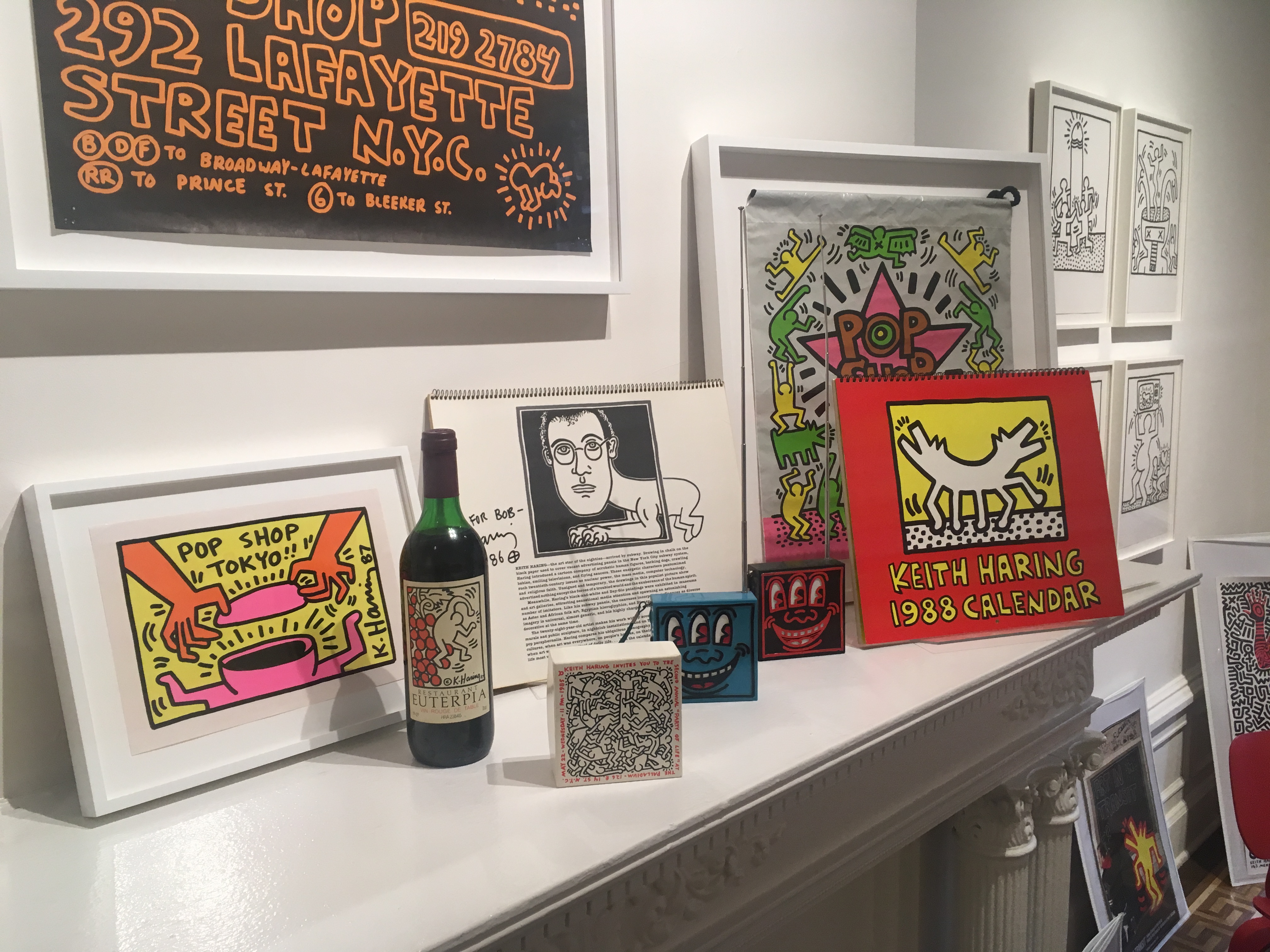 Haring died in 1990 and the Pop Shop, which his foundation continued to operate, closed in 2005, its ceiling extracted and donated to the New York Historical Society, who installed it in their lobby. But it's not difficult, today, to buy reproductions of Haring icons on mugs or shower curtains or baby rompers. To a large degree, the Pop Shop prefigured the now-ubiquitous concept of merch. Still, the loss of the Pop Shop's physical presence is deeply felt. A selection of the shop's remnants went on view recently at Harper's Apartment, the mostly-by-appointment space in an unassuming walk-up on the Upper East Side. Its proprietor, Harper Levine, usually deals in rare books, but recently came into the lot courtesy of an early Pop Shop employee who had held onto a selection of items for years. (In the classic mode of cultural artifact discovery in New York, he decided to let them go when he moved out of his apartment.)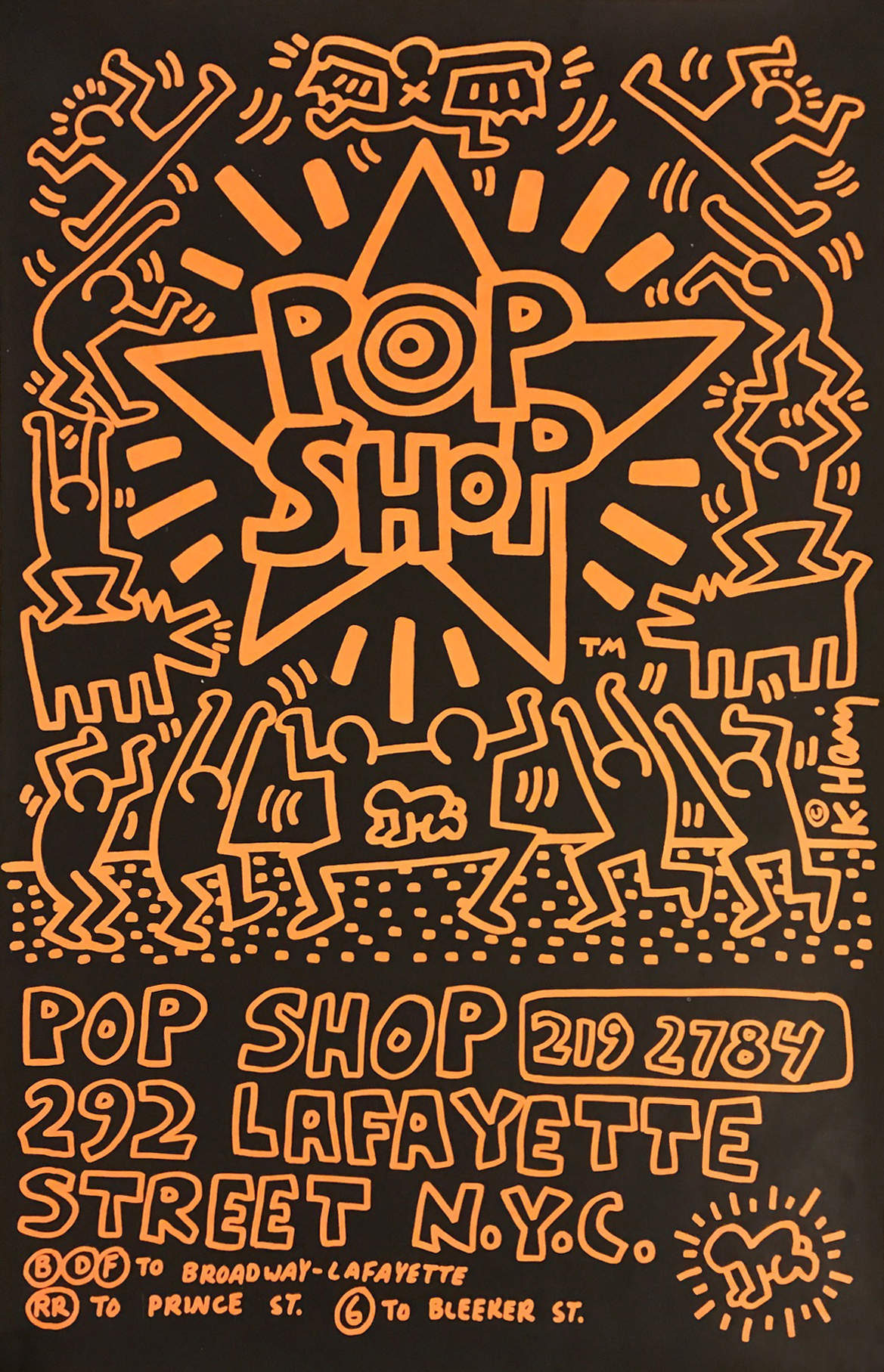 Among the ephemera are original displays of hockey puck-sized refrigerator magnets ("Harmful if swallowed!"), pocket radios in the style of Haring's three-eyed smilers, and a cache of the shop's vinyl drawstring shopping bags. A billboard, painted in school-bus yellow, happily salvaged from wherever it once directed foot traffic and which Levine restored, is now behind glass. Alongside these at Harper's are several framed pages from Haring's desktop notepads: scrawled to-do lists, packing slips, and inventories dashed off on his own Radiant Baby letterhead (sample line item: "3 medium shirts (you choose) (one wish fish/bird vomit)").
At 292 Lafayette Street, the Pop Shop was a short walk from Haring's Broadway studio, located on a stretch not yet known for retail. Haring's shop changed that within a few years, enough to allow for Supreme to move in down the block in what is now understood as a nexus of downtown street culture. Its legacy is profound, still—this week, a three-tiered cake decked in Haring's ecstatic conjoined men rendered in fondant graced the window of a Chelsea bakery—yet it's hard to think of another contemporary artist with the same reach doing something as democratic today.
Incidentally, you can buy a Radiant Baby pin, among other Haring icons, for $9.90 at Uniqlo. The affinity is there; Haring opened a shorter-lived Tokyo Pop Shop in 1987, and he was beloved in Japan. It's a strangely sweet homage to a particular New York—the rare merch drop with a bit of heart.
Keith Haring is on view at Harper's Apartment, New York, through mid-January 2018. E-mail mail@harpersbooks.com for further information.