Photograph by Geoffrey Van Der Hasselt for Getty Images.
An Exclusive Interview with the Vetements Knight
Plus: a threatening mix of fetish gear and nationalistic sportwear.
Photograph by Geoffrey Van Der Hasselt for Getty Images.
After the Vetements show in Paris on Sunday night, photographers mobbed around a guy wearing a full suit of medieval armor, his long, beautiful black hair flowing down his back. Was he part of the show? Someone niche-famous in the goth jousting community we wouldn't recognize? (That'd be very Vetements, which loves to toy with the idea of "notoriety.") In place of the metal helmet, the knight had painted his face with black metal corpse makeup, so that licks of black flames dripped from his eyes and mouth. A small doll around his neck carried a Balenciaga shopping bag (to scale!) like some kind of talisman, and he had placed a "Vetements" bumper sticker on his left breastplate, and a picture of Demna Gvasalia on both his right shin and on a baseball cap perched on his head.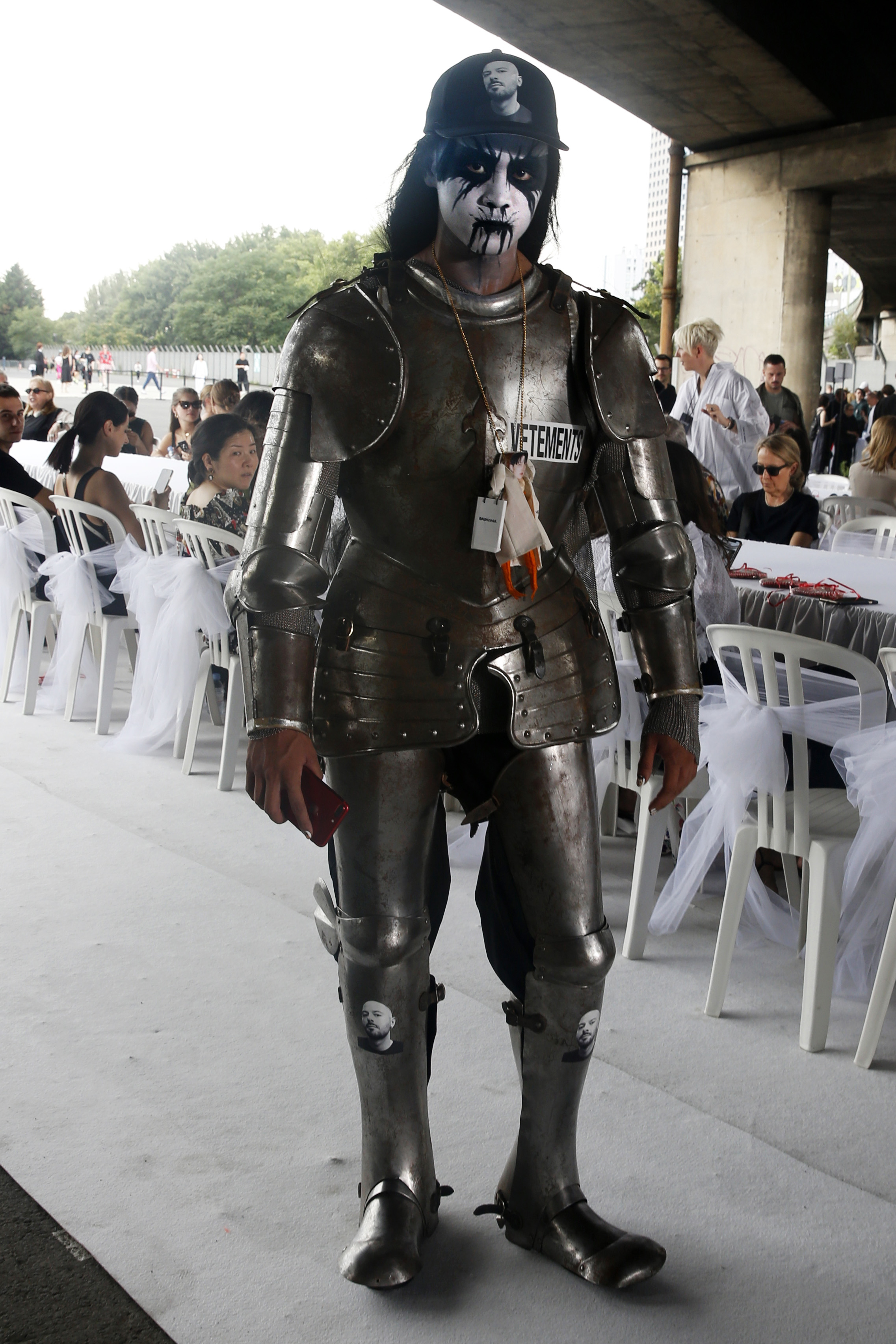 The show featured several similarly goth and metal themes, so it seemed plausible that the knight was part of the act. I almost expected him, halfway through the show, to jump on the runway—a raised U-shaped platform covered with a white tablecloth, like we were at the Vetements wedding—and follow the woman in the dog collar.
But he was just a fan! "I just felt like it," he shrugged, when I asked him after the show what inspired the outfit. His makeup was smudging slightly; it was over 90 degrees Fahrenheit today in Paris. "Are you hot in there?" I asked. He sighed and his black metal eyes grew a little sorrowful. "Yeah."
Lots of attendees were in full Vetements looks—this is a brand that inspires rock band-like fandom, after all—but this was a costume of the knight's own design, despite the breastplate logo. He had rented the costume for the occasion, he said, and added the stickers himself. But what does he normally wear? He shrugged, as if even he wasn't sure what he'd gotten himself into. "Like…normal clothes."
"Normal clothes" can mean anything at Vetements, which traffics in the uncanny reappropriation of vernacular and everyday garments into luxury (you might call it up-appropriation). Today, Gvasalia and his team showed an eerie mix of super nationalist garments—the track pants and sweatshirts worn by men in his native Georgia, many of them screenprinted with pop culture images from other parts of the world, like Loony Toons or martial arts movie posters, and overlaid with phrases in Georgian script—and straight-up bondage-wear. Several models wore leather jackets with attached gimp masks, including one full trench. (Given the sensitivity around appropriation from subcultures and niche communities in fashion, it'll be interesting to see how the bondage community reacts to this, though these will probably be the finest-made bondage hoods on the market.)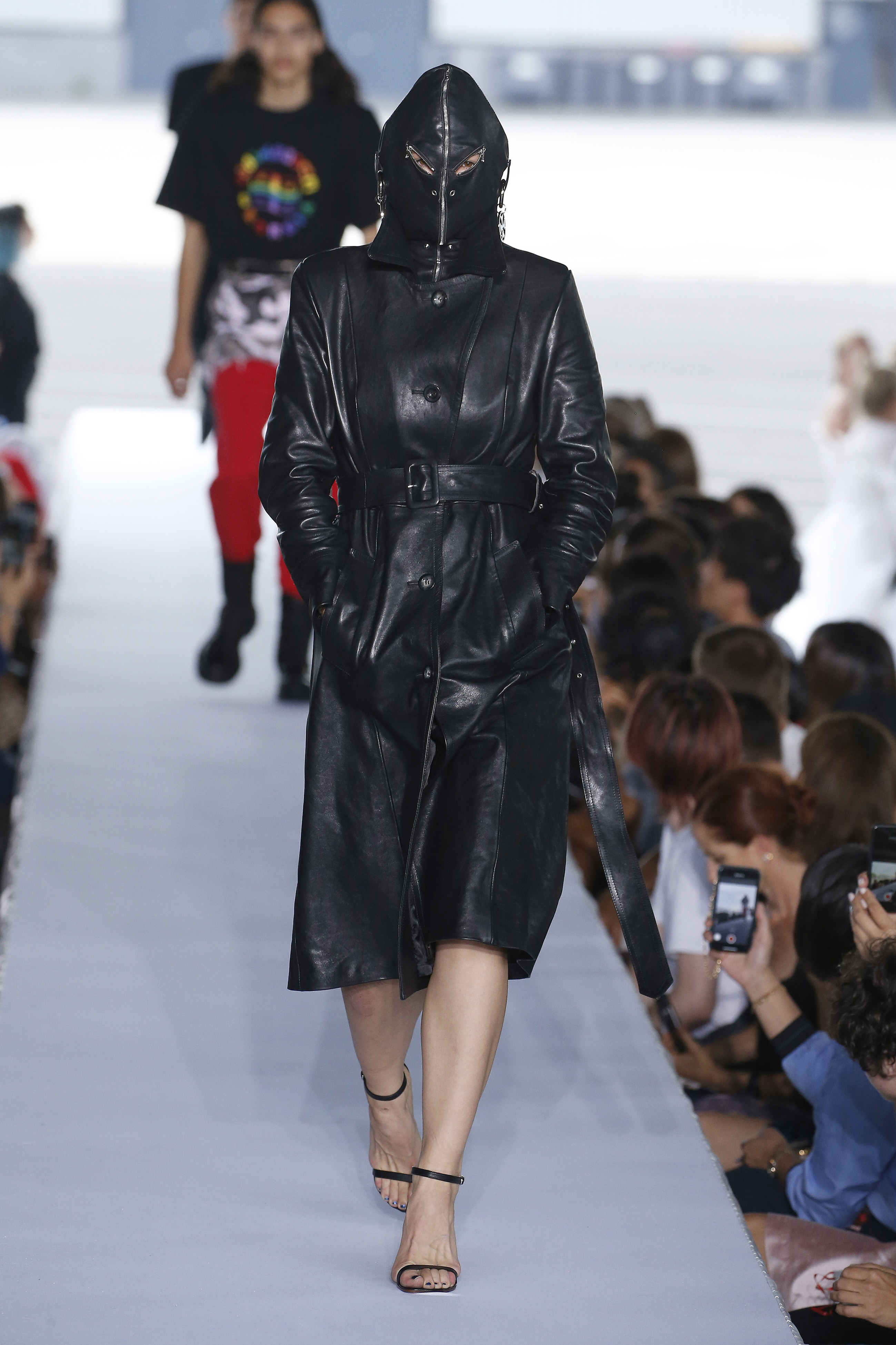 This was my first Vetements show, but there was something very menacing in the air. Those big pointy shoulders are a Vetements house signature, but they have taken on an increasingly sinister look, especially in a leather coat that made one model look like the guy someone evil sends over to ask, "Are we gonna have a problem here?" Big shoulders! Tough guys! Similar messaging came throughski jackets, some with Georgian script and imagery, and others with Russian, American, or Swiss, or—hah—pirate flags. The chunky, dirty sneakers Gvasalia is known for were covered in three-inch spikes, and so were the BMX-style sunglasses.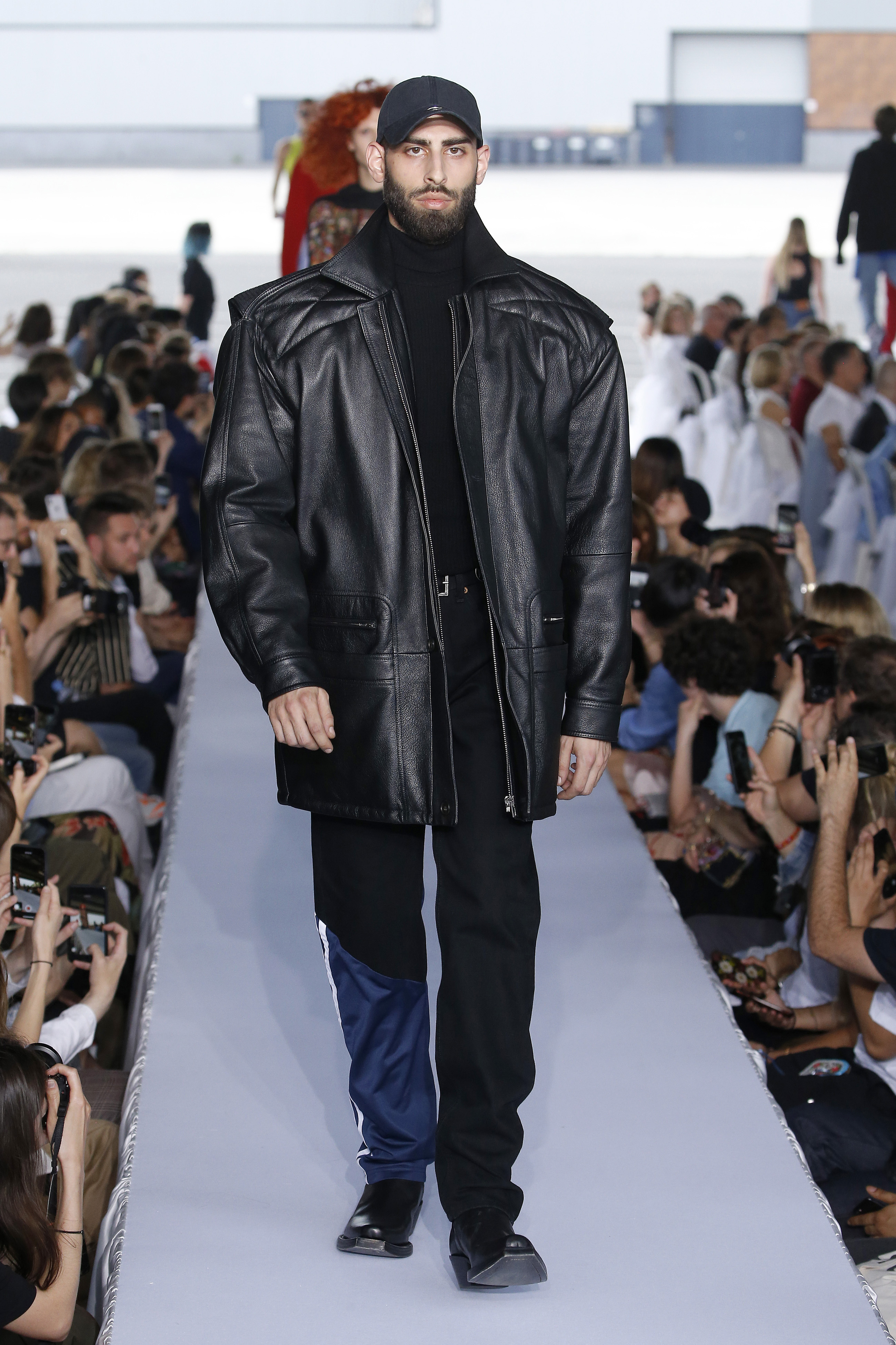 Between the human rights catastrophe of Donald Trump's anti-immigration campaign and the strange patriotism penetrating the ongoing threats of nuclear war and election interference, nationalism is a polarizing subject right now. In the audience and on Twitter, many seemed ill at ease with the show's aggressive energy, and intimidated in particular by the bondage looks. But fetish play, of course, is all about consent, so you should really only be scared if you're not familiar with it. (Aha.) Much more frightening, to me, was a t-shirt screenprinted with a monstrous goth creature bursting through the words, "United States Army." On the back: a butterfly in delicate red, white, and blue rhinestones.