Catherine O'Hara in "Schitt's Creek," photo courtesy of Pop
How 'Schitt's Creek' Turned Catherine O'Hara Into a Couture Queen
O'Hara's character, glamorous ex-soap star Moira Rose favors McQueen, archival Balenciaga and "Phoebe's Céline."
Catherine O'Hara in "Schitt's Creek," photo courtesy of Pop
Dan Levy, co-creator and executive producer of Schitt's Creek, is a big believer in the power of clothes' ability to tell a story about a character in ways that words just can't. Costumes play a significant role in the representation of all of the show's characters, but it's Catherine O'Hara's commanding Moira Rose whose offbeat, aspirational wardrobe rises above them all, spawning attention from stan Twitter and FIDM alike — sometimes even in the same breath.
"I find wardrobe is often neglected in comedy, which is a shame," Levy says. "It can add such a fun dimension to the humor."
It's this layer of humor that makes the matriarch of the fallen Rose family such an outlandish delight. It's already funny enough that Moira has a predilection for injecting her faux-European dialogue with obscure English words, doesn't quite understand how cooking works, and has a tendency to showboat in the local ladies' singing group. Doing it all in eccentric Daphne Guinness-inspired outfits full of avant-garde couture from houses like Alexander McQueen and Comme des Garçons, towering stilettos, and wigs in an array of styles and colors is what makes it downright hysterical.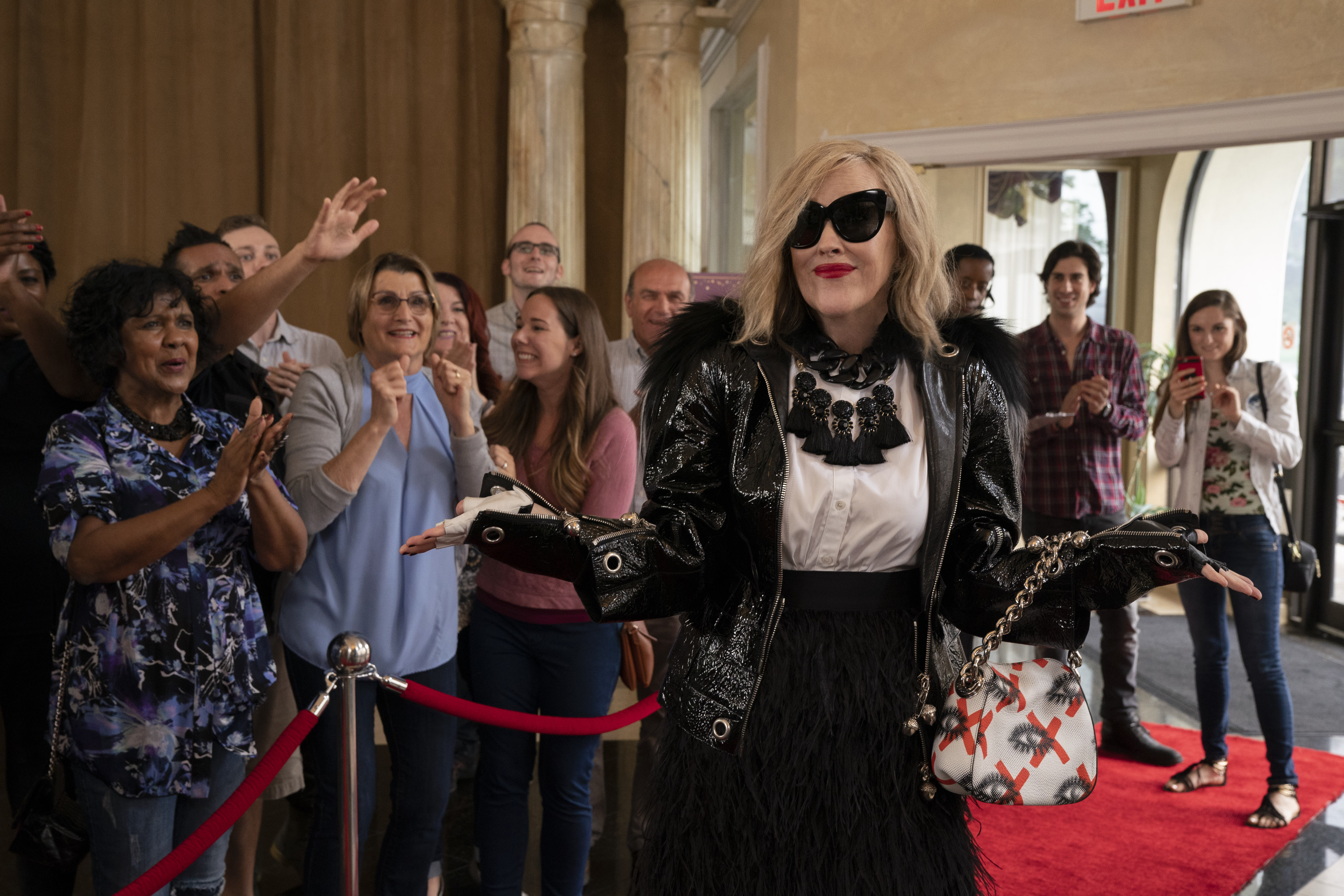 In a way, Moira uses her aesthetic as her armor. It's a reminder to everyone she encounters that her situation isn't permanent, that she might have lost all of her money, homes, and connections, but she's still clinging tight to her sense of self. That her natural self is so out of place in, yet, heartilly accepted by her new surroundings, adds a degree of nuance that reminds viewers that her clothes may lend themselves to humor, but they're never the punchline.
Not only is Moira's designer costuming an outlier in her current bucolic setting; it's decidedly unexpected in a 30-minute comedy — much less a low-budget Canadian production that, until this past year, had flown under the mainstream radar as a cult favorite. Levy chatted with GARAGE about just how much work goes into creating a wardrobe full of high-end looks with limited resources and what his great white whale of a get would be as the show approaches its final season.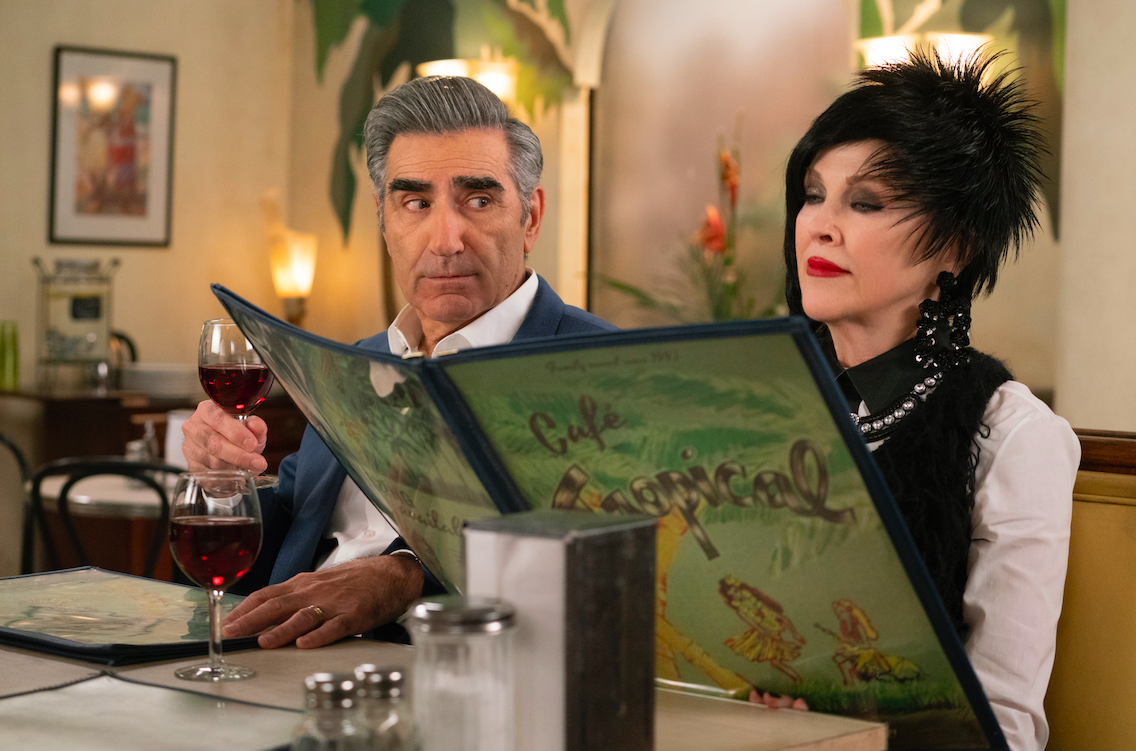 GARAGE Magazine: You use so many great pieces and are great at sticking to the realistic idea that they're all dated and things they owned before they lost their fortune. I can only imagine is just extra work hitting that accuracy. How much time goes into sourcing costumes and what's your process like?
Dan Levy: I'm looking all year round. We're a really small show with a very small wardrobe budget so we have to get creative. I shop mainly consignment — Grailed, Vestiaire, The Real Real, eBay — and within that I have search filters for each character.
For Moira, it's all black and white. She wears mainly McQueen, archival Balenciaga, Givenchy, Phoebe's Céline, Comme des Garçons — anything sculptural or left of center. Fittings with Catherine are a dream. For Alexis, we look to the Isabel Marants and the Christopher Kanes, directional pieces that have an breezy, inherent "cool-ness" to them. For David, it's mainly a combination of Rick Owens, Tisci, Givenchy and Neil Barrett. Basically, if it will make me sweat while we shoot in the middle of summer, we buy it. The process is a total joy and has given me a terrible online shopping habit. I feel like when the show ends I'll just keep buying archival Céline out of habit.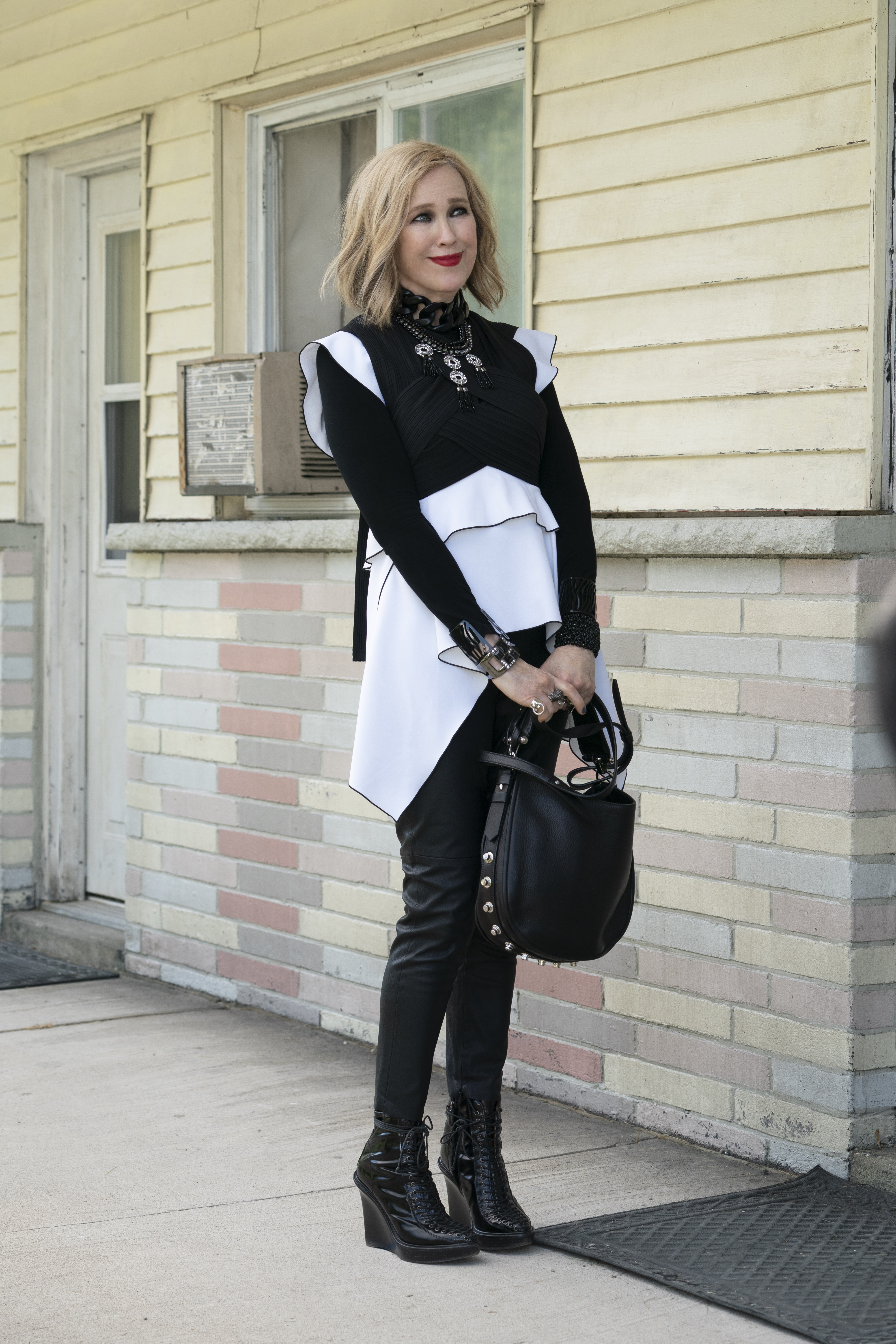 GM: When it comes to thrifting, how much of it is you looking for something specific vs you seeing something that works and getting it?
DL: It's a bit of both. Online you have to be pretty specific in terms of what you're looking for, but I try to pop into as many vintage or consignment shops as I can to see if anything pops out. I'm also continually amazed by the things I find on Etsy. Who would think to me a headpiece made out of crows? Someone on Etsy would. We've found some really amazing accessories on there.
GM: High fashion can be so ageist and youth obsessed (of course, we've seen a turn in the last few years — Joan Didion's Céline campaign and Iris Apfel come to my mind right away), but this show is decidedly not. I never get the impression that anyone is telling Moira to dress her age. How important was that to you when crafting her aesthetic?
DL: Moira Rose is such a wonderful example of how fashion has no age limit. This is a woman who loves her legs and has no qualms about showing them off. She knows what she likes and is so free in her approach to how she gets dressed every day. I love Moira for that. It also doesn't hurt that everything looks good on Catherine and she wears those clothes with such confidence. Those outfits on a different character could eat them alive.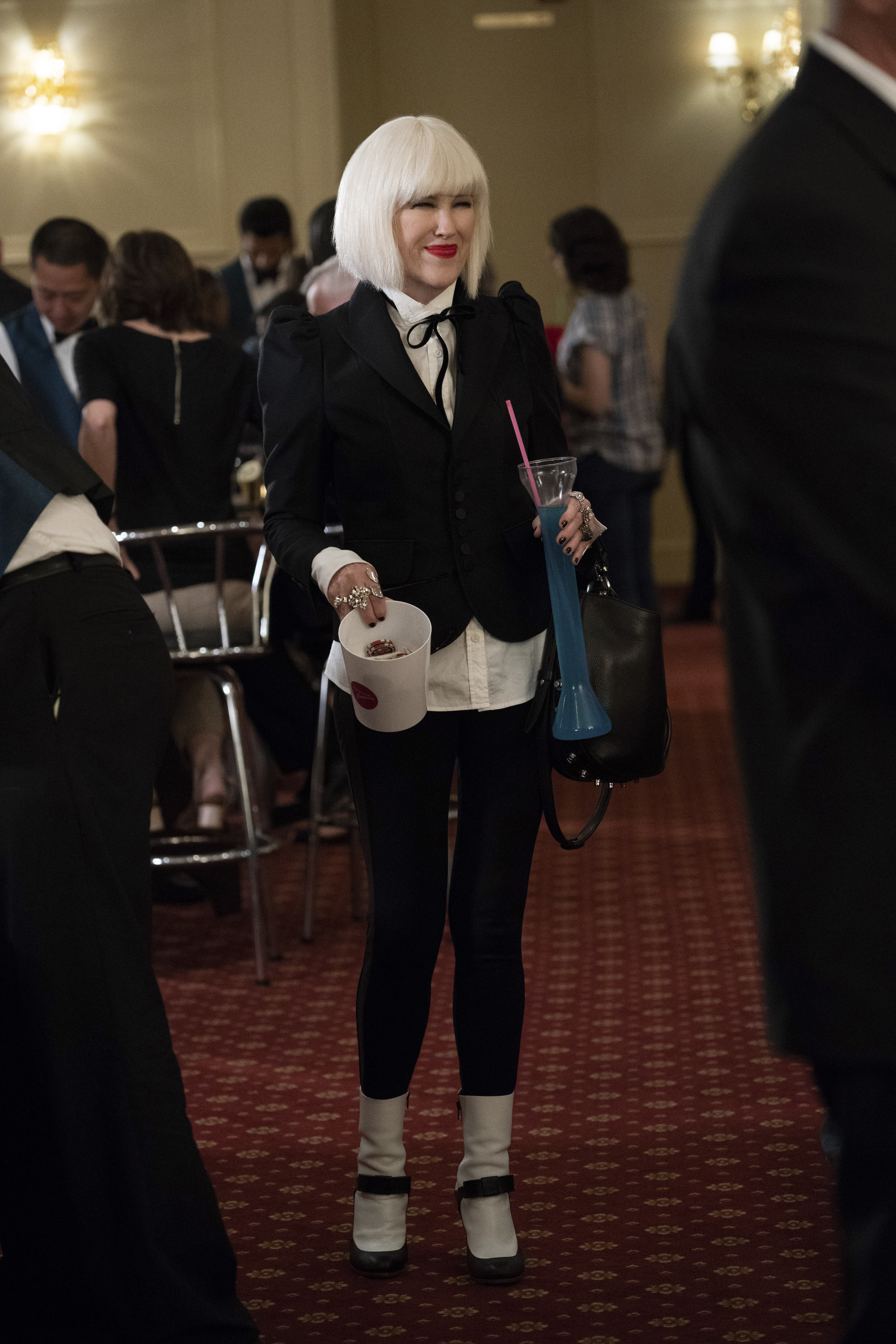 GM: With Moira's outfits getting so much attention attracts an increasingly larger audience, have you felt any sort of pressure to live up to some external expectations or have a moment that tops the last biggest look? Like, how could you possibly top Moira wearing a wig as a hat ? Is that the joke's max point?
DL: I think season after season there is a pressure — not from the outside, but from me — to make sure we continue to impress. Moira's desire to peacock around town never waivers. The clothes on our show say so much about who these people are. Making sure we get each look right is as important as the dialogue we write. I find wardrobe is often neglected in comedy, which is a shame. It can add such a fun dimension to the humor.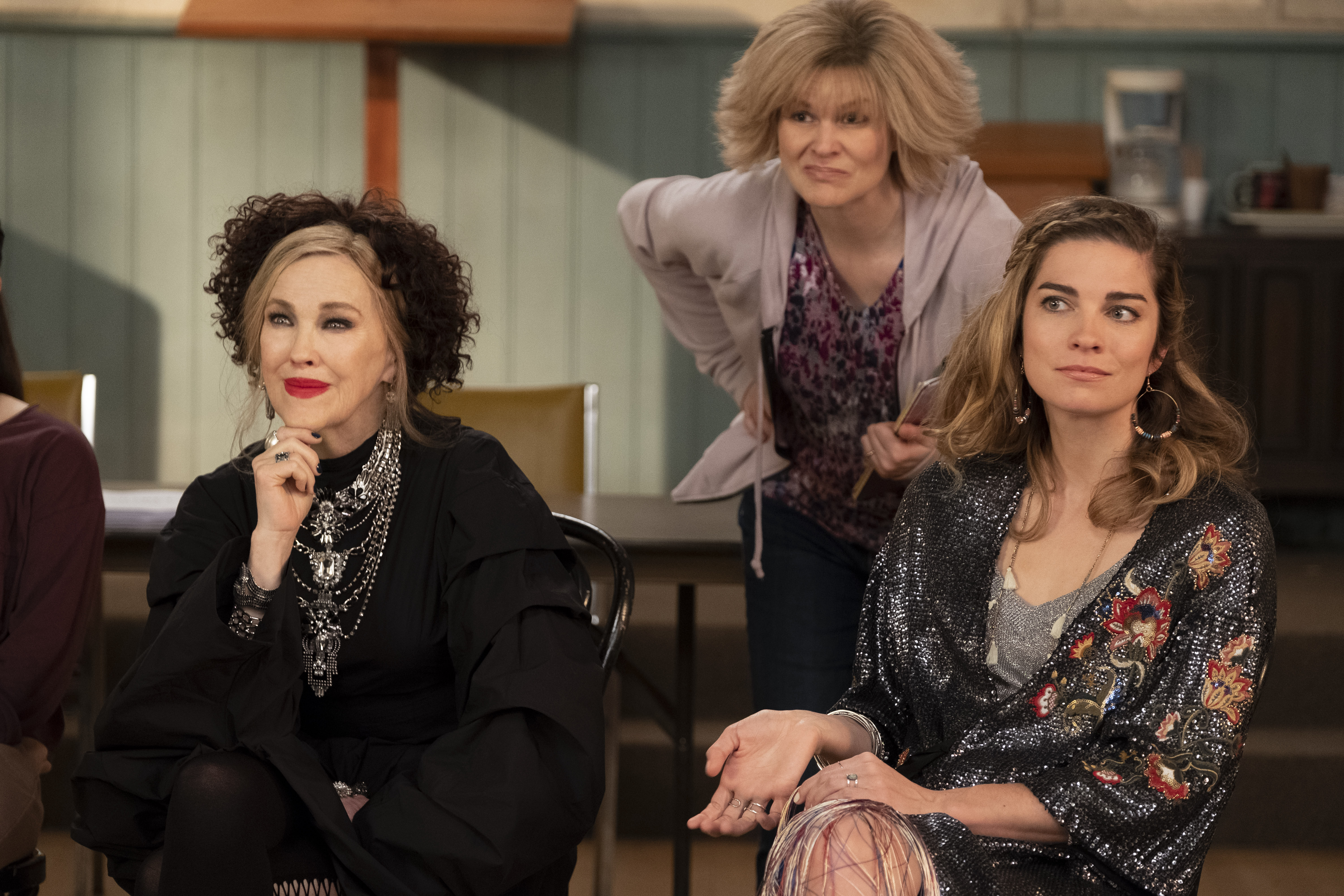 GM: With the last season approaching, has there been anything you've really wanted to try that just didn't work, or a piece you couldn't get? Or, conversely, any kind of Moby Dick item or look you've been holding out for all this time?
DL: Yes, but it happens so rarely. There was this Prada dress from awhile back that I tracked down for Moira. I finally found it on eBay and it just didn't work. The wardrobe sale at the end of this will be wild. This show has allowed me to touch and showcase all these incredible pieces I've admired over the years. I'll remember these fittings forever.