This Year's Whitney Biennial Weaves Controversy Into Its DNA
Janiva Ellis, Kota Ezawa, Josh Kline and more are undaunted by the issues of the day.
This year's Whitney Biennial, which opened on May 17 and runs through September 22, arrived with a built-in controversy. For months prior to the opening, the museum grappled with protests by artists and museum-goers against Whitney trustee Warren B. Kanders (one of the museum's vice chairmen), and calls for his removal from the board in the wake of revelations that the company he owns, Safariland, manufactures tear gas used for military and police actions around the world—most recently inflicted upon migrants and demonstrators along the U.S.-Mexico border.
Kanders issued a press statement saying that he is not responsible for how Safariland products are used. The appeal, however, did not quell protestors who have called into question the integrity of the museum. The Whitney imbroglio coincides with similar controversies that currently surround the Metropolitan Museum of Art and the Guggenheim Museum for accepting donations of cash and art from various members of the Sackler family, whose company produces opioids such as OxyContin. In recent months, an activist group, Prescription Addiction Intervention Now (P.A.I.N.), has staged a number of protests at both museums.
These incidents have initiated a far-reaching debate about the acceptance of potentially tainted corporate and private funds that drive cultural institutions today in light of increasingly negligible U.S. government support for the arts. Should institutions monitor and condone the actions of the wealthy private and corporate donors it relies upon for existence? Despite the heated debate, and the mixed initial reviews that the Whitney Biennial has received so far, there are some intensely engaging and deeply thoughtful works to be seen in the show. The exhibition's strength is in its details.
In response to the controversy, the curators of this year's Biennial, Jane Panetta and Rujeko Hockley, both on the Whitney's staff, made the novel decision to commission for the exhibition a ten-minute video, Triple-Chaser (2019) that deals directly with the issue. Submitted by the London-based collective Forensic Architecture, and Praxis Films, led by architect Laura Poitras, this must-see work turns out to be one of the Biennial's highlights.
"In fall, 2018, we extended an invitation to Forensic Architecture to participate in the 2019 Biennial," Hockley recently told GARAGE via an email. "Soon after, they decided that they would like to create a new piece that would address the topic of the recent protests at the Museum." Embraced by the curators, the work explores the Whitney controversy from within the show itself. "As with all the artists in the exhibition, Hockley added, "We welcomed their desire to create something new, and provided them with a platform for their work."
Continuously showing in one of the video project rooms set within one of the main galleries, the film is narrated by ex-Talking Heads leader David Byrne. It contains passages showing digitally animated tear gas canisters and grenades in high-tone colors, pulsing with Op art effects against geometric patterns, and with an operatic soundtrack to boot. Visually exciting, Triple-Chaser is also deeply disturbing. It contains documentary footage of tear gas in use in the Middle East, and along the U.S.-Mexican border, with clouds of smoke terrorizing and dispersing unarmed demonstrators. The film also proposes methods to trace the secretive manufacturers of so-called less-lethal munitions (such as tear gas), who typically label their grenades with elusive codes.
Among the works by seventy-five artists (most under 40 years old) and collectives in the exhibition, many deal with equally hot-button issues. Outstanding among them are Josh Kline's latest works that address climate change as well as U.S government corruption, as in the mechanized photo piece United States Capital, Washington, D.C. (2019). Part of a series of medium-sized photographs incased in air-tight frames outfitted with water pumps—including images of a statue of Ronald Reagan, and the Twitter logo—this image shows the Capital Building slightly tilted, bathed in bright orange-yellow light. The building appears about to be inundated as water slowly seeps into the encasement. Kline's startling vision of the flooded Capital suggests many things, among which is a wry comment on the current president's bogus campaign promise to "drain the swamp" of government corruption in Washington.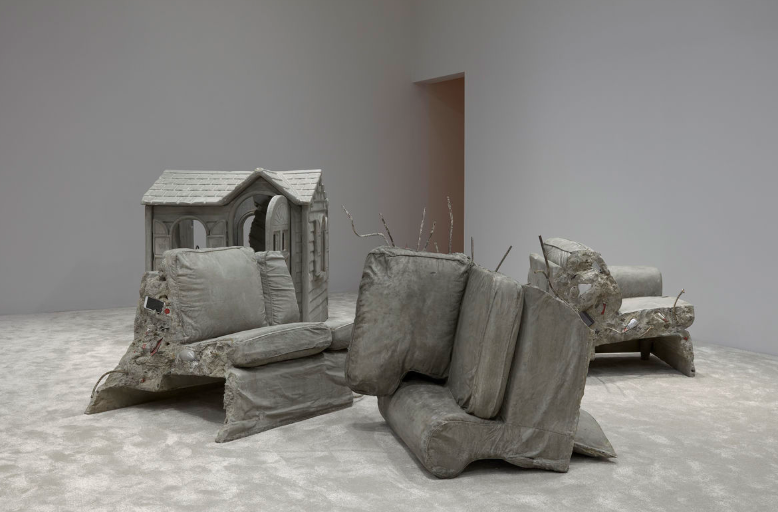 Elegiac and mesmerizing, Kota Ezawa'a animated video National Anthem (2018) shows NFL football players taking a knee during the national anthem to protest police violence against unarmed black men. Projected on one large wall, the video images are comprised of a montage of crisp, richly detailed watercolors by Ezawa, also on view, which he based on photos and film stills of the controversial demonstrations. The accompanying soundtrack features a mournful instrumental version of "The Star-Spangled Banner."
Hanging from the gallery rafters, Jeffrey Gibson's colorful textile assemblage works are banners of a different sort. They reference political issues relevant to his Native American heritage as well as queer culture. Gibson emblazoned two of these elaborately embroidered constructions with the slogan "Stand Your Ground." Other works resemble Indigenous American ceremonial costumes; these unisex outfits come complete with shiny fringe, glittery beads and other reflective embellishments, plus text reading "People Like Us."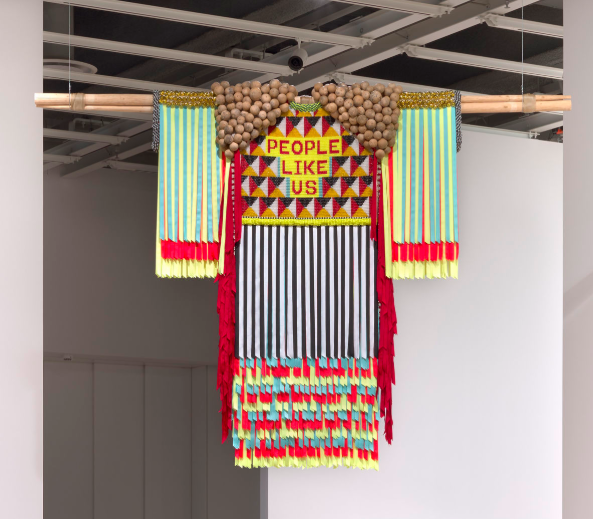 The theme of immigration and the plight of refugees appears in a number of works. Janiva Ellis has treated the issue in a wildly imaginative and metaphorical way.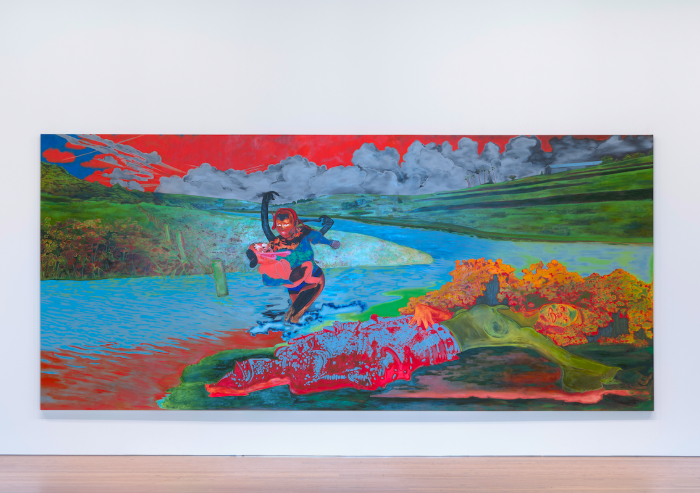 Her mural-size painting, Uh Oh, Look Who Got Wet (2019) is a quasi-Surrealist panoramic, otherworldly landscape populated with cartoonish, distorted figures. Despite the disconnect with realism, the work conveys a very real feeling of escape, migration and a frantic drive toward some safe haven. Using a visual language that at least one critic has referred to as "Afro-futurist fantasy," Ellis shows at the center of the composition a woman holding what appears to be a baby or a small child, except for its hybrid human-animal features that seem to be morphing. Apparently, mother and child have just crossed a river on whose banks lies a prostrate green figure—a distressed, if not deceased female who clearly has not been so successful in her river crossing. With storm clouds gathering in an ominous orange sky in the background, even the rather comically rendered protagonists cannot offset the painting's sense of struggle and longing.
Even more eerie than Ellis' figures, the over-life-size humanoids in Nicole Eisenman's outrageous sculpture grouping, Procession (2019), are monstrous, unnerving, and perfectly suited to the mood of the times.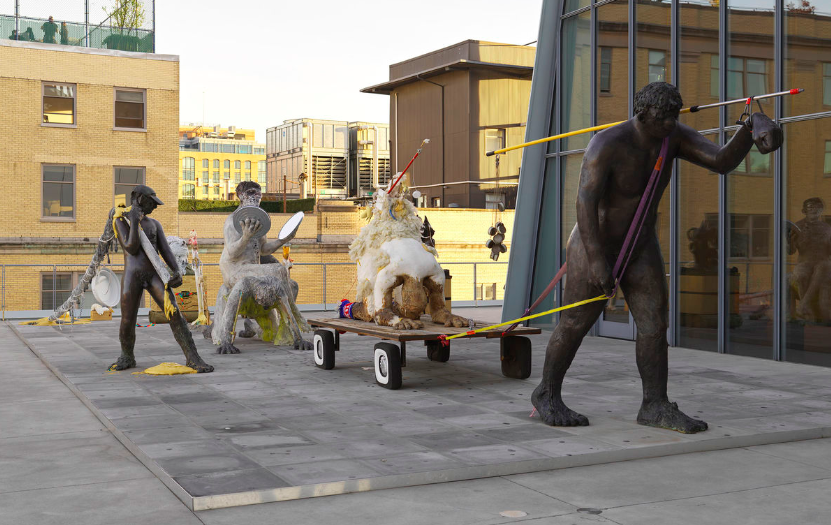 Occupying one of the museum's outdoor terraces, the deliberately crude figures—mostly nude and decidedly male—appear like anti-heroic warriors, engaged in some futile battles. One figure bends over on wooden platform, its hindquarters fully exposed. A blast of smoke or steam periodically spews from its ass. It's an odorless fart, but nonetheless repelling in its grotesque rudeness, and also in its intentional—or not—reference to tear gas.