Photograph by Angela Weiss for Getty Images.
The Grammys Showed Why Musicians Are Fashion's Real Power Players
The fashion at the Grammys was a lively contrast to the average Hollywood red carpet, showing how musicians are the ones who show us how to communicate with clothes.
Photograph by Angela Weiss for Getty Images.
As last night proved for the 60th annual time, the Grammys are a weird saggy institution that doesn't understand anything that's happening in pop culture. But fashion at the Grammy's—well, that's a different ballgame altogether. The Grammy's red carpet is a feast for the eyes, a festival for designers who aren't household names (often because they don't or can't pay to be), and for garments that aren't summoned merely for their otherworldly ability to flatter or make you look like a cool princess. The Grammy's red carpet is less rehearsed and less performative—a terrific irony, because we're dealing with musicians here, who rehearse and perform for a living. But while the desire to make the Golden Globes red carpet a platform for the substantial issues facing the industry was admirable and in many ways successful, there was something strange about actresses bringing spokespeople to do the talking, almost like a human accessory, the way you hold a bag in front of you to shield yourself. And the clothing, initially brandished as a weapon of the Globes protest, was strangely sidelined and silenced, too.

But the red carpet and subsequent clothing at the Grammys showed that musicians have more power and sway over what people wear, how people are expressing themselves through clothing, than Hollywood ever could. If Hollywood dresses itself from a place of insecurity and a dedication to pageantry, the music world gets dressed from a place of self-expression, of communication.
Take Lil Uzi Vert, who showed up in wide-leg raver-style pants, a Balenciaga hoodie, and Virgil Abloh's Air Force 1s in black, which dropped exclusively at MoMA on Saturday. (Bruno Mars also wore a pair of Off White Nike sneakers, performing in the Prestos, an anachronism in his otherwise 90s throwback ensemble. Hype finds even the smallest tear in the space-time continuum!) But the message was not, "I don't care" or "I don't belong," but rather, "I belong somewhere, but it's certainly not at this farce." Giuliana Rancic engaged Uzi, who is appealingly shy, in conversation about what he planned to do if he won, bending down and grinning like a "cool aunt" asking her nephew if there's any special toy he wants for his birthday. "If I win I'm just gonna think about everything I'm gonna buy the next day. You know I love to shop," said Uzi, training his eyes to the ground. When asked what in particular he might buy, he said, "Gosha [Rubchinsky] just dropped a new collab with Burberry. It's very nice. I gotta get everything."
And with that, an obscure Russian skateboard-streetwear designer was name-dropped on E!, and every single teenage boy lost his mind.
Then came Cardi B, current queen of fashion and hip-hop and frankly everything, whose meteoric rise this past year has been one of the only moments of buoyancy in this cruel and moronic world. She wore a white wedding gown by the Lebanese couturier Mohammed Ashi—the double-fan bodice and waterfall hem made it both glamorous and anthropomorphically weird—with Louboutins, of course. (Also: can we get more fashion moments from her incredible sister, Hennessy Carolina?) In the wedding dress (!), she said she hoped to marry her fiancé Offset this year but they're both so busy putting out so much music, and then said the only fun and honest thing anyone has ever said just before performing live: "I have butterflies in my stomach and my vagina."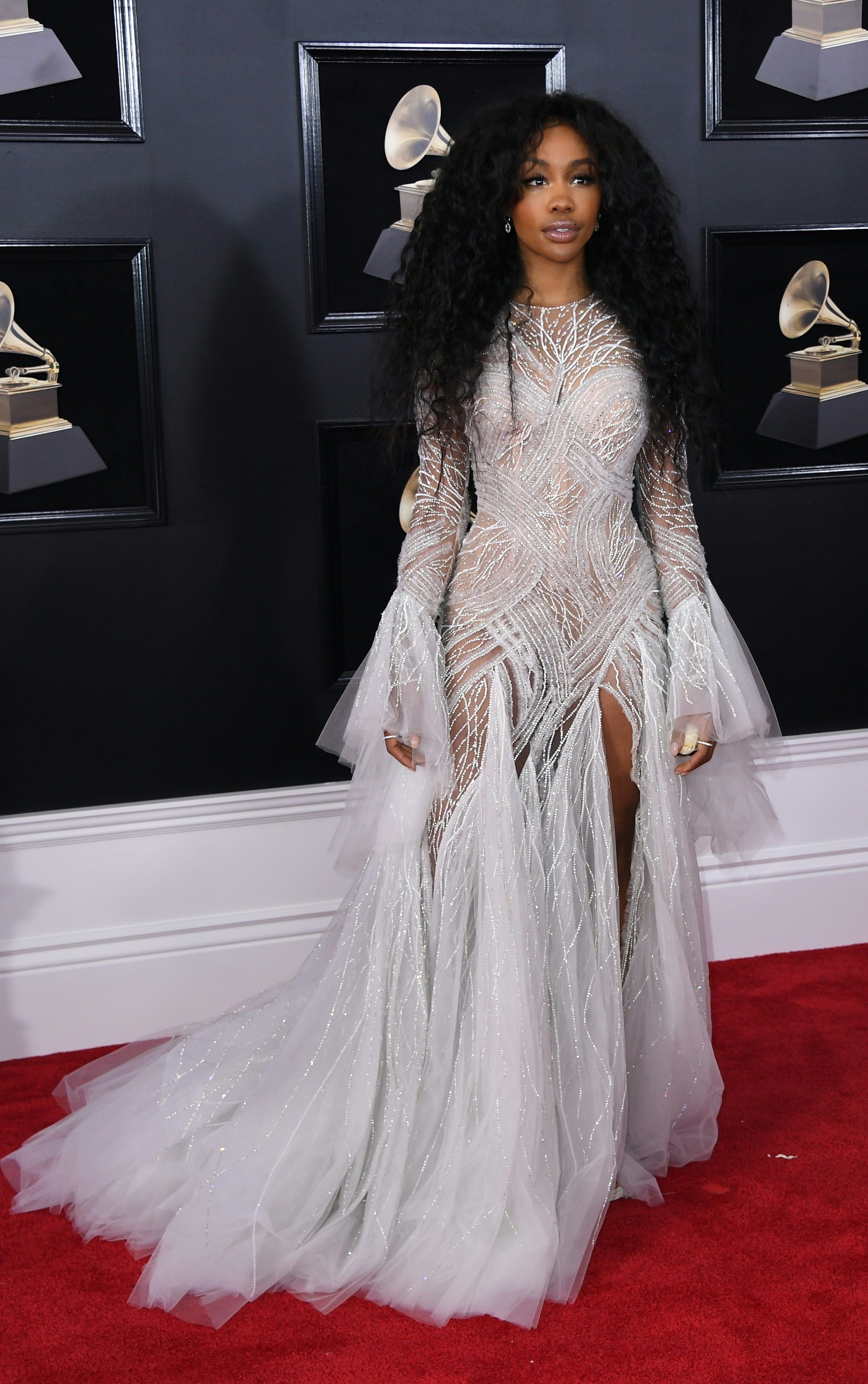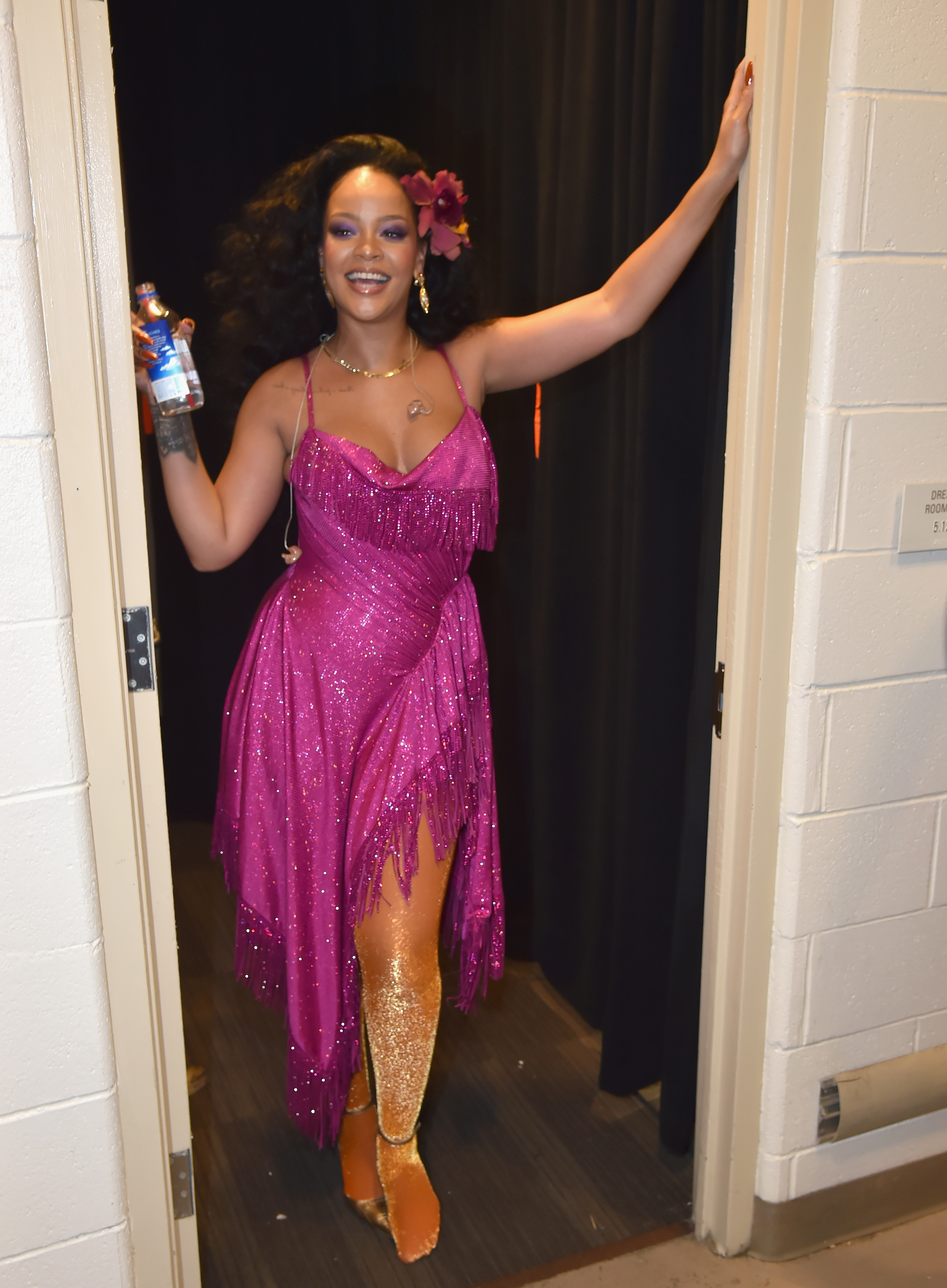 Other attendees showed how musicians are concerned less with tapping into the zeitgeist or a widely appreciated notion of "glamour," but rather striking a note of bizarre beauty: Beyonce in Nicolas Jebran, with cut-out shoulders and a jaunty saucer hat, which was equal parts femme fatale and flying saucer. Kesha in a series of Nudie suits, channeling that psychedelic cowboy swagger. Eve in Naeem Khan, looking Bowie-esque. SZA casting spells in Versace Couture. Rihanna salsa-swaggering in custom Adam Selman, which stylist Mel Ottenberg said on his Instagram stories required more crystals than 2014's infamous CFDA "naked" dress. Rihanna in chocolate-beet latex gloves, boots, and jacket. Rihanna in black sequins. Rihanna ironing. You get it.
Some of music—and, ergo, fashion's—biggest names weren't there, like Kanye West and Frank Ocean. Several skipped the carpet altogether, and you wonder if that's because E!'s insistence that it transform itself into a safe space for social grandstanding has somehow become a burden to celebrities. (It's an admirable effort, but also hard to take seriously when they give equal face time to the white roses attendees were carrying and the dreaded "glambot," which is honestly the name of the cyborg Melania will become after she trips on a wireless router in the White House).
But those who did materialize showed that musicians are truly fashion's power players. Michelle Williams, Emma Stone, and Alicia Vikander may be the paid faces of Louis Vuitton, but when the average person under 30 in America thinks of the brand, they're going to be much more interested in Tyler the Creator, his hair dyed leopard-print (blessings!), in a powder-blue coat with an LV logo-print scarf and a pair of hi-tops from his Converse collaboration. He also wore a white fur trapper with the communist party star in the middle. Now that's politics in fashion!