Samantha Rosenwald, "Wishing Flowers" (detail), 2020, Colored pencil on canvas. Courtesy JDJ Gallery
Portrait of A Year On Fire: JDJ Gallery's NADA Heats Up
Over three different shows hosted for NADA's satellite fair this year, New York's JDJ Gallery exhibits flames at the forefront.
Samantha Rosenwald, "Wishing Flowers" (detail), 2020, Colored pencil on canvas. Courtesy JDJ Gallery
If you close your eyes, focus hard enough, and dare to dream just a little, you may be able to smell the familiar scents of Art Basel Miami Beach regardless of where you are in the world this week. A whisper of fresh bread from La Sandwicherie can find you in Los Angeles if you believe hard enough. Frozen in Upstate New York? Repeat the mantra "I left my VIP card in the Uber" three times over and the briny smell of Ocean Drive will come to meet you. Didn't work? That's okay, New York's JDJ Gallery has curated three shows for a hybrid online-satellite version of NADA that ought to get you in the spirit.
It was never going to be a regular Art Basel, for obvious reasons. So it makes sense that the subject matter of much of the work presented reflects the current conditions. Eleven different artists are participating in JDJ's offering, which is presented in collaboration with Mother Gallery, and a recurring theme in each offering: the presence of fire.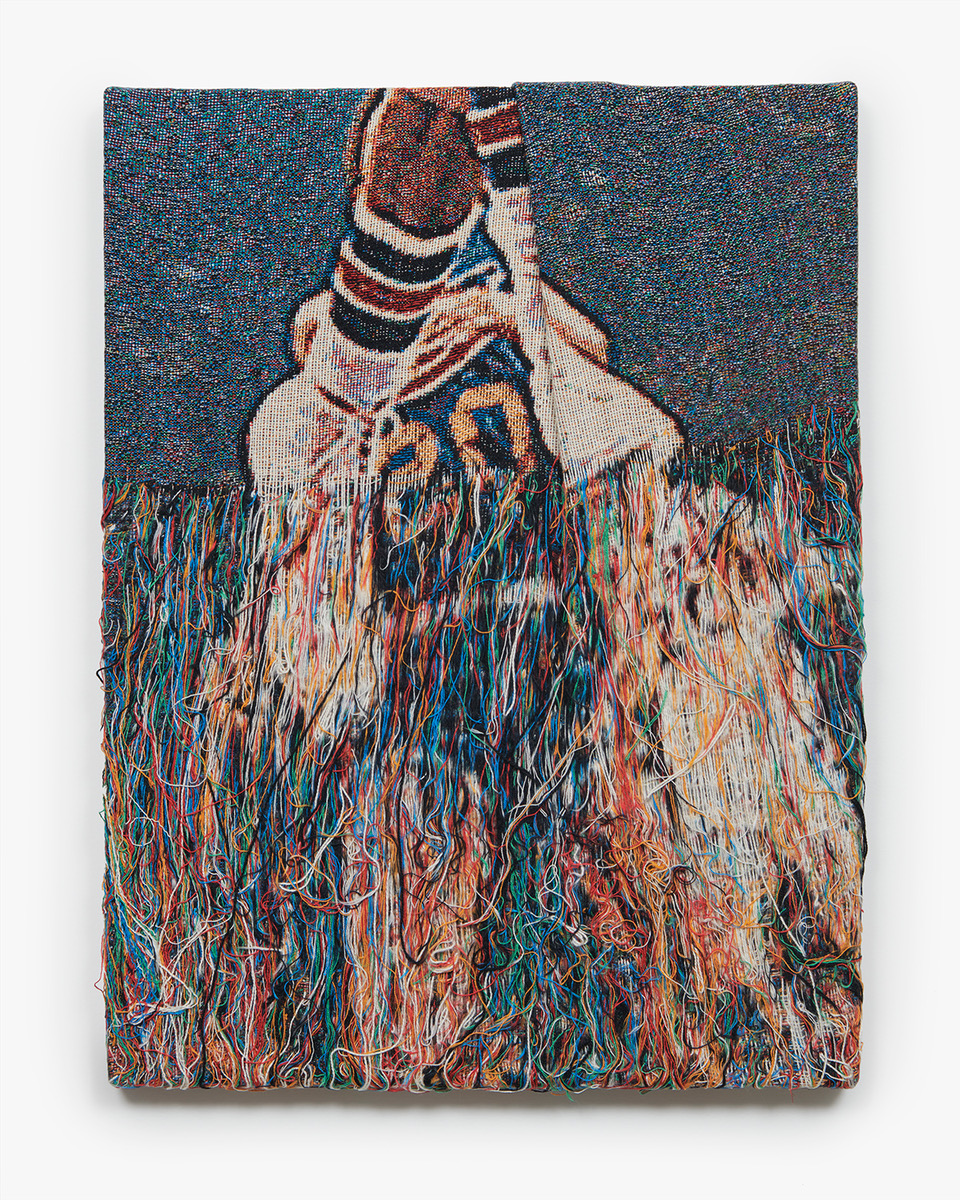 At Mother Gallery in Beacon New York, the woven works of Noel W. Anderson explore the spectacle of the black body, and the corresponding relationship between sports and protests. Anderson's series "Get Lifted," is inspired by the historical anthology "100 Years of Lynching" by Ralph Ginzburg, which made the artist realize how similar the discourse of language we use to discuss modern athleticism in America is to how we discuss lynchings.
"The event of watching a Black athlete go up for a slam dunk is talked about similarly to the way they discuss the lynching of a Black body… They say 'The crowd goes wild' in both situations," he explained. Thus, several works within the series show just the feet of a basketball player as they lunge into a jump shot.
"I want people to think about what it means for that body to be suspended."
His other tapestries in the show depict a warped close-up of LeBron James screaming over abstracted bleach spots that give the allusion to flames. Removed from the context of James on the court, his expression suggests anguish.
Anderson got into the practice of manipulating imagery from television as a child, recalling his father asking him to fix the rabbit ears on his television to keep the image from warping: "He'd say, 'Boy, go fix that!' So I would go over and stabilize the image. But because I was the youngest and I was a trickster, I would play with the image. In that moment, I was God! I had the power to either stabilize the image or make it move. The image isn't even real."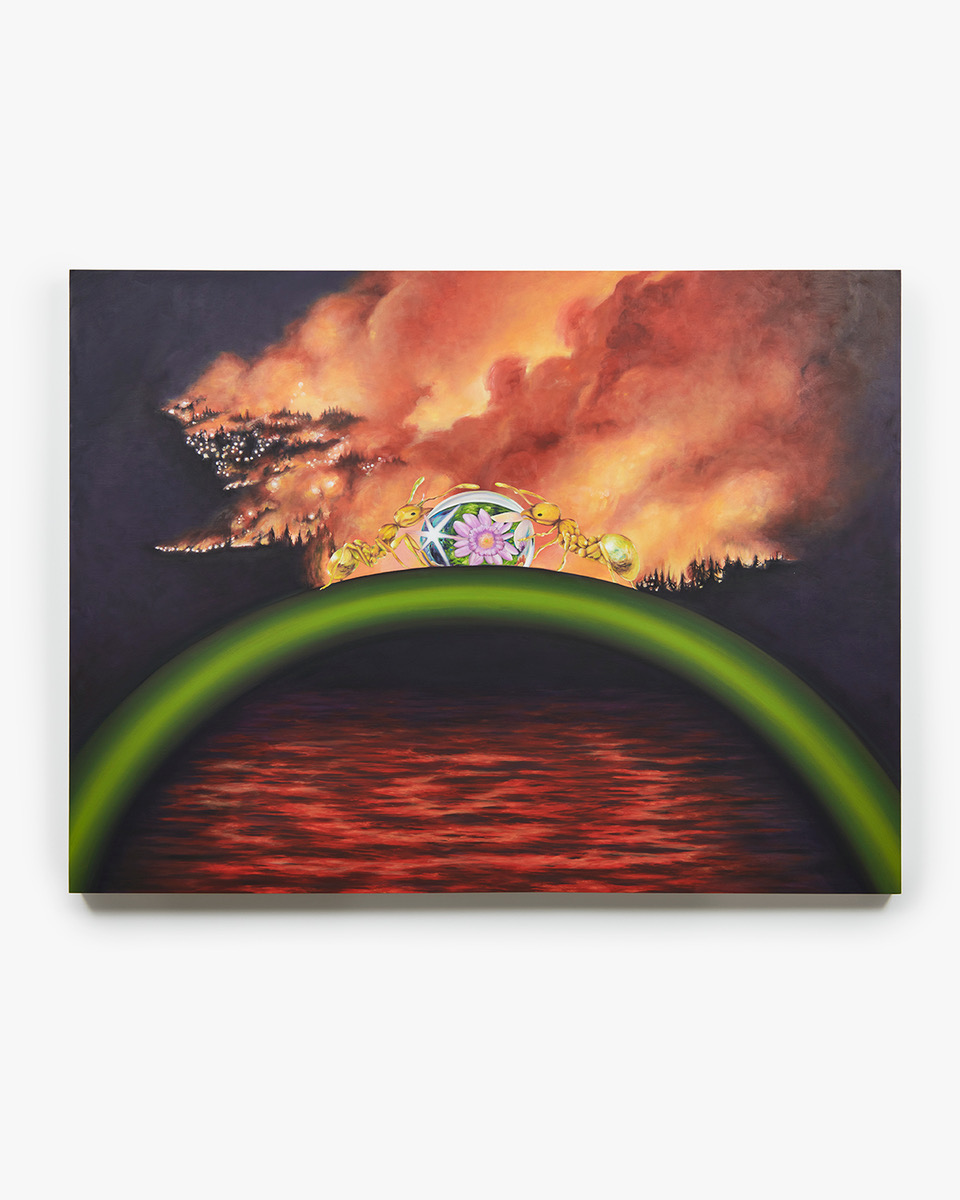 Over at JDJ's homebase in Garrison, New York, the fire keeps burning in Bridge Over Troubled Water, a painting by Brooklyn-based Lucia Love. Depicting ants pushing a droplet of water over a blade of grass as the California wildfires rampage in the background, the work commands your attention and your empathy.
"The ants are the stand-in for what we can do through mutual-aid," Love explained frankly. The visual metaphor applies to the California fires, of course, but not exclusively, as individual crises blazed through the country all throughout this year—like wildfire. "It feels really small and tenuous, but it's such a precious gesture. Like, 'We have to move this tiny droplet, but oh my God, there's so much fire."
Love is based in Brooklyn, not California, but she explained that watching her friends on the West Coast suffer put her into a state of exasperation and urgent need to act. "There's that choice you make where you can just slide into apathy and nihilism, or do you decide that this action is precious and beautiful?"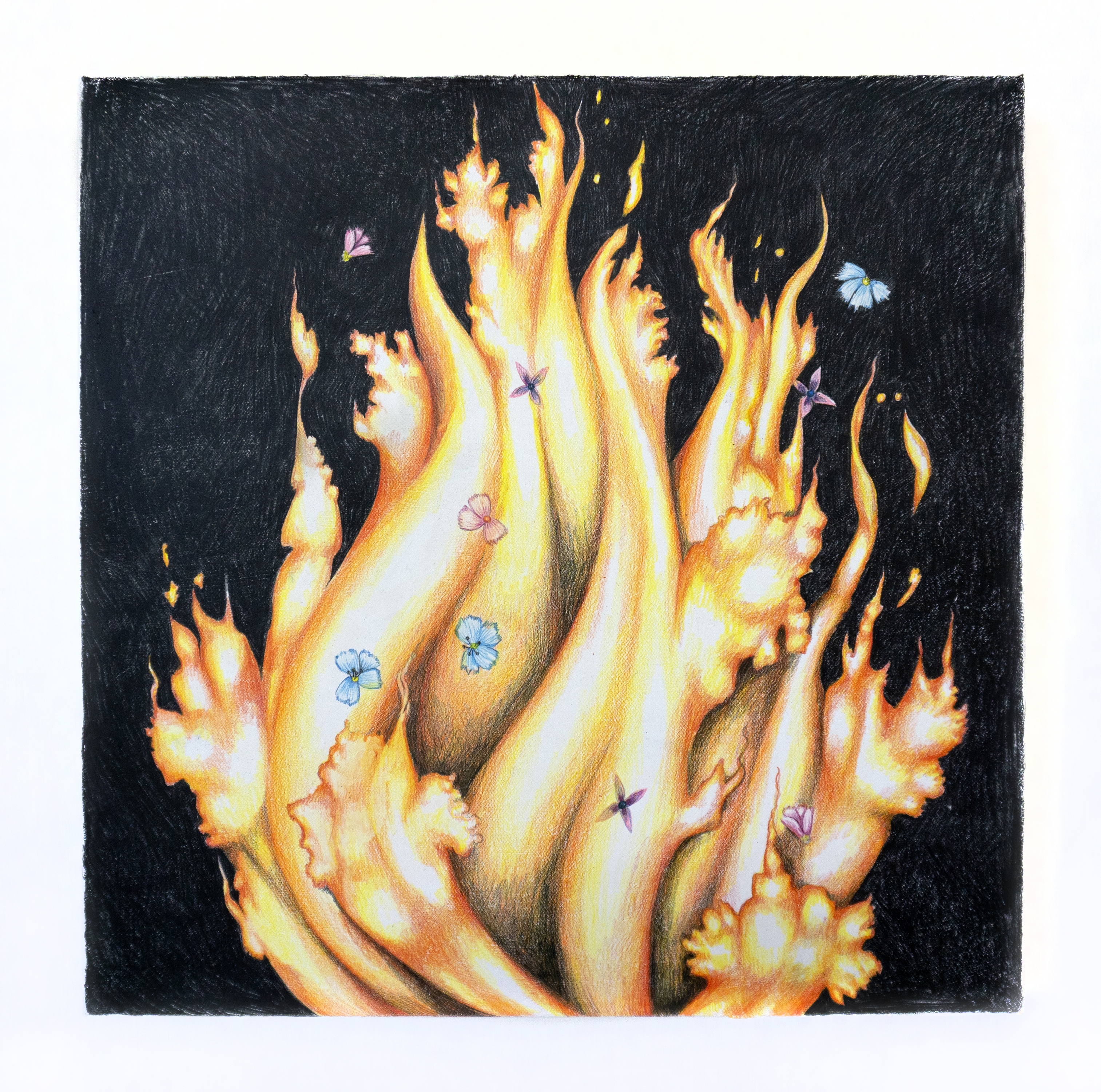 Across the country in Los Angeles, Samantha Rosenwald was struck by a similar call-to-action as she watched the wildfires ravage her home state. On top of the sense of loss and destruction felt by everyone this year, Rosenwald also had gone through a painful breakup when she created the works on view on East 3rd Street in Los Angeles.
"The flame encapsulates a bursting feeling, like an internal rage, blood boiling, an ineffable searing disquietude," said Rosenwald. The colored pencil-on-canvas works show a hand clutching grapes while submerged in flame, a darkly comic look at passion. "By essentializing the notion of fire to this one bold and flat symbol on canvas, I was hoping to let my works encapsulate this range of raging extremes."
Rosenwald continued, "I wanted the fire to simply be fire—to be this thing with many identities: some evil and some hopeful. I wanted to present the flame as something very personal to me, but something so universal that it could mean something special and unique to whomever looked at it."