Tree + Flowers, 2009 oil on masonite. Courtesy of the artist, Adams and Ollman, and Alexandre Gallery
For Lois Dodd, Painting is a Celebration of Nature
The artist chats—via snail mail—with Haley Mellin about her latest solo exhibition at Adams and Ollman in Oregon.
Tree + Flowers, 2009 oil on masonite. Courtesy of the artist, Adams and Ollman, and Alexandre Gallery
Lois Dodd's solo exhibition, currently at Adams and Ollman, Oregon, and her first significant presentation of work in the West Coast, includes a selection of paintings from 1986 to 2017, presented in collaboration with Alexandre Gallery, New York. Born in 1927, Lois Dodd has depicted her everyday surroundings in the Lower East Side and coastal Maine for over fifty years as part of an influential community of artists including Alex Katz, Mimi Gross, Rudy Burckhardt, and Yvonne Jacquette who split their time between NYC and Maine. A student of Cooper Union, Dodd is the last living founder of the legendary Tanager Gallery, one of the first artist-run cooperative galleries in New York. As a pioneering figure in the avant-garde gallery scene in the 1950s, Dodd is known for her observational paintings of buildings, landscapes and still lifes: she paints things as she finds them, framing the everyday in a contemplative way. Dodd's paintings were recently on view as part of a group show at Karma, Alexandre Gallery, and will be on view alongside paintings by Shara Hughes at Parts & Labor gallery in Beacon, NY, run by Franklin Parrasch and Nicelle Beauchene. GARAGE reached out to Dodd by mail, in her rural Maine home, with the artist hand-writing answers that were delivered by the USPS.
In your current show at Adams and Ollman, presented in collaboration with Alexandre Gallery, the paintings depict landscapes and where you have lived and worked for over seventy years—New York City, rural Mid-Coast Maine and the Delaware Water Gap in New Jersey. How do you choose a scene or composition? Why do you paint nature?
Usually my subject is something I see repeatedly and know in different lights, morning, afternoon or night light. It will have become familiar, knowable and visually clear. We live in nature and are a part of nature: paint is my preferred means of celebrating nature.
You often paint in one sitting and repaint the same subject.
Different times of day and season changes everything, and it is fascinating to observe. I work with immediacy because the light moves and changes. The weather also can be an issue. One could return to the painting spot a second day, if the weather cooperated, but it is never a certainty and my decision making has adjusted to a certain urgency which keeps my head clear and my hand moving.
Is nature different to you than painting a building?
Clearly buildings are more geometric, but I look for that in nature as well. I look for geometry, that is.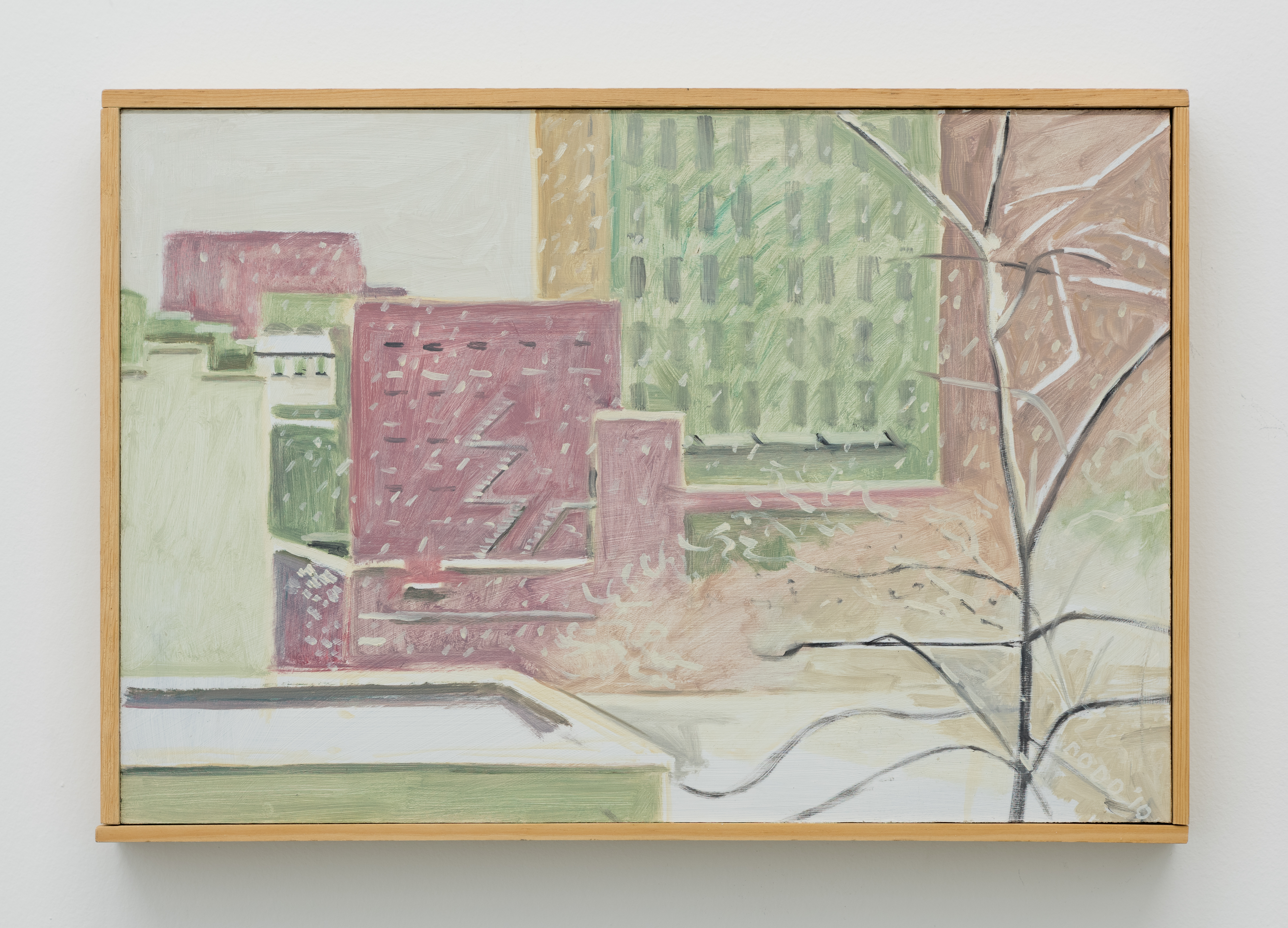 How do you know when a painting is done?
A painting is done when there are no more obvious decisions to make.
What is your routine?
I don't have a set routine. Every day is different. In the past, I took my equipment out-of-doors, but hauling the folding easel, panels and other essential stuff plus the hazard of picking up ticks (a new phenomenon in Maine) while working outside has dampened my enthusiasm for the out-of-doors and driven me into my barn to work.
You co-founded Tanager Gallery, one of the first artist-run cooperative galleries in New York. What year was this and what did you learn from that experience? Were you making paintings similar to what you are painting now? How has NYC changed since then?
We opened the Tanager Gallery in June of 1952 on East 4th Street but sometime in the following fall moved to East 10th Street. My son was also born in June of '52. My paintings in those days were done from drawings I had done from sheep or sea gulls or cows. They were larger than paintings I did outside, directly from nature, later on. The gallery lasted for 10 years+ closed (I think) in 1962. NYC has and will change continuously. That block of East 10th Street is fairly unrecognizable as the same place. #90 is still there but is a fancy real estate office.
Tagged: