GARAGE speaks to co-creative director Serhat Işık on creating his own language of beauty and style.
Growing up in Turkey, a tiny evil eye bead always made its way onto my outfits. The refusal to pin one onto my cool Quiksilver T-shirts and baggy Levi's pants was my act of teen rebellion—evil eye wasn't chic or "western" since no movie or music video showed one. Two decades later, I wanted nothing but to wear that light blue talisman after I saw it on the runway, on tight turtlenecks and tank tops in GmbH's Spring/Summer 2020 collection. A handsome, Middle Eastern-looking model wore a white tank printed with a large eye, paired with jeans carrying the top's similar harness-like details; another boy was in a skin-tight shirt emblazoned with the superstitious emblem on both of his slightly muscular shoulders and his chest—his loose-cut pants in a matching turquoise blue. He was a big sexy evil eye on legs.
The 34-year-old me wanted what the 14-year-old angsty teen me refused. "I also tried to hide that part of me for many years for that purpose, but luckily, I started healing and celebrating who I am and where I come from," Serhat Işık, the über-chic Berlin-based streetwear line's co-founder and designer, tells me. Raised in a Turkish household in Germany, he witnessed immigrants' children carry what he calls "the shame around obviously recognizable diasporic traditions of beauty," but over the years, it's been that contradiction that seeded his and his creative partner Benjamin Alexander Huseby's visions for GmbH, which is now stocked by top global fashion sellers, such as SSENSE and Dover Street Market.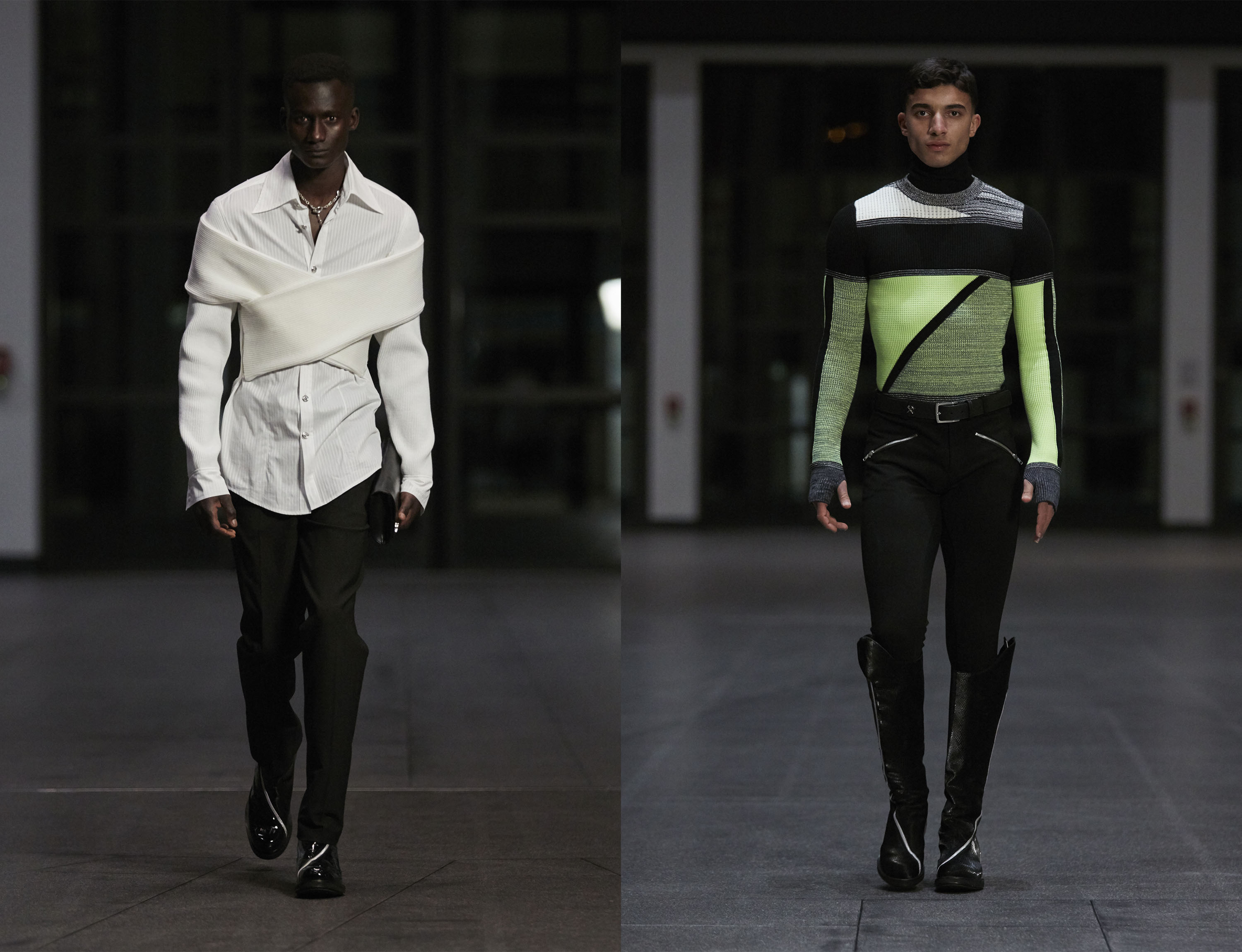 He and Huseby met at a Berlin club five years ago, but Işık assures that GmbH did not emerge from some "magical experience" on the dance floor as many assume. "Fashion and club culture were always inseparable, and in our case it's something we grew up with and where we socialize with most of our community," Işik adds. Their immigrant upbringings and mutual desire to subvert fashion's representations of gender and labor, however, was an impetus. Işık thinks that second generation creativity, which allows them to filter their surrounding through both their and their lineages' perspectives, has also been their connecting tissue. He calls that sometimes painful duality a "gem," and believes in being "unapologetically proud of its exceptional creativity."
In a handful of years, the duo has carved a distinctly defiant style against clothes' gendered cues and achieved so while committing to conscious and ethical production. Their body-stretching geometrically-revealing tops, high waist zipper-laden PVC pants, and '90s-inspired gel sneakers for ASICS are products of a non-hierarchal and a subtle activist approach to fashion. They use dead-stock garments from Milan's textile factories with a recycling mentality to give excess a new life. Rare Earth, their Autumn/Winter 2019 collection, had models from all ages, bodies, and races conquer the runway in Parisian club Péripate for an alarming tale on inter-terrestrial immigration in the face of a collapsing Earth.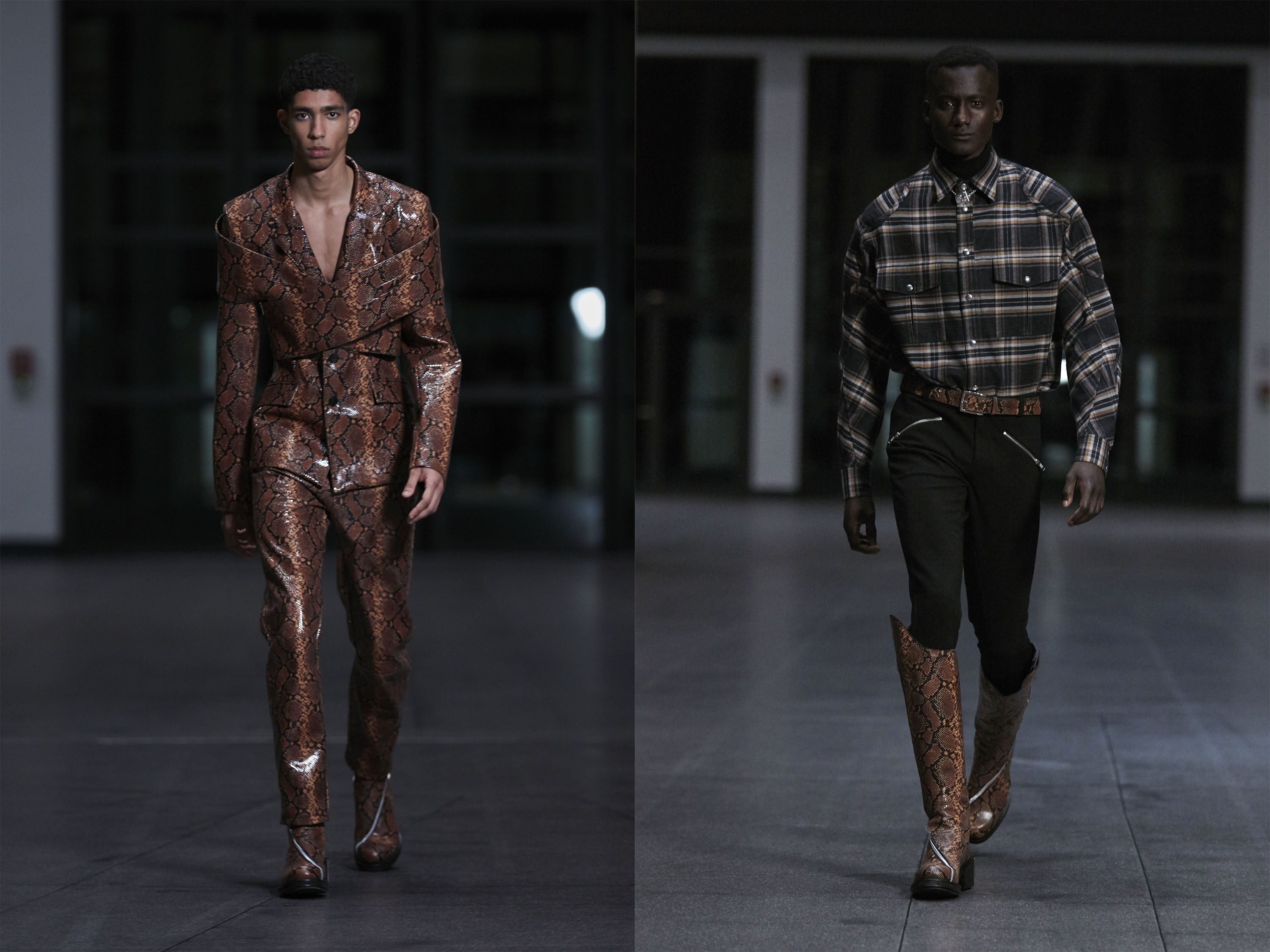 Their house, or "collective" as they see it, may seem to be in the clan of high end lines that clash "industrial glam roughness" with "timeless elegance of European chic," such as Vetements or Eytys, which, to some extent, they do. A critical element in GmbH's philosophy, however, is to bring the otherness onto foreground, and to the runway. They mainly cast models without typical Anglo-Saxon features—"we don't cast with an agenda but we are merely representing ourselves and our community," Işık says about their models who have also occasionally been friends and family. The clothes are often named by the model who wears them on the runway, which usually means a Turkish name; there's Dogu (cargo pants), Arda (a black tank). He had a different experience with his secular-sounding name, but witnessed others subconsciously suffer from diasporic names. "That's such a fuck boi name!," he tells me when I share that my dream name growing up, in contrast to my traditional-sounding name, was the then-highly popular, Tolga. "Back then, I fantasized about a different name, too," he adds. He even sees friends symbolically repurpose their traditional names these days for a healing process.
GmbH is Işık's "personal healing process," and lets his design choices do the talk along the way. He was raised by his miner family in Germany's Ruhr Valley and was sent to a Turkish school because "my mother always knew it'd be an obstacle for me and for white kids to clock me." Coming of age with what he calls, "the pressure of passing both in Germany and Turkey," led to to crafting his versions of both countries' languages and an aesthetic sense which was deemed of the other in both cultures. Having to put on ill-fitting hand-me-downs from older relatives or matching a splashy-colored sweater grandma knitted with a Rammstein-printed t-shirt might be a pressure every immigrant teen faces, but it's that in-betweenness that permeates GmbH's evil eye-colored pants, extra tight tops, and oversized jackets.
As much as Işık's personal journey, social and economical traces from a post-wall Germany determine the collective's design. He remembers his World War II-ridden town's atmosphere as "pragmatic, gloomy, and industrial," but accepts to somehow find beauty in that, especially in what he saw as an "immense contrast" with his home on Turkey's Aegean coast. "Bright colors, romantic landscapes, and antique villages," he saw during his summer visits are as part of GmbH today as Germany's architecturally rigid industrial aesthetic. For the most recent collection, GmbH released an army of male models wearing tops crowned with its now-signature X-shaped accents. The collection's title, Welt am Draht, came from Rainer Weiner Fassbinder's 1973 German TV series about a community ambivalent to the fact that they are dwellers of a simulated world. The cyber-sexual premise of this narrative found itself in GmbH's recycled leather pants finished with industrial-looking zippers and, most importantly, the cross-formed shoulder shields which promise security for a potential apocalypse.
After designing clothes worn by Rihanna and Arca, and entering Business of Fashion's prestigious BoF 500 list, Işık still believes in perfecting a new balance between life and work. And, he admits that investment might take some inspiration from what he observed in his hardworking parents. "[They] worked around the clock to support ourselves and the entire family back home—frankly, for my future life quality, I am trying to unlearn some of that."