Still from "Hudson Yards Video Game" via YouTube
Enter the Neoliberal Hellscape of Conner O'Malley
The comedian's characters seem almost readymade for the pandemic.
Still from "Hudson Yards Video Game" via YouTube
Conner O'Malley, now a well-known comic, writer, and actor, got his start mocking Manhattan's upwardly mobile. His early Vines, made in his first months in New York City, involve yelling compliments at men driving fancy cars, calling them pimps and gods, before sometimes asking for help. In the ensuing years, O'Malley has developed a number of characters for an age of white rage, social stratification, and political idiocy. Each has all the facets of a certain type of 21st-century masculinity: a fearful fandom of technology; the desperate embrace of branding; the sense that fame is life, and vice versa; and, not least, a manic insistence on contradictions. O'Malley parodies InfoWars and Jay Leno with equal viciousness. His characters revere Wall St., internet trash, and the 2000s' work of '80s rock bands. Decked in camo sportswear, they face social malaise with bro-ish resolve, even as they devolve into spittle-flecked conspiracy and/or neoliberal ambition—both of which, in O'Malley's telling, seem equally insane.
In other words, his characters were born ready for the current pandemic. In fact, they want to kick its ass. O'Malley's coronavirus masterwork, thus far, is "Smoking 500 cigarettes for 5G." With a selfie stick thrusting lewdly through the buttons of his Verizon-branded denim shirt, the comedian marches across the gaudily lit Kosciuszko Bridge at night with a plastic bag of loosies. He vows to smoke them all, and "unlock 5G," which will somehow "help us power through the crisis." The cuts are quick, like the camera has the shakes, as O'Malley huffs and puffs a half dozen lit cigs between his fingers. Soon, the digital counter in the corner of the screen ticks over to 500, and O'Malley's face glows LED blue. "5G activated," says a robot voice. But, like smoking, such abilities come with great risk: flipping on his smartphone from softcore Instagram to the Breitbart-style pages of something called MilfInfo.com, he suddenly mainlines the truth: that Burlington Coat Factory killed Jeffery Epstein in order to profit off the spread of Covid. It feels de rigueur indeed to laugh in the face of one conspiracy—that 5G causes coronavirus—while clinging to another. The scenario is ridiculous, but the desire for control, any at all, strikes home.
A similar panicked energy runs through a video from early this year, "Hudson Yards Video Game," which encapsulates the militaristic plot of American success. Shot in the same style as first-person shooter game, O'Malley scampers around the brand-new outdoor mall like a jerky digital avatar, chats with non-player characters, and gains "hello points" by waving at strangers. Soon, he has "unlocked Allyship"—and the video transforms into a psychedelic realm patterned with chakras, brain cells, and the hive-like lattice of the Hudson Yards Vessel, a ticketed-entry "park" made of staircases. A Tool track builds to climax over the remaining seven minutes while a 3D model O'Malley spins and curls like a cosmic child, captioned with aggressive self-help quotes, like "No excuses, you must kill if you want to own 15 private jets. –Jim Rohn." This pathetic quest for transcendence holds more than a germ of truth: Whether your goal is a fermented tea or an airplane, the bitter joke is that you will always want more. This accompanied by the growing sense that there is no outside, no underground, that Hudson Yards is all there is. O'Malley's comedy, perhaps, allows us to laugh at our own stunted ambitions as he portrays them. His art is to keep those existential contradictions intact.
The tragedy of O'Malley's characters is how willingly they throw themselves into the game, offering themselves to a world of misinformation and exploitation, tilted toward faceless brands and stock brokers with hot cars. They even think they can win. Another recent clip opens in a vacant, nocturnal Times Square. "Life is exactly like a video game," goes the voiceover. "I've got the cheat codes. My cheat code is confidence and I put it in every day." O'Malley appears in an ice blue digi-camo muscle shirt and leather Matrix getup, flexing and posing in crosswalks. It's the particular brilliance of the post-Covid videos that his characters' steroidal sense of self-worth comes wrapped in a comatose city, lit by closed businesses—an urban escape with the escapism unplugged. Instead of jagging into unsuspecting traffic, O'Malley has spent the last couple months ranting in the damp, empty road.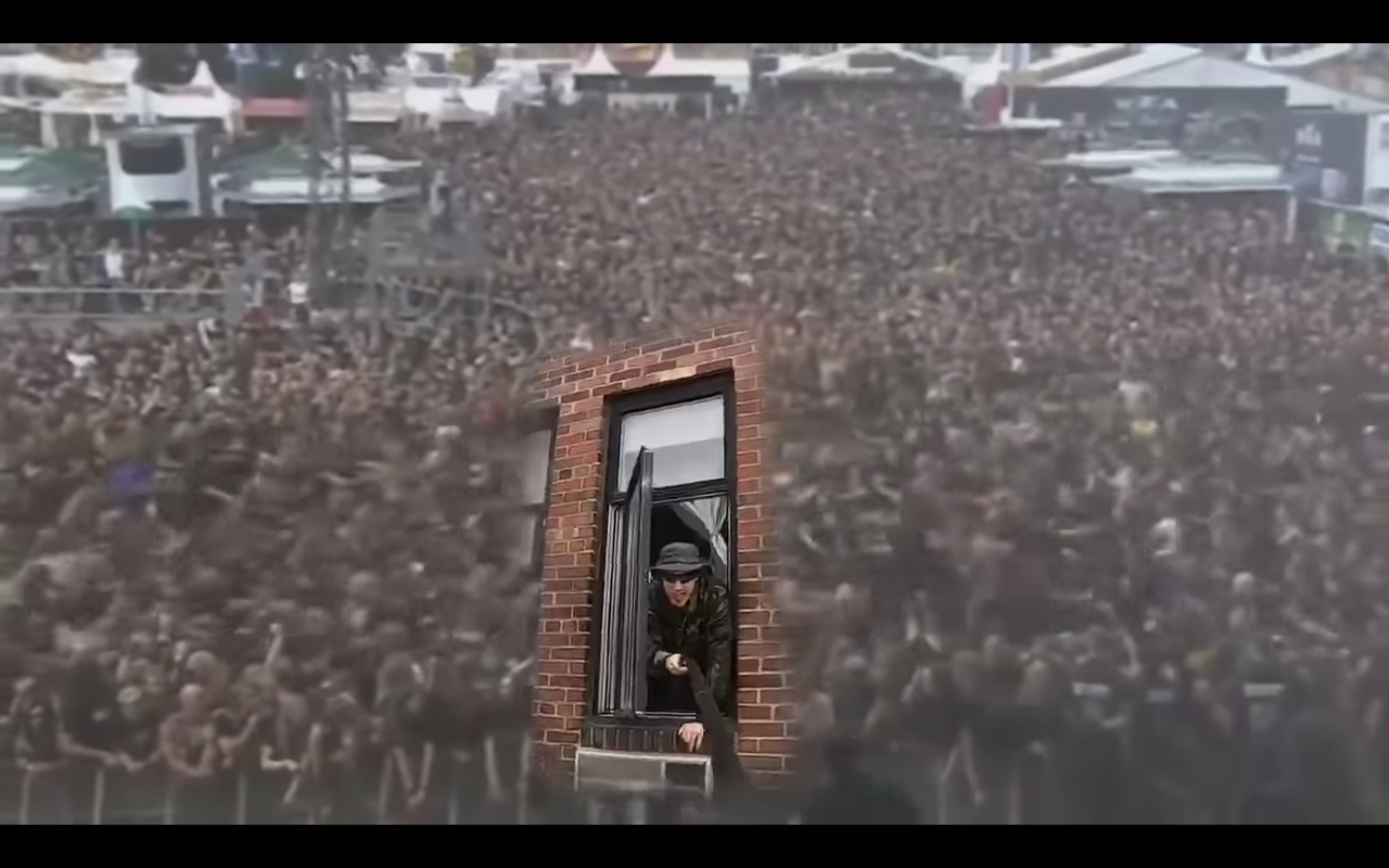 Much like real-life talk show hosts, his late-night parody "Bike Night with Bike Guy," has soldiered on through the pandemic. Underlit with the plastic colors of a LED lamp, a GoPro on his helmet and notes in his hand, O'Malley rides a bicycle around sleeping waterfronts and warehouses. The selfie stick strapped to his chest livestreams his ride to his fans. There's a breathless, frantic optimism to his monologues about Katy Perry and Prince Charles. He screams that "Billy Crystal is gonna host the Oscars!" in a tunnel. He declares that talk show hosts are first responders. "We just gotta keep these late-night shows going," he pants. "We gotta keep it all going." Faced with the absurd social imperative to keep the attention economy (and the rest of it, too) going at all costs, his characters can see no alternative to muscling through the virus. But keeping the show thrumming takes its toll. By part four of the series, the last so far, O'Malley has swapped his helmet for a Marge Simpson wig, his navy suit for red, and smeared his face with clown makeup. It is the content of discontent.
His latest video, "BIRDFEST 2020," was posted one day after a white dog walker threatened to call the cops on a black bird watcher in Central Park—an incident that feels so far away after a month of racist police slayings and anti-racism uprising. Dressed like a Gulf War vet and swinging his selfie stick in wild loops, O'Malley demands Mayor Cuomo open the city so that he can hold a music festival with birds, and Metallica. His rageful white persona is damningly prescient. Again and again, facing the desperation of quarantine or the planned obsolescence of middle America or the soulless green-juice precarity of life in the big city, O'Malley's characters parrot a mantra from a 2003 Metallica song—the blasted soundtrack of BIRDFEST: "My lifestyle determines my deathstyle."
Tagged: